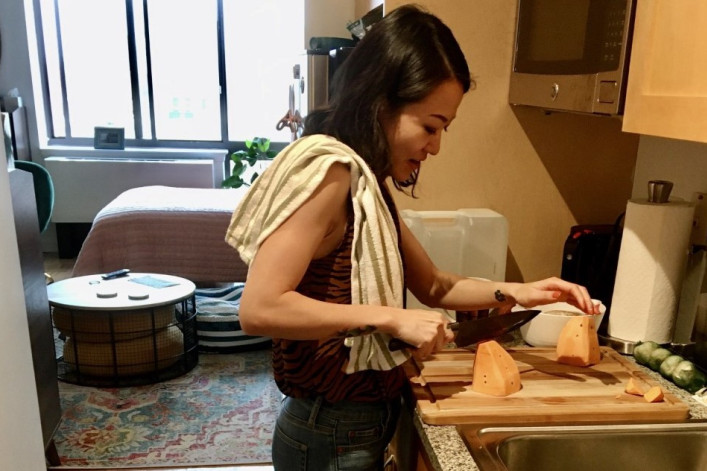 Isabella was bored with living in the Midwest, where a highlight of her social life was going to Target, so a new law job in New York City means an opportunity for a fresh start. She's now paying more for her studio than she did for a five-bedroom house, but she is thrilled with her new life. Here's her story.
I was born and raised in Chengdu in Sichuan Province in China. In 2012, I came to the U.S. for college. Most recently I lived in a 3,400-square-foot, five-bedroom, three-bath house I owned in Omaha, Nebraska, where I lived with my ex-sister-in-law, my ex-husband (sometimes), and my dog, Justice, a nine-pound, Chihuahua-Pomeranian rescue.
I loved that the house was so spacious. It had a big front yard where I could garden and there was a backyard for my dog. At the same time, it was too much space for me. It was located in a quiet —too quiet—neighborhood in the suburbs. I had to drive everywhere—even just for coffee.
I work as an attorney. I had a car and would drive about eight minutes to work.
I liked going for walks with my best friend. Sometimes we'd go to the parks nearby, or we'd go to Aksarben, and sometimes the Old Market. When we'd run out of places to go, we'd go to Target and just walk around, grabbing things we didn't need. (Two girls at Target together is a bad idea.)
---
[Editor's Note: Brick Underground's series The Newcomers features first-person accounts about why a renter or buyer decided to take a chance on NYC and live here now. Have a story to share? Drop us an email. We respect all requests for anonymity.]
---
Why she wanted to move to NYC
Living in what felt like middle of nowhere made me want to go to NYC because it is the only city in the U.S. that feels like home. I grew up in a big city and I miss that energy.
So I was thrilled when by chance I got a job offer at a new law firm in mid-June 2021 that would allow me to move to NYC. It took me only two seconds to make the decision to move. 
I had no idea where to live in NYC, all I knew was I wanted to be close to my new office, which was in Chelsea. I started looking for an apartment right after I received the job offer.
Wanted: A studio or one bedroom for $3,000
I found Julia Chin, an agent at BOND New York, thanks to a listing on StreetEasy and told her my requirements. In addition to being near Chelsea, I wanted a pet-friendly studio or one bedroom place for about $3,000 a month. She saw two apartments for me and in the meantime, I browsed online and saw about five virtually.
She then sent me some information about my current apartment. She found it so fast—within a week after we first spoke—a studio for $2,395 a month in Midtown. She made the whole process so easy. 
Still, finding a place to live in Nebraska and NYC are two totally different experiences. I owned in Nebraska. My little studio costs way more than the mortgage for my five-bedroom house. But I have a much better view now.
I moved in July. I left all my furniture behind and came to NYC with just three suitcases. Then I just bought everything else and started fresh.
What it's like living near Times Square
My apartment, although small, is in a very lovely building. I have laundry in the building, elevators, a doorman, and I am just a three-minute walk from the subway station and an eight-minute walk from Times Square! I like how close the building is to so many places and mass transit makes it extremely convenient to get to anywhere else. 
Well, maybe it just a little too close to Port Authority and too close to Times Square.
Food shopping, even though there are grocery stores two blocks away, is a struggle because I don't like the carrying part. I miss having a car and having it do the heavy work for me. Ordering in is, of course, way easier and faster since everything is so close now. 
Her social life gets an upgrade
I like taking my dog for walks around the neighborhood. It's so close to the pier and there's a little dog park there. I made friends through work. But dating in NYC is definitely an upgrade. I really lucked out meeting my boyfriend just a month after moving here. He is everything I was looking for!
My favorite restaurant is Ollie's because the food there tastes like home. I think when I first moved here, I was ordering from Ollie's about three times a week. My boyfriend and I also love the chicken thighs from Sticky's.
There are so many bars and restaurants nearby so we try one or two new ones every week and we're still not close to trying everything out.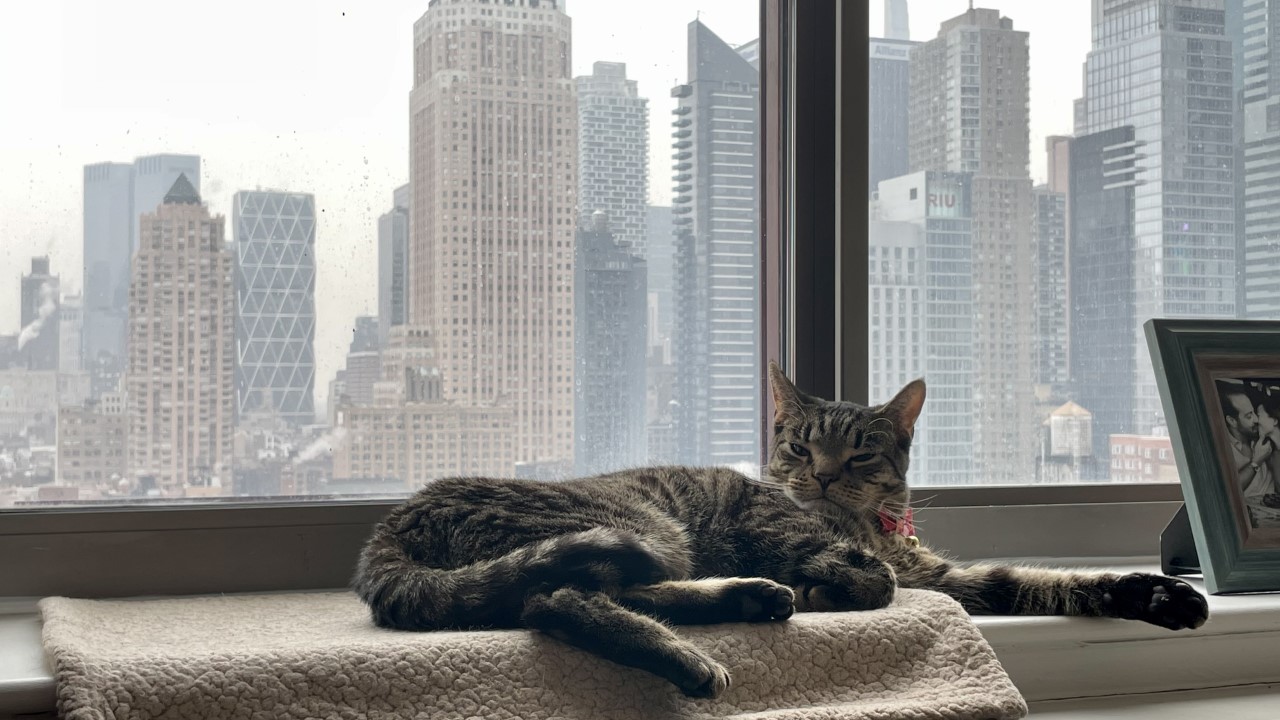 My new cat (from my boyfriend) loves the view. He likes hanging out by the window (where he goes to get away from the dog) and sleeping with the skyline behind him. 
Friends and family have come to visit and have stayed at my apartment. They have mixed feelings about NYC. Some like it, some think it's too much, but I plan on staying put.
Brick Underground articles occasionally include the expertise of, or information about, advertising partners when relevant to the story. We will never promote an advertiser's product without making the relationship clear to our readers.