The Newcomers
Why I moved to NYC from Georgia: To launch my career in real estate and live in the center of youth culture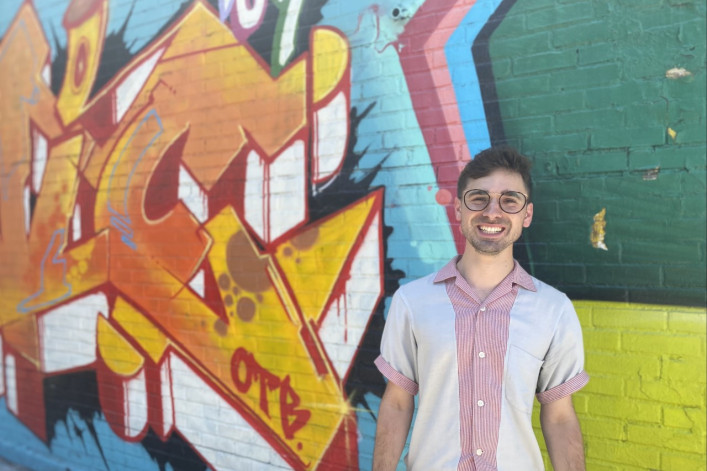 After graduating from college, musician Christian Poppell decided to make a major life change and switch careers to real estate. His plan also involved leaving Athens, Georgia, for New York City. He eventually landed in Bushwick, which he says is the epicenter of youth culture in NYC. Here's his story.
I was born and raised in Augusta, Georgia, and went to college at The University of Georgia in Athens. Most recently I was living with my best friends in the center of downtown in a spacious four-bedroom, four-bath, corner unit on the second floor.
It was bathed in light, newly renovated, and had a dishwasher and in-unit washer and dryer. The building is centrally located, and I walked to class every day. The amenities were very nice as well, including a fully stocked gym, outdoor terrace, on-site garage parking, and full-time resident managers. We each paid $1,000 toward the monthly rent.
---
[Editor's Note: Brick Underground's series The Newcomers features first-person accounts about why a renter or buyer decided to take a chance on NYC and live here now. Have a story to share? Drop us an email. We respect all requests for anonymity.]
---
I fell in love with the town of Athens! It has great nightlife, great food, and wonderful southern charm. I had a car, but the school provided buses that ran throughout the campus as well as through the town.
I loved going on walks with my friends through the historic districts and visiting Normaltown, a quiet neighborhood filled with a blend of midcentury modern and traditional homes. I also frequented some of the coolest local bars and restaurants, such as The World Famous and Trappeze.
While studying piano performance in college, I worked as a musician in Athens and surrounding communities, including as the resident pianist of a church in Madison (35 minutes away by car) and doing gigs in Atlanta (about an hour away)—so lots of time spent commuting.
Why he wanted to move to NYC
After graduating from college in 2021, I decided I wanted to change career paths and pursue a job in real estate. I met with many agents and heavyweights in the industry, and soon received the opportunity of a lifetime—to work in NYC for the Mackay Dixon Team at Douglas Elliman.
Wanted: A two-bedroom apartment to share with a roommate for $1,200
I wanted to live in Brooklyn because I had heard that it was cheaper than Manhattan. My maximum budget was $1,200. Based on my research, I knew I couldn't afford to live alone.
I went to Facebook for my apartment search and found my awesome roommate, who was the first person I ever met in NYC. I signed my lease virtually in January of 2021 and was all moved into my new Greenpoint, Brooklyn apartment on June 1st.
What I loved about the apartment was the light! There were two large south-facing windows that overlooked charming Leonard Street. The apartment also has a front patio, where I regularly hosted my friends for outdoor dining and drinks.
After a nine-month stint in Greenpoint, I decided I wanted to move to Bushwick—both of which are to me the epicenters of youth and culture in Brooklyn. As of February 2022, I live in a three-bedroom, two-bathroom apartment with a dishwasher and unobstructed views of Manhattan. It is brand new and has a surplus of amenities, including a gym, movie room, party room, on-site garage parking, outdoor terrace and rooftop, and on-floor laundry machines. I pay $1,350 per month and the total rent is $4,150. I am considering staying here for a long time. The building is gorgeous, and the views can't be beat.
What it's like living in Bushwick
The neighborhood is rich with beautiful street art, incredible food, and a lively atmosphere.
What I love most about living in Bushwick is, however, its convenience. Though it is a bit further from Manhattan, I live a block away from the L and M trains, which makes going to Manhattan incredibly quick and easy. My commute is only 25 minutes to my office in Union Square and then it's only a short stroll to my favorite part of the city, the West Village. I do not have a car.
When I'm looking to grab a casual drink, I head to Party On and Talon Bar. When I'm craving something savory, Lucy's Vietnamese is hands down the best. I also love jogging through Maria Hernandez Park and further into East Williamsburg, where the scenery is a blend of breathtaking street art and dreamy industrial lofts.
There are many markets and bodegas in my area (as well as a Starbucks and Dunkin Donuts).
There aren't many things about Bushwick that I particularly dislike. As a vibrant and active neighborhood, it can be noisy at times…but that's NYC.
How his social life is going
Let's get the worst part over with: My dating life is a drag. I seem to always be too busy to schedule a date! But I am seriously so fortunate to have the most loving and fun friends there can be. I'm happy.
Moving to NYC has been one of the best decisions I have ever made. I love my home, my career, and my friends.
My entire family is from the south so they are amazed I even live in NYC. They see Brooklyn similarly to how I do—a calm respite from the vibrancy of Manhattan, but still exciting and tinged with a sense of youth and spontaneity.
Brick Underground articles occasionally include the expertise of, or information about, advertising partners when relevant to the story. We will never promote an advertiser's product without making the relationship clear to our readers.