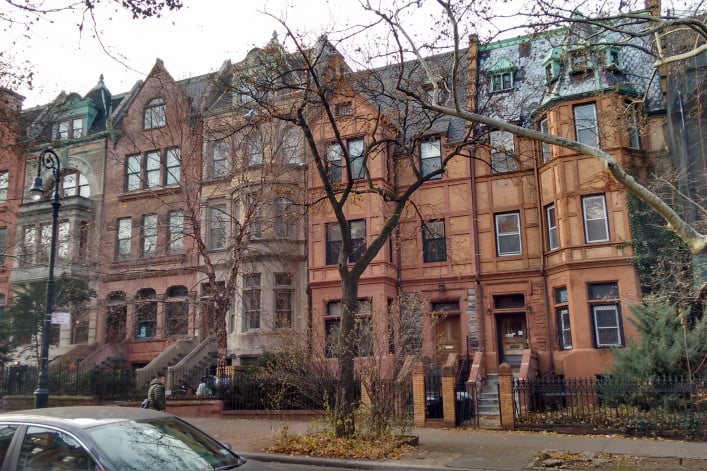 Marjorie Cohen for Brick Underground
Hamilton Heights in northwestern Harlem, where you'll find comparatively reasonable prices and rents for apartments that one local characterizes as "gorgeous and spacious," continues to lure young professionals and creative types from more pricey neighborhoods downtown.
That influx exists alongside a different Hamilton Heights, one where people stay put: Many residents in older buildings grew up in their apartments and raised their kids there. Tension between the two groups is "really palpable," one resident of several years says.
A short subway trip from Midtown, the area is home to City College and within walking distance of Columbia University's Manhattanville annex. Riverside Park and Riverbank State Park run along the Hudson at the neighborhood's western edge. Its commercial avenues that were bustling day and night before the pandemic are "getting back to normal now that schools are all the way open," says one resident. Many of the blocks are lined with restored, early 20th-century townhouses, and at the northern tip of St. Nicholas Park is Alexander Hamilton's family home.
---
[Editor's note: An earlier version of this post was published in December 2018. We are presenting it again with updated information for October 2021.]
---
Residents are glad to see that tourists are coming back to visit Hamilton's house now that the pandemic has lessened its grip, but they're just as glad when those tourists board their buses to go home. And no one seems to mind that national chain stores have pretty much ignored the neighborhood.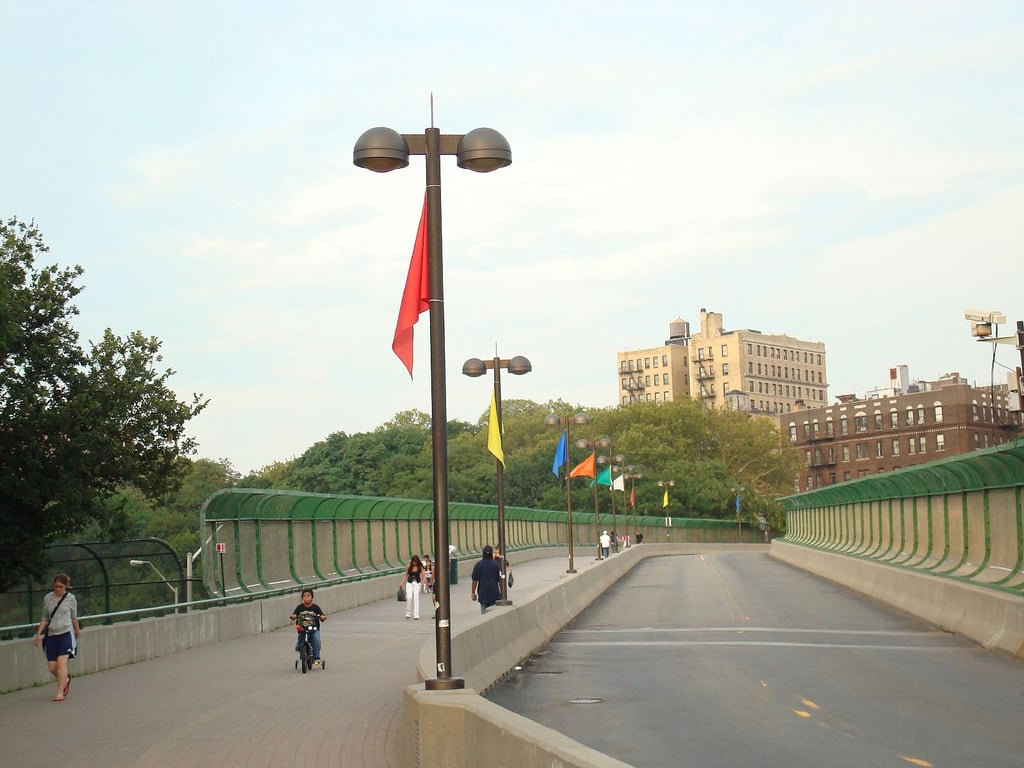 Mayra David and her husband and daughter left NYC before the pandemic to live in Asia for a short period. After three years away, they moved back to Hamilton Heights—in the middle of the pandemic.
"When we left, the neighborhood felt like it was on an upswing, nearing fever-pitch. New places were opening one after the other—we'd sit at the bar with friends and gossip with the bartender about the next place opening up, who were the owners, which servers were defecting.
"We live next door to City College, so that campus vibe was always so strong, thanks to students and events. When we returned the mood was definitely more subdued. No tourists and no students and businesses were struggling. Our friend and neighbor who owns a wonderful coffee shop told us they went through dark times and though they are operational again, they're far from safe."
Alisa, another resident, says that her experience of her neighborhood as a relaxed and friendly place has changed drastically. She still chooses to stick to her apartment, not go into stores or restaurants and to limit her visits with friends to outside settings. Her impression is that "everyone's living with a lot of uncertainty."
Mayra feels a different vibe: She says that life in the neighborhood is returning to normal—even if normal feels a little strange.
"When the neighborhood started to open back up, we all said we would dine in the restaurants every night of the week, 'do' brunch and go on walking tours to hit up all our favorite places in Harlem and have dinner parties at home again! But, the reality is we are out of practice. The neighborhood hasn't changed, maybe we have," she says.
Here are some basic stats about the neighborhood.
Neighborhood boundaries: West 135th Street to West 155th Street, Hudson River to St. Nicholas Avenue
Median sales price: $549,500
Median rent: $2,350 a month
And here are eight important things to know about Hamilton Heights, as told to us by people who live there:
1. Gentrification: The elephant in the room
The tension between longtime residents and those just discovering the neighborhood is sometimes really palpable. We all hate hearing how people want to come here because it's cheap." —Mayra, lives with her daughter and husband in a co-op
"Gentrification is a huge problem. Several older tenants in my building have had trouble with the landlord. I think he'd like to get them out. I also worry about the future of the small businesses here, so I always try to shop local." —Jose, lives with his fiancée in a market-rate rental
"It behooves us to respect the folks in the neighborhood, the ones who have invited me in. We need to be very aware of being a good neighbor." —Alisa, lives with her son in a co-op
"I know that gentrification is a huge issue, especially with the new condo complexes in the neighborhood. More white people are moving in and although no one has said anything negative directly to me, I have overheard those kinds of remarks." —Maggie, rents with two roommates
2. Neighbors: From 'hello' to full-on friendships
"My neighbors? Not unfriendly but usually it's just 'good morning' and 'hello.' I work and go to graduate school, so I don't have that much time." —Tammy, rents with one roommate in a one-bedroom
"My neighbors threw a baby shower for me and are always offering to babysit for my son. I have come home to find a bag of apples or a new toy outside my door. I would trust any of my neighbors, even the most eccentric ones, to watch my son. During the pandemic I was able to figure out how to make vaccination appointments online so I helped everyone in my building to get one. There are five women over 65 who live alone here—I've kept an eye on them, brought them Purell, helped them get to appointments, that kind of thing." —Alisa
"My building has always been a tight-knit community. Residents have known each other their whole lives. We've taken up collections to buy meals for hospital staff. We've always looked out for each other, but even more so now. The woman who runs a daycare in our building is scared for her business since she'd had to take out loans to sustain herself. One family paid her bills in the early part of the pandemic to help her out. There's a lot of kindness here alongside the anger and fear." —Mayra
3. Transit is so-so and 'the cops aren't wearing masks'
"The delays on the trains on the weekends are a nightmare. I was 45 minutes late to meet a friend and I left extra early." —Dylan, rents with two roommates
"The 145th Street A and D station is horrible. There's no elevator, and they're not going to put one in even though they're doing a major renovation of the station. What about the people with disabilities? It's unconscionable. When I have my son in his stroller, I often have to walk to 125th Street where there is an elevator. The good thing: I can be down on Chambers Street at my son's daycare in 35 minutes. But what makes me really furious is the fact that the cops are not wearing masks. Even the officers at the 145th station where there's a district headquarters for the transit police—no masks!" —Alisa
4. The neighborhood is kid-friendly
"I went to PS 153 and my son goes there too. There are plenty of playgrounds within walking distance. I like the Camel Park in Riverside Park. I don't like it when kids smoke in the park. It's illegal and unhealthy. When I was growing up, several of the blocks were closed to traffic in the summer so that kids could play on the street. I wish that was still going on." —Surico, lives with her son and parents in the rental apartment where she grew up
"You can find good daycare in some of the home-based spots in the neighborhood. And where else in Manhattan besides Riverbank Park can you take your kid ice skating for $5.25? And then there's the Sugar Hill Children's Museum of Art & Storytelling [closed temporarily in preparation for a new exhibit]." —Alisa
5. Eating and drinking out: Some old favorites are gone
"A few favorite spots have closed permanently. Even bars and cafes that were always packed before the pandemic still couldn't hold on. But some did manage to re-open and it was such a relief every time I saw a door sign, or their Instagram account, or got word-of-mouth news of their re-opening. Many familiar servers and staff had to move on during the closures and many places haven't been able to open for their regular hours and have scaled down menu offerings for the time being. Things really aren't quite the same yet." —Mayra
"I like ROKC. It's a ramen bar with craft cocktails. I've liked all of the ones I've tried. I also like the Harlem Public. It's a good place to get a burger, a drink, and watch basketball. For a great cup of coffee and a place to study I like the Sugar Hill Cafe." —Tammy
"Since the pandemic I'm not going out to eat and not having any guests in my apartment yet. Even before the pandemic the restaurants were too expensive so when friends come to visit, I'd have them over for bagels and lox. Back then, when I did go out, I liked the Italian restaurant Fumo, especially when the weather was nice and you could sit at the outside tables and enjoy a great view of the beautiful old buildings of City College. 
"A bookstore/cafe where community meetings were held closed a few years ago. That was a huge loss. I would like to see another spot like that come into the neighborhood: a place where local poets could read their poetry." —Alisa
"To hang out with a local crowd, I like some of the smaller bars like Uptown Bourbon." —Jose
"There used to be a family-owned, old-school Dominican restaurant at 154th Street. The landlord evicted them about two years ago. I assume it was a rent issue. The place is still empty. I miss it. I used to eat there all the time." —Will, shares a four-bedroom rental with three roommates
6. There are stores galore, but your mileage may vary
"There are more than enough grocery stores, and over the past five years, I've seen them all improve dramatically. Foodtown, and even the delis and bodegas are all first-rate but my favorite, Fairway, is sadly no more. The space is vacant and it feels so sad down there by the river. It used to be such a hub for gourmet and hard-to-find imported food items. And not just for grocery shopping. So many families, including ours, loved going there to get food, then picnic by the river. We're not sure what's going to be there. I heard a rumor that ShopRite bought or leased a portion of their parking lot or something like that." —Mayra
"For my food shopping, I take the train to Trader Joe's." —Maggie
"My grocery store, dry cleaner, and laundromat are all in a row next to my building. Very convenient." —Tammy
"I don't shop in the neighborhood. It's too expensive for organic food. At Trader Joe's a gallon of milk costs what a half gallon costs at Foodtown so I go to the Trader Joe's on 72nd Street. [It's] an easy ride on the 1. For clothes for my son and other items, I don't need a store. I joined a [Facebook] group called Buy Nothing, which is where I find a lot of what I need. I just got a pair of shorts for my son there." —Alisa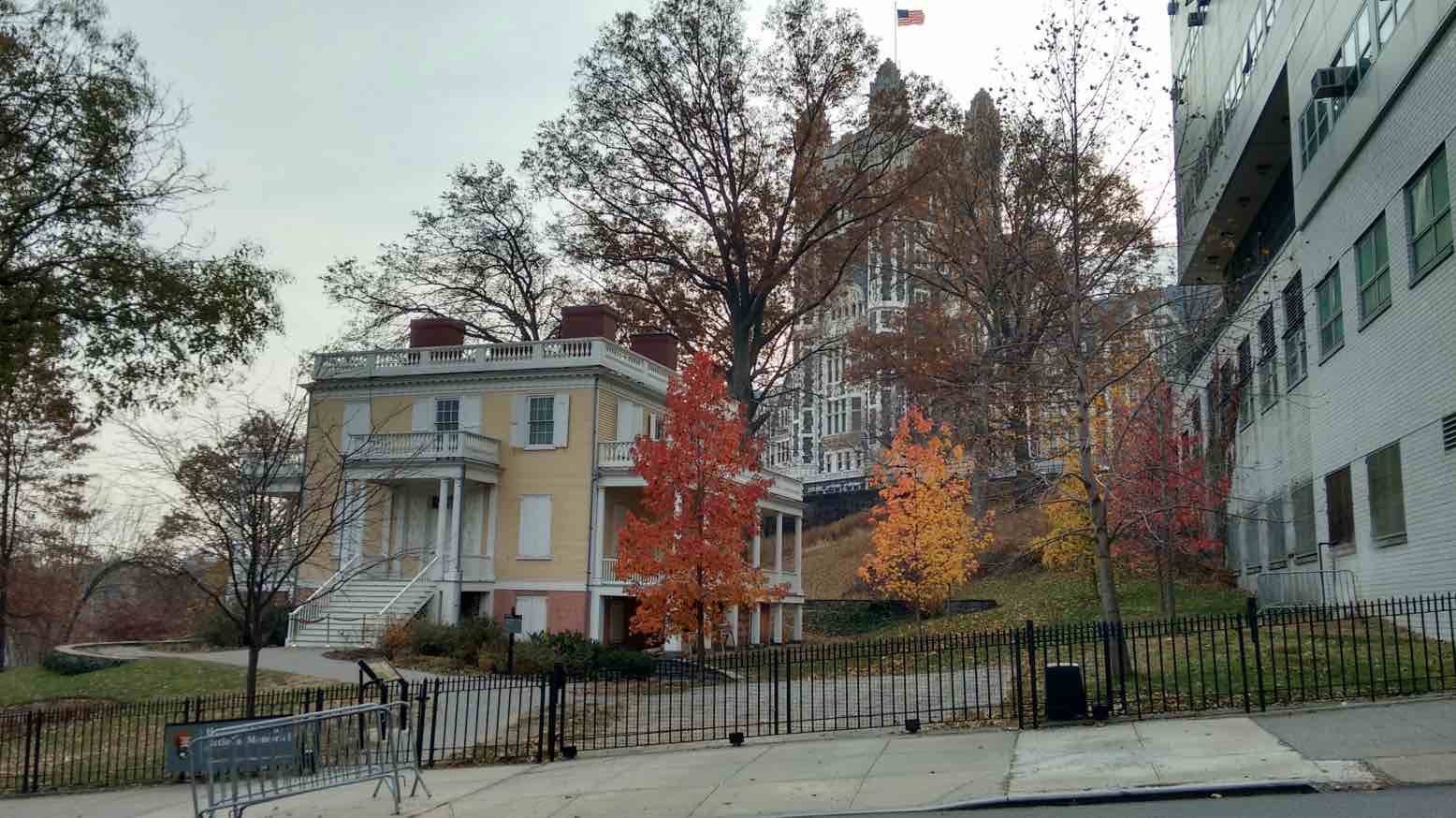 7. Seeking quiet? There are lots of meditative places
"I love to walk down by the river to the lighthouse and the lawn of the Jumel Mansion is a lovely place for a picnic." —Morgan
"One of my favorite things is to walk around the City College campus. A few years ago, an artist posted photos of Hamilton with dreadlocks on some of the buildings. There's always something interesting to see." —Alisa
"I run on the track at Riverbank and play soccer there. I bike along the path in the park and take my dog to a dog park at Riverside and 140th. There are a ton of friendly folks there, and even the pit bulls are well-behaved." —Jose
"I like to sit on the big steps by the Hamilton House or the rocks in St. Nicholas Park. I'm a writer and I like to work there." —Dylan
"When I want alone time, I like to go to Jackie Robinson Park to just sit and read." —Maggie
8. For the most part, people we talked to feel safe
"Once when my dad was visiting, he went out and left the door to my apartment wide open. When we got back hours later, not a thing had been disturbed. He was amazed." —Alisa
"When I get off work at 5 a.m., I walk the two blocks home. Never a problem." —Dylan
"There's a biker gang that sometimes makes me feel unsafe. Not to mention the noise. But walking from the 145th Street express stop home feels safe almost any time, especially since there's constant foot traffic around the college and the public safety cars drive around the campus area." —Mayra
Brick Underground articles occasionally include the expertise of, or information about, advertising partners when relevant to the story. We will never promote an advertiser's product without making the relationship clear to our readers.