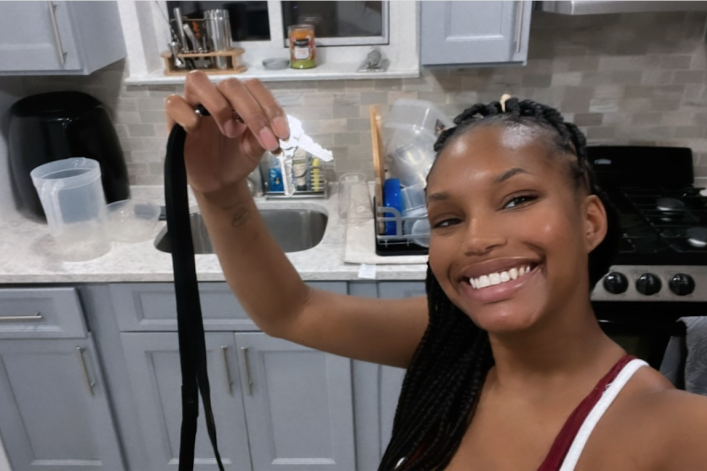 Maryland native Kayla McKensie Bethea didn't let the pandemic get in the way of her blossoming career: She used her downtime to get a bachelor's degree from culinary school and landed a job in New York City after graduation. Her apartment hunt led her to the East Flatbush enclave of Little Caribbean, where she is living on her own for the first time. Here's her story.
I was born and raised in Columbia, Maryland, and most recently was living with my family. Thankfully I didn't have to pay to live with my parents; they supported me until I graduated from college.
I had everything living at home: My parents' house had a theater, gym and a gorgeous kitchen (I'm a chef) but by the time you're my age—I'm 22—you're ready to move out and start your own life.
In Columbia, I was always out socializing—seeing friends or family. Since I work in the restaurant industry, I always have good intel on the newest and hottest food. Everything is nearby in Columbia—there are restaurants, malls, parks, theaters, clubs and lounges and I was close to both Baltimore and Washington DC too. I lived right between both the Columbia and Arundel shopping malls, and when I wanted to splurge, I'd go up to Towson or Annapolis, White Marsh, or towards DC and Pentagon City.  
---
[Editor's Note: Brick Underground's series The Newcomers features first-person accounts about why a renter or buyer decided to take a chance on NYC and live here now. Have a story to share? Drop us an email. We respect all requests for anonymity.]
---
I never had to drive far for work. I got a car weeks after I got my license when I was 16—a 2005 Toyota Matrix hatchback. When I was 21, I crashed it and got a 2008 Lexus RX 350.
In Maryland, there's a big social scene, so if you're an extrovert like me it's never hard to meet new people or go to new places. But after living there for so long, it started to seem like everybody knew everyone—it was too much.
That's when I started thinking seriously about moving to New York. I was familiar with the city because after high school, I went to the Culinary Institute of America in Poughkeepsie. I eventually got my associate degree and moved back home when the pandemic happened, ending an internship I had. I had no idea what to do because the pandemic took away my job. To kill time, I got my bachelor's degree online from CIA. I graduated in December 2021 and landed a job as sous chef at Warner Bros. Discovery in Manhattan that started at the end of February.
That meant it was time for me to move to Brooklyn! I primarily wanted to be close to my job, plus both my sister and god sister live in Brooklyn. I looked at apartments in Manhattan but the places I saw were either too expensive or not what I was looking for
My dad is a Keller Williams agent, and he referred me to the top five Black women agents. I reached out to Danielle Jernigan, an agent at Keller Williams New York City. She really impressed me. We were emailing within minutes of connecting and she always went the extra mile. She would ask questions I wouldn't even think to ask.  
I initially stayed with my sister in the city to look for a place. The rental process in NYC takes a toll on you: I was very grateful how it worked out but had to get through a lot of nos to finally get to a yes. 
Obviously my salary determined what I would be able to afford so my budget was under $2,000 a month. I saw about 10 places. In April, I found a one-bedroom apartment in East Flatbush in a neighborhood called Little Caribbean. My place is in a two-story house; the bottom level is mine. I have a modern kitchen and bathroom but not a washer/dryer so I bought a portable one from Amazon. We'll see how that goes.
My neighborhood has everything: Food, hair salons, pharmacies, lounges, groceries, convenience stores, smoke shops, laundry, and storage companies.
I'm still getting to know the area: Rantab has really good African food; Juicy Crab has good crab legs; and Risbo, a French restaurant, has the perfect food and vibes.
I love that I live in a Black community. But it's a lot louder than living at home, but I'm 22 so I don't mind it for now.
I'm always down for new and fun experiences, whether it's shopping, eating, sightseeing or going to the parks and museums. I always try to do both the tourist stuff and the local stuff. There's a lot more to living in NYC than what you see on tv!
I take the subway every day to work. I leave around 5:45 to catch a bus then take the subway from Brooklyn to Manhattan. I sold my car two weeks after I moved into my apartment. Driving is awful in NYC compared to Maryland, so it didn't make sense to keep the car.
My parents, sisters, godparents and a few friends have seen my home, and everyone is happy for me and excited to see where life takes me.
But making new friends is so hard. I'm typically good being by myself but now that it's the only option it's a little lonely. I've tried getting some apps to help find people in the area. Dating is very stagnant. There are no new love interests or boys I've found attractive and I haven't been asked out.
Still, I love the neighborhood! Finding Little Caribbean was such a nice surprise. I plan on staying for a while but need to come up with my new five-year plan to figure out the trajectory of my life.
Brick Underground articles occasionally include the expertise of, or information about, advertising partners when relevant to the story. We will never promote an advertiser's product without making the relationship clear to our readers.