The Newcomers
Why I moved to NYC from NJ: After my divorce, I wanted to be near theater, restaurants, and baseball games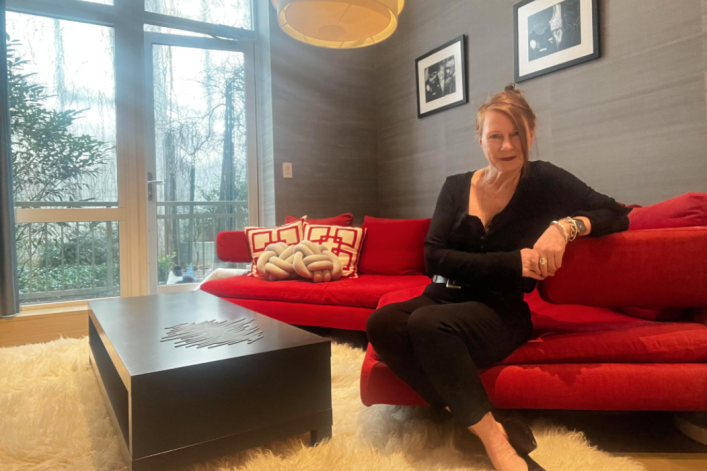 After Cynthia raised her children and got divorced, she found life in her New Jersey suburb too family-oriented for a single person. She decided to move to NYC, where she enjoys the theater, shopping, and restaurants. Despite almost doubling her monthly expenses, she is enjoying her new life in Chelsea. Here is her story.
I was married for 25 years and lived with my husband and two children in Bernardsville, New Jersey. After I got divorced, I spent a year in Madison, NJ. I was living in a renovated, 2,400-square-foot, brick Colonial with an extensive garden in the back. The house had three bedrooms, two and a half bathrooms and an upstairs laundry room. It had a finished basement with a carpeted office with built-in bookcases and attached garage.
I paid $1,450,000 for it and sold it for $1,500,000 a year later. My mortgage was roughly $3,000 a month.
---
[Editor's Note: Brick Underground's series The Newcomers features first-person accounts about why a renter or buyer decided to take a chance on NYC and live here now. Have a story to share? Drop us an email. We respect all requests for anonymity.]
---
The house was well-built and within walking distance from the downtown area and train to NYC. All the homes in the area were well-maintained and the area was quiet and safe. However, I disliked that there were mostly families and married folks in my immediate area and while there were events in town, they were heavily skewed towards families.
The Summer Concert Series at Pleasant Valley Park in nearby Basking Ridge was great, as was the Trilogy Repertory Theatre in that area. Right in Madison, I loved the Shakespeare Theatre Company at Drew University.
For food shopping Kings Grocery was the best! But ordering in was very difficult in Bernardsville and slightly better in Madison through DoorDash, but the selection was very limited and wait times extremely long. 
I was the social media director for municipal and county politics while I lived there and thankfully there was no substantial commute; I only traveled within my county for work. I did have a car in NJ but then sold it when I made my move to NYC. It was necessary in NJ because Uber was spotty and unreliable, although the train was very accessible, affordable, and reliable.
Ultimately, I decided to move because a friend of mine asked me why as a single woman, who often commuted to NYC, I was living in the suburbs. She recommended her real estate agent, Ray Urci, an agent at BOND New York.
I have a couple of outdoor-ish cats, was very comfortable in the suburbs, and wasn't sure I'd go for the big city. Then again, I did live in Munich with my kids from 2011-2015, so I was comfortable with apartment living and public transportation. Ray and I looked at about a dozen properties over three weeks and while there were many lovely places, none of them spoke to me until I walked into my current condo in Chelsea.
Even then, when we walked in, I thought the lobby was sad and the lighting depressing. And the hallway to the apartment felt like I was in a Marriott or something. Then we opened the door and my mouth dropped. I fell in love and didn't look back. 
Ray tried to explain the differences between buying in NY and buying in NJ a number of times but honestly, it didn't seem that different, although I appreciated that negotiations could happen verbally instead of on paper; it saved time and reduced second-guessing and sleepless nights. I was surprised that the sale didn't hang more heavily on the inspection.
Having an agent when buying in NYC is very helpful. I would not have found my current condo if I was looking by myself on Zillow. The price had come down on this property and Ray caught it. I ended up paying more than I had budgeted for, but it met 99 percent of my criteria and that made it worth it.
My budget was $2,500,000-$3,500,000 for a two bedroom with a terrace (for the cats). I didn't know NYC that well, so the neighborhood wasn't as big a factor, although I loved a place in the East Village until I walked the neighborhood and realized I was a bit too old for the vibe. It has a lovely terrace that overlooked a karaoke bar!
Fortunately, I chose a condo and the process only included an application, no board interview. The building wanted financial details that I felt were a bit too personal so I had my bank write a letter saying I could afford it and it was accepted by the board.
Here's a harrowing story: The day that my offer on the Chelsea condo was accepted, we experienced major flooding from Hurricane Ida and the entire basement of the Madison home flooded. So I spent the next two months replacing drywall and re-carpeting before putting it on the market!  
I made the big move in November 2021. I was very happy that the moving process was almost back to normal during the pandemic. While it would have been clever to buy during the early days of the pandemic because prices were lower, I don't think it would have been easy because people didn't want to travel, show their homes, or interact with strangers.
I've easily doubled my expenses living in NYC for less square footage. Now I pay more than $5,000 a month for 1,900 square feet and a narrow terrace. But I have the city as my backyard and no car or commuting expenses, so I feel the cost difference is acceptable and even enhances my quality of life.
What can I say about Chelsea life? It's not the East Village vibe, not the UWS vibe, but something in-between and easily accessible to everything.
I love how private and quiet my condo is, love the garden view and first-floor access (no elevator), and 24-hour doorman service. I love the big box stores, Fifth Avenue shops, and that Flatiron and Union Square are within just a few blocks. I can easily walk from the High Line to Hudson Yards, and Greenwich Village is a short 15-minute walk away. Very cool.
There is really just one drawback: I'm not used to the lack of sky and direct sunlight. It's my only complaint, so I hired a lighting consultant to upgrade the recessed and other lighting in my apartment and it's helped. It's also a hassle to get contractors to provide certificates of insurance that meet my condo's requirements. 
I'm a theater lover. NYC has theater, theater, and more theater: I love the $15-30 off-off-off Broadway stuff that happens all over the city. I subscribe to TDF Stages and the Skint Newsletter, so I can track performing arts. I don't let a week go by without theater. I also am a big baseball fan and I am thrilled to go to Yankee games! 
So far my favorite restaurants are: Elmo (Cobb salad and tuna tartare), Almond (like eating in a comfy library or coffee shop), Gramercy Tavern (great vibe), Chez Josephine (next to Theater Row (way cool vibe, history, and sexy tribute to the great Josephine Baker) and cappuccino breve and naughty treats at Ole & Steen in Union Square.
Food shopping is still a breeze as the Westside Market is as awesome as Kings in NJ. Ordering in is a totally different ballgame! Not even closely comparable. Not only are there more selections available in NYC but the quality is way beyond.
I no longer have a car, and I don't work so I only commute by public transportation in the city. When I've needed a car, I had a good experience with Kyte.
My neighbors are lovely. Sure, there's a different kind of noise in a condo building than in suburban neighborhoods. Instead of leaf-blowers and BBQ party music, I hear the dog bark next door and know Leslie is home or hear footfalls upstairs and know Matthew is getting ready for work. My friend has a 90-year-old neighbor with dementia who tap dances during the day. She says if she doesn't hear her, she knows to inquire with the caregiver. Nothing is too loud or on-going, just life in the building, and it's nice, like a neighborhood.
It's easy to meet and be around people here. And it helps that New Yorkers are astonishingly open and friendly—unless they're nuts and want to hit you with a hammer in the subway. I know about five people in the city already and we are very active so it's enough for now. As for making new friends in the city, that will take some time. I like my neighbor and hope to develop a friendship with her.
I'm not interested in dating but could imagine NYC provides quite a rich pool for anyone who may want to mingle. In fact, a very good friend has fallen in love (she's 62; he's 72) and they are moving in together!
I had a posse of friends in NJ and was a little worried I'd see less of them when I moved but it hasn't turned out that way. They have been coming to see me because they know they have a bathroom and a place to put their feet up!
Overall, I feel it was an adventurous leap to relocate to NYC, but it ended up being such a good and logical idea that I'm a little embarrassed that I didn't move here straight-away after my divorce and skip the stop-over in Madison! Everything I need and everything I want is within walking or subway distance, even the beaches. Just brilliant! I honestly can't imagine living anywhere else now. I love the crazy culture, food, and entertainment in NYC.
Brick Underground articles occasionally include the expertise of, or information about, advertising partners when relevant to the story. We will never promote an advertiser's product without making the relationship clear to our readers.