The Newcomers
Why we moved to Roosevelt Island from Milan: To live near Manhattan and enjoy a close-knit community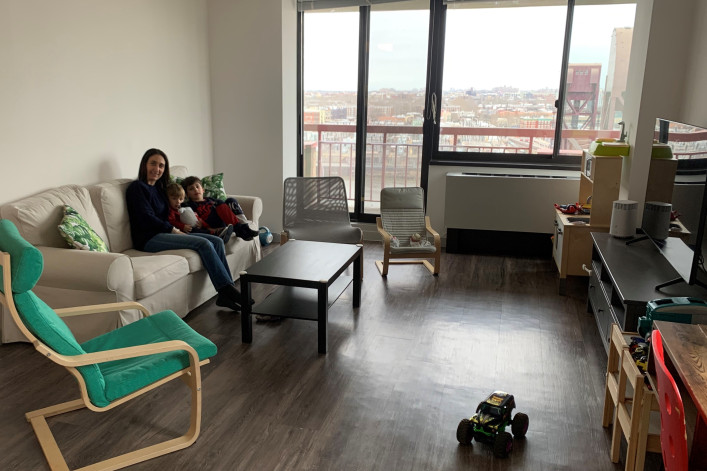 Margherita, Diego, and their two children were enjoying their life in Milan, Italy when Diego, who works for Eataly, accepted a job transfer to New York City. Having been to Roosevelt Island on a previous trip, they felt it was an ideal place to raise their children and be within commuting distance of Manhattan. Here is Margherita's story.
I'm originally from Florence, Italy, and I moved with my husband Diego and son Ricardo to Milan when Diego accepted a job with Eataly. My second son Federico was born shortly after we moved to Milan, where we have lived for the past four years.
Our two-bedroom apartment was on the third floor of a four-story condo in the Brera area of Milan. The rent was $1,600 euros. Our apartment was small, about 700 square feet. There were no amenities other than free bike storage. Water was included in the price of rent, but we were required to pay for electricity and gas. Almost every apartment in Italy has a washing machine, but not a dryer. There are plenty of places where clothes can be sent to be cleaned.
---
[Editor's Note: Brick Underground's series The Newcomers features first-person accounts about why a renter or buyer decided to take a chance on NYC and live here now. Have a story to share? Drop us an email. We respect all requests for anonymity.]
---
Milan is the heart of Italy, much like New York City. Brera is the center of the city, and the best place to live in Milan for fashion, shopping, and cafés. We enjoyed meeting friends at Baunilla Brera, a local coffee bar, and I liked taking my kids to play at Giardini Pubblici Indro Montanelli, a park northeast of the city center. Torre di Pisa was one of my favorite restaurants with homemade fresh pastas. It felt like home when I dined there with my family.
For food shopping, there are lots fresh vegetable and fruit markets. For meats, I would shop at Eataly. There are supermarkets, which I'd compare to Foodtown on Roosevelt Island, but much larger.
Because we lived in the city center, we did not need a car. It was a great area for walking and riding bikes. When I needed to travel farther, I took the tram, which runs through the city.
Diego accepted a position in NYC as senior manager/culinary director and head of culinary art for Eataly North America at the end of 2019. We were supposed to move to NYC in April 2020, but due to the pandemic ended up moving in February 2021.
Diego originally wanted to live in Manhattan, but I thought it best to live on Roosevelt Island for the children. We had visited Roosevelt Island and the Manhattan Park complex on a 2016 trip to the city so I knew the area.
We worked with Liz Pearson from the Manhattan Park leasing office and saw a couple of places via video. Our goal was a three-bedroom apartment for about $5,000 per month. And we beat that: Our current rent for a three bedroom is $4,800 per month. There was no broker's fee.
A snow storm delayed our move by a few days and we had to stay in a hotel, but moving was pretty simple: Diego took an Uber with our belongings once the storm passed. We only had our luggage and the kids. We had ordered furniture from IKEA and Amazon and once we put everything together, the apartment became our home.
Our place at Manhattan Park is a corner unit with dining area and balcony on the 15th floor and washer and dryer in the unit. There is also a laundry facility downstairs.
The building is newly renovated with a 24-hour concierge, gym, community space, game room, kids' playground and playroom, and garden. There is a roof deck with grill, lounge chairs, and view of the Manhattan skyline. Fresh flowers are delivered weekly to the lobby. All amenities are included except for the "rainbow pool." [Editor's note: The development commissions a different local artist each year to paint a colorful mural on its 8,000 square foot pool deck.] I do wish we could have our own BBQ on the balcony.
In Italy, most apartments have a door separating the daytime and nighttime spaces, mostly for blocking sound and cooking odors. This is not really an option in NYC apartments. Everything is much more open plan.
The concierge and maintenance workers in the building are kind and helpful. We enjoy living on a high floor since it nice and bright. I am also glad that the building is undertaking a window replacement project to expand the size of the windows, which will give us even more light.   
Roosevelt Island has plenty of outdoor space and parks. The promenade at the south end of the island is my favorite place to walk. In the spring the river walk is lined with cherry blossoms. There are plenty of areas for kids run and play. Main Street runs through the center of town where there are restaurants and a weekend farmers' market. The red bus travels through the center of town (it's free) and will make stops at the subway, tram, and ferry.
I find enjoyment cooking at home and for friends, but I like the variety of cuisine on the island: Zhongzhong Noodles, Piccolo Trattoria Ristorante Pizzeria, take out from China 1 Kitchen. I have yet to try the Panorama Room, the new roof deck lounge, at the top of Cornell Tech's Graduate Hotel, but it is on my list of new island experiences.
There is a Foodtown grocery across the street and a Farmer's market on Saturdays. But I still enjoy shopping at Eataly in Manhattan.
I am a stay-at-home-mom and my husband travels to LA, Las Vegas, Boston, Chicago and NYC for work at Eataly's locations. When he is working at the Flatiron location, he takes the F train from Roosevelt Island. When going to the downtown location, he changes to the E.
The public school here is great. Ricardo enjoys school and his friends. He is learning English and doing well at it. The school is located on the island so it is a very easy commute. I can walk there with Federico in the stroller.
For socializing we love the parks and any outdoor area where we can picnic. We have Ricardo signed up for soccer, and enjoy playing tennis. When it is snowing, the Cornell Tech campus has great hills for sledding! We say hello to "Franklin" at Freedom Park when we visit.
My mom is currently visiting from Florence. We have plenty of room for her and she has enjoyed walking the island and meeting my friends. She has been taking our morning walk around the island with Federico. We have also had friends from LA and Boston visit. They like to explore downtown Manhattan and enjoy staying with us on the island. They can see how much we love our community, building, and apartment.
I can't imagine living in another place. I feel safe. I have friendly neighbors, and everything I could need. We plan on staying here for the foreseeable future.
Brick Underground articles occasionally include the expertise of, or information about, advertising partners when relevant to the story. We will never promote an advertiser's product without making the relationship clear to our readers.