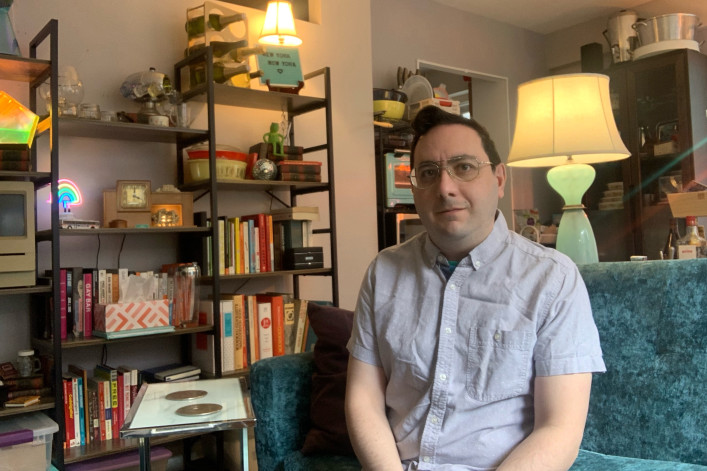 Jeremy owned a rowhouse in South Philly but always wanted to move to New York City. He decided the timing is right and navigated the buying process for a co-op in Murray Hill that's half the size and needless to say, more expensive. But he has no regrets; he's enjoying the restaurants, shopping, and bars. Here's his story.
For the past six years, I lived in South Philly in a rowhouse of about 1,000 square feet. It was a two-bedroom, two-bath house I bought for about $280,000. My monthly living expenses were about $1,400.
The space was great: I liked having an entire building to myself and the ability to renovate freely. But the flip side was having to worry about the roof and maintain the facade. I was constantly worried that I was going to wake up to a disaster.
---
[Editor's Note: Brick Underground's series The Newcomers features first-person accounts about why a renter or buyer decided to take a chance on NYC and live here now. Have a story to share? Drop us an email. We respect all requests for anonymity.]
---
I lived in the Bellavista area, which is similar to Little Italy in NYC and close to downtown. It had a lot of character and many restaurants. In general, Philly is a food town; I enjoyed trying new restaurants and exploring neighborhoods. I'm a big walker and because South Philly is very residential, I enjoyed seeing various architectural styles. I also enjoyed visiting Rittenhouse Square Park and eating at Nomad pizza.
I am a director for a software development team and work from home. The company is New York-based so before the pandemic I would often travel to the NYC office via Amtrak (which was on the other side of Philly).
I ultimately decided to move to NYC for my job. I am close with my coworkers and thought it would be nice to finally live near them. I've always had my eye on NYC and the timing felt right to move. 
I was looking at apartments online and found my way to Yoreevo. I really liked the website's interface, especially the fact that I could save my searches. The company seemed like a good fit for me so I gave them a call and spoke to James McGrath, one of the co-founders. I was then connected to Ali Shulman, an agent there.
My goal was a place with a separate sleeping space—so no studios for me. I also wanted a nice kitchen with full-sized appliances because I cook and bake, and room for a work from home setup. My price limit was $500,000 and I hoped to find something in Manhattan—ideally somewhere in Midtown on the East Side. 
The process was quick once I was ready to move. Within a week, we identified a list of properties to see and saw five places. Within a few days, I made an offer. I closed in February 2022 and moved in a couple of weeks later in early March.
When I bought my first house in Philly, the agent was fine but he didn't really get what I was looking for. Ali understood what I was after and also told me what I should be looking for. She managed my expectations and helped me understand what would be common in the apartments in my price range. I also received a $5,500 commission rebate through Yoreevo.
My new place is a Murray Hill one bedroom and I paid $435,000. The building has a doorman, elevator, and a very nice roof deck. There is laundry in the building, not in the unit, and I have to pay for it. My place is approximately 500 square feet and now my monthly living expenses (mortgage and maintenance) are about $2,500.
The place is a co-op, so I had a board interview and did the whole application process.
In Philly, the buying process is super streamlined. You can go from seeing a house to moving in within a few days. In New York, it was more of an ordeal. The amount of time it takes to get into contract is long and it was eye-opening to experience that. The screening process took over three weeks. 
Since I knew the purchase process here was going to be pretty involved, I ended up listing and selling my home in Philly first and then staying with my parents while I waited to close on my NYC apartment. It took a lot of coordination, but it was less complicated and stressful than trying to buy and sell at the same time
Murray Hill has a lot of restaurants, shopping, and bars—similar to my old neighborhood. I love the fact that it borders so many great NYC neighborhoods.
Most of my neighbors in my building seem to work in finance, so the people are a bit different than what I'm used to. Other than that, it's a great neighborhood. 
I'm slowly eating my way down Third Avenue: Ruby's, Sarge's, and Mazu Szechuan are some great places I've visited so far. I enjoy walking to Bryant Park as well as Madison Square Park. Food shopping is actually better than expected. I am right by a Trader Joe's; Fairway and Whole Foods aren't too far either. 
I have a number of my coworkers and other friends who are also in the area, so I've spent time with them. I haven't put much effort into going out and meeting other new people yet since I've had a lot to do getting settled in here. My boyfriend still lives in Philly and has been coming up regularly.
My parents came up to see my new space, as suburbanites they were certainly struck by my new apartment's small size, but they liked it and definitely enjoyed the roof deck. One of my neighbors from South Philly is coming to visit in a few weeks. We spent a lot of time together during the lockdown and she was there for the excitement and anxiety of my apartment search.
I plan to stay in NYC for a long time. I've always wanted to live in the city, so I'm very happy. Who knows what the future will hold?
Brick Underground articles occasionally include the expertise of, or information about, advertising partners when relevant to the story. We will never promote an advertiser's product without making the relationship clear to our readers.