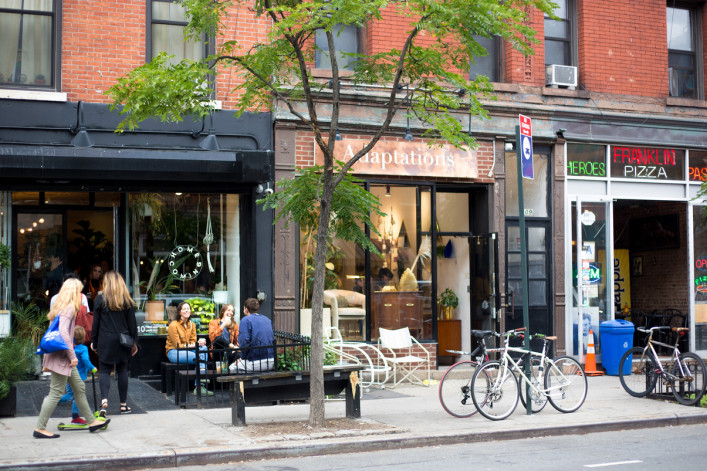 Raise your hand if this is you: You're about to graduate from college and you're set to move to New York City for a job (or to look for one while making coffee or cocktails). But there's one thing that has to happen first: You need to find a place to live. We're here to help.
To zero on a place to live in one of the most complicated (and diverse!) real estate markets in the world, you need to find a reasonably priced neighborhood (for NYC anyway) that you may actually enjoy living in. To come up with Brick Underground's 2019 list of the best neighborhoods for recent grads, we asked Localize.city—an AI-powered website that helps renters and buyers predict what life will be like at any address in NYC—to calculate affordability based on median rents for two-bedroom apartments (since most grads will be moving in with at least one other person.) 
---
[Editor's note: An earlier version of this article was published in April 2019. We are presenting it again here as part of our winter holiday 2019 Best of Brick week.] 
---
And for more guidance, be sure to check out our How to Move to New York City guide, which is full of New York-style practical wisdom. And for a more-turn key approach to renting in NYC, consider going the co-living route. "Brick Underground's guide to co-living spaces in NYC" breaks down the options for you.
Localize.city also factored in each neighborhood's commute to Midtown and the Financial District; nightlife options; popularity among 20-somethings; bikeability (Citi Bike stations, bike lanes, and cyclist injuries); and safety (violent, burglaries and drug-related crimes, excluding marijuana-related drug crimes); as well as the quality of open space; neighborhood character; and new development. Urban planners at Localize took into account current construction that could negatively impact quality of life, and completed construction, which brings new amenities and could impact pricing in the neighborhood.
We pulled out some of the neighborhoods' highlights based on a five-point scale, below, with five being the best. For a snapshot of all of the criteria we used to determine our rankings, click on the neighborhoods in the map above.
To learn about other neighborhoods popular among the post-college crowd that did not make this year's cut, such as the Clinton Hill, Sunnyside, Concourse, and Bushwick, consult our previous guides from 2018, 2017, 2016, and 2015.
Below, our top 10 picks for New York City neighborhoods that offer affordability, good times, and commutes you can live with (everyday).
1. Washington Heights
Highlights: Affordability: ✭✭✭✭  Commute: ✭✭✭✭
Median two-bedroom rent: $2,250
Washington Heights has moved from #3 in 2018 to #1 in 2019. Located almost at the northernmost tip of Manhattan just below Inwood, it's historically been home to people from the Dominican Republic and indeed you will find many places to eat delicious rotisserie and braised chicken, rice and beans and plantains. (Pro tip: Try Malecon on Broadway.) In recent years the neighborhood attracted residents from other parts of the city as well as NYC newcomers because of its affordable rents, relatively easy commutes, and a strong community vibe. 
 "The reason they flock up here is you can get space that's a lot cheaper and a lot bigger," says Levy Tewel, associate broker at Uptown Flats at Compass. The housing stock is made up mostly of a mix of prewar walk-ups and elevator buildings, he says, with two bedrooms generally running from $2,000-3,000 per month, depending on amenities.
And while businesses that cater to a younger demographic aren't in excess, more are coming. "The neighborhood may not have as many amenities compared to other parts of the island, but as more young people move in, more restaurants and cafes are opening," says Liat Halpern, Localize.city urban planner.  
"People want to be part of the new excitement," adds Tewel. "They like the up and coming feeling, the culture, and the community."
In terms of getting around, there's easy access to the 1, A, and C trains that bring commuters to Midtown and the West Side. But two stations along the 1 line will be closed for major renovations: The 168th Street stop (closed until January 2020 with A and C service at the stop while work is being done) and the 181st Street stop (expected to be closed from March 2021 to February 2022.) Cyclists have access to the Hudson River Greenway and a decent network of bike lanes.
Washington Heights has an abundance of green space too thanks to Fort Washington and Highbridge parks. According to Localize.city, a $30 million overhaul of Highbridge Park should begin later this year or early next year, and will bring new basketball courts, bathrooms, and a synthetic turf practice field. The updates are part of a bigger project that also reopened High Bridge, a pedestrian bridge connecting Manhattan to the Bronx over the Harlem River.
2. Bedford-Stuyvesant, Brooklyn
Highlights: Nightlife: ✭✭✭✭  Young population: ✭✭✭✭
Median two-bedroom rent: $2,300
Bed-Stuy is the place to be if you want to live in the thick of a happening cultural scene as that's home to many younger New Yorkers and features an active nightlight, bar, and restaurant scene. Bed-Stuy's dance and party scene is especially notable thanks to spots like rum bar and reggae den Lovers Rock and restaurant/bar and venue Bar LunÀtico.
Interesting businesses that appeal to millennials, including bars, restaurants, coffee shops, and "wellness spaces" are able to open in the area because compared with neighboring Clinton Hill, Fort Greene and Williamsburg, the costs are lower. "Rents are cheaper here, especially for retail. You get these small mom-and-pop restaurants and bars," says Highlyann Krasnow, partner at MNS Real Estate. 
In Bed-Stuy, which was #1 on our list in 2018, most of the housing is found in low-rise townhouse-style buildings, which gives the neighborhood a quiet and relaxed feeling, though along commercial thoroughfares Fulton Street and Bedford and Nostrand avenues new developments with more luxury amenities can be found. 
"As the neighborhood has become more desirable for 20-somethings, it's also become a magnet for new development, and those new units are pushing prices upwards," says Halpern.
Subway access can be great or not so great, depending on where in the large neighborhood your apartment is. The north edge is serviced by the G train, the southern border by the A and C trains, and the eastern border by the J and M train lines. Those in the middle can walk, bike or take the bus. Speaking of bike lanes, Bed-Stuy has a vast network of them and many residents commute via bicycle. 
3. Jackson Heights, Queens
Highlights: Commute: ✭✭✭✭  Nightlife: ✭✭✭✭✭
Median two-bedroom rent: $2,200
Jackson Heights reflects the cultural diversity that so many young people flock to New York City in search of. It is quite literally one of the most diverse places on the planet, which is reflected in the businesses and restaurants in the area.
"If you're looking for a neighborhood that celebrates all of the variety New York City has to offer, there's no place more diverse than Jackson Heights. Nearly 170 languages are spoken here, and ethnic restaurants represent all corners of the globe," says Grace Klein, Localize.city urban planner.
The housing in the area is largely found in stately prewar co-op buildings, and some of them are even rentals. The buildings get a little smaller and less expensive the farther north, and away from the subways, you go, says Mike Schulte, associate broker at Citi Habitats. Reasonably sized two-bedroom apartments are around $2,100 and larger two bedrooms are around $2,500, he added.
The area isn't home to a huge number of younger city residents, but that could change due to rents and accessibility. At the 74th Street/ Roosevelt Avenue train station, commuters can catch the 7, F, E, and R trains, as well as the Long Island Rail Road, and if you work in Manhattan you can be there in 20 minutes or less. 
The area is lacking in green space and gets low marks for bikeability, but Schulte believes there's appeal for a younger generation for other reasons. "Different age groups have different sets of desires, and authenticity is something you see as desired amongs millennials," he says. "Jackson Heights has kept that old New York feel." 
4. Greenpoint, Brooklyn
Highlights: Nightlife: ✭✭✭✭  Bike friendliness: ✭✭✭✭  Young population: ✭✭✭✭
Median two-bedroom rent: $2,800
Greenpoint is not cheap—at $2,800 two-bedroom median rent it's the second priciest on our list—but it tops the charts in terms of young population, nightlife options, and bike friendliness.
The neighborhood is directly north of Williamsburg and directly south of Long Island City, both neighborhoods with much higher rents. But somehow Greenpoint still has a laid-back appeal.
"Greenpoint has retained a quiet charm with long-standing mom-and-pops mixed with newer boutiques and bars," Halpern of Localize says. "And although its waterfront is losing some of its charming grittiness as glass high rises transform the waterfront, these changes are also bringing new waterfront parks and new coffee shops and other retail."
"It feels like authentic New York, not chains or run of the mill places," says Krasnow. 
The western edge of the neighborhood by the East River was once industrial and is now home to lofts, restaurants, bars, and boutique shopping. There's a popular bookstore (Word) and popular restaurants (Paulie Gee's, Cherry Point, Oxomoco, Chez Ma Tante) that are positively reviewed in The New York Times and other publications. Greenpoint also boasts hotspots such as the Warsaw music venue and multiple dance clubs.
The area is a mix when it comes to housing stock, from warehouses to vinyl sides row houses and apartment buildings. There's also a good deal of new construction, which means rental prices can vary greatly, says Krasnow.
The small neighborhood is only served by the G train but it connects with multiple trains in Long Island City and the L train in Williamsburg for access to Manhattan. There is a ferry stop along the waterfront too, with access to East 34th Street, Wall Street's Pier 11, or points south on the Brooklyn waterfront. 
The area is poised to become even more desirable as multiple luxury rental towers are slated to open soon along the waterfront, like Greenpoint Landing.
5. Astoria, Queens
Highlights: Nightlife: ✭✭✭✭  Bike friendliness: ✭✭✭✭
Median two-bedroom rent: $2,400
Astoria is one of those New York City neighborhoods that appeals to a wide range of people. There are large apartment buildings and smaller-scale houses. There are multiple cultural attractions as well as Astoria Park, a large, beautiful city park along the waterfront that is currently seeing a $30 million overhaul. Long-standing immigrant-owned businesses and ethnic restaurants stand alongside newer cocktail bars and coffee shops. 
The essential character of the neighborhood hasn't completely changed, says Schulte. "The businesses that support the neighborhood have gentrified, and [now] there's a wider variety at a higher end. Thirty years ago it was an amazing neighborhood. It still is." 
The housing stock in the neighborhood is mixed, with older apartments in co-ops and rental buildings, row houses, and single-family homes, says Schulte. There is also new development (with luxury finishes and higher prices) on the market now with more to come, including two large development projects at Halletts Point and Astoria Cove, which will bring many new residents to the area when completed.  
Prices often have a lot to do with where in the neighborhood your apartment is, Schulte adds, with higher rents the closer you are to the N and W train lines. The area has Citi Bike and bike lanes, and there is ferry service along the waterfront.
When it comes to cultural offerings, Astoria is strong. "It [Astoria] has beer gardens, restaurants—the area is especially known for its Greek cuisine—and major cultural attractions, like the Museum of the Moving Image, the Noguchi Museum, and Socrates Sculpture Park," says Halpern of Localize. "And the neighborhood is getting hipper by the day. A new artisan market and food hall is opening near a creative office hub anchored by Kaufman Astoria Studios."
A 20,000-foot music space, called the Arc, will bring "emerging and established artists to the area," Halpern added.
6. Upper East Side
Highlights: Commute: ✭✭✭✭✭  Safety: ✭✭✭✭✭  Bike friendliness: ✭✭✭✭✭
Median two-bedroom rent: $2,950
The Upper East Side isn't necessarily the first place that comes to mind when young people (or anyone for that matter) consider a starter neighborhood. But for a certain subset of graduate—say someone particularly concerned with safety, wants a doorman or other amenities, or requires a short commute—it's a spot to consider. Especially if a low price doesn't top the list of criteria. 
"The monthly median rent for two-bedroom UES walk-ups is $2,800, while it's $3,800 for elevator buildings. But if parents are helping with the rent, they might prefer to spring for the elevator building with doorman," says Klein of Localize.
The area is great for commuters, especially since the opening of the Second Avenue Subway, which also reduced congestion along the 4, 5, and 6 lines. Ferry service from East 90th Street was recently added, and connects with Soundview in the Bronx as well as East Midtown and Wall Street. It's also very bike friendly with a high number of lanes and Citi-Bike docking stations. 
The Upper East Side has amenities galore too, from shopping to parks. It doesn't get more New York than Central Park, does it? Friends from home will be jealous. 
7. Ridgewood, Queens
Highlights: Affordability: ✭✭✭✭  Nightlife: ✭✭✭✭
Median two-bedroom rent: $2,200
Another repeat from last year, Ridgewood is a top neighborhood to consider. Located directly next to Bushwick in Brooklyn, Ridgewood is only getting more hip (and therefore, expensive).
"Ridgewood may not have the same concentration of nightlife options as Bushwick, but it has its own artsy vibe," says Halpern of Localize. Indeed, popular hotspots like Nowadays and cultural/ arts venues like Trans-Pecos are located here.
Ridgewood is seeing new cafes, bars, restaurants, and other businesses open while at the same time old standbys are remaining popular. There are Polish, Italian and Latin-American spots alongside newer joints like The Factory. 
The neighborhood is on the quiet side thanks to leafy residential side streets with low-rise buildings, but as the housing demand increases it's getting more populated. The area is also home to four historic districts, which should help the character there to remain. Two-bedroom apartments go for around $2,200-2,300, says Schulte, depending on the walk to the subway and most are in renovated railroad-style apartment buildings. "There's a $300 difference between an apartment with a three-minute walk and an apartment with a 10-minute walk," he adds.
When it comes to commuting, the M is the main train with the L servicing a small portion of the neighborhood. A trip to Manhattan can take 40-50 minutes but Schulte says more trains were added when the full L-train shutdown was planned, and the trains have remained. The city is considering extending Citi-Bike and adding bike lanes to the area, according to Localize.city. 
8. Fordham, the Bronx
Highlights: Affordability: ✭✭✭✭✭  Young population: ✭✭✭✭✭
Median two-bedroom rent: $1,750
College graduates may be attracted to Fordham because it feels a bit like a college town—despite being in the middle of one of the biggest cities in the world. The young population is high and the rents are low for New York City, too. 
"Fordham is a college town, which means that its housing market might be tighter than other parts of the Bronx. Yet, it's still the most affordable on this list, and it has access to plenty of cultural events and educational opportunities," says Klein of Localize.
The housing stock is mostly made up of walk-up apartment buildings and smaller homes divided into apartments, Tewel says. But as New York City's housing market changes, Fordham landlords are looking to keep up. "There are a lot more updated and nice apartments available," Tewel says. "The area is obviously changing with new business and retail."
According to Localize.city, the area is also a LGBTQ "hub" with a defunct library branch being transformed into a community center with LGBTQ programming.
Fordham is served by the B, D, and 4 trains, with rides to Midtown and the Financial District taking about 45 minutes. There is also a stop on the Metro-North commuter rail and two dockless bike share programs, one from Citi Bike and another from a company called JUMP.
9. Central Harlem
Highlights: Commute: ✭✭✭✭  Nightlife: ✭✭✭✭✭
Median two-bedroom rent: $2,400
Culture, history, food—you name it and Harlem's got it. Central Harlem, which starts around 125th Street, is home to soul food restaurants (Sylvia's, Red Rooster, Charles' Country Pan Fried Chicken), the legendary Apollo Theater, and committed and dedicated residents. "Harlem has great restaurants, clubs and art, as well as a strong sense of community, anchored by the neighborhood's many community gardens," says Klein of Localize. 
The character changes depending on where you are in the neighborhood, says Jake Knopfler, salesperson at Uptown Flats at Compass. The main thoroughfares feature larger prewar elevator buildings with retail and restaurants, and the side streets feature similar buildings with smaller walk-ups mixed in. The area is also home to stately historic brownstones that have become very pricey in recent years. 
Knopfler says in Harlem large three- and four-bedroom apartments in prewar buildings can be found for decent rents especially along Adam Clayton Powell Jr. Boulevard and Lenox Avenue. There is also much new construction, he added. "Every year we get 10-15 new buildings," he says.
Wesley Miller of Bohemia Realty Group says new businesses in the area, such as bars and restaurants, cater to a younger crowd, and buildings have amenities geared toward them as well. "Buildings like The Westbourne on 137th Street are adding amenities like bike storage, free wifi, modern fitness centers and even doggie spas."
There is much mixed-use development slated for the area too, including an 11-building mega-project on West 126th Street that will bring new and renovated buildings with "shop-lined public plazas and pedestrian passageways," according to Localize. 
10. Flatbush, Brooklyn
Highlights  Affordability: ✭✭✭✭. Commute: ✭✭✭✭
Median two-bedroom rent: $2,175
Brooklyn is synonymous with cool and therefore attracts many millennials but it's also expensive. As a result, young people and gentrification has pushed deeper and deeper into the borough, with Flatbush the latest neighborhood to see an influx of development and new businesses. 
""The deeper you go into Brooklyn, the more affordable the rent is, and Flatbush is still convenient enough to visit friends in nearby areas like Ditmas, Kensington, Crown Heights, and Prospect Lefferts-Gardens," says Klein of Localize.
The neighborhood, anchored by bustling Flatbush Avenue, is geographically located between two more desirable neighborhoods: Prospect Lefferts Gardens, a community of mostly landmarked limestone row houses, and Ditmas Park, which is best known as the neighborhood in Brooklyn with historic Victorian mansions. In Flatbush, the housing stock is mixed with some row houses, taller co-op apartment buildings and rentals, alongside single family homes and newer developments with amenities. In recent years developers have targeted the area and are building tall to take advantage of the views that can be found, thanks to the area's proximity to Prospect Park, says Krasnow of MNS Real Estate. 
According to Localize.city, 1,500 new units are expected to open by 2020, which is likely to change the character of the community while also driving up prices.
The area is home to businesses and food establishments catering to the large Caribbean population, and in recent years coffee shops, restaurants, and bars have also opened up. Brooklyn College is nearby, which gives a youthful feel to the area, and the recently rehabbed Kings Theatre, which hosts bands, children's performances, plays, and comedy, is also a huge draw for people all over the city. 
Flatbush is served by the B, Q, 2, and 5 lines, which can bring you to Lower Manhattan in about 35 minutes. 
Brick Underground articles occasionally include the expertise of, or information about, advertising partners when relevant to the story. We will never promote an advertiser's product without making the relationship clear to our readers.