Best of Brick
Jersey City vs. Hoboken: Which neighborhood is for you?
Jersey City is the state's second-largest city and the most diverse city in the U.S.
Hoboken is a mere 1.25 square mile and bordered by the Hudson River to the east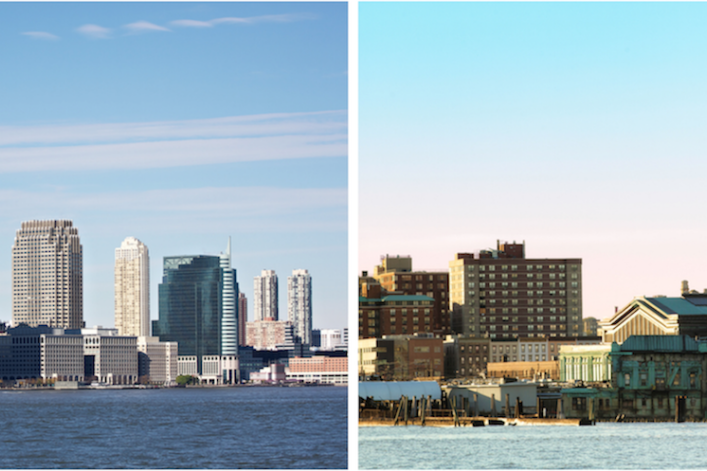 The bedroom communities of New Jersey have long been an option for New Yorkers fleeing the city in search of less expensive housing and easy commutes. For many apartment hunters, it makes just as much sense to look in New Jersey as it does the outer boroughs.
But in recent years, New Jersey has become a preferred destination. A couple of factors account for this: rising prices in North Brooklyn and Long Island City, and a surge of amenity-packed new development along the Gold Coast. This has attracted a more diverse and younger population to the Garden State—especially to the waterfront.
The pandemic only accelerated the trend of New Yorkers moving across the Hudson River, with no sign of slowing down. But that doesn't necessarily mean they want to be in the suburbs—they're looking for some of the trappings of city life, says Joelle Chilazi, a broker at Compass who has a website that focuses on New Jersey listings.
What's more, as rents in NYC hit record-high heights, renters are looking for more affordable apartments and often more space if they are working from home—and many are looking to buy. 
"We get a lot of first-time homebuyers who are tired of spending all that money on rent in Brooklyn Heights," Chilazi says. Though she's still seeing bidding wars, they don't go as high as NYC or in hot spots like Montclair (so more like going $50,000 over ask rather than $500,000). 
---
[Editor's note: Brick's Underground's neighborhood vs. neighborhood series compares housing, lifestyle, and the "vibe" of two popular areas. Also in this series: Ditmas Park vs. Kensington, Astoria vs. Long Island City, Park Slope vs. Windsor Terrace, Tribeca vs. Battery Park City, and Washington Heights vs. Inwood. This article has been updated for 2022. We are presenting it again as part of our summer edition of Best of Brick Week.] 
---
The two Jersey cities that New Yorkers are most familiar with, thanks to their proximity and easy access across the Hudson River, are Hoboken and Jersey City. 
Chilazi says most people consider both at the same time, often along with Brooklyn. 
Natalie Miniard, a real estate broker at The Agency in Jersey City, agrees. "People ask me which city is 'better' all the time and it's such a personal decision." (For the record, both she and Chilazi happen to live in The Heights neighborhood of Jersey City, and Chilazi lived in Hoboken for a while and Miniard's office is there.)
Here's how she often sums up the differences: Hoboken has a beautiful historic waterfront and is easy to navigate, plus you have lots of transportation options. Jersey City also has lots of public transit options—Downtown has four ferry stations—and while it is large it is still very walkable. And Jersey City has a robust arts scene and Food & Wine magazine just named it one of America's Next Food Cities.
Curious about other comparisons? Read on.
Why are New Yorkers moving to Jersey City?
Jersey City is the state's second-largest city—it spans the Bergen Neck peninsula, bordered on the east by the Hudson River and on the west by the Hackensack River, and comprises about 15 square miles of land. 
It's also the most diverse city in the U.S. and sometimes known as "the sixth borough" because of its proximity to—and skyline views of—Manhattan.
The city spans the Bergen Neck peninsula, bordered on the east by the Hudson River and on the west by the Hackensack River, and comprises about 15 square miles of land. 
It's helpful to know that it is divided into six wards, roughly corresponding to its major neighborhoods: Downtown, Journal Square, The Heights, Bergen-Lafayette, Greenville, and the West Side. Most of Ellis Island is also part of Jersey City. 
Pro Tip:
Wondering whether Jersey City or Hoboken is a better fit for your budget, commute and lifestyle? The Agency's Gold Coast Guides are standing by to answer your questions, help you figure out which town makes the most sense for you, and show you apartments that fit your needs. Click here to speak to a Gold Coast guide at The Agency or view apartments online.>>
Given its size, Jersey City has a lot more housing options—Miniard says you can have a luxury high-rise view, a walk-up brownstone-style condo, or a beautiful Victorian with a wraparound porch and a yard and a garage. "And if you want a mixed-use building and have a restaurant or flower shop downstairs and live above it, you can have that too." (And if you are an aspiring entrepreneur, Downtown may be appealing but she got a much lower rent in another up-and-coming area.)
What's the vibe in Jersey City? 
Jersey City has a big-city feel, with lots of nightlife, events, and restaurant options. Downtown is bustling and increasingly a popular option for families. The historic areas, like Paulus Hook and the Village, have more mom-and-pop shops and boutique buildings. The density of commercial development gives Journal Square a vibrant urban beat. Lafayette has a neo-bohemian funkiness, while the Heights has more of an artsy vibe. The farther-flung neighborhoods have a friendly, residential feel.
Chilazi says people from Brooklyn in particular are drawn here by the similar cultural scene, mom-and-pop shops, and spread-out neighborhoods. 
How expensive is it to rent in Jersey City?
In recent years, development in Jersey City has been moving at a breakneck pace, with few interruptions since construction was deemed essential business during the pandemic. Despite all that new housing, the city is still pretty expensive. 
According to Nancy Packes, president of Nancy Packes Data Services, a development consultancy and database provider, the median rent is $3,780 and average rent is $4,005.
"We began tracking Jersey City rents in 2018, and since then, average rents have increased approximately 4.2 percent per year," she says, adding that in 2022, year-over-year increases were approximately 17 percent for studios and one bedrooms was approximately, 8 percent for two bedrooms, and 3 percent for three bedrooms.
Packes also reports that more than 9,600 units are planned or under development in Jersey City, most of which are expected to be ready by 2026.
And a recent study by the site RentCafé shows the most expensive neighborhoods in Jersey City are Mount Pleasant ($3,925), Washington Village ($3,925), and Western Slope ($3,925). The most affordable neighborhoods are Bayfront, Country Village, Greenville Yard, Jackson Hill, and Liberty State Park (all average $1,990).
How much do houses in Jersey City sell for? 
The sales market is similarly hot: The median sales price was about $500,000 as of June and the median asking price was $600,000 (both figures flat year-over-year.) 
The sales market fluctuated during the pandemic, taking a huge dip in spring 2020 before beginning a steady climb upward in 2021 and leveling off in 2022. Downtown and The Waterfront, where development has been booming, are the most expensive, with median asking prices of $720,000 ($735 per square foot) and $815,000 (a whopping $879 per square foot), respectively. Journal Square and West Side are the most affordable neighborhoods, with median asking prices of $419,000 ($456 per square foot) and $430,000 ($350 per square foot) respectively.
Greenville ($470,000) and The Heights ($625,000) are, along with The Waterfront, among the most popular areas. 
Condo construction halted after the 2008 financial crisis, but "in the last few years, it has come back strongly," says Darrell Simmons, publisher of New Jersey real estate site JerseyDigs.com. That only continued to pick up steam during the pandemic, he says. "The pandemic appears to not have affected condo development much, if at all." And certainly 2022 is continuing apace. 
Examples include 144 First Street, from NYC-based developer Empire, and 99 Hudson, which is New Jersey's tallest residential building and has 781 units. According to the developer, a flurry of sales over the summer brought the number of closed deals to more than 300. 
"We're seeing a noticeable uptick in prospects who were comfortable with renting before being hit with significant rate increases," said Jaqueline Urgo, president of The Marketing Directors, which represents new developments along the Gold Coast, including 99 Hudson. "This is true for both NYC residents as well as those who were already living in Jersey City. Both groups now see the value in purchasing a home in a building with exceptional living spaces, top-of-market amenities and services, and a great location."
One factor to consider: Jersey City just increased its property tax rate from 1.61 to 1.889, so now it's higher than Hoboken. 
On the plus side, the city launched the Golden Neighborhood Homeownership Program, which awards grants to help cover the upfront costs of buying a home. (The application period runs through October 2022.)
What are the new rental and condo developments in Jersey City?
Construction in and around Downtown Jersey City has been rampant in part because developers were able to buy large tracts of land in the city's former industrial hub. A notable example is the Newport area, where the LeFrak Organization has developed 17 residential buildings across four districts, including The Beach, a luxury waterfront property. Available properties range from $3,785 for a studio to $6,965 for a three bedroom, with multiple one bedrooms running around $4,500 and two bedrooms averaging $5,800.
"During the pandemic, we saw renewed interest in Newport as an option for people who are looking for more spacious homes and closer proximity to Manhattan without living in the borough," says Richard Wernick, the managing director of residential leasing at LeFrak. "We've also seen even greater demand for features that Newport is known for, such as expansive homes with space to work remotely, an abundance of public green space, access to multiple modes of transportation, and a walkable, community-oriented neighborhood."
Two buzzy condos from Park and Shore, also in Newport, come with ultra-luxe amenities like an Olympic-sized lap pool and wine tasting lounge with private dining area. Six units are currently available, ranging from $1.075 million for a one bedroom to $2.63 million for a three bedroom. 
And according to Jersey Digs,, renderings have been approved for two new glass-front towers which will reportedly add close to 2,000 rental units and significant retail space along two of the last undeveloped blocks of the Waterfront. No timeline has been revealed so stay tuned.
Large condo projects such as Palisade Square and Gallery Lofts have also been developed here, as has The Oakman and One Ten, which is between Downtown and The Heights.
But Miniard suggests looking at older developments such as Gull's Cove, where units tend to have larger floor plans. "You can buy a two bedroom and then renovate it and compete with the newer high rises, where two bedrooms have much less square footage."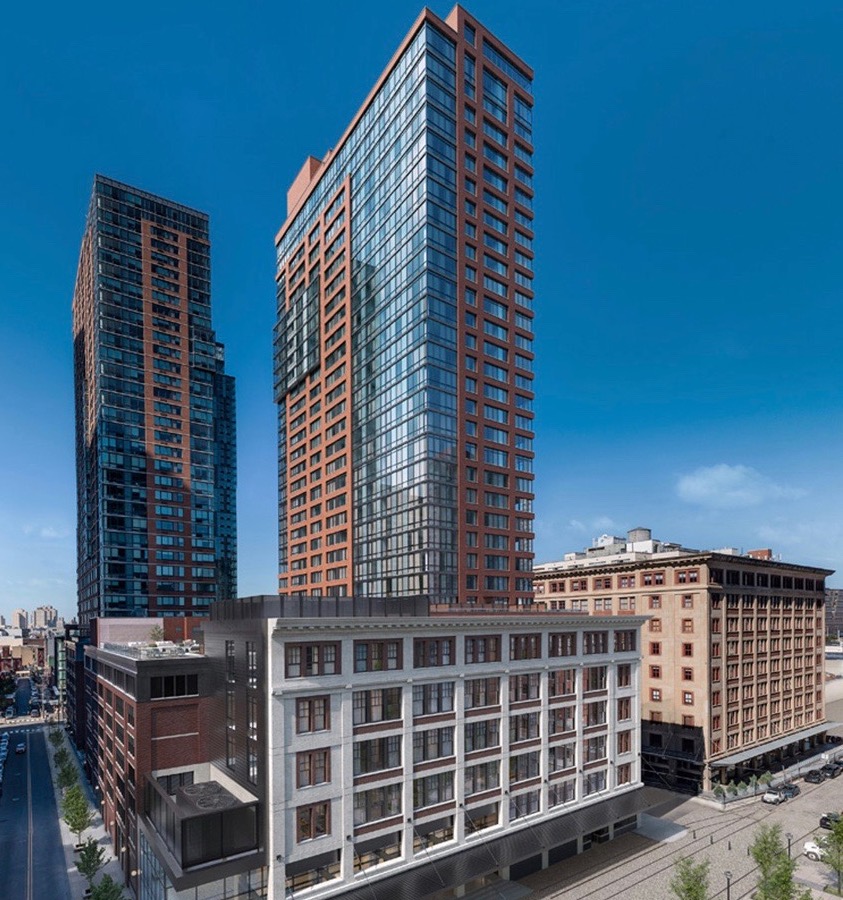 The happening Powerhouse Arts District is a big draw for people who want to be part of the cultural epicenter, with shops, galleries, and restaurants at their doorstep. 
The 242 residences at 10 Provost St. sold out almost immediately when the building opened in 2018 and now the same developers are launching another property at Provost Square in the fall of 2022. "We're excited to bring 151 Bay St. to market and are experiencing a very high level of demand," says Henry Waller, vice president of Toll Brothers City Living. The building, which he adds is the third and final Provost Square development (the first was The Morgan, a rental building), has 259 units ranging in size from studio to three-bedroom residences—and located two blocks from the Grove Street PATH Station.
Haus25, a hot new rental in Powerhouse Arts District that began leasing in April, is garnering attention for being sustainable (it was constructed to LEED Silver certification standards and offers 24 electric vehicle charging stations, among other green amenities) and offers resort-like amenities, including 31,000 square feet of outdoor space with a "bark park" for dogs. The studio to three-bedroom rental units come with floor-to-ceiling windows and range in price from $3,500 to just under $11,000 per month.
And all 507 rental units at 351 Marin, a striking geometric 38-­story tower in the Arts District, were snapped up in just five months in early 2022.
Elsewhere, you'll find more of a mix of housing types. In Journal Square—the former heart of the city and one of the fastest-growing areas—there are large apartment complexes as well as multi-family low-rises. Journal Squared, 3 Journal Square, Altura, and Hilltop at JSQ are some of the more prominent rental towers in the neighborhood. And only one of 35 residents is available at the brand-new 75 Jordan Ave., which started leasing in May.
Also in Journal Square: Le Léo is launching in October with 99 rentals in a six-story building designed by Marchetto Higgins Stieve.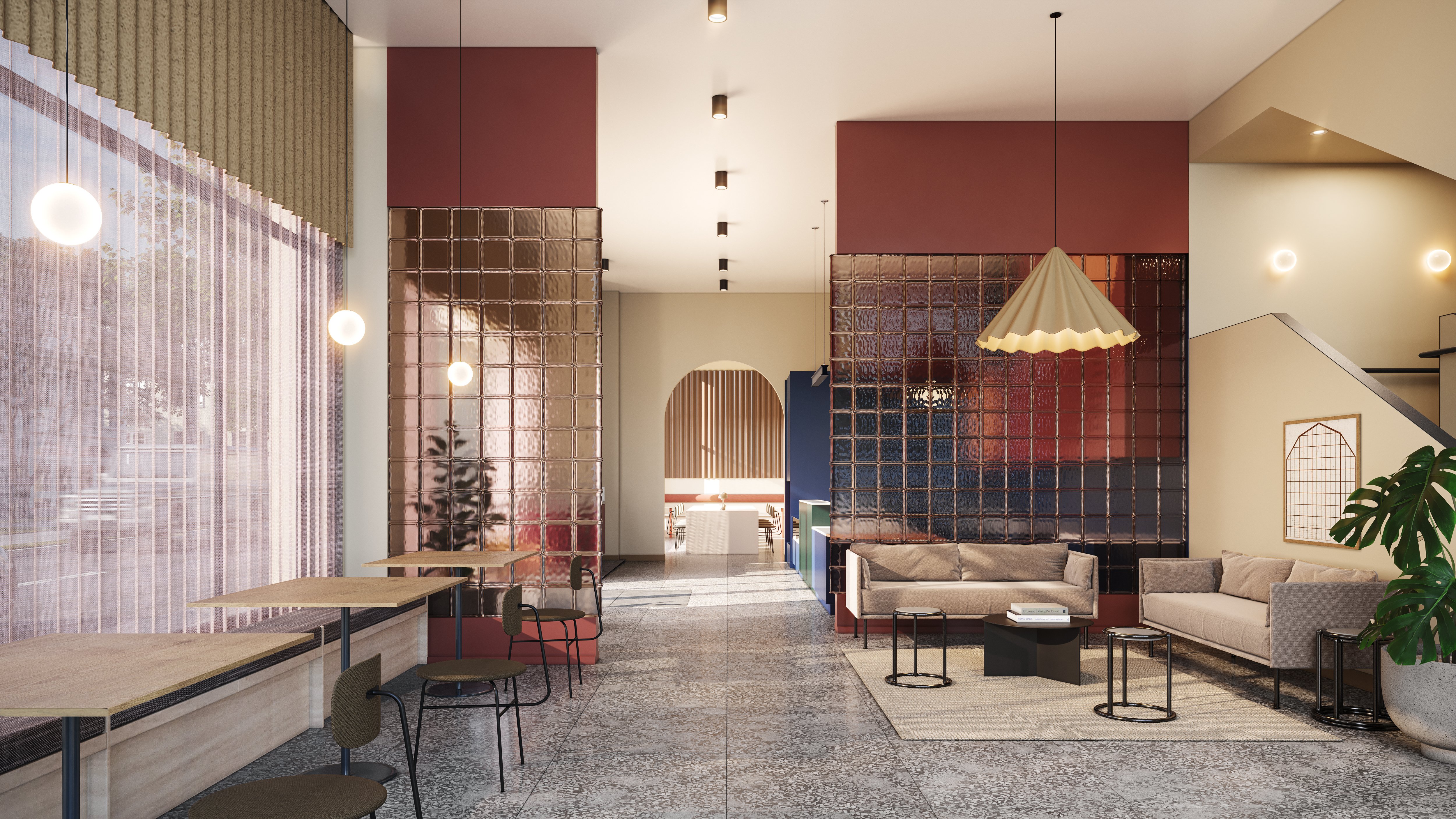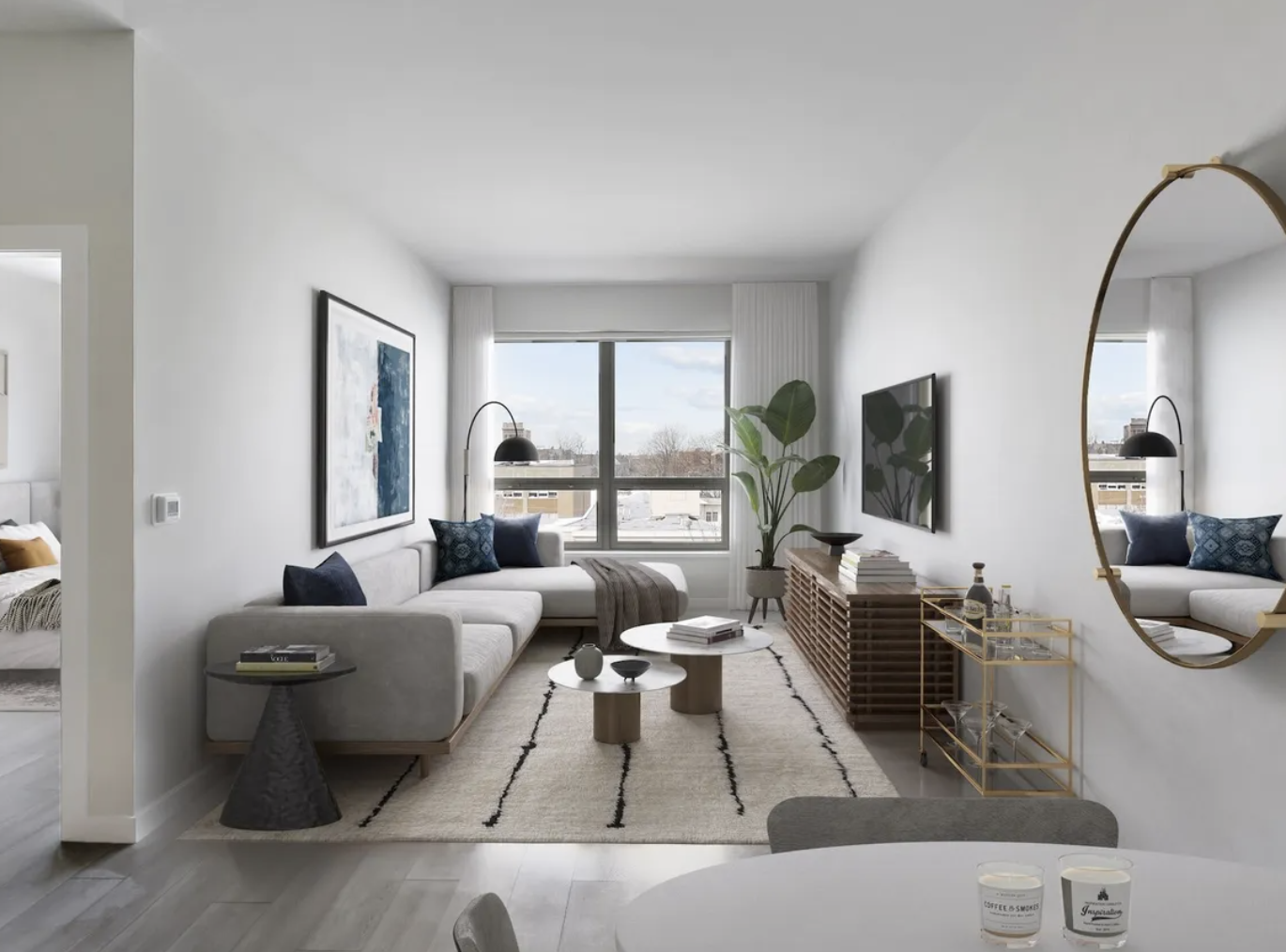 The Heights—which is a neighborhood on a cliff overlooking Hoboken (you can even take the steps or elevator there)—is becoming more popular, Chilazi says. She moved here from Downtown herself "because you get more space for the money." Plus it's easier to find three-bedroom condos here than in other neighborhoods, and you can find more homes with outdoor space (roof decks or backyard) and parking. 
The city has invested in developing Central Avenue, the main thoroughfare, into a pedestrian plaza similar to Newark Avenue in Downtown. Housing there includes wood-frame buildings, and certain areas have beautiful historic properties, namely along Ogden Avenue, Summit Avenue, and Sherman Place. 
Many townhomes are also being renovated and converted to condo units. Chilazi recently sold a single-family house in The Heights to a developer, who put four condos on the 35-by-100-square-foot lot and sold each one for around $750,000. (She also recently sold one of two condos in a gut–renovated historic house at 255 York St. closer to Downtown for $1.75 million.)
She is seeing the same kind of development here as in Downtown, which is largely by refurbishing existing buildings and lots, including plans to turn a two-story warehouse into a residential community that will include an affordable housing component.
That said, Sherman Place is a new ground-up construction at 3316 Kennedy Blvd. that has 14 units by Franklin Development Group.
The historic corridor of Bergen Hill has stunning townhomes and single-family houses, while nearby Lafayette is undergoing a major transformation. Large blocks of former industrial properties have been cleared, remediated, and now numerous rental projects are underway. (Chilazi says the preponderance of rentals over condos has caused a minor uproar.) 
This has also brought an influx of young urban professionals and creative types, in particular. The Baker Building was one of the first large rental buildings in the neighborhood from Point Capital Development, which has since added to its portfolio in Lafayette with Garabrant. There is also the "eco-chic sanctuary" Solaris Lofts, with apartments ranging from sprawling lofts to corner three-bedrooms, and The Hazel, which currently has two units for rent (a studio for $2,800 and one bedroom for $3,290).
According to Chilazi, there's also been an influx of new owners in Lincoln Park, where you can get a single-family house with a backyard in the range of $500,000 to $1.275 million. The ability to work from home might be driving some of that surge: Lincoln Park is about a 20-minute walk to the PATH train, a distance that might have been a deterrent to commuters in the past. But with more flexible working arrangements as a result of the pandemic, it has become more enticing to people who do not have to commute every single day. "I get people from Brooklyn who come here because they are not ready for the suburbs," she says. 
West of the Downtown Waterfront lies historic Van Vorst Park and Hamilton Park. Both feature brownstones and ornate rowhouses. Point Capital Development also opened Esjay in Van Vorst Park; the 40-unit new construction features one and two bedrooms ranging from 500 to 1,100 square feet (and on-site parking). 
The westernmost—and trendsetting—Downtown neighborhood is Village West, a working-class neighborhood during the industrial days known as Italian Village, thanks to its Italian population. Coming soon to the neighborhood is 338 Newark Ave., which will have 35 condos for sale and was developed by Plazacorp.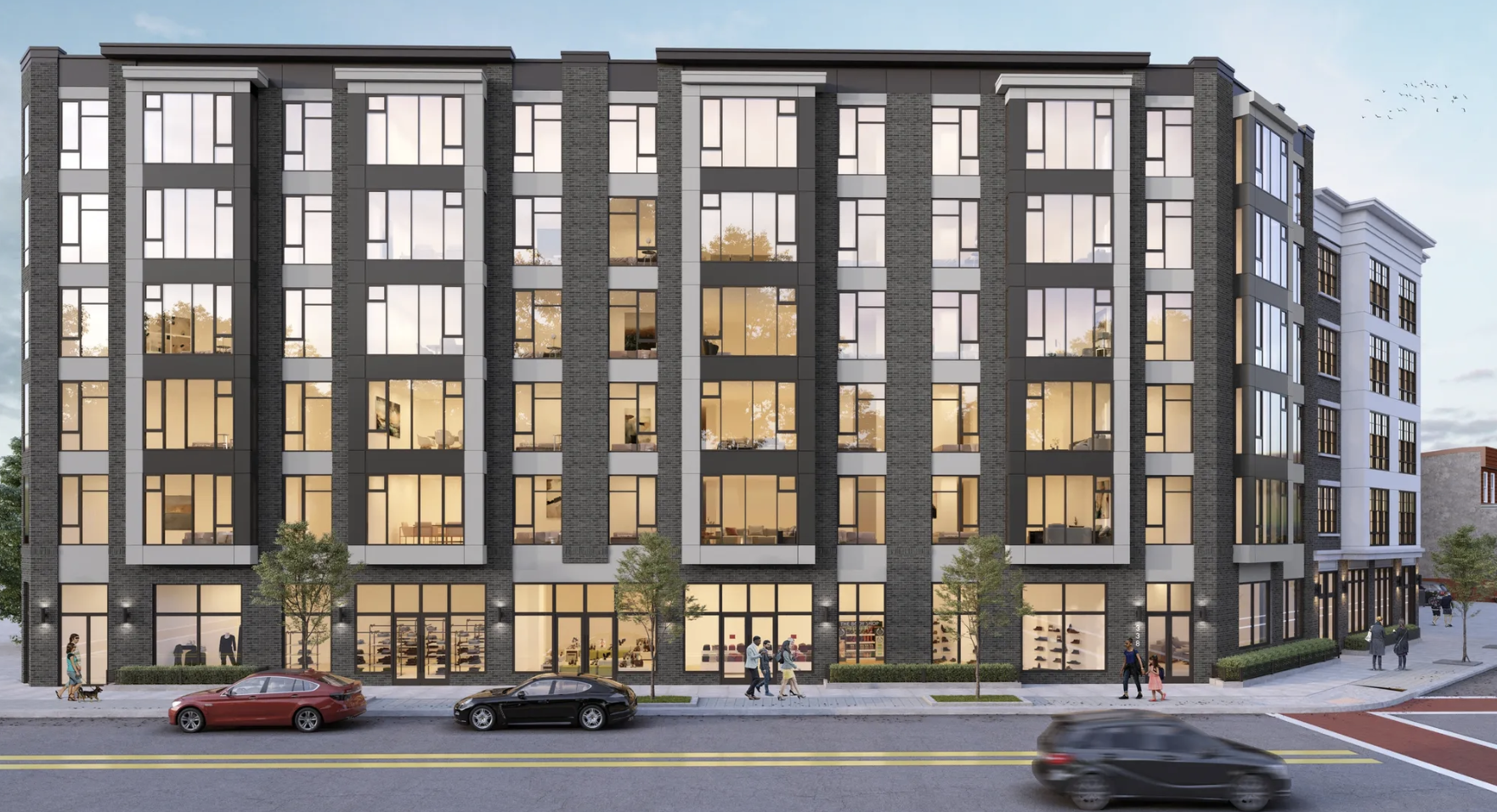 Is it easy to commute from Jersey City to Manhattan? 
Commuting options from Jersey City to lower Manhattan, in particular, are good. New Yorkers mostly know Jersey City for its Downtown because that's where three of its four PATH stations are, at Exchange Place, Grove Street and Newport (the city's fourth stop is at Journal Square). 
NY Waterway ferries operate between Harborside, Paulus Hook, Liberty Harbor, and Port Liberte, and dock in Manhattan at the Battery Park City Ferry Terminal, Pier 11/Wall St, and the West Midtown Ferry Terminal. 
The Liberty Water Taxi runs ferries from Liberty Landing Marina and Warren Street to Battery Park City. There are numerous buses from the Journal Square Transportation Center, Exchange Place, and Hoboken Terminal. The Hudson-Bergen light rail, operated by NJ Transit, runs north-south through the city, with connections throughout Hudson County. Jersey City also has Citi Bike docks, if you prefer to get around on your own power.
If people work in midtown, Chilazi recommends The Heights because there's bus service to the Port Authority (similar to Hoboken). 
"If you time it right, you can get from the financial district to Exchange Place in ten minutes," Miniard says. 
What's the population of Jersey City?
About 262,000 people live in Jersey City, and it's one of the most diverse cities in the U.S. "It's vast, both in terms of population and geographically," says Waller of Toll Brothers City Living. "Every time I drive though, I'm amazed at how big it is."
Like NYC, Jersey City has historically been a major destination for immigrants to the U.S. The number of non-Hispanic whites, Asians, African Americans, and Latino residents are roughly equivalent, creating a vibrant mix of cultures that you'll experience mostly beyond downtown. 
For example: Marion, to the west of Journal Square, is home to Jersey City's Little India, which has the highest concentration of Asian Indians in the Western Hemisphere, and Five Corners is a vibrant Filipino enclave in the northeastern portion of Journal Square. A stretch spanning the northern part of Hudson County used to be referred to as Havana on the Hudson, where the Cuban population was once second only to Miami, though many residents have since moved to the suburbs.
Of course, Jersey City has lately been a major draw for people coming from much nearer: Manhattan and Brooklyn. Empty nesters are also downsizing from the suburbs and moving here for a more vibrant and walkable urban lifestyle. "I get a lot of people who sold their house at the peak and now want to rent or buy here," Chilazi says.
That even includes some people who may have left during the pandemic but are now coming back. "We are seeing some people who dipped their toes into the suburbs and decided that it wasn't for them at this time of their life," Waller says. "Primarily independent millennial singles who moved in with their suburban parents and concluded that lifestyle was not for them."
There's variety among income levels as well. Jersey City's median household income is $70,752, about half that of the much smaller Hoboken.
What is there to do in Jersey City?
Art, culture, and music play a significant role in the fabric of the community. Downtown, with its deep-pocketed professionals, dual-income families, and creative types with discretionary income, has given rise to a busy arts scene, with galleries like Mana Contemporary, and music venues like the restored White Eagle Hall. Chilazi says the annual Art Fair 14C at the Armory "is a pretty big deal and gets a huge turnout." 
As far as museums, the world-renowned Parisian art museum and cultural institution The Centre Pompidou chose Jersey City for its first North American satellite location. The Pompidou x Jersey City is slated to open in 2024 in the Pathside Building, also known as the PSE&G building, in Journal Square. And there are two movie studios coming to Bergen-Lafayette, ​​as New Jersey continues to draw film and TV production due to a tax credit signed into law by Governor Phil Murphy in 2018 and expanded two years later.
The Loew's Theater in Journal Square has also been saved from demolition and is undergoing a multi-million-dollar major renovation. 
"There was a time when you had to be Jersey-centric to know about Jersey City, but if you were New York-centric, you probably weren't coming across the river," says Michael Barry, president of Ironstate Development Company. "That's all changed in the past few years. Today, if you're looking for an apartment in the New York-metropolitan area, you're looking at Manhattan, you're looking at Long Island City and Astoria, you're looking at Williamsburg, and you're looking at Jersey City."
"People are no longer coming over as a consolation prize, they are coming over because they want to be here and realize that Jersey City is cool," Miniard says. "There is so much going on at all times and artists are coming over here from NYC to perform and to live."
There's green space to be found, too. Jersey City is on the Hudson River Waterfront Walkway, and has multiple large parks along its waterfronts, most notably Liberty State Park on the Hudson and Lincoln State Park on the Hackensack. There's also a proposal to create a new public park, Bergen Arches, along an abandoned mile-long rail trench formerly operated by the Erie Railroad.
Where do people eat and shop in Jersey City?
Jersey City has an eclectic dining and shopping scene, with new restaurants and outlets opening all the time. Downtown has somewhat of a Brooklyn look: Word Bookstore and Barcade have locations there, mixed among local favorites like the Archer, a rustic cocktail bar; Mathew's, a lively neighborhood joint serving seasonal American fare; the intimate Italian locales Razza and Roman Nose; late-night fave Porta; Skinner's Loft, an upscale American bistro; and Cellar 335, a global Tiki-inspired spot. The proprietors of longtime favorite Taqueria Downtown have opened a new restaurant, Los Cuernos, in Newport. For fancier occasions, try 15 Fox Place, a reservation-only Italian eatery in a private house with a multi-course prix fixe menu.
Chilazi recommends Hamilton Pork (eclectic pork-centric menu), Hard Grove Restaurant (long-running Cuban joint), DOMODOMO (Asian-inspired eatery), Hudson Hall (smokehouse and biergarten), ONDO (contemporary Korean), and Pet Shop and Dull Boy Bar (for elevated cocktails and bites). She also likes Into the Void for antiques with a coffee shop in front. 
In the Heights, the retail and restaurant scene is still catching up, but a few notable places have opened in the last few years: Corto (a no-frills Italian joint and Chilazi's personal fave), Low Fidelity (a stylish cocktail bar with Detroit-style pizza), Dulce de Leche (an Argentinian bakery/cafe), and The Cliff (a neighborhood cafe with killer coffee). Chilazi also recommends Bread and Salt Bakery (hyper-seasonal pizza) and The Hutton (a handsome gastropub). 
Bergen Lafayette is home to Cafe Alyce (diverse brunch and lunch spot that's co-owned by Miniard), 902 Brewing Co. (taproom with draft and bottled brews), Pinwheel Garden ("remixed Asian-American food from scratch"), Corgi Spirits (small-batch craft distillery), and Nûrish (vegan-friendly Brooklyn transplant). 
Mod Cup is a coffee house near Mana Contemporary in Journal Square, home to the Little India neighborhood with lots of places to eat.
Plus the country's most diverse city has a global food scene to match, with too many authentic, family-run places to list here. 
Why are New Yorkers moving to Hoboken?
Hoboken is a mere 1.25-square-mile wedge bordered to the east by the Hudson River; to the south and west by the Jersey City neighborhoods of Downtown and The Heights; and to the north by Weehawken. It's directly across from the West Village and Chelsea in Manhattan.
There are two distinct neighborhoods. Uptown Hoboken is quieter, with lots of families and more established residents. Downtown you'll find more singles, a greater hum of activity, and a college-town vibe, especially around the PATH station.
Generally speaking, Chilazi says the compact size and crowded sidewalks tend to appeal to Manhattanites more than Jersey City.
And Miniard says Hoboken is similar to Downtown Jersey City in size as well as commute time to NYC. 
Is Hoboken expensive to live in?
Because it is more compact and had its big development boom in the 1990s, apartment prices in Hoboken tend to be a bit higher than in Jersey City (though some agents say prices per square foot Downtown and on the Waterfront in Jersey City have surpassed Hoboken). 
According to Packes, the median rent in 2022 is $3,854 and average rent is $4,003. 
"We began tracking Hoboken rents in 2020, and since then, average unit prices are at approximately the same level as then," she says. Rents decreased approximately 9 percent in 2021 and then grew 11 percent in 2022, putting them back to 2020 levels.
Housing in Hoboken is primarily a mix of historic townhomes, working class two- to three-family houses, and larger apartment buildings, Simmons of Jersey Digs says. Because of its smaller size and density, there is less development compared to Jersey City, and height restrictions are in place.
New construction in Hoboken tends to be condos. Recent developments in Uptown Hoboken have been industrial-style renovations that reflect the history of the neighborhood. For example: the Hudson Tea from Toll Brothers City Living, two luxury condos on the waterfront that were once home to the Lipton Tea Company: 1400 Hudson and 1425 Hudson still has some limited availability, from a two bedroom priced at $1.68 million to a three bedroom at $3.14 million.
Located in the former Maxwell House Coffee Plant, 1000 Maxwell Pl., the most recent Toll Brothers development, is completely sold out.
Compared to Uptown, Downtown Hoboken has more walk-up buildings and multi-family housing. But some of that industrial-historical vibe is moving south, as well. The most noteworthy new development is the Wonder Lofts, a collection of ultra-luxury loft-style residences with modern amenities located in the former Wonder Bread factory, which has sold 70 percent of its 83 units for $1,200 per square foot.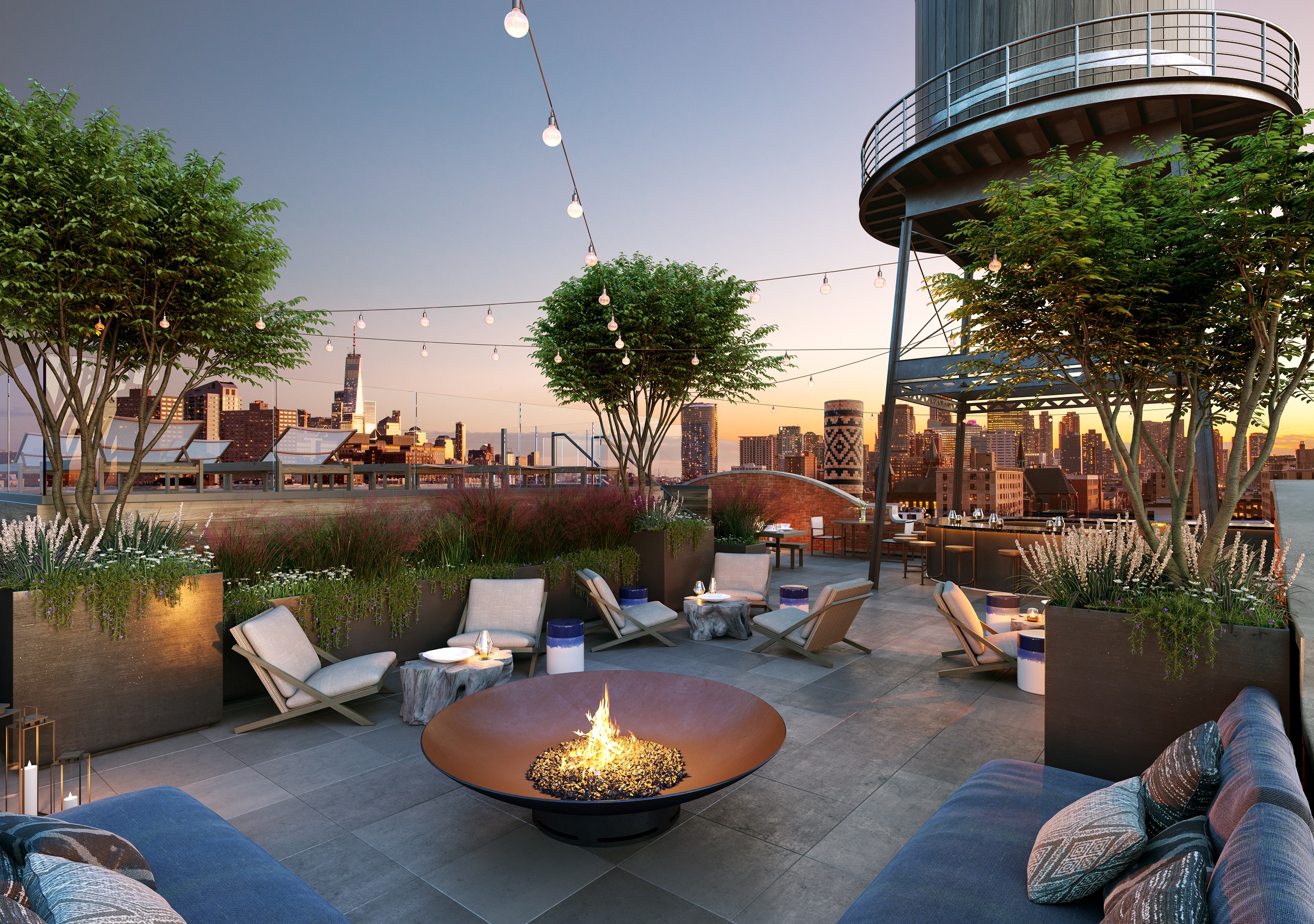 "Hoboken, with its diverse housing stock, vibrant downtown, and great proximity to NYC, has been a traditional hotbed for buyers from Manhattan, Brooklyn, and Queens looking for homes with more interior living space," says Robert Fourniadis, senior vice president, residential, at Prism Capital Partners, which developed Wonder Lofts in partnership with Angelo Gordon and Parkwood Development. 
Chilazi says the eight-unit boutique Barbieri Lofts, another recent arrival in what is called the Southwestern neighborhood of Downtown, has also nearly sold out. 
How long does it take to get from Hoboken to Manhattan?
Hoboken has a lot of buses to the Port Authority, which is great for people who work in midtown. 
The PATH train operates from Hoboken Terminal to 33rd Street and the World Trade Center (and connects to Journal Square, in Jersey City, and Newark Penn Station). It's typically less crowded than the PATH in Jersey City. 
The NY Waterway ferry crosses from Hoboken Terminal and 14th Street to Battery Park City Ferry Terminal, Pier 11/Wall St, and the West Midtown Ferry Terminal. The 126 bus runs from Hoboken Terminal to Port Authority. (Be warned: parking in Hoboken is terrible.)
What is there to do in Hoboken?
Once dominated by a 20-something beer-and-shot-drinking crowd, Hoboken's culture has matured quite a bit, thanks to more families staying long-term, Urgo says.
Hoboken's compactness fosters a small-town familiarity—you're likely to run into people you know on the street because you don't really need a car to get around. It's very pedestrian friendly, with good mass transit and bike lanes.
"It's small enough that you can walk anywhere you want to go," Chilazi says.
Some of the most popular parks are Frank Sinatra Park, Elysian Park, and Columbus Square Park. The Hudson River Waterfront Walkway has boardwalks and green paths that let residents walk from Hoboken all the way to Port Liberte in Jersey City.
Speaking of Sinatra, Hoboken's native son: Much of the crooner's old neighborhood is gone and Hoboken looks very different from its mid-century heyday. A vibrant port city for much of the 20th century, Hoboken fell on hard times in the 1960s as the shipping industry dried up. By the '80s, a combination of cheap prices, proximity to a nearly bankrupt NYC, and abundant residential and industrial space fueled a speculation spree. Young people flocked to the neighborhood, home to music venues like the famed Maxwell's, which the "New Yorker" once called "the best club in New York—even though it's in New Jersey." (The club closed in 2013.)
Chilazi first moved to Hoboken in the early 1990s, when it was "an enclave for artists and musicians—kind of up and coming at the time," she says. Similar to the transformation of Williamsburg and the East Village, Hoboken has become more family-friendly over the years. The influx of young singles stayed, had families, and other young couples began to consider Hoboken a viable alternative to Manhattan—for starting or raising a family. 
"The vibe of Hoboken has definitely changed since the early 2000s, as more families have come in and prices have gone up," Tripucka says. "I think more people are staying here and starting families, or moving here with their families from other areas—specifically Brooklyn and NYC." Tripucka herself is an example: she and her husband moved to Hoboken in their early 20s; now in their 30s, they have bought a condo and "are staying for the duration" with their dogs.
For Tripucka and her family, Hoboken's intimacy is the prime selling point. "Walking in a five-block radius from your place in Hoboken, you'll be able to drop off your dry cleaning, get a manicure, eat lunch, bump into neighbors, watch dogs (that may or may not be your own), play at the dog park, ogle historic brownstones as you walk down the quaint streets, and seal it off with an evening cocktail or dinner at a local spot owned by a local family for generations," she says.
Hoboken has changed a lot in recent decades, but the city is trying to keep some sites development-free. After a years-long battle concerning plans for the Union Dry Dock site, the city of Hoboken acquired it and is moving forward with a plan to create the first large-scale riverfront park addition since Maxwell Place Park in 2007. Hoboken also acquired the waterfront Monarch property in the northeastern part of the city to use as a public park, part of a land swap deal with Ironstate Development Co.
Hoboken has a population of about 53,000, and it's not particularly diverse: More than 80 percent of the population is white, according to a 2019 Census Bureau estimate. It's also wealthy and well educated: The median household income is $147,620, and 80.5 percent of its residents have been to college. More than half of the employed residents work in NYC.
Where do people eat and shop in Hoboken?
While sadly some businesses did not survive the pandemic, there are many new businesses blossoming in Hoboken, which is helping it shed an outdated reputation for having chains and franchises. The city also has the most restaurants and bars per capita in the U.S., and there are plenty of gems to be found. Anthony David's is a popular brunch spot. Healthy lunches and bowls are to be found at Acai Ya Later and Shaka Bowl. Augustino's is a famed (and very cozy) Italian spot. The city's Italian legacy is also strongly felt in old-school delis like Fiore's, Vito's, and M & P Biancamano.
Chilazi recommends Fiore's House of Quality (Sinatra used to go there); Benny Tudino's Pizzeria and Italian Restaurant; Antique Bar & Bakery (more Italian); La Isla Restaurant (Cuban food at Uptown and Downtown locales); Elysian Café (modern French bistro); Northern Soul (tavern with live music); Louise & Jerry's (beer, pool and jukebox music); Barbès (French bistro with Parisian atmosphere); and Pilsener Haus & Biergarten (Austrian-Hungarian).
Retail is concentrated mainly on Washington Street, where you'll find boutiques like Alba, Oran, Washington General Store, and the Roost, a Hoboken outpost of an East Village "espresso bar and lifestyle shop."
—Earlier versions of this article contained reporting and writing by Phillip Pantuso.
Brick Underground articles occasionally include the expertise of, or information about, advertising partners when relevant to the story. We will never promote an advertiser's product without making the relationship clear to our readers.