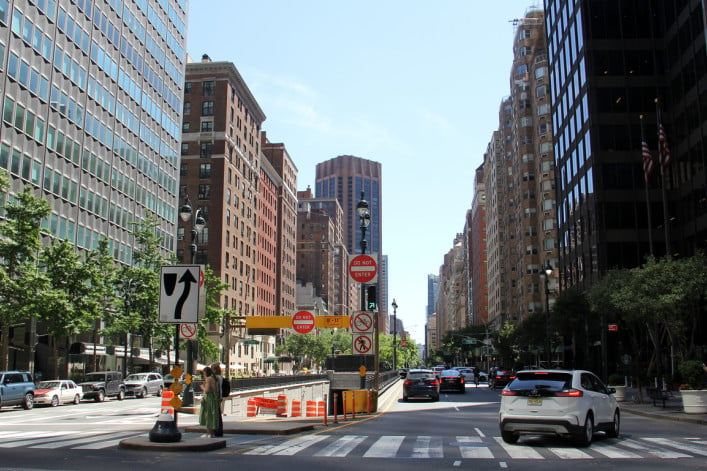 The good news for Manhattan apartment hunters is that rents did not set yet another record in August. The bad news is that rents were the second-highest in history last month.
Still, it seems that Manhattan landlords may be losing a tiny bit of the advantage they've held in recent months, according to the August edition of the Elliman Report for the Manhattan, Brooklyn, and Queens rental markets.
Manhattan net effective median rent, which factors in concessions, was $4,059 in August, a drop of 1 percent from the previous month, when it hit a new record. Both the vacancy rate (2.17 percent) and number of listings on the market edged up slightly last month compared to the previous month, indicating more options are available to renters.
Last month "was the first time in seven months that Manhattan rents did not set a new record," says Jonathan Miller, president and CEO of appraisal firm Miller Samuel and the author of the report. But he points out that Manhattan median net effective rent is up 18.6 percent from pre-pandemic August 2019.
Rents for luxury apartments did hit a new record last month. Luxury net effective median rent rose annually to a new high as concessions fell to the third-lowest level on record, according to the report. Median rent was $11,500 in August, an increase of 7.8 percent compared to July.
Would-be buyers continue to seek out luxury rentals instead, discouraged by high prices and rising mortgage rates as a result of the Fed's interest rates hikes, Miller says.
Are Brooklyn and Queens rents rising?
Brooklyn rents did continue on their record-setting streak. Net effective median rent and median rent rose to new highs. Net effective median rent was $3,464, an increase of 2.8 percent compared to July.
In Queens, net effective median rent reached the third-highest on record. Both median and median net effective rent fell month over month from the prior month's records, the report says. Queens net effective rent was $3,042 in August, down 2.8 percent from, July.
Will NYC rents go down this fall?
Apartment seekers appear to be betting that Manhattan rents are poised to drop. The market share of one-year Manhattan leases exceeded 50 percent for the first time since February 2021—an indication that many renters did not want to be locked into expensive two-year leases in case rents fall dramatically over the coming year.
It's a shift from recent months. For example, during an extended period after the lockdown, when rents were low but expected to rise, two-year leases were pushing 60 percent of total leases, Miller says.
He calls this metric a possible recession detector, but nothing is foolproof.
August typically marks a turning point: "It is peak leasing time no matter what's happening in the rental market," Miller says, adding, "It's not clear what happens next." For rents to come down would require a painful economic event like a recession, he says. That's because "the opposite of rising rents is not falling rents, it's stabilizing rents," he says.
Is the NYC rental market at a turning point?
Corcoran also released August rental market reports for Manhattan and Brooklyn. Gary Malin, COO of Corcoran, expects some kind of pivot for the NYC rental market.
August is always a typical busy month, he says, but this year other factors have been in play. Because rents are so high, some renters "may have postponed a move to the last minute before their fall work or school commitments kick in," he says.
And raising NYC rents to record heights may finally be backfiring for landlords.
"The rising vacancy rate is a sign that some renters have reached their breaking point financially," Malin says. "When boosting rents, owners are simultaneously increasing their number of empty units."
Brick Underground articles occasionally include the expertise of, or information about, advertising partners when relevant to the story. We will never promote an advertiser's product without making the relationship clear to our readers.