The Market
The average rent for a Manhattan apartment keeps climbing above $5,000. What happens when demand falls?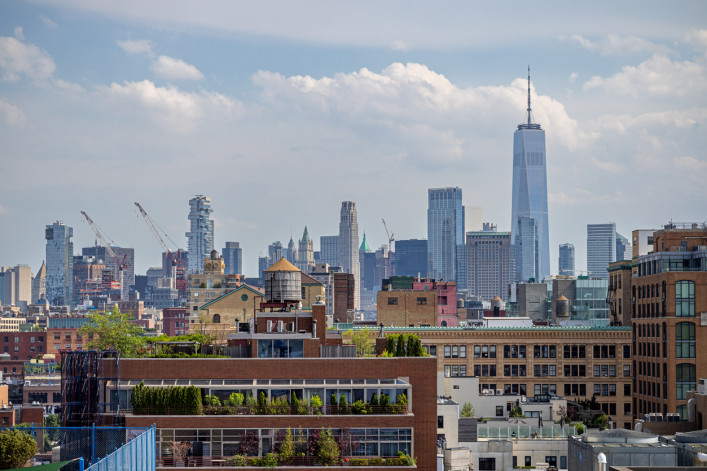 Looking to sign a new lease in Manhattan? If you're renting the average-priced apartment, you (and your roommates, if you have them) better be earning upwards of $200,000.
Sound crazy? Consider that the average rent for a Manhattan apartment hit $5,113 last month—another record in a string of record months for New York City rents, according to the July Elliman Report for the Manhattan, Brooklyn, and Queens rental markets. (Manhattan's average rent first passed $5,000 in June and Manhattan's median rent hit $4,000 for the first time in May.)
This is all scary news for renters, because landlords typically want tenants who earn annual salaries of 40 times the monthly rent, making getting a new apartment in NYC a daunting proposition these days.
It's not just large or luxury apartments skewing rents higher, smaller apartments like studios and one bedrooms are becoming more expensive as well, reflected in the increase in the median rent. The net effective median rent for Manhattan apartments exceeded $4,000 for the first time in July—hitting a new high for the sixth, straight month.
In Brooklyn, the net effective median rent hit $3,370, a new record for the third, consecutive month. Over in Queens, the net effective median rent was $3,129, a new high for the second time in four months. In fact, most of the rent metrics for Queens represented some sort of record in July.
Booming demand for new leases is largely responsible for keeping rents high—the number of new leases for Manhattan apartments increased month over month for the fifth, straight time, says Jonathan Miller, president and CEO of appraisal firm Miller Samuel and the author of the report.
Looking ahead, leasing activity—which is following seasonal trends—should peak after August, but barring an economic downturn don't expect rents to fall then too, he says.
Rents may stabilize or only increase modestly
"The opposite of increasing rents is not falling rents, it's stabilizing or modestly increasing rents," Miller says.
He attributes the rising pressure on NYC rents to buyers sitting out the current sales market cycle—in response to economic uncertainty and higher mortgage rates—and renting instead.
To make rents really fall in Manhattan would mean a major economic event with pain for everyone. "If you're looking for a drop in rents, you have to hope for a recession. But that comes with risks like job losses," he says.
Another perspective: Rents fall 10 to 15 percent
However, job losses are already happening in many sectors, along with a slowdown in hiring, Adam Frisch, senior managing director at Mantus Real Estate, points out. He expects an economic crisis will occur, resulting in a "10 to 15 percent downturn in rents at a minimum."
One trigger will be significant layoffs on Wall Street, a major engine for NYC's economy, he says.
Wall Street accounts for one-fifth of all wages paid in the city and 55 percent of all private sector bonus payments, according to a 2021 report from New York State Comptroller Thomas P. DiNapoli. And at least one consultant predicts Wall Street job cuts in the range of 5 to 10 percent, along with smaller bonuses this year.
Renters accept increases instead of moving out
High rents for new leases, and the cost of moving, are currently keeping people from moving out of the buildings he works with, Frisch says. "We've had relatively little turnover, even with 35 percent rent increases on Covid deals," he says. Tenants are willing to pay those higher rents.
The dilemma tenants are facing: "Your rent is going up $500 but you have to balance that against the cost of moving and trying to find a better deal somewhere else," Frisch says.
Renters choosing to remain in place is a trend backed by a recent survey from listings and building review site openigloo, which reports that four out of five renters expect to renew their leases this year. The report also found that rent increases on lease renewals for market-rate apartments are smaller now, and averaged 11.2 percent in July, down from 13.8 percent in June.  
Another factor scaring renters from venturing into the market: Bidding wars. Last month, they accounted for one out of four new luxury leases in Manhattan, the same ratio for Brooklyn, according to the latest Elliman Report. (Some renters are even encountering bidding wars for broker fees for rent-stabilized apartments.)
How far can landlords push it?
With rents stalled so high, Manhattan is just too expensive for many renters, says Gary Malin, COO at Corcoran, which also released July rental market reports for Manhattan and Brooklyn.
"Rents in Manhattan remain plateaued at record highs. While this is positive news for landlords, evidence shows prices have likely risen to a point where they are out of reach for many tenants," he says. Renters will encounter climbing rents in Brooklyn as well, he says.
"With the rise of remote work, some people no longer need to be tethered to a specific location. While the opportunities and lifestyle available in New York remain appealing to many, how far can landlords push until tenants seek other alternatives?" Malin asks.
"Whether July's Manhattan findings are a temporary blip—or the start of a longer-term trend—is the million-dollar question," he says.
Brick Underground articles occasionally include the expertise of, or information about, advertising partners when relevant to the story. We will never promote an advertiser's product without making the relationship clear to our readers.