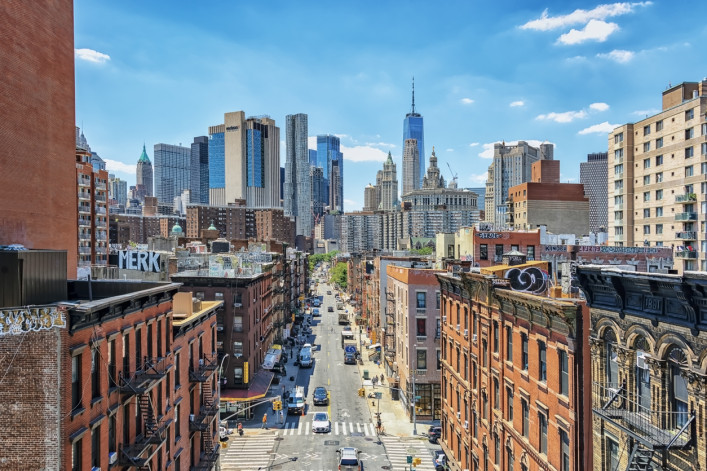 The average rent for a Manhattan apartment hit $5,058 a month in June—an increase of 29 percent over June 2021—driven in part by spooked buyers exiting the sales market and signing expensive leases instead.
Median rent, which in May broke the $4,000 rent threshold for the first time ever, set a record for the fifth, straight month and reached $4,050 in June, according to the latest edition of the Elliman Report.
Brokers tell Brick that buyers are fearful of a recession and willing to pay a premium for a rental now.
"People don't like to make decisions when things are unstable," says Kobi Lahav, senior managing director at Living New York. "It feels like the world is going to hell so now is not the time" to buy. But they are "willing to pay more for rentals. It feels more flexible and they're willing to pay a premium," he says.
Buyers willing to overpay for a rental
The plan for many buyers is to put their plans on pause. "They're parking their cash and overpaying to rent for a year," says Douglas Wagner, manager of brokerage services at BOND New York. "Buyers are consistently telling us they want to just wait."
Both doorman (a proxy for luxury apartments) and non-doorman net effective rents in Manhattan reached new highs and one in four luxury leases involved a bidding war, according to the Elliman Report.
New leases for Manhattan, while down compared to the surge seen a year ago, are ticking up month over month, increasing for the fifth, consecutive month.
Vacancy rate under two percent
Manhattan's vacancy rate has been stuck under two percent for seven straight months—and with so much demand for apartments, landlord concessions fell to a new low of 14.1 percent of leases compared to 37.7 percent a year ago.
In Brooklyn, the net effective median rent, which factors in concessions, reached a new high for the second, straight month in June. It was $3,266, an increase of 1.9 percent over the previous month.
One in five Brooklyn leases involve a bidding war
Landlord concessions fell annually for the 13th, straight month, the report said. And one in five new Brooklyn leases involved a bidding war last month—a pattern seen in the past four months.
Over in Queens, median rent ($3,002), was the second-highest level on record. The percentage of new leases with concessions fell to the lowest share in nearly six years. And the volume of new leases fell compared to a year ago, but were higher than the same period three years ago, before the pandemic.
Corcoran also prepared Manhattan and Brooklyn rental market reports for June. In Manhattan, the report notes that apartments of all sizes are seeing rents increase, with three bedrooms recording the biggest jump.
Active listings down by two-thirds
There's typically a slight decrease in listings from May to June, and in that regard the market is behaving seasonally, the Corcoran report says. But the number of active listings is down a noteworthy 67 percent year-over-year. 
MNS Real Estate also released its June 2022 rental market reports for Manhattan, Brooklyn, Queens, and the Bronx. Notable findings include: Of the 16 neighborhoods in Brooklyn tracked by MNS, 15 saw their average rent increase month-over-month, the largest being a 17.5 percent for two-bedroom apartments in Cobble Hill.
Other big increases in the outer boroughs include a leap of 12.76 in the average rent for Astoria and a jump of 13.93 percent for studios in the Bronx.
Brick Underground articles occasionally include the expertise of, or information about, advertising partners when relevant to the story. We will never promote an advertiser's product without making the relationship clear to our readers.