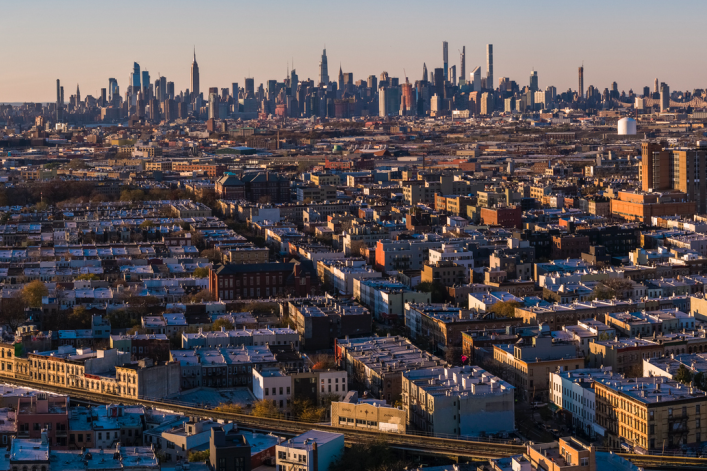 Long waits by dozens of people to view tiny apartments that go to the highest bidder: Hunting for a New York City rental is an exquisite form of agony these days. 
A year ago, bidding wars for rentals were unheard of, now renters expect to offer above the asking rent. The increasingly desperate situation for renters has prompted some to consider unique ways to give their application an edge with landlords and brokers—like free meals and even one offer of fancy cheese—to sweeten the deal. 
Of course, not everyone is giving freebies to brokers but if you plan on moving to the city or your lease ends in the next few months, you're probably nervous and wondering when rents will go down or at least level off. Brick asked brokers and real estate experts to weigh in on when that will be. 
---
[Editor's note: This article was originally published in June 2022. We are presenting it again here as part of our summer Best of Brick week.]
---
Let's start with what's keeping rents high: Lots of demand and few available apartments. For rents to start falling, you'd need to see "a sustained lack of demand," says Noah Rosenblatt, co-founder and CEO of real estate analytics firm UrbanDigs. 
The other factor would be more apartments becoming available—or in broker-speak, "more inventory." Michael J. Franco, a broker at Compass, says, "The lack of inventory is what has driven prices up, especially at certain price points." 
Pro Tip:
With New York City rents at record highs and supply at historical lows, apartments in so-called "affordable" neighborhoods are still expensive and in hot demand. And even if you're the first one in the door, your application will be rejected by most landlords if your annual salary is less than 40 to 45 times the monthly rent. That's why smart renters prequalify themselves by lining up a guarantor ahead of time who earns at least 80 times the monthly rent and resides in New York. (Some landlords will also allow guarantors from New Jersey or Connecticut.). Or, you can turn to the Insurent Lease Guaranty Program. Accepted at more than 8,000 buildings across the city, the Insurent Lease Guaranty is a quick and easy way to get the apartment you want. Click here to learn more.
Are there signs of slowing demand? 
No, there are no signs of slowing demand, in fact, we are just heading into the rental market's busiest season. Jonathan Miller, president and CEO of appraisal firm Miller Samuel, says that will keep rents high in the short term. "New leasing activity each year peaks in August so there are still three more months of rising demand," he says. 
Many New Yorkers left the city as the pandemic closed businesses for months in 2020 but that trend began reversing after Covid vaccines became widely available. Now data from moving companies finds that more people are moving to NYC than before the pandemic. 
Since February 2021, Brick Underground has featured first-person accounts of people moving to NYC for the first time. Whether it's for the big city vibe or to embrace a new life chapter, there's no shortage of newcomers. A year ago, many were taking advantage of lower rents, now they're moving to the city in spite of them.
"Two thirds of the office towers are empty and yet we are having the highest apartment leasing activity and record rents," Miller says. This seems counterintuitive but suggests people moving to the city aren't just coming for work. "Remote work gives many people the option to be in the city and work somewhere else," Miller says.
So with the rental market currently following the fundamental principles of supply and demand, Rosenblatt says there's no signs of rents dipping in coming months.
How the sales market also affects the rental market
There's more competition for rental apartments in NYC when co-op and condo sales slow. That's happening now: Rising mortgage rates are making it more expensive to buy and slowing down the sales market as a result. Many would-be buyers who are priced out of the market typically decide to rent (or keep renting) instead, increasing demand for rentals. 
"There has been at least a 50 percent drop in affordability on mortgage rates alone," Miller says. As the cost of borrowing rises, so does the cost of buying. That means people who might have left their rentals to move into a place they've bought are, instead, staying put. 
In addition, the financial uncertainty of the past few years has mortgage lenders being conservative when it comes to who they will lend to. Buyers who can't qualify stay in the rental market. "Current underwriting is tighter than long term norms and so you have a greater move towards rentals for people who don't quality anymore," Miller says. 
All this, he says, is "exacerbating an already tight market" for rentals. 
Are there signs of more apartments being available soon?
A lack of affordable apartments is an ongoing issue for the city. The data from New York City Housing and Vacancy Survey pointed to an extreme vacancy shortage among the city's lowest-cost units: In 2021, the number of available apartments with rents below $1,500 was at its lowest in 30 years.
Franco says, at the moment, it's currently difficult to find two- or three-bedroom apartment listings in Upper Manhattan and there are shortages altogether in some neighborhoods—like the West Village. 
Most of the rental buildings built in New York over the past decade or more are skewed to the upper half of the market. And that's because land costs and construction costs are high, and developers need to earn enough to balance their costs. Miller points out this is in line with national trends. So while there are record high rents at the top of the market, there are also rising rents on more affordable apartments because fewer of these types of buildings are coming to the market—buildings designed to attract lower-paying renters. 
Why are some NYC apartments still vacant? Some theories
Rosenblatt also claims thousands of rent-stabilized apartments are just sitting empty—the real estate term for this is warehousing.
If it sounds improbable, you have to go back to 2019 when changes to the rent laws in New York made it much more difficult for landlords to cycle their apartments out of the rent-stabilization program. Remember, rent stabilization is part of the city's attempts to preserve affordable housing and getting one of these apartments is like hitting the jackpot for a NYC tenant—you get automatic lease renewals and annual rent increases capped at percentages approved by the Rent Guidelines Board (even if that agency just approved the biggest increases in a decade).
Landlords were furious when they found they could no longer deregulate their apartments and charge higher rents by doing major renovations or reaching a rent threshold that turned the apartment into a market-rate one. "Landlords are hoping there will be a new administration to come in and reverse this law," Rosenblatt says. (All the more reason to use your vote this election cycle.)
It's very difficult to move a tenant out of a rent-stabilized apartment so it's possible some landlords just haven't rented the apartments out. Miller says this is an "interesting premise" but isn't sure how this data is gathered or quantified. It would have to come from landlords sharing their portfolios, data that's difficult to come by. 
It's anecdotal, but Adam Frisch, senior managing director at Mantus Real Estate, says he's had at least 20 or 25 rent-stabilized apartments over the past two years where a tenant has left and the landlord kept the place vacant or rented it to a friend or family member rather than put it back on the market. He says this is "contributing to the lack of supply," and identifies this being a bigger issue in the Bronx, eastern parts of Brooklyn, and Queens than in Manhattan. 
Rosenblatt says the warehoused apartments are in walk-ups and prewar elevator buildings north of 96th Street in Manhattan and then distributed more evenly in various other neighborhoods.
Another factor keeping apartments off the market, Frisch says, is tighter regulations for lead paint inspection as a result of changes to Local Law 66. He estimates 30 percent of the apartments in his portfolio are currently off the market—at peak season—as landlords do multiple lead paint tests and remediation to pass more rigorous inspections. 
"There are probably thousands of apartments now that are not hitting the market just as demand is at its highest and supply is at its lowest," he says, and he thinks tenants should know this is contributing to keeping rents high.
What about inflation—how does that affect rents?
Just as the costs of goods and services go up when inflation is high, so too do rents. "Landlords want to see and equal their return on their investment, which may be decreasing with inflation causing an increase in rent prices," Franco says. 
However, Rosenblatt points to factors affecting the bigger picture beyond the NYC rental market—including rising inflation and potential layoffs in the tech sector—as the kind of recessionary factors that might bring rents down. "Nothing goes in a straight line forever," he says.
Frisch's outlook for the economy is far from rosy—he expects lease breaks and more apartment availability as layoffs happen. "This is going to come down, this is not sustainable," he says. 
As to when this might happen, Miller says barring a significant recession event, he doesn't see "a lot of relief in rents going forward."
Brick Underground articles occasionally include the expertise of, or information about, advertising partners when relevant to the story. We will never promote an advertiser's product without making the relationship clear to our readers.