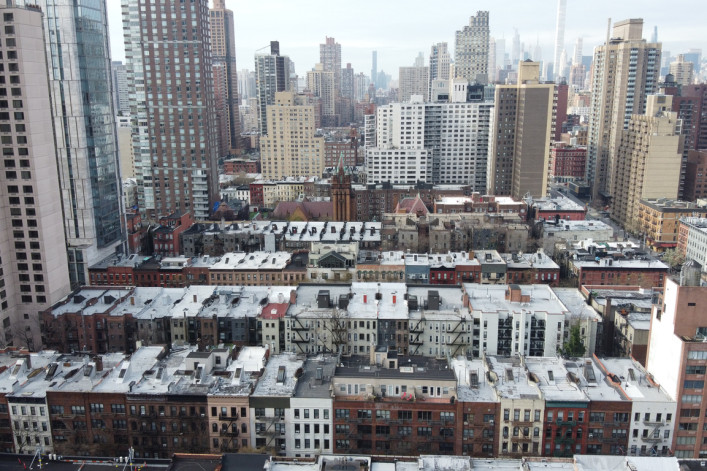 New York City rents soared (again) last month, breaking the $4,000 Manhattan median rent threshold for the first time ever.
That's the median rent for Manhattan apartments of all sizes, so it's even more shocking to see that the median rent for a one-bedroom Manhattan apartment also reached $3,999 last month, according to the latest edition of the Elliman Report.
This means in practical terms that if you want to rent a one-bedroom apartment for $4,000 and meet a standard NYC landlord's annual income requirement of 40 times the monthly rent—you either need to earn $160,000 as an individual (good luck), rent as a couple earning that amount (and fast-track your relationship), or get a roommate who earns enough and willing to sleep in the living room (and hope the landlord turns a blind eye).
Rents have leaped in NYC since this time last year. Manhattan's median rent last month represents a 25.2 increase over May 2021. And Manhattan's average rent for May ($4,975) was a 22 percent increase over the previous year. It follows April's "rocket ship"-like rental market.
What's behind these eye-popping numbers? A jump in demand from renters for new leases—including from some would-be buyers who got shut out of the sales market as a result of last month's spike in mortgage rates, says Jonathan Miller, president and CEO of appraisal firm Miller Samuel and the author of the report.
"Tighter-than-normal mortgage underwriting conditions are tipping more potential home buyers into the rental market," he says.  
Pro Tip:
With New York City rents at record highs and supply at historical lows, apartments in so-called "affordable" neighborhoods are still expensive and in hot demand. And even if you're the first one in the door, your application will be rejected by most landlords if your annual salary is less than 40 to 45 times the monthly rent. That's why smart renters prequalify themselves by lining up a guarantor ahead of time who earns at least 80 times the monthly rent and resides in New York. (Some landlords will also allow guarantors from New Jersey or Connecticut.). Or, you can turn to the Insurent Lease Guaranty Program. Accepted at more than 8,000 buildings across the city, the Insurent Lease Guaranty is a quick and easy way to get the apartment you want. Click here to learn more.
Another factor: The NYC sales market has returned to its regular, seasonal pattern, Miller points out—and summer is the busiest time for renters to move, so there's lots of demand from, for example, renters looking for a new lease at the end of the school year. And some renters are wading into the market because they have been priced out of their apartments by rent increases at lease renewal time—some as much as 30 percent or more.
"New leasing activity doesn't typically peak until August so it's hard to imagine much of a reprieve in rent growth under current conditions until the end of the summer," Miller says.
In fact this summer is on track to be busier than usual, says Gary Malin, chief operating officer at The Corcoran Group, which also released May rental market reports for Manhattan and Brooklyn.
"Summer is always the busiest time for leasing, but this year, conditions have reached new heights," Malin says. "My advice for tenants is to enter the market armed with patience and be prepared to be flexible. Conditions are not uniform across all neighborhoods, so when it comes to finding a new home today, it pays to keep an open mind."
Manhattan lease signings were up 9.8 percent in May compared to April, marking the third, straight month for an increase, the Elliman Report found. The vacancy rate has been stuck below the 2 percent for six, consecutive months.
Most of Manhattan's rent metrics hit new records in May—especially rents for luxury apartments. Non-doorman rents saw new records as well: For example, the Manhattan median rent for a non-doorman building was $3,300—an increase of 32 percent over May 2021.
Bidding wars for Manhattan apartments fell slightly, accounting for 18.5 percent of new leases, down from 21.3 percent in April, but renters offered to pay a higher premium above the landlord's last asking price—11.1 percent, up from 10.7 percent in April.

Brooklyn rents also crept up to new records in May. The net effective median rent, which factors in concessions, hit a new high of $3,206, as the market share of leases with concessions fell to a five-year low, the report says. Only 19.2 percent of new leases came with some kind of concession, compared to 36.4 percent in May 2022.
One in four new Brooklyn leases involved a bidding war for the second, straight month
In Queens, the net effective median rent rose to the second-highest on a record ($2,898) as landlord-concession market share fell to a six-year low, 17.8 percent of leases, compared to 46.3 percent in May 2021.
The number of new leases signed for Queens apartments fell year-over-year for the second consecutive month after 12 months of increases, falling 20.8 percent compared to May 2021.
MNS also released its May rental market reports for Manhattan, Brooklyn, Queens, and the Bronx—the reports drill down into neighborhoods across the four boroughs and look at rents by number of bedrooms and compare doorman vs. non-doorman buildings.
Some findings from the reports include: Neighborhoods with the largest month-over-month rent increase in each borough were Soho (one bedrooms are up 17.6 percent), Prospect Lefferts Gardens/Flatbush (studios were up 11 percent), Jamaica (one bedrooms were up 6.6 percent), and Morris Heights/University Heights (one bedrooms were up 6.33 percent). Other Brooklyn neighborhoods with notable month-over-month rent hikes include Fort Greene, Greenpoint, and Downtown Brooklyn.
Brick Underground articles occasionally include the expertise of, or information about, advertising partners when relevant to the story. We will never promote an advertiser's product without making the relationship clear to our readers.