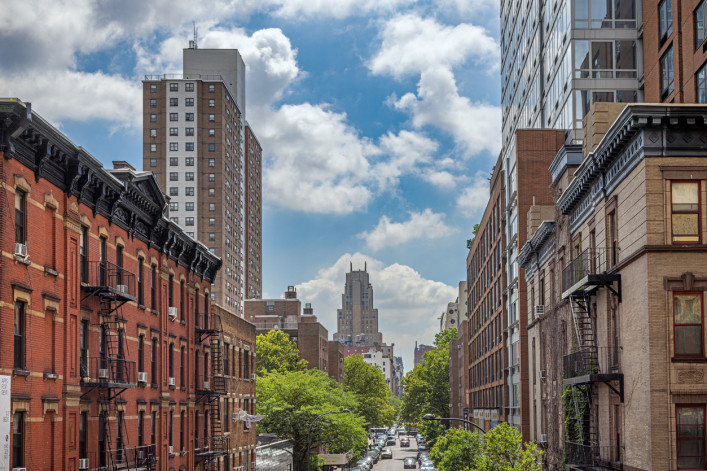 As if bidding wars for rental apartments in New York City weren't shocking enough, now some renters say they are getting blindsided by escalating broker fees for rent-stabilized apartments.
In a recent report by Brownstoner, a renter describes being asked to participate in a bidding war for a broker fee for a rent-stabilized apartment. Other anecdotes in the article detail renters who got similar unwelcome surprises: The rent-stabilized apartments they thought were no fee suddenly had fees of 15 percent and 25 percent. 
Rents have skyrocketed to new record heights lately, hitting $5,058 in June for Manhattan. At the same time, listings are scarce: Manhattan's vacancy rate has been stuck under two percent for seven, straight months, according to the Elliman Report.
"Securing an apartment continues to be a competitive practice," says Allia Mohamed, CEO of rental listing and building review site openigloo. Some apartment hunters are offering higher broker fees to get past the broker "gatekeepers," she says, especially in cases where the rent cannot increase because of the stabilization status of the unit.
In one review on openigloo, a Williamsburg renter says, "After months of trying to find an apartment, I finally caved and paid two months rent as a broker fee to secure this place."
That may seem shocking, but "in some cases, landlords may not even know that the brokers are accepting bids on the fee," Mohamed says.
Best offer for a broker fee
Paying a broker fee was what a renter looking to move from Chicago to Brooklyn was seemingly trying to avoid. She found a no-fee rent-stabilized apartment in Williamsburg for $3,200 a month.
After seeing the place and submitting an application, she was told by the broker that there was so much interest in the apartment that there was now a broker fee—and since the rent could not be raised, "they would give the apartment to whoever offered the most for the broker's fee," the renter told Brownstoner, adding that she was shocked by the unethical behavior.
The site also talked to another renter who received an email for a different listing that said, "[J]ust a heads up, I have been asked to collect a hefty broker fee 25 percent of the annual, or $12,000, which nets out to on average $5000/month over the first year of the lease. This won't make sense for everyone, but if you might plan to stay in the apartment in future years it can actually make a lot of sense still."
The email seems to justify and even court a higher broker fee: "…[Y]ou cannot offer a higher rent price because the apartment is rent stabilized, so the only possible way would be to offer a higher broker fee amount and I doubt that anyone will be offering such."
A similar sort of disconnect between an affordable apartment and exorbitant broker fee was reported by Hell Gate: A Manhattan renter describes being asked to pay a $10,000 broker fee—for a rent-stabilized apartment listed for $2,250 a month. The broker defended the high fee by saying it would provide access to an apartment that would save the renter money in the long run. (The renter moved on to another apartment.) 
'Unethical and should be illegal'
The practice of renters paying fees to brokers hired by landlords is "unethical and should be illegal," says Sam Himmelstein, a lawyer who represents residential and commercial tenants and tenant associations (and FYI, a Brick sponsor). A renter who does the work of finding an apartment themselves and has to pay a broker fee if they want the apartment is "outrageous," he says.
Himmelstein points out there was a short window after the passage of the new rent laws in 2019 when tenant-paid fees for brokers who work for landlords appeared to banned, but that was quickly ended by a judge's ruling.
And the fact that prospective renters of rent-stabilized apartments are being asked to pay broker fees is especially egregious, Himmselstein says,
He questions whether the entire fee is going to the broker or being shared with the owner in the form of a "backdoor over charge;" a way for landlords who can't raise rents to get a little more.
Why are broker fees allowed for rent-stabilized apartments?
While it may seem counter to the concept of affordable housing, there is no cap on what brokers can ask for in exchange for giving you the apartment. This holds true for market rate and rent-stabilized apartments.
In fact, there are no regulations on what constitutes an appropriate fee, instead a broker's fee represents a charge for services, a representative from the Department of State, which regulates the state's housing laws and licenses real estate agents, previously told Brick.  
Higher broker fees are usually requested when a broker has gone above and beyond the usual duty, the DOS says.
What can you do about a broker fee that you think is unfair?
"We definitely recommend that renters research buildings on openigloo and get a sense of what the application process is like. They can ask previous renters questions that can help them understand and navigate the buildings' practices a little better," Mohamed says.
If you think a high fee is not warranted, DOS recommends you submit a complaint online. 
You can also ask the broker if the fee is negotiable. In the current market, however, you risk losing the apartment to someone who is willing to pay it.
And you can walk away from that listing and try your luck with a different apartment.
Or you may decide to stay put, if you can. Rent increases at renewal time fell for the third month in a row, according to a new survey from openigloo, which finds that four out of five renters (more than 80 percent) are expected to renew their leases this year. 
The report also found:
·       Only one-third of NYC renters are paying more than $3,000 for rent.
·       Rent increases on lease renewals for market-rate apartments averaged 11.2 percent in July, down from 13.8 percent in June.  
·       Only 2 percent of lease renewals jumped more than 50 percent
·       60 percent of renewals in July saw an increase of less than 10 percent
A high broker fee may be better than offering a higher rent
You could also consider whether it is strategic to pay the broker's fee for rent-stabilized apartment, if you can stomach it (and have the cash on hand).
It is after all, a one-time fee, unlike what happens in a bidding war for market-rate rentals. If you win one of those, you get to pay a higher rent—every month for the life of your lease.
Brick Underground articles occasionally include the expertise of, or information about, advertising partners when relevant to the story. We will never promote an advertiser's product without making the relationship clear to our readers.