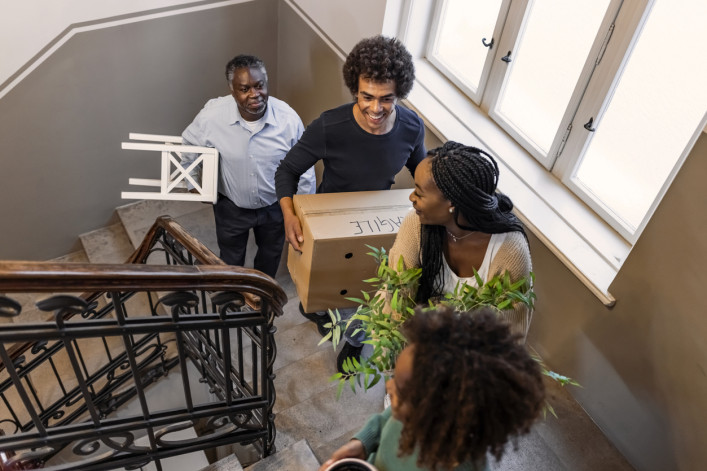 If you are planning a move to New York City, you probably have a list of must-haves: Doorman! Washer/dryer in the unit! Great light! Views! But once you get to the city and start seeing apartments in person—you quickly realize you will have to make some compromises with your wish list if you want to stay within your budget.
Deciding between what's a must-have (or nice-to-have) and a dealbreaker is a rite of passage for NYC renters. And for many newcomers, what is initially a top priority changes when they become more familiar with the city. For example, renters who want to live near Central Park quickly realize they can pay less if they rent a few avenues over.
Brick talked to brokers and an apartment listing site founder to find out how to separate the non-negotiables from the things NYC renters frequently compromise on. Keep reading for five examples of each.
What's a definite dealbreaker when apartment hunting?
Pretty much anything unsafe should be a dealbreaker for you, says Allia Mohamed, CEO of rental listing and building review site openigloo. "The longer you live here, you realize the real dealbreakers are violations like mold, leaks, pests, lead paint and lack of heat when temperatures are sub-zero—these are serious violations, as are illegal bedrooms."
She explains that renters can do some advance background checks on openigloo to find out what it's like to live at any address in the city. In addition to reading tenants' reviews, it's a good idea to check for building violations. For more intel on how to do this, check out Brick Underground's "How to research a landlord before you sign a lease."
What if the bedroom doesn't have windows?
A bedroom without a window should be considered a dealbreaker—unless you want to use the room as an office instead.
It's not just because a lack of natural light will wilt your houseplants—your safety is at stake.
According to the city's building code, in order to be considered legal, a bedroom needs a window as well as a minimum of 8 feet in both length and width (to avoid long, skinny rooms) plus a minimum area of 80 square feet and a ceiling height of 8 feet. There are some exceptions, so for more information, see "What is considered a legal bedroom in NYC?"
If you want to use the windowless room as den or office, gym, then it is not an automatic deal breaker, Mohamed says. "But if you're considering using it as a bedroom, I strongly advise against that."
Should you avoid a building that needs work?
If you're touring apartments and see a place in poor condition, that's a reason to keep looking.
Broken security cameras (or no security cameras), poorly lit hallways, an unlocked front vestibule door and a broken buzzer should all be cause for concern, Mohammed says.
In a lot of these of those situations, "what you see is what you get," she says, adding that openigloo gets lots of renter comments about broken security cameras that don't record any footage. "Lots of buildings don't have robust security programs." And while this may come down to personal preference, it is something that should give a renter pause.
The same goes true for a place where there's trash or bugs in common areas, says Julie Rose, an agent at Corcoran. Lots of agents won't even take listings in rundown buildings, she adds.
It's not just about aesthetics—this is also a matter of safety, Rose points out. The condition of the building is your clue to how the building is run and the owner's or management's responsiveness. If the building appears neglected, what happens if the lock on the front door is damaged? Or a broken window in the basement? How quickly will it be addressed?
Is it bad to have signs of mold?
Looking for signs of mold—an indication the apartment may have a history of leaks or flooding—is an apartment-hunter's responsibility. If you see tell-tale tiny dark spots on the lower part of a wall, that's your signal to ask lots of questions. Owners will not voluntarily share this information. Use your nose too—a damp or moldy smell is reason to ask about flooding.
With climate change causing more frequent and more intense flooding in NYC, steering clear of places that are flood prone can save you lots of aggravation.
Are bed bugs a deal breaker?
Incidents of bed bugs decreased during the pandemic, but that doesn't mean you should let down your guard. This is a problem most New Yorkers would consider a major dealbreaker.
Thanks to the NYC Bedbug Disclosure Act landlords are required to notify prospective tenants about bedbug infestations that happened within the last year. Be sure to ask whether there have been bedbugs in the apartment you're seeing and in neighboring units as well.
Are railroad apartments bad for roommates?
A railroad apartment—where you need to walk through one person's bedroom to get to the bathroom or kitchen—can be a challenging situation, especially if one of you has an overnight guest. Sometimes these apartments have separate doors in each room that lead to the hall, which can make the situation a little better, but not ideal. For some, this will be doable only in the short term, since the inconvenience will get old fast. 
"Lots of people want that classic New York apartment story and then will move on from that," says Daniel Blatman, a broker at The Agency.
What are reasonable compromises when apartment hunting?
Lots of apartment hunters consider a dishwasher, outdoor space, and washer/dryer as things they can't live without–at first, Blatman says. But then they realize they don't cook that much. "People learn to flex," he says, because the conversation then becomes: "if you really want that dishwasher, are you ready to live on Ninth Avenue to have it?" For many, the answer is no.
Is location important for a NYC rental?
Sure, the importance of living in a particular neighborhood may have been drilled into your head—location, location, location—but that's usually only possible if you have money, money, money.
"I think people have their dream neighborhoods in mind, like the West Village, Chelsea, or Soho," Mohamed says. "Then they dig deeper into the apartment search and realize vacancy in these neighborhoods is less than 1 percent, and maybe they have to bid over asking to land the apartment." Because bidding wars for NYC rental apartments are still happening.
That's when some renters realize that other NYC neighborhoods have more listings—and they're not so far away from the places everyone wants to live, she says. And they become comfortable getting around NYC "and realize they can expand their search to other neighborhoods." Want to jump ahead on this learning curve? Here's Brick's list of the most affordable neighborhoods for renters.
Is having a doorman worth it?
A doorman is often high on a wish list, but it is usually something a parent wants for their adult child renting in NYC for the first time, Blatman says. He considers this a partial dealbreaker. "Sometimes it's about wanting to feel safe and a virtual doorman does the trick. Some renters talk to friends who don't have one and they realize they too can go without one."
Doorman buildings are considered safer and better maintained, and most are condo or co-op, not rental buildings, but since condo and co-op owners can rent their units out, you can sometimes find doorman rentals. It's an amenity that the owner is paying for—a cost that will be passed on to you. Also be aware that doormen see everything—how much takeout you order, your online shopping addiction, and who your late night visitors are. This can feel weird.
Can you live without a washer/dryer?
For someone who grew up with a laundry room, it may be hard to fathom, but lots of New Yorkers don't do their own laundry. When showing an apartment where there's no laundry in the building, Blatman says, "We explain about drop off services: It doesn't cost that much, saves you time, and your laundry is folded into tiny little squares." (How do they do that?)
There's a difference between not having a washer/dryer in your apartment and not having them in your building. If there is a laundry room in your building, you get the perk of being able to commandeer multiple machines at a time, which is considered perfectly acceptable. (But it is not ok to remove wet clothes before the drying cycle is complete. You need to learn your NYC laundry room etiquette.)
Some New Yorkers use Rent the Runway to extend their wardrobe and avoid doing laundry (you ship the clothes back without laundering them—how cool is that?)
How bad are walkup apartments?
Having to climb several flights of stairs seems like an automatic no-go at first—there are certainly logistical challenges like moving or getting furniture delivered when you live on a high floor. But this also falls into the category of things New Yorkers learn to live with. Some don't even mind lots of stairs: One NYer told us she traded a fifth-floor walkup for a sixth-floor walkup.
Having a positive attitude about living with a built-in stair climber helps, as does being organized—you don't go running back up for a forgotten item when you live in a walkup, and you get lots of deliveries.
What if there are no closets?
You can't count on having a closet in your NYC apartment—it's not something a landlord is required to provide. And while a lack of closets can be off-putting, it doesn't have to be considered a deal breaker. Consider these solutions for storing your clothes. Also see the tip above about using Rent the Runway. And some New Yorkers rent storage space and swap out their wardrobes seasonally, so you can keep fewer items in your apartment. If you work from home, you probably don't need many items of clothing anyway. Just saying.
Brick Underground articles occasionally include the expertise of, or information about, advertising partners when relevant to the story. We will never promote an advertiser's product without making the relationship clear to our readers.