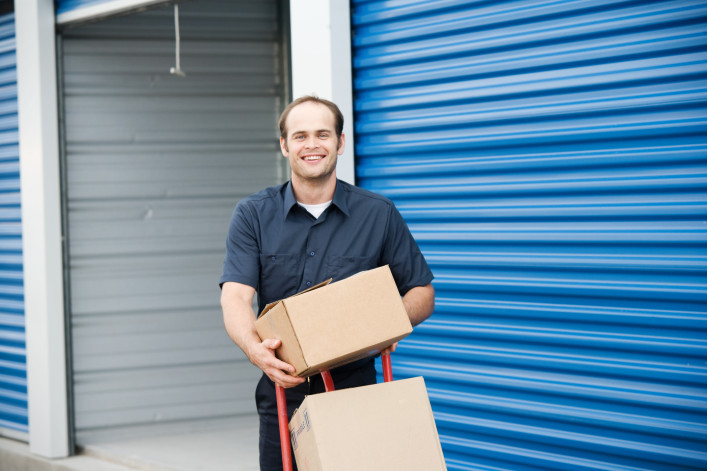 If your lease is up and you've decided to leave New York City for the time being, you may be considering a storage unit for your possessions while you're away.
Perhaps you're going to live in your childhood bedroom, which has no space for your stuff, or you've found a furnished, short-term rental. Either way, renting a storage unit in NYC is much cheaper than maintaining an apartment when you're out of town. 
You should know that NYC storage centers are adhering to CDC cleaning and disinfection guidelines for the pandemic. Some companies let you book your storage space online, so you can skip the front desk and go directly to your storage room. And some will even pick up your stuff and do the work for you. Some movers, like Oz Moving, have their own storage facilities.
---
[Editor's note: An earlier version of this post was published in June 2018. We are presenting it again with updated information for August 2020.]
---
Brick has rounded up some of the top NYC storage centers, including Manhattan Mini Storage and MakeSpace. Some companies have long wait times for setting up service right now, due to high-demand.
Pro Tip:
Escape the age-old unfurnished lease and all the hassles of owning furniture for a move-in-ready, Blueground home long-term. Offered for stays of at least a year, Live@Blueground unlocks flexibility, savings, and even rent freeze benefits when you're away. So you have the freedom to easily leave (e.g., vacation, visit family) for extended periods.
A storage company that's not afraid to show a little New York attitude (it has the cheeky billboards and subway ads), Manhattan Mini Storage has 17 locations in Manhattan. (True to its name, the company does not offer storage in other boroughs.)
Spaces range from personal closets that are 48 cubic feet up to extra large rooms with approximately 5,180 cubic feet. Sizes vary by location. The cheapest option we found was the smallest closet space at the Lower East Side facility, for $23 a month if you rent for at least five months. 
Manhattan Mini Storage offers access around the clock, 365 days a year, with no extra charge for bulky items. Nice perks: free rolling racks and shelves, climate-controlled units, package acceptance, and a free storage shuttle for you and your stuff. For more information, call 347-846-2421.
While it may not have the most inspired name, Public Storage does have staying power. With facilities all over the country, the company has been storing stuff since 1972. Public Storage has one location in Manhattan on Mott Street and facilities throughout Brooklyn and Queens.
Rates vary by location, size, and options such as climate-control. Need a lot of space? They have it, and will even store your boat or car. They have a size guide to help determine which one of their spaces works for you. One sample price is $122 ($107 if you book online) a month for a 20-square-foot, climate-controlled unit at the Long Island City building, with $1 for the first month. If you book your storage space online, you get the first month for $1 and up to 30 percent off. All rental terms are month to month and you can only access your things during gate access hours, which is typically 6 a.m. to 9 p.m., but varies by location. For more information, call 833-814-3592.
 
Closetbox wants to make storing your stuff as easy as possible, and they'll pack and pick up, and return your belongings, too. The company serves all of the New York metro area, and sample rates include $102 a month for a 5-foot-by-10-foot space. (Rates depend on your inventory.) Customers are also charged for the move ($199 for two hours of time) and additional pickups and partial deliveries ($300). If you want frequent access to your belongings, their service might not be for you: It costs $75 per visit. Right now, the company has exceeded storage capacity in New York. 
You can arrange a pickup at least two days in advance to avoid rush charges. You'll be given a two-hour window via text message the day before. The company asks for 10 days notice for delivering items back to you. You can pick your items up yourself, but the company needs four days notice for that. Their facilities are temperature controlled and monitored around the clock. A six-month minimum rental is required. For more information, call 877-620-8420.
urBin is another "we come to you" storage option with rates determined on how much you store, not the rental of a space. They have no predetermined storage rooms or plans, and packages start at $10 a month, which holds a large storage bin worth of belongings. The furniture pick-up fee starts at $50 per hour, with additional charges for walk-up locations; for long-term contracts of six months or more, that fee is refunded to you. The company's storage facility is in New Jersey, and there is no public access to it. urBin can return your stuff typically within 48 hours. For more information, call 212-390-5454.
"You Haul Nothing" proclaims the home page of MakeSpace, with a photo of a young guy in a branded T-shirt carrying a sofa out the door. (Get it?) Yet another service that will pick up, store, and deliver your belongings, MakeSpace serves New York City and parts of New Jersey. The company has a three-month minimum, with discounts for longer contracts. For example, a 25-square-foot space is $131 a month for three months. First pickup is free, and they also provide free bags, bins, and moving blankets. Like to keep an eye on your stuff? MakeSpace provides an online photo inventory. For more information, call 855-758-3293.
Storage Post was founded in 1998 and has several locations throughout the Bronx, Brooklyn, Manhattan, and Queens (plus New Jersey, Florida, and Louisiana). Most of their NYC locations offer free truck and shuttle service to the facility, and you have daily access to your unit. They now operate Chelsea Mini Storage, where a 50-square-foot room costs $499 a month. Their facilities are climate controlled, have 24/7 security, and their rates are month to month, so you don't have to worry about signing a contract. They claim to have the cleanest storage centers—perfect for the times we're living in. You can also get up to two months free on certain storage rooms. For more information, call 888-738-7703.
 
Boxie24 is relatively new to the storage game, they started in 2014 in Berlin and now also operate in NYC and Long Island. You select your required storage space, which starts at $89 a month for their small space that can hold up to 80 boxes, but you only pay for the actual space you end up needing. Their team does all the work for you: Movers pick up your stuff, store it for as long as you need, and they bring back your items too. 
Their storage facilities are climate controlled and 24-7 video monitored. Pick up is free if you live in an elevator building or live on the first or second floor (there's a small fee if you live above the second floor in a non-elevator building). You get a 5 percent discount if you store longer than six months and a 10 percent discount if you store longer than a year. They offer 24/7 return service, and pricing demands on how much you're having delivered. Out of boxes? You can rent moving boxes starting at $5 a box.For more information, call 844-337-7739.
Brick Underground articles occasionally include the expertise of, or information about, advertising partners when relevant to the story. We will never promote an advertiser's product without making the relationship clear to our readers.