In the normal world (i.e., outside of New York City) bedrooms have closets. But here in NYC, your bedroom might have been a closet, or a dining room. Or, perhaps the shared closet space (say, between two rooms) for your bedroom is monopolized by a family member or roommate. The point is: It's not completely uncommon for New Yorkers to have to come up with their own creative closet solutions.
We asked professional organizers for their recommendations on the best ways to solve the problem of a bedroom without a closet and got ideas ranging from very basic to serious substitutes.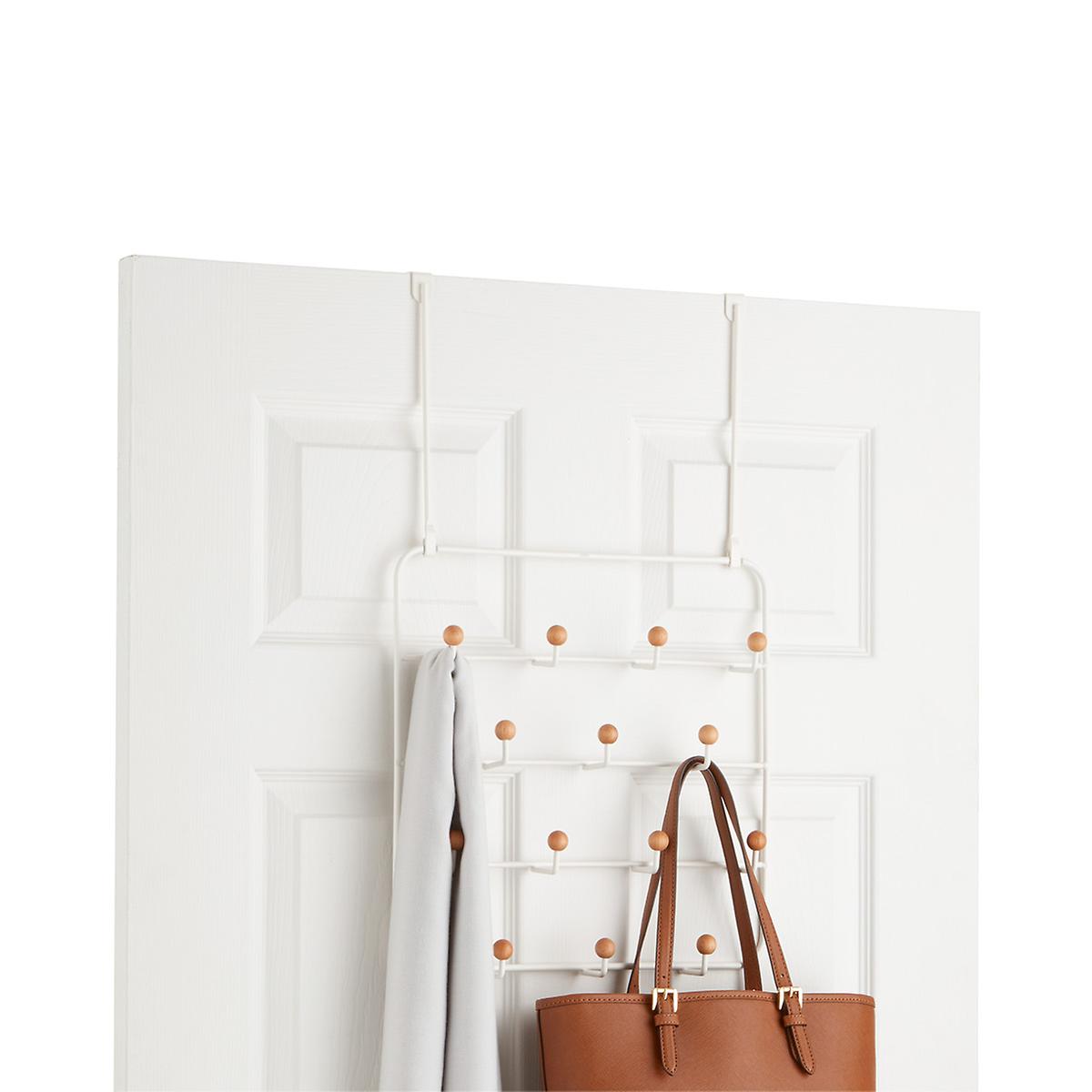 Hooks
The humble hook, or a set of them, can be a good way to keep key, frequently used pieces both handy and neat. Barbara Reich of Resourceful Consultants recommends utilizing hooks on the backs of doors—you can go for individually installed, or a setup of multiple hooks that hang over a door, like this one from The Container Store. 
Here's a bamboo option.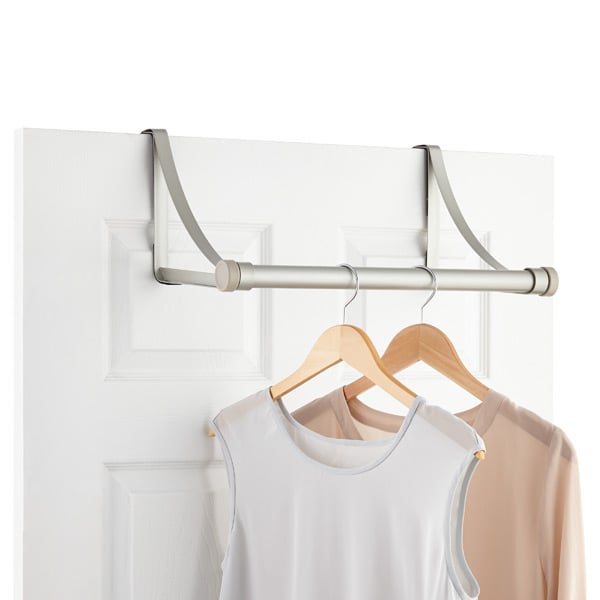 And another take: the over-the-door valet, for true hanging, closet-style.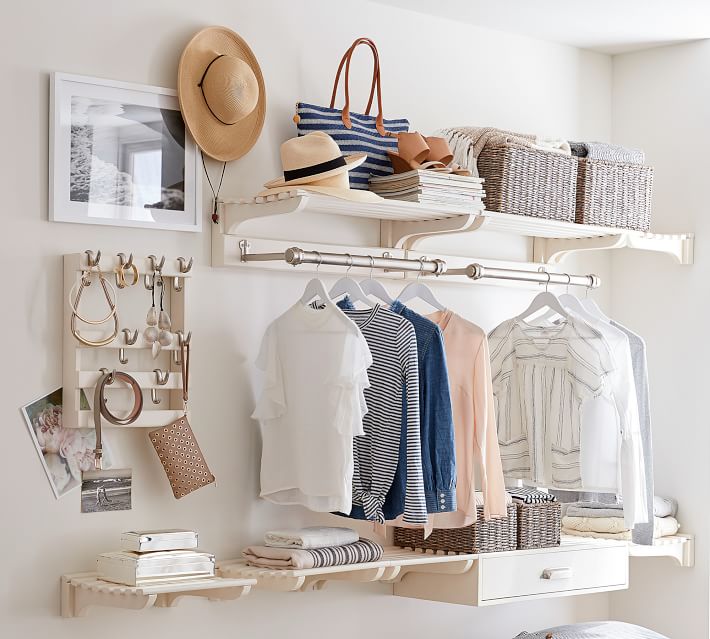 A more advanced version of this approach is Pottery Barn's Declan closet accessories. "All you need is a wall to create a closet. Choose the rods, shelves, and drawers you need to store your clothes," says Lisa Zaslow of Gotham Organizers.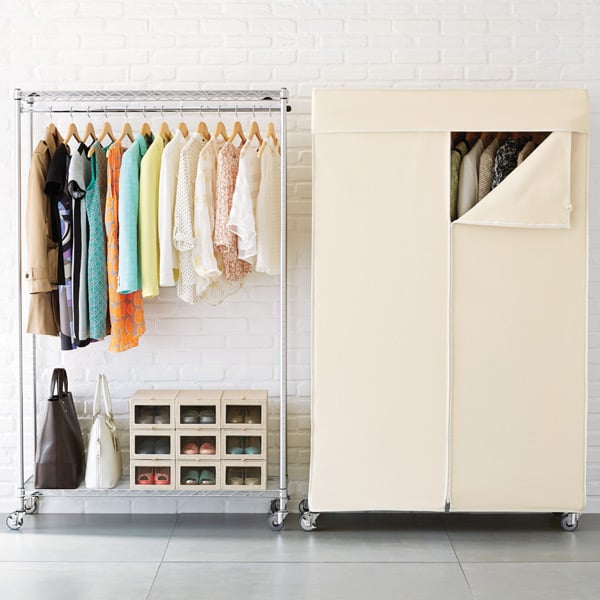 Racks
"A free-standing garment rack with shelves gives you the functionality of a closet," says Zaslow. She recommends investing a little bit if you want it to have some staying power. "You can get one on Amazon for $15, but those are not really sturdy," she says. 
One of her choices is this rack from The Container Store, which comes with a cover that does double duty as camouflage and dust protection.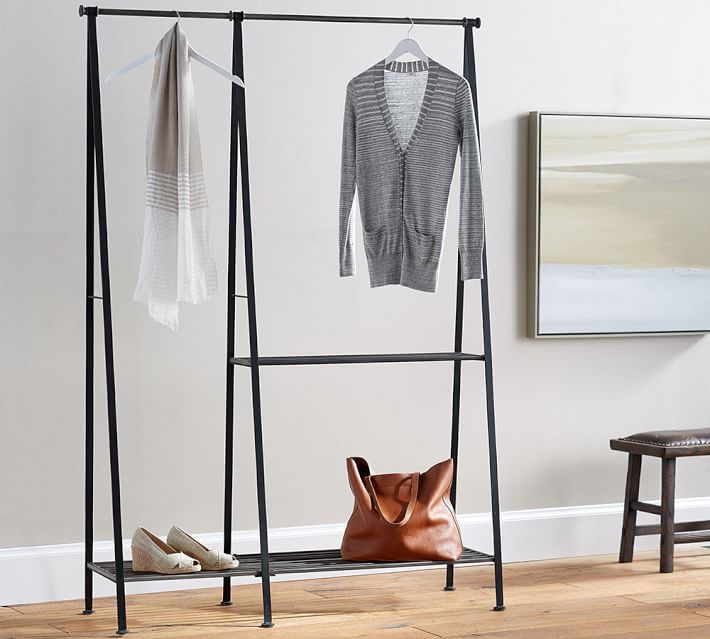 Perhaps more aesthetically pleasing options include the Modular Clothes Rack at Pottery Barn (above) or this Wooden Clothing Rack from Urban Outfitters, but unless you're really vigilant, Zaslow cautions against these solutions, saying they're not really practical. "It looks nice on Pinterest and Instagram, [but in reality] it just looks like a bunch of clothes," she says. "It's not real life."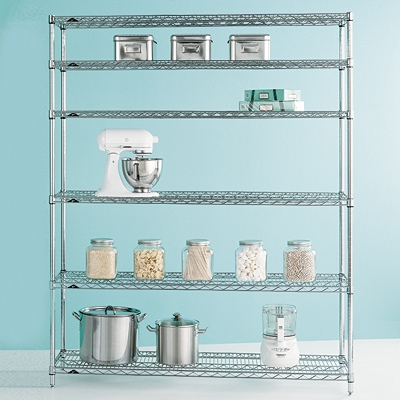 Shelving units
Another way to create free-standing storage is to use wire shelving units, or Metro shelving, also available at The Container Store.
"It's a nice way to configure an alternative to a closet. You can position the rods and the shelves the way you want to," Zaslow says, and suggests Global Industries for all the poles, shelves, and other pieces for additional customization. (You can even get liners for the shelves to prevent getting wire imprints on your clothes.)
If you find the look of Metro shelving a little harsh, decorative baskets on shelves can help soften the look, or, Zaslow suggests, try setting up a folding screen in front of it, or clipping fabric or a nice shower curtain to it to hide the "view."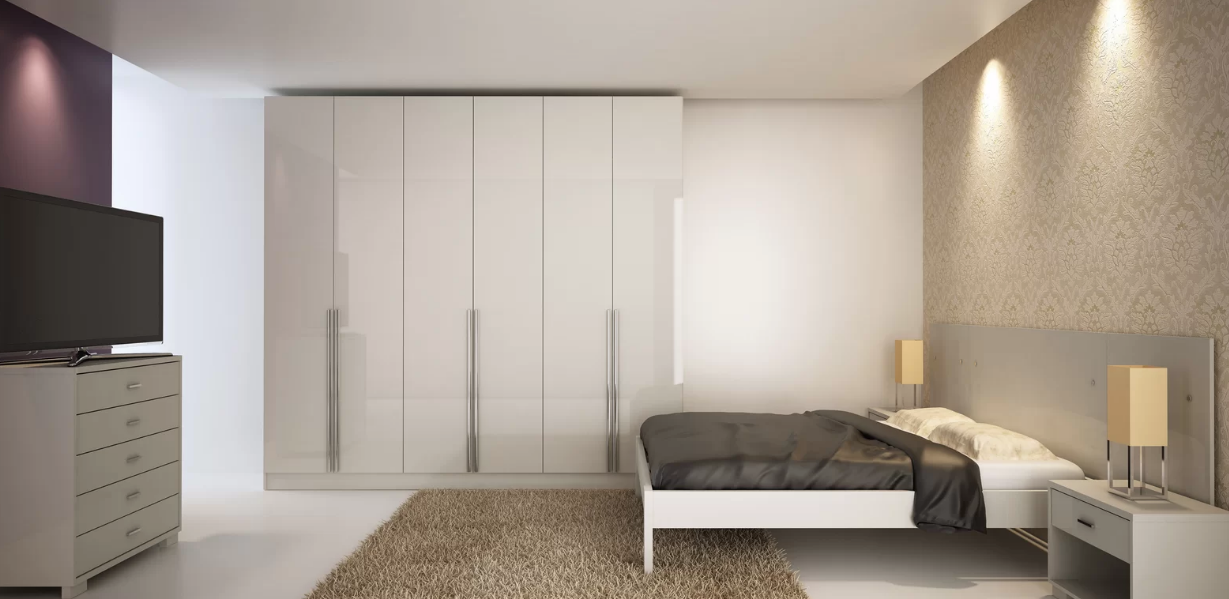 Armoires or wardrobes
Of course, an armoire or wardrobe is always an option. Pro tip: The search term "wardrobe" is more likely to pull up results that contain a hanging bar. 
"There are ones in every price range," says Reich. She likes this substantial Claremont armoire at Wayfair, pictured above.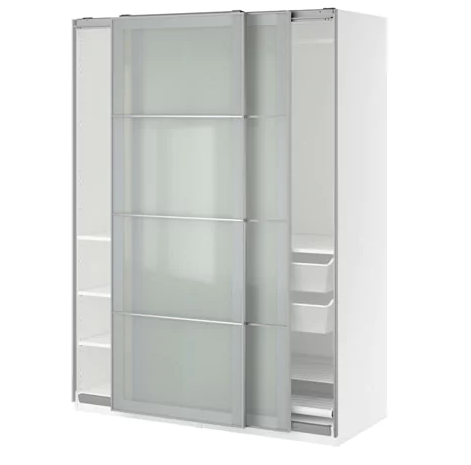 If you've been looking at closet solutions, you've no doubt come across the Pax wardrobe at Ikea. More than one of our organizers offered it up as an option, and there's even a corner version if that works better for you. Zaslow points out that the versions with sliding doors can gain you valuable space, as you don't need to accommodate doors that open out.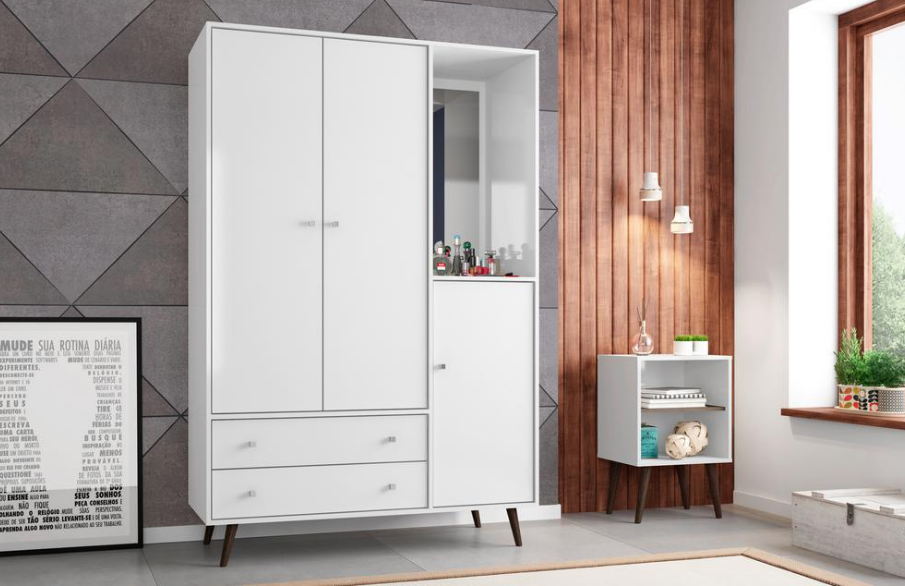 Another affordable and handsome choice is the Manhattan Comfort armoire, available at Home Depot, suggested by Deborah Goldstein of the Art of Organizing.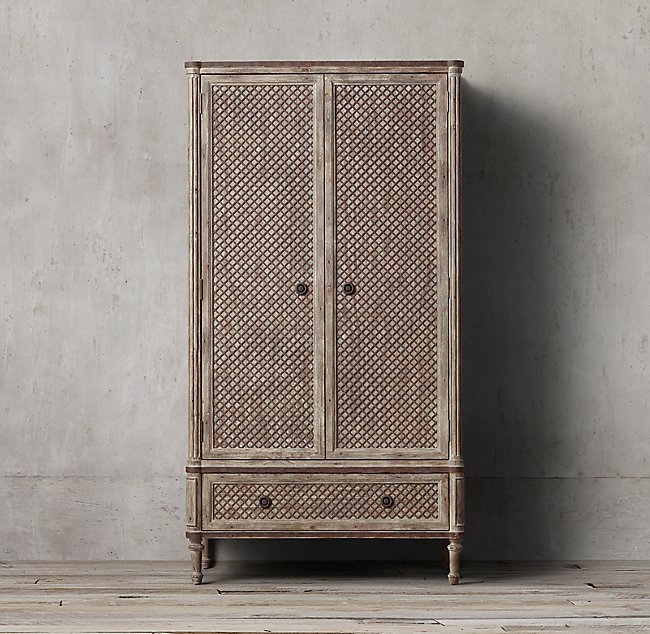 For a more European feel, Goldstein recommends the Louis XVI Treillage Armoire from Restoration Hardware.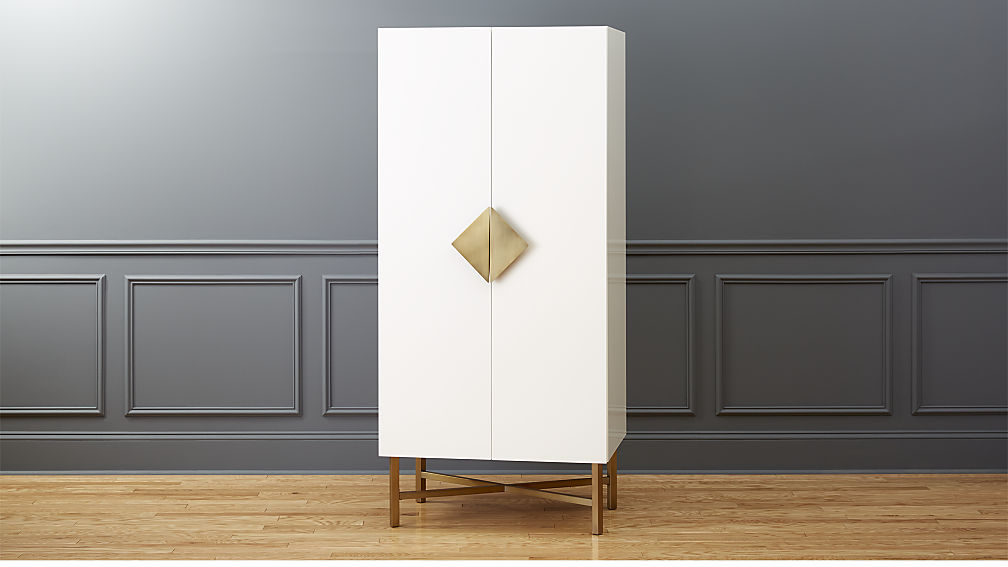 Finally, Zaslow is fond of this Astoria wardrobe from CB2. 
Of course, you should fold as much as you can, and make use of out-of-the-way spots (like under your bed) to store off-season items, linens, etc. (For ideas on how to make the most of the space in a small New York City bedroom, read this.) 
Brick Underground articles occasionally include the expertise of, or information about, advertising partners when relevant to the story. We will never promote an advertiser's product without making the relationship clear to our readers.