Transitions
From the UWS to the UES: Trading a fifth-floor walk-up for more space and lower expenses—and more stairs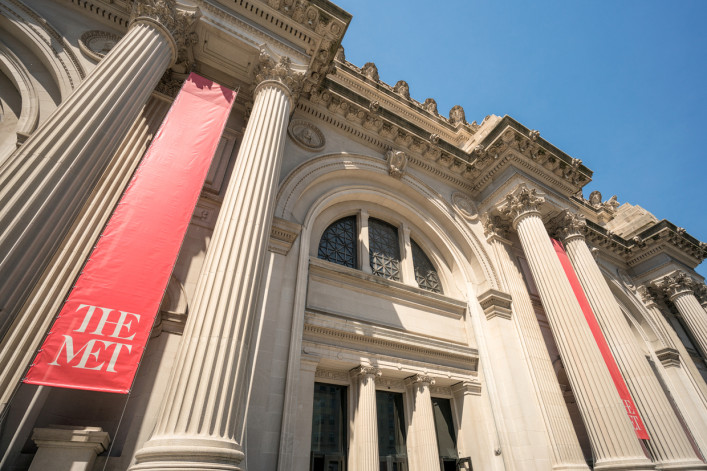 Two weeks before New York City was shut down, communications and PR pro Deniz Sonmez-Alpan ditched her one bedroom on the fifth floor of a walkup building on the Upper West Side in the hopes of lowering her monthly expenses, shortening her commute, and gaining more space. She found all of that and more on the Upper East Side, but sadly for her, the "more" includes even more stairs. Here's how she compares the two neighborhoods.
My one-bedroom duplex on the Upper West Side had a very narrow spiral staircase. I definitely fell on them a couple of times. But they were a focal point of the apartment, and I enjoyed the way the space was divided: Living room and kitchen on bottom floor and bedroom and bathroom upstairs. Lugging suitcases and other baggage up and down was a real pain but being on the top floor had its advantages; it was quiet because I had no upstairs neighbors to contend with.  
I liked the ample closet and storage space and had an unusually large bathroom with a window in it—which is pretty rare in NYC. And, thankfully, there was laundry in the building, even if it was quite a hike from my apartment. Sometimes I'd opt to have it picked up and washed, even though that was far more expensive. 
Aside from that in-building laundry room, there were no other amenities, other than an amazing super. He was the kindest, most hardworking and protective super I could have asked for. He and his family lived in the building, which was comforting. Still, I would have appreciated at least a virtual doorman because not always being able to tell who was at the door made for some weird moments.
---
[Editor's Note: Brick Underground's series "Transitions" features first-person accounts of what it's like to move from one New York City neighborhood to another—or outside the city. Have a story to share? Drop us an email. We respect all requests for anonymity.]
---
The building was right around the corner from the 1 train for a fairly convenient commute to work, although I also needed to hop on a crosstown bus. Beyond the proximity to transportation, I also enjoyed that I live in a residential area of the UWS, 104th and Broadway versus the more crowded part near Lincoln Center. I also liked being so close to Riverside Park—I went running there often. I would venture to The American Museum of Natural History every once in a while, and window shop along Columbus Avenue in that area. While I wasn't super close to Columbia, if I ventured a bit north there were tons of students and younger folks around.
There were so many food options: I frequented the West Side Market at 98th Street for groceries with a few trips to the Whole Foods at 97th and Columbus and Trader Joe's at 93rd Street. For ordering in, my go-tos were Malaysia Grill (immediately downstairs from my apartment), Szechuan Garden, and Gabriela's. And of course, there were tons of places to dine in (pre-pandemic). Some of my favorites were Cibo e Vino, Amelie, Serafina, Atlas Kitchen, The Abbey Pub (before they closed almost two years ago) and for bagels, Broadway Bagel—hands down. And, I would be remiss if I didn't mention that my cookie addiction was fairly regularly fueled by the Levain Bakery at 74th and Amsterdam.
There were many local places I frequented, but to really go out, I'd say I'd definitely ventured further Downtown—at the very least to Amsterdam/Columbus in the 70s/80s to some more lively bars and restaurants. There were only a few small dive bars up by me, which were nice to have on the weekends when you want to do something more lowkey with some friends.
Overall, I was very happy in that area. I hadn't wanted to leave the UWS, but recently, I hoped to cut expenses, so started to look around for a cheaper apartment. I needed to save a bit more money each month and wanted some more space and a more direct route to work. Going from the West Side to the East Side to my office daily had become a bit more frustrating than I'd liked. It may sound a bit picky, but when the weather was bad, having to wait for the crosstown bus was a pain. And, if I wanted to go out with friends or colleagues after work, in many cases the consensus was to go Downtown, which always meant a hike home for me afterward.
So, I looked for a new home closer to my office. I found a listing on StreetEasy one morning, viewed the apartment right after work, and knew immediately I'd be happy there. The tenants were breaking their lease and thankfully I was the first person to see it. And even though I saw the spacious one bedroom at night with the shades drawn, I was impressed with it.
There were two people who came in immediately after me to see the unit. As soon as we stepped outside the apartment, I told the broker, "Thank you. This is my apartment." We went to the brokerage office (I already had all necessary documents with me), I put down an application fee, and submitted all of the paperwork, and the unit was off market the next morning. 
I really lucked out because I moved just two weeks before the lockdown went into effect, but it didn't really affect my move. My movers (shout out to Roadway Moving) were absolute champs! They were at my old place on the UWS at 8:00 am on the dot and moved quite a lot stuff up and down many, many stairs, they didn't leave until close to 7:00 pm that night. I was running around trying to get them drinks and snacks throughout the day, and as two of my best friends joined me in the afternoon to help start settling in, they were there when the movers were getting ready to leave. At the end we offered them some liquor as an added thank you. The foreman stayed and took a tequila shot with us! It was the perfect way to end a crazy day.
I was able to use the first few weeks of quarantine to make my place my own and fully settle in.
I am now saving over $300 per month because of my move. I gave up cable for streaming services—and I'm close enough to my office so when it reopens, I can easily walk or bike, rather than having to take the train—I'll be able to skip the monthly Metrocard.
But it's not all rosy. As if the fifth-floor walkup wasn't difficult enough, I am now at the top of a sixth-floor walkup!
I can overlook that though. The building is bigger and has a lot more light—which was incredibly important to me. There is laundry in the building, and I have a great live-in super here, as well. The building is very well managed, and management is always responsive with any issues. Those little things all add up to a lot of positivity. The UES is a vibrant neighborhood—lots of young people and families, and never a shortage of things to do.
And even though I've changed neighborhoods, I actually lived in this area when first moved to NYC almost eight years ago, so I am totally familiar with it.
Not much has changed. I feel like the Upper East Side is a neighborhood that isn't going to change drastically in the next few years—which is both a great thing, and perhaps not, depending on how you look at it. It's great because there is a certain level of comfort, familiarity, and stability—but I also crave the excitement and variety of places like Brooklyn, for example, which is booming in many ways. As for my new building, I wish I had a dishwasher and laundry in the unit, but isn't that the plight of so many New Yorkers? 
I miss Riverside Park, but I now love going to Carl Schurz Park and being on the water. These days, a new, fun ritual is taking takeout to the steps of the Metropolitan Museum of Art and relaxing as the sun goes down.
As for restaurants and bars, I absolutely love Uva and take everyone I know there as frequently as possible (pre-pandemic). For coffee, I hop over to Orwashers. Their bread and pastries are incredible, too! The Auction House is a great, quiet spot for a nice glass of wine or a cocktail—while indoor seating is not permitted right now, on weekends they drag their cozy sofas and seating outside! Green Kitchen had also been a terrific go-to for a quick bite, but mostly for their awesome cocktail selection and will return once indoor dining returns. For ordering in, the go-tos have been Calexico, A La Carte Istanbul, Sophie's, and THEP Thai.
Food shopping remains easy: I frequent Gristedes a little more than I'd like only because it's so close to my building—but I also like to go to the Whole Foods at 87th Street and the Fairway on 86th.
All in all, I am very happy with my move and plan on staying for a long while. I think that as more and more things open back up in NYC, I will be able to explore and find new things to love about my new nabe.
Brick Underground articles occasionally include the expertise of, or information about, advertising partners when relevant to the story. We will never promote an advertiser's product without making the relationship clear to our readers.