Transitions
From Chelsea to the UWS: Leaving a railroad apartment for a $325 rent-stabilized penthouse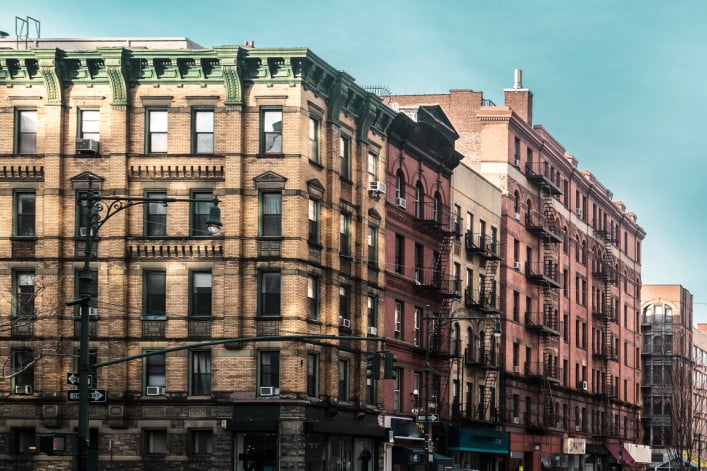 Rents in the late 1960s and early 1970s in New York City cost what some people today spend on designer jeans. That was when Ben and Betsy, a pair of artists, were living in a cramped, Chelsea railroad apartment. They enjoyed their neighborhood, but the apartment felt like a cave. They decided to splurge on a rent-stabilized penthouse on the Upper West Side. The rent was a stretch for them at $325 a month—which seems astonishing now, but even more surprising is what they pay today, 49 years later. Here's Ben with their story.
I'd been living alone in my one-bedroom, ground-floor railroad apartment in a renovated, five-floor tenement building in Chelsea for three years when Elizabeth (Betsy) and I got married in November of 1967. She was sharing a place with a roommate on the Upper West Side. Her place was much nicer than mine, but she gave it up and moved in with me mainly because—even though I was a working actor/singer (as was she) at the time—I was partner in a small typography business with an office a block from the apartment and she knew I wouldn't want a longer commute.
Had I moved in with her instead we'd probably be in that 86th Street apartment now instead of our glorious penthouse. Funny how things work out.
---
[Editor's Note: Brick Underground's series "Transitions" features first-person accounts of what it's like to move from one New York City neighborhood to another—or outside the city. Have a story to share? Drop us an email. We respect all requests for anonymity.]
---
She called our shared place, "Ben's cave." You had to almost lean out one of the narrow windows to tell if it was day or night. The rent was $150 a month. It was furnished with a huge couch I found on the street and a second-hand upright piano, bought very cheaply. The place was cozy. That's the best I can say about it.
We were comfortable in the neighborhood. Grocery and wine stores were less than a block away, and we were between the Seventh and Eighth avenue trains and a short walk from the Village. I suppose other living expenses were commensurate with other middle-class neighborhoods, but we never gave that any thought. As a sign in a producer friend's office says: "Things cost what they cost."
We often walked over to the river and occasionally flew a kite on one of the piers. There were movie theaters nearby and a laundromat on the corner of Eighth Avenue. The only thing about the neighborhood that bothered us was that there were no parks nearby.
As for our commute, that depended on the gig, but usually we'd use the train or travel on foot, rarely a taxi. I had a Vespa too, and we rode around on that a lot. I drove it to Queens where I directed plays for community theater groups. When either of us was in a show, it was usually in the Theater District or the Village, both easy to get to.
Our social activity in Chelsea was pretty much having friends over or visiting their places, plus occasional restaurant dinners or brunches. None of the places are still there but I do remember Maison Blanc, a French place on 23rd between 9th and 10th. (Sadly, it's gone now.)
After four years, Betsy felt like our tiny, cave-like Chelsea apartment was beginning to close in on her. One day in August she sat up in bed and said, "We gotta get out of here." The next day we signed up with an apartment rental agent. Our specifications were: between 72nd and 87th streets from the Hudson River to Central Park, two bedrooms and plenty of light, with rent no more than $300 a month (remember, it was 1971). That was double what we were paying, and we couldn't really afford it, but we believed that a bigger, brighter apartment would lift our spirits and we figured we'd be earning more money eventually. 
Throughout early September we saw 18 apartments that more or less fit our specs. One thing we quickly learned was that north of 86th Street the neighborhood was quite nice, and we gradually worked our way further uptown.
We went to a 17-story building on West End Avenue above 96th Street built in the 1920s or the early 30s, which had an elevator and laundry in the basement (way more convenient than using a laundromat), to see a two bedroom on the 11th floor for $300. It was okay but seemed a bit cramped with small rooms. The super mentioned that there was a penthouse available for $325, including electric. We had seen several penthouses for upwards of $500 but none were very nice. So not expecting much, we had a look.
We were astonished, delighted, thrilled, and overwhelmed. It was only one bedroom but it was spacious—1,500 square feet!—light-filled and had a full bathroom with tub and shower, a small toilet off the kitchen and a walk-in closet! But the best part was about 1,200 square feet of terrace on three sides with amazing views in all directions except north. Did I mention Hudson River views? We wanted it.
We sweated bullets for two weeks while waiting for our application to be accepted and late in September we got it. It was rent stabilized and after 49 years we now pay less than $1,600 a month! The building continues to be wonderfully maintained.
What we were missing in Chelsea were found in this neighborhood: We are one short block from Riverside Park, which is second only to Central Park, which is only an eight- or nine-minute walk (or two minutes by bike).
We stroll up and down Broadway, eat brunch at French Roast then visit Zabars, sit on our terrace and watch the sunset, and attend summer concerts in both parks. These activities are pretty much the same now as they were in the '70s.
There has always been an amazing array of restaurants of many ethnicities plus a couple of first-rate diners and delis very close by. Sadly, in the last few years we've lost two of our favorite restaurants: Henry's at Broadway and 105th closed a few months before the pandemic and about 10 years before that Marvin Gardens closed. We also lost our local Walgreen about a year ago.
We never ordered in when we lived in Chelsea, but due to a back injury, Elizabeth (a wonderful cook) can't do much in the kitchen so we do order in three or more nights a week. Manhattan Diner, Texas Rotisserie, and Cafe Viva provide healthful and inexpensive delivered dinners.
We love West Side Market a block away, Whole Foods three blocks away, and Trader Joe's, a five-minute bike ride away.
There is no commute since we both work at home. Me, writing and editing video, and Elizabeth, while focusing on healing her back injury (physical therapy), writing and managing her music.
Our instincts had been right: moving from Chelsea to the UWS did lift our spirits and ultimately lead to our business success.
Since the move, Betsy—now known by her real name, Elizabeth Hepburn, and has created four albums and done dozens of successful concerts, and I have had a busy career as a producer/director in film and have written three books.
This move was the second-best thing we ever did. The first was finding one another.
Brick Underground articles occasionally include the expertise of, or information about, advertising partners when relevant to the story. We will never promote an advertiser's product without making the relationship clear to our readers.