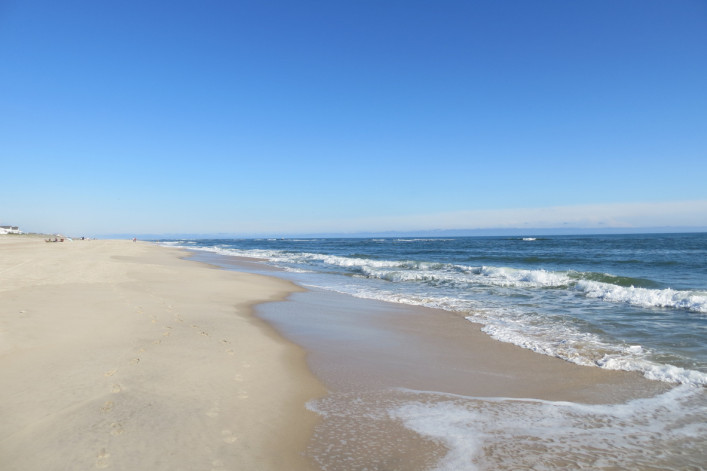 After a breakup, Sam, a commercial airline pilot, decided to ditch Manhattan and head to the Hamptons, where she's surrounded by nature and water views. With a less hectic work schedule because of the pandemic, she's getting a chance to enjoy her surroundings—and being an owner—in a way that wasn't possible before. Here's her take on how the areas compare.
I was born in New York City but grew up in New Jersey. I ended up living in the Hamptons when I was married. However, after many years living in East Hampton, I got divorced and moved to the Upper East Side and lived there for five years. Most recently I lived in Yorkville in a one bedroom in a luxury building with a full staff and gym. The unit was around 700 square feet with ample closet space and a great west-facing view from our 31st floor. I enjoyed watching sunsets from it. I (roughly) split the rent with my boyfriend at the time so it was affordable for me.
I enjoyed having a gym in the building, even though it was a bit dated, and used it often. The building was safe and clean—no bugs!—and the management company and staff were stellar. The building was large, so I didn't feel a sense of community and never really saw any of my neighbors. People weren't chatty or friendly.
---
[Editor's Note: Brick Underground's series "Transitions" features first-person accounts of what it's like to move from one New York City neighborhood to another—or outside the city. Have a story to share? Drop us an email. We respect all requests for anonymity.]
---
While the building did allow me to keep my cat, Molson, no dogs were allowed. I would have liked to have dogs in the building. I love them but can't have one of my own because of my hectic work travel schedule. When I needed my puppy fix, I would head to the nearby dog run in Carl Schurz Park.
There was an elementary school and playground outside my window and even 31 floors up, I could hear children playing, which was better than the sirens and fire trucks I heard from my previous apartment.
I loved the new Q train station, which got to Midtown or the West Side very quickly. But the new subway line meant rents in the area began to rise and a few friendly and affordable stores closed, including a health food store on First Avenue with a great juice bar.
Great eats in the neighborhood
Still, it was easy to find healthy food in the area. There were two weekend farmers markets nearby and I was just a short stroll from Whole Foods. Also nearby along Second Avenue was Vietnaam, Mimmo's, Tal's Bagels, Molé, Bareburger, Libertador and The Writing Room. I loved The Writing Room because it used to be Elaine's, a place my Dad used to take me for dinner as a kid. 
There was always something to do nearby; I enjoyed going to yoga classes, lectures at the 92nd Street Y, there was two (one has since closed) movie theaters, and tons of shopping all just a few blocks away.
Not your typical day in the office
I fly Boeing 767 aircraft—on both domestic and international routes, most often Western Europe and California—out of JFK. It was tough to take mass transit to get to the airport, so I used Uber. It was very expensive, but the convenience saved me a lot of time. Keeping a car in NYC was too expensive.
Because I was splitting the rent with my boyfriend, I could afford the expense of a luxury rental. I justified perks like having my packages signed for and picking them up at my leisure. And it was so worth it to come home after traveling for a few days at work and have the doorman greet me with a smile.
Initially my move was because of a breakup. I could no longer afford the rental on my own and had been thinking of buying a place in NYC. When I started looking, I just couldn't wrap my head around what I was seeing in my price range and knew I didn't want to go smaller or to a less desirable part of the city.
Falling in love with the Hamptons
Because I lived in the Hamptons previously, and had spent some weekends there last summer, I started looking casually and fell in love with a condo in Southampton: A two-bedroom, two-bath 900-square-feet place with 400 square feet of basement storage! It was so much more space than what I could afford in NYC! And it even has water views on two sides!
I wanted a slice of this special place. But since I couldn't afford both I had to make the difficult decision to leave NYC altogether.
Moving during the pandemic
I moved in late April at the height of the pandemic in New York City. The move was a little stressful—we had to wear masks and gloves—but went fine. I was surprised I was even allowed to move out—lots of buildings at the time wouldn't let you. Strangely, it was one of the smoothest moves I have ever had (and I have moved a lot). It helped that I had bought my own car and had a bit of an overlap—I got my condo while I still had my lease for a few months, which enabled me to pack and move things a bit more slowly. I was able to take five carloads of boxes over, so moving involved mostly my furniture and boxes of kitchen stuff, and some clothes.
Even with buying this condo, my monthly expenses went down by 25 percent when I factored in my total rent versus my mortgage payments, homeowner's association fees, and taxes. And because interest rates are so low it felt like a great time to get a loan. 
In retrospect I prefer owning to renting; I enjoy knowing my money is in a good investment. But of course, there are headaches that come with owning. I can't just call the super to fix something that's broken and have it fixed that same day!
Missing the city a little
And while I sometimes mourn the loss of the hustle and bustle of the city, I have gained a lot: Southampton is a lovely community filled with beaches, shopping, restaurants, bigger grocery stores and I'm surrounded by nature. My neighbors here are so friendly, and everyone is interesting.
And now, considering stay-at-home orders, I really value having outdoor space. I can have flowers and herbs to tend to, can entertain outside (and it is way easier to maintain social distancing here than in NYC) and can get exercise besides just going to a gym. I am close to the water, have access to a pool, and can even play tennis here.  
It's amazing having my own washer and dryer right in my unit. There is such a thrill to be able to do as many loads as I want, anytime of day or night!
I no longer worry about public transportation, and even though my condo doesn't have a garage, it is great to have my own car. I can't walk to a grocery store, so a car out here is a necessity.
It's been tricky during this pandemic to do much, but I have enjoyed hiking in East Hampton, kayaking and paddle boarding on the water behind my condo and sitting on my balcony catching a warm breeze and watching amazing sunsets. It's easy to meet friends on the beach for walks—no large crowds like NYC beaches.
The commute to JFK is much longer—nearly two hours!—and requires energy. I can't veg out in an Uber, relaxing on the way to the airport. Now I much be fully engaged, monitoring traffic and construction, and handling parking before my flights. Early morning flights are particularly stressful now, although the pandemic has also affected my schedule, so I suspect this will feel much worse when things return to normal.
Also, while Southampton is great in the summer, I suspect I will feel isolated here in the winter. Even in the worst weather, living in NYC is easy to be social, even if just walking to your corner or seeing neighbors in the laundry room.
My move was the silver lining to this awful pandemic. With all the lockdowns and flight cancellations, I have not had much work. So, I had the time to settle in, enjoy my new living situation, and make new friends and neighbors. It's been such an odd thing to have weekends off for a change—I worked almost every weekend before the pandemic. Sleeping in—and especially in a home I own—has been wonderful. I left kicking and screaming a little, but in the end it worked out. 
Brick Underground articles occasionally include the expertise of, or information about, advertising partners when relevant to the story. We will never promote an advertiser's product without making the relationship clear to our readers.