Renovation
Renter beware: Why asking about flooding and mold is an apartment-hunter's responsibility
A new law requires landlords to share information about a building's history of natural flood events
But they're not required to voluntarily disclose floods caused by mechanical or plumbing issues
Your questions about flooding and mold are supposed to be answered truthfully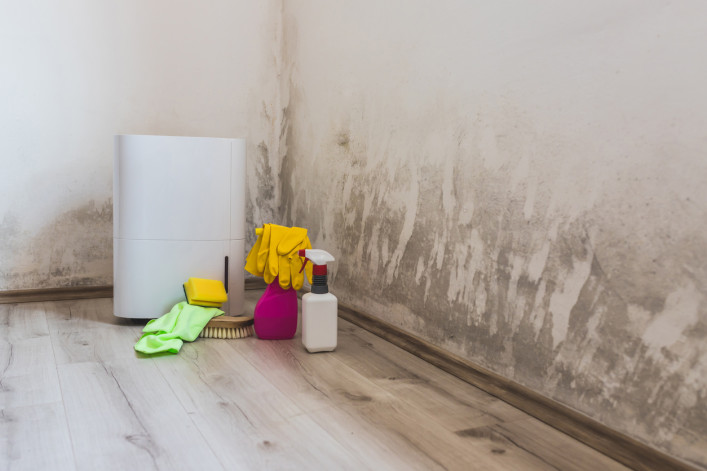 Several years ago, I was checking out a duplex for rent and noticed some tiny black spots on the wall in the basement—it looked like mold. I pointed them out to the agent showing us the place. She insisted it was dust from a recent renovation and said the apartment (consisting of a ground floor and basement level) would be thoroughly cleaned before we moved in.
That was red flag number one. Red flag number two was her parting piece of advice as we left her to meet the owner and sign the lease: "The owner doesn't like a lot of questions, so if you want the apartment, don't bug him."
---
[Editor's note: A previous version of the article ran in January 2022. We are presenting it again with updated information for August 2023.]
---
You can probably guess how this all went down, but just to be clear: 1) it was mold from prior flooding, 2) I was too chicken to press the owner on the issue, 3) we got the place, and 4) the basement level flooded every time there was a hard rain.
With flooding an increasing concern in New York City because of climate change, my approach was exactly what you should not do. While an owner is now required to disclose a building's history of natural flood events thanks to a 2023 law, they are not required to volunteer information about floods due to mechanical or plumbing issues. Instead, the burden is on you as the renter to ask.
That's because in New York, the law is caveat emptor, or buyer beware. The rule doesn't just apply for buyers—it extends to renters as well, Steven Kirkpatrick, a partner at the real estate law firm Romer Debbas, explained to Brick.
"If the question is asked, then it has to be truthfully and accurately answered," Kirkpatrick says. In other words, an owner can't conceal information once they are queried.
If you see (or smell) something, say something
When you find yourself in my shoes, you know what to do. "If you see markings on a wall that could be caused by water damage, you should ask," he says.
You should also use your sense of smell—if a place smells like mold or damp, that is another sign you need to ask about flooding. "The nose does not lie," Lawrence J. Ubell, president of Accurate Building Inspectors, previously told Brick.
Ideally, you should communicate with an owner or building manager in writing "so there's no misunderstanding," he says. "The best thing you can do is ask in writing and trust your own eyes," Kirkpatrick says.
NYC owners are required to disclose information about lead remediation and bedbugs upfront—that's why when you sign a lease you will get additional paperwork attached to your lease. You should receive a similar document outlining your building's past history with natural floods—those from rainwater or storm surge—which can require extensive repairs and pose serious health risks from mold.
"I've dealt with a top-floor apartment where someone repainted the ceiling to cover up damage from a leak," Kirkpatrick says. "That requires major work to deal with." Remediating after a flood can involve strategic demolition to access the drywall.
Keep in mind that in a competitive market like the one we are in now, asking lots of questions about potential problems with an apartment may mean you lose the place to another renter who is willing to look the other way. 
"But do you want a place with leaks?" Kirkpatrick asks. "These issues are, on a practical level, tough to deal with, and can be expensive too—although if you're a renter, the owner is responsible."
How to research a building's flooding history
If you want to do your own research, you can check tenant reviews on websites like openigloo to see if a building has a history with floods, leaks, and mold. You can also look up the address to see if it is in a flood zone, though New York's flood disclosure law requires that your landlord inform you if your apartment is on a floodplain as defined by the Federal Emergency Management Agency. Checking whether a building has violations or complaints is also helpful—you can do this on the Department of Buildings website.
"It's not only important to know if a space is prone to flooding, but to get insight into how the property management responds to such incidents," says Allia Mohamed, CEO of building review and listings site openigloo.
Here's an example of an openigloo reviewer's comments on their building's response to extreme flooding caused by Hurricane Ida:
"The entirety of the first-floor apartments flooded due to Hurricane Ida. Multiple apartments on this floor have had issues with flooding in the past; one in particular has had five incidents in the 18-months they have lived in this building. All of the first-floor apartments were flooded with sewage. The absolute worst part of all of this is that every single member of management shut off their phones so not a single person in the building could get through to them."
Protections for renters
Renters are protected by the warranty of habitability, a set of requirements that landlords must abide by in order to keep your apartment and the building safe and livable at all times. In case of a flood, owners are required to clean up and address damage and mold.
But you should also be aware that damage in a basement caused by storm water is not covered by insurance, even under a flood policy, says Jeffrey Schneider, president of Gotham Brokerage. 
However, some apartment insurance policies might provide limited benefits in some scenarios, so it is worth looking into. Sometimes you have limited and minimal flood coverage in a storage location, he says.
For renters who are moving into a building with a history of flooding from broken pipes, there's at least this (sort of) good news: "A building's general history of water damage from broken pipes is not grounds for not writing insurance," at least for now, Schneider says. "However rates have gone up appreciably in areas that have older buildings with claims from old pipes bursting.
Brick Underground articles occasionally include the expertise of, or information about, advertising partners when relevant to the story. We will never promote an advertiser's product without making the relationship clear to our readers.