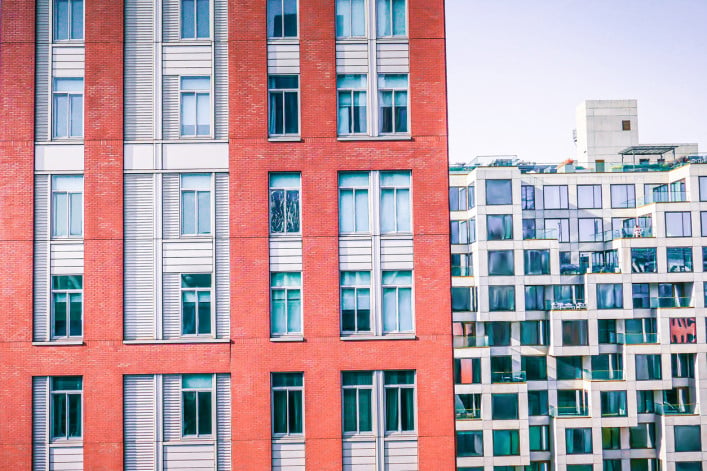 New year, new apartment? In January, lots of New Yorkers start thinking about making a change—and that can involve moving to a new apartment. Moving is complicated and expensive here, so it pays to find out as much as you can about a building before you commit to a lease.
Asking questions at an open house or showing is a good idea of course, but it's easy to get distracted by the view or some cool feature—and fall off your game. It's best to do as much research as you can before you view the apartment (finding out on your own how much apartments in the building have rented for in the past, what school zone it is in—if that's necessary, or whether there's construction planned in the area) so you can focus on the questions that you need an owner or building manager to answer.
Brick spoke to some of the people who run the some of the largest apartment listing sites and a real estate attorney to find out what are the biggest building headaches for renters. Here are some of the important questions that you should know the answers to before you sign a lease.
1) How many units are short-term rentals?
Airbnb is fun—unless you're the long-suffering renter living next door, says Matt Hutchinson, communications director at SpareRoom, a rental listings website.
If a building has a high percentage of apartments listed on Airbnb or other short-term sites, be wary. It can have a big impact on your quality of life, he says.That's because short-term units create a lot of traffic and change the atmosphere in a building.
"People behave differently when they're on vacation—they let their hair down," he says—meaning you could be living next door to party central if you're in a popular location.
Airbnb is a "constant conversation," among apartment seekers, Hutchinson says. "We all like visiting different cities, but for people who live in these buildings, it changes the sense of community. And people have realized just how important community is in the last few years."
2) Does this building get a lot of noise complaints?
In NYC apartment buildings, where people live side by side and on top of each other—noise in a building is a major issue. Ned Shatzer, founder of Hush Soundproofing tells Brick that between 80-90 percent of his work involves ceilings—noise coming from upstairs neighbors is a top complaint. 
As a renter, you're more limited in what you can do to dampen sound—you can't renovate the place, so it's a good idea to ask how noise complaints are addressed and whether the building has rules about floor coverings—many buildings in NYC will require 80 percent of the floor area to be covered in order to buffer sound.
3) Is there a history of flooding?
With global warming causing more frequent and intense weather—it's a good idea to ask if the building has a pattern of flooding—particularly if you're looking at an apartment on the ground or top floor, or if there's basement storage.
It's not the sort of information that is likely going to be provided up front because in New York, the law is caveat emptor, or buyer beware. That can apply for renters as well, explains Steven Kirkpatrick, a partner at the real estate law firm Romer Debbas.
"If the question is asked, then it has to be truthfully and accurately answered," Kirkpatrick says. "If there's no question, then the obligation is a little different," meaning the burden is on you to know what you are getting into.
If there is a flood, renters are protected by something called the warranty of habitability, a set of requirements that landlords must abide by in order to keep your apartment and the building safe and livable at all times, so landlords are required to clean up and address damage and mold. But isn't it worth trying to avoid problems to begin with?
4) When was the façade last inspected?
As a renter, you might be wondering why should you care about a building's structural maintenance—after all, you might only be there a year or maybe two. But you should be aware that NYC buildings with more than six stories must have their facades inspected every five years as per Local Law 11.
Ideally the inspection would be in the recent past—with no violations found, because if work needs to be done, the building scaffolding typically required for the inspection stays up—impacting renters' privacy and light. And the scaffolding can be up for several months—or longer.
Shane Lee, a data scientist at RentHop, a rental listings site, learned the importance of checking a building's inspection status the hard way.
"Where I lived, the scaffolding was up for an entire year. I would not have signed a lease if I had known," she says.
5) How do things get fixed?
You will want to know the process for having repairs done in your apartment. Omer Granot, CEO at Localize, which offers listings and as well as information such as building violations and complaints, says a good question to ask is: "What is the turnaround time for addressing maintenance issues?"
"Understanding how the building is maintained is important before committing to a lease," Granot says.
Be sure to listen closely to the answer. A vague response, or response that seems to discourage you from requesting work, are both warning signs.
It's true that asking pointed questions can jeopardize your chance of landing the rental—but another way to look at it: It can also spare you from a costly mistake. Take it from a renter who had to move after two months because a new apartment flooded everytime it rained.
Brick Underground articles occasionally include the expertise of, or information about, advertising partners when relevant to the story. We will never promote an advertiser's product without making the relationship clear to our readers.