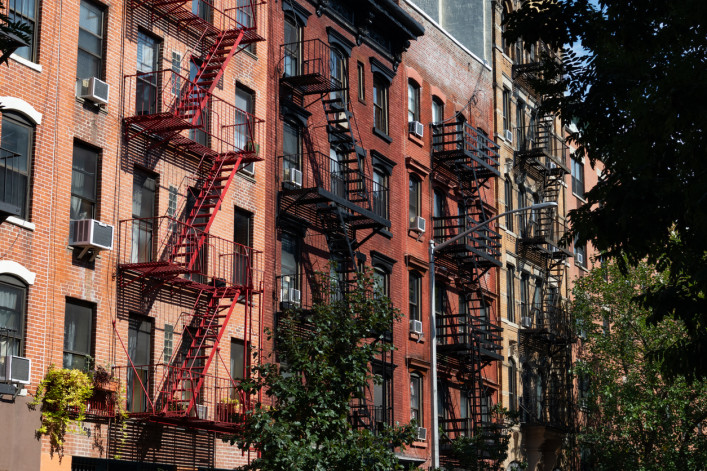 It can be tough to know what kind of landlord you're getting before you sign a lease. After all, you won't really know whether you've landed a responsive owner or one that you need to pester for repairs until you actually need something fixed in your apartment. So how can you research a landlord ahead of time?
If you know what to look for, there are some tell-tale signs when you visit the building to tour the apartment—for example, clean, well-maintained common areas will give you a clue. And there are other ways to determine the quality of a landlord such as looking for information online, speaking to departing tenants, asking for intel from neighbors, as well as some online research. 
---
[Editor's Note: An earlier version of this post was published in September 2021. We are presenting it again with updated information for September 2022.]
---
Check out the building's common areas
The condition of the building "speaks volumes," says Vicki Negron, a broker at Corcoran. If the building and premises are in immaculate condition, that's a good sign the landlord cares about the building's upkeep. Negron says she has turned down listings in buildings "that just look terrible."
Trust your instincts. A broken stair might not be a major concern but small issues that aren't quickly addressed can indicate a larger pattern of neglect. Consider how slow repairs if the front door fails to lock would present a security risk to tenants. 
Make an assessment of the laundry area, storage bins, and the basement. Well-maintained amenity spaces give you a clue about how the place is managed. If you have an appointment with a broker to view an apartment at noon, Steven Kirkpatrick, a partner at Romer Debbas, recommends visiting the building the evening before to check the place out.
"Walk around—is the garbage overflowing? The garbage may be cleaned up by the time of your appointment but if the place is a mess, why should you think it will be clean when you move in?" he asks.
Pro Tip:
Looking for a landlord with a good reputation--and a rental agent you can trust? Put your search in the hands of The Agency, a tech-savvy real estate brokerage and Brick Underground partner. The Agency will charge a broker's fee of 10 percent of a year's rent instead of the usual 12 to 15 percent if the apartment is an "open" listing and you sign up here. Bonus: The agents at The Agency are a delight to deal with.
Do a search for building violations
When Jillian Heft moved into her apartment in the East Village last year she wasn't aware the intercom was broken, or how easy it was to break into the front door. Six months later she was advised by police to carry pepper spray on the stairs because there were squatters living in vacant apartments. To avoid this situation there are a couple of online tools that can help you identify whether the building has complaints or violations. 
One invaluable resource built by the non-profit JustFix is Who Owns What in NYC, designed to help you establish just that. Armed with this information you can more easily research your landlord.
A helpful step by step guide to Who Owns What has been reported by The City. Hit search on the site and you'll be able to enter your building's address. The site identifies specific landlords known for violating rent regulations and harassing tenants. The timeline tab gives you complaint history so you can see if problems are seasonal or have ramped up in recent months. The summary page identifies the nature of the complaints, code violations, the number of evictions, and importantly the rent stabilization status. If you're seeing a net loss of dozens of rent stabilized apartments it's a major red flag. 
Who Owns What in NYC also gives information on whether other buildings are associated with your search—that is, the landlord's portfolio. 
Another way to source information is through NYC311 and the Department of Buildings websites. You call 311 for service requests when your landlord isn't responding. The NYC311 portal allows you to see what kind of requests are being made. This is where you'd be able to identify noise complaints among other problems. 
The DOB site identifies violations for leaks, mold, heat, and hot water issues. Elevator violations are fairly common, but broken windows and doors are definitely a red flag. Heft's building has dozens of violations and complaints—a warning of what was to come. 
Housing Preservation and Development also provides building data and information about complaints and litigation, property registration, violations, and charges. 
A building with very few violations is probably a well-run building and tenants are not calling the city out of frustration, Kirkpatrick says. On the other hand, a building with 70 violations indicates a landlord with a lackluster attitude.
Public information about building ownership is also available through the Automated City Register Information System, which you can access via New York City's Department of Finance. It's not an entirely straightforward search but can help you find out who is funding the mortgage and that can give clues about who is behind a limited liability corporation if that's the building's ownership structure.
Look for building reviews 
Once you identify the company or managing agent associated with your building's address, you can search these entities online and see what you come up with. If the landlord or management company has had any publicity, good or bad, it'll show up.
Another route is to search up the address online and you might find a reference to the owner. You can also research your landlord via Yelp, which is a good way to find out what current or former tenants have to say. People are more likely to write reviews when they have something to gripe about, but at least you can see what sort of issues are being raised.
Check if the building is on the Landlord Watchlist, a data-sharing tool to identify owners who are flouting the rules. Based on the most recent data, the biggest offenders are in North Brooklyn, Queens, and the Bronx. 
You can also find comments about a landlord on building ratings apps and websites. Apartment Ratings, which is also a listing site, has been rating buildings since 2000 and there are several other platforms that provide in-depth scorecards on the city's apartments and buildings, such as Openigloo, RentCity, bitResi, and GoHomeNY.
You might also want to punch your prospective building address into the search field of The Bedbug Registry where you can see any bedbug reports on file. 
Get feedback from your broker
It sounds obvious, but working with a reputable broker can protect you against the worst of landlords. After all, if a landlord-tenant relationship goes south it's not just the landlord who bears the brunt of a tenant's anger, but the broker too. Negron says it is in a broker's interest to create the right "pairing" between a landlord and a renter. She encourages renters to ask their broker for details about the landlord. 
"We do business with people of integrity and we have integrity so we want to match people in situations where they are going to live in quiet enjoyment," she says.
Some renters prefer buildings where the landlord is in residence, Negron says. There are always exceptions to the rule but in her experience, if the landlord lives in the same building, "tenants figure the place will be more likely to be landscaped, dry, and there will be no bugs," she says. 
Speak to other renters 
A broker isn't the only one who can give you information about the landlord. A departing tenant, or other renters in the building can answer your questions and may be the most reliable source of information. "If the tenants are there, ask them. They will give you the real skinny on what the landlord is like," Negron says. 
Not everyone has the nerve to do it, but you can also chat with people in the building. Take a moment to tell people you're thinking of moving in, and ask for the scoop.
Brick Underground articles occasionally include the expertise of, or information about, advertising partners when relevant to the story. We will never promote an advertiser's product without making the relationship clear to our readers.