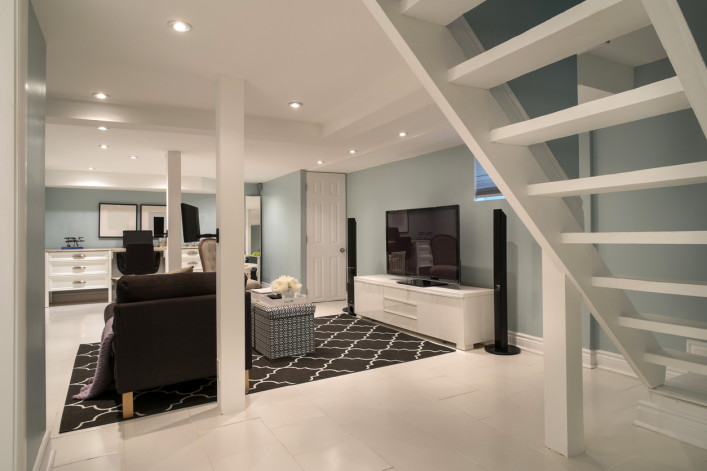 If you're struggling to find affordable housing in New York City, renting or buying a basement apartment or duplex might be an option. 
In the best case scenario, you give up light and views for an affordable unit with outside space and its own entrance. Be warned though, in order to be legal, basements need to meet the minimum requirements for ventilation, light, sanitation, and exits. If not, residents can risk carbon monoxide poisoning. And the apartment needs the approval of the Department of Buildings. You should also keep in mind that even legal basements can be prone to flooding, and the kind of moisture that attracts pests.  
So what is legal when it comes to subterranean living? Let's be clear, it's against the rules for someone to rent out a cellar. Yes, it can be put to use by a family member living in a one- or two-family unit, but never for sleeping, eating or cooking. How do you tell the difference between a basement and a cellar? A basement has at least fifty percent of its height above street level, while a cellar will have less than fifty percent of its height above the curb.
Statistics on illegal basements are hard to come by, but the research organization Citizens Housing & Planning Council estimates 100,000 families are living in illegal basement apartments in the city. In an effort to get these New Yorkers out of danger and unlock more housing, a pilot project in East New York is using loans to encourage homeowners to get basements (and even some qualifying cellars) up to code, and provide tenants with leases they can renew at affordable prices. There are also efforts to adjust the onerous codes on ceiling heights and window size, as well as tighten up rules on emergency doors and fire safety. 
With legal basement apartments possibly set to increase across the city, here are some of pros and cons of these types of units.
A more affordable option
There are plenty of examples of agents selling basement units both faster and cheaper than other apartments.  A study of residential projects in Manhattan and Brooklyn built in the last five years showed apartments with below-grade space were, on average, 21 percent cheaper per square foot than other units in the same buildings. Below-grade listings without outside space were 32 percent cheaper. The data comes from listings data site, StreetEasy, which compared 75 such apartments with a total of 646 units that sold in the same buildings within three years. 
You'll likely need clever lighting
The nature of a basement means daylight is going to be limited. Citizens Housing & Planning Council has been an important advisor to city leaders who want to increase affordable housing options via legal basements. "Our goal is unlocking more building supply," says Sarah Watson, deputy director. "There are ways to increase light with window wells, but both light and ventilation can be improved mechanically and it can be done without compromising safety." 
Architect Graydon Yearick has used frosted glass to bring natural light into an internal bathroom in a basement. He says a combination of LED and incandescent light will also help give a daylight quality.  
"You can also use reflective gloss or semi-gloss paints on the walls, as well as tile and epoxy on the floors, both of which bounce the light into the center of a space. We use techniques like installing mirrors to capture light and bounce it deeper into the rooms. We can also slope the ceiling towards windows to create light scoops as well as build light wells."
You typically get a private entrance and a garden
Coming home with grocery bags isn't going to strain the biceps when you live in the basement. The other main advantage is getting some outside space. "If the basement is in the front half of the townhouse, the door is usually under the stoop so you get your own private entrance and you also get a garden," says Yearick.
He described a basement duplex he worked on in Manhattan.
"You can put a beam in and structurally make a wall of glass at the back, to maximize the light. It really helps get away from the basement feeling. It also gives you that indoor-outdoor element, extending the living space, plus it's great for pets." 
There could be drainage issues
Preventing drainage issues during the construction phase is a priority for basements if you want to avoid flooded bedrooms and erupting toilets (yes, brace yourself before reading about it). Yearick says there should be waterproofing installed on the masonry and foundation walls. "It creates a kind of bathtub, which is sealed from the perimeter walls with a waterproof membrane." He also recommends a sump pump as a back up. If you're renting, it's worth making sure these arrangements are in place. 
Bugs find basements
The boiler room and the trash cans won't be far away if you live in a basement.
"It's probably more problematic in terms of pests than living in the same unit on the third floor," says Gil Bloom, president of Standard Pest Management in Queens. "The basement just has more access points for American roaches, what we call waterbugs, as well as rodents that come up through sewer vents and drains, especially in some of the older areas of Manhattan and Brooklyn." Another issue can be moisture coming through water lines, heating lines, air vents and clean-out tracts.
"Even in legal basements, the odds are greater that there will be a moisture issue," says Bloom,  "and that gives way to minute amounts of fungus which brings in plaster beetles and springtails and then the spiders and centipedes that, in turn, feed on them."
For Yearick, the bug issue shouldn't be a deal breaker. "You really have to seal a basement," he says. 
Brick Underground articles occasionally include the expertise of, or information about, advertising partners when relevant to the story. We will never promote an advertiser's product without making the relationship clear to our readers.