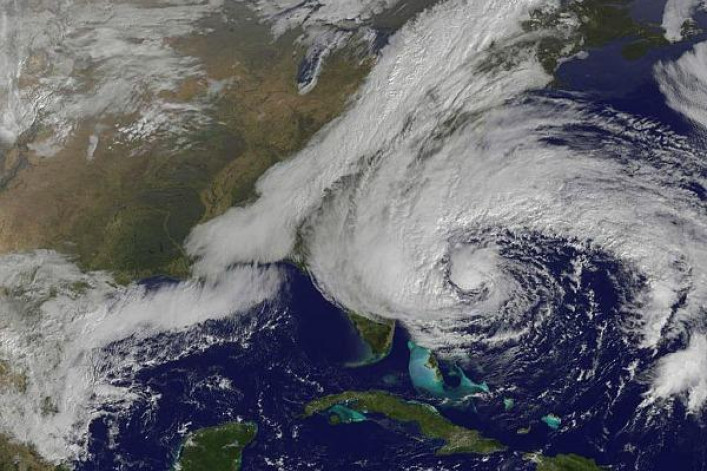 We are hopeful that NYC will be spared a direct hit by Hurricane Sandy, but should things take a turn for the worse, the main thing to remember is to obey the city's evacuation instructions.
You are not (a) cool, (b) intrepid, or (c) smart to hole up in your Zone A abode if Mayor B instructs you otherwise. (That includes you, Red Hook.) And by hanging around where you are not wanted, you may endanger the lives of those who may be called on to rescue you.
(Update: After word that storm surges tonight and tomorrow night will be significantly higher than previously expected, the Mayor has ordered mandatory zone A evacuation by 7pm tonight. There are 72 evacuation centers open now with room for you and your pets; call 311 for one near you or click here to find a location.  If you need help evacuating, call 311.)
Don't know what zone you're in? Find out here. While you're online, sign up to receive emergency text or email alerts from the city's Office of Emergency Management, so you won't miss any important advisories and evacuation notices. Also, check out the city's advice on preparing for a hurricane here, including a "go" bag checklist should you need to relocate in a hurry.
Here are a few more BrickUnderground pointers for keeping you, those you love, total strangers, and your home safe:
1. Outdoor space
Protect yourself, your neighbors, pedestrians and rescue personnel by removing any loose items from balconies, fire escapes or terraces, including flower pots and umbrellas. Secure heavier items together to increase weight.
2. Windows  
When Hurricane Irene danced by New York last summer, we asked Leon Geoxavier, an architect and window expert at Walker Restoration Consultants in Manhattan, what apartment dwellers should worry about window-wise.
He explained that windows are more apt to be smashed by flying, windborne objects than the force of the wind itself.
And although in many hurricane-prone regions "windows are required to be projectile-impact tested, we do not have such a requirement here in NYC," said Geoxavier.
"I would generally say those with larger, unobstructed glass windows are more at risk than those with smaller windows or windows with muntin grids," he said, adding that whether you live on a high or low floor matters less than wind conditions.
Stay away from windows as much as you can; obviously this may be challenging given the size of the typical NYC apartment.  At a mininum draw the blinds and drapes to minimize the impact of flying objects.
If you are inclined to take the extra and somewhat controversial step of taping up your windows, make sure to buy a strong tape like duct tape (not painter's tape).
"First make an 'x' going from corner to corner, make sure the tape overlaps onto the frame (not just on the glass), then (if desired and recommended) make additional lines forming an asterisk, again going from frame to frame," advised Geoxavier.
3. Elevators
In last year's hurricane near-miss, residential elevators were ordered shut down for the duration of the storm. Particularly if you live on a high floor or have trouble getting around, make sure you've got everything you need to hunker down for a few days.  Check in on your elderly or infirm neighbors too.
4. Basements
If you've got stuff stored in the basement -- particularly you Zone A and B folks -- you might want to relocate the most valuable/vulnerable up to the drier altitude of your apartment.  At a minimum, buy some plastic tubs from Home Depot or better yet, water proof plastic storage containers.
5. Blackouts
Especially if you live in a high rise, you may lose water if there's a blackout, so stock up on the bottled stuff or fill up some pots or the tub.
Keep in mind that besides the obvious problems and inconveniences associated with blackouts, there's another problem: The power surges that often occur at the moment power comes back on. They can and do burn out everything from your microwave, to your Subzero fridge to your flat screen television and computer equipment.
Even without a hurricane, "we see it maybe 20 to 30 times a year," says apartment insurance broker Jeff Schneider of Gotham Brokerage Co. Inc.
If you have insurance, this kind of damage is covered, but it's smart to unplug everything you value in advance.
6. Property damage 
Hopefully, you've been paying your insurance premiums. For a quick review of what your policy covers, storm-damage-wise, click here.  
"If you have a claim, document your damage with your phone's camera," advises Schneider. "Keep track of any expenses you incur to minimize damage or do emergency repairs."
Inside tip: Put in claims quickly with your insurer's 24 hour 800 number, as claims are prioritized by severity and time of reporting, says Schneider.
Also, says Schneider, "try not to dispose of damage goods before they are seen by the insurance company, but if you have to, take good photos, and take steps to dry out/air out damaged, wet areas to prevent mold growth."
Related:
10 upsides to a Manhattan hurricane
Ask an Expert: Will my windows get blown in by a hurricane?
The foul-weather guide to apartment insurance: What you need to know about tornados, ice storms, blizzards and more (sponsored)
2-bed, w/d, ren EIK in BEST flood zone. HURRY!!! Won't last!!
Brick Underground articles occasionally include the expertise of, or information about, advertising partners when relevant to the story. We will never promote an advertiser's product without making the relationship clear to our readers.