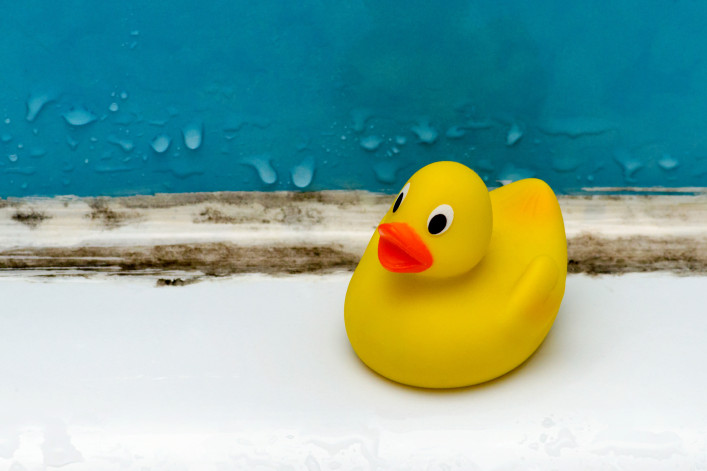 It doesn't matter where you live in New York City—whether it's a small, prewar building or a modern luxury tower—you may still have to deal with the problem of mold.
In fact, Jeffrey Gross, a water damage and mold remediator at First Onsite (formerly Maxons Restorations) says that his company sees newer buildings with mold problems more often than older ones.
"We respond to plenty of leaks in old and new buildings, but I think we do more mold remediation in newer buildings," he says. That's because materials used in newer buildings don't breathe as much, and if there is some kind of leak or water damage, mold can grow. Older buildings tend to have fewer materials that mold can grow on, whereas engineered flooring, sheetrock, and processed materials are "junk food for mold," he says.
---
[Editor's note: An earlier version of this post was published in August 2021. We are presenting it again with updated information for August 2022.]
---
What are the three causes of mold—and what can you do about it?
Moisture encourages mold growth—so places like bathrooms and basements are top spots for mold growth, as are areas around heating and cooling appliances and vent ducts.

According to Gross, the following three scenarios are the most common ways mold takes hold in NYC apartments, both new and old.
Cause #1: A leak from another apartment
Broken pipes and water overflows can soak your ceiling and walls from above, or seep into your floors and walls from the side. The most common offender: Plastic water supply lines to sinks and toilets, which newer buildings tend to use more. (Tip: Copper, found in older buildings, almost never leaks, Gross says. Galvanized steel is another sturdy material.)
Treatment: If, for example, your upstairs neighbor's toilet or shower overflows into one room of your apartment, your ceiling and walls would be affected. Professional water remediation—which involves drying out the area behind the wall to prevent mold—starts at around $1,200. This  process takes three to 10 days and includes sucking up the standing water and  making holes in the wall to ventilate the wall cavities. It might also involve pulling down a light fixture to get air into the ceiling, cleaning and treating all surfaces with an antimicrobial agent, and setting up drying equipment.

If mold is present and the affected area exceeds 10 square feet, NYC Health Department guidelines require a full-scale mold remediation by a trained and qualified professional like Gross. New York State requires mold remediation companies to be licensed. The law also makes it illegal for companies to do both mold testing and remediation, as there's an inherent conflict of interest.

Expect the fee to run $8,000-$15,000 for a full mold remediation. Not cheap, but the good news is that your renter's or homeowner's insurance may cover the cost, with insurers paying for clean up and drying and steps to retard mold growth. But there are limits to what is covered.

"The mold exclusions usually come into play if the mold issue blows up months later or comes from a source that is not related to a covered peril—a blocked bathroom vent, for example," says Jeffrey Schneider of Gotham Brokerage (FYI, another Brick Underground sponsor).

If it's your tub or toilet that overflowed, Schneider says you would "generally be covered for that under the liability portion of your policy up to the liability limit if you are responsible for mold in another apartment and up to your property limits for your own residence. A mold situation that occurs from just general damp conditions would typically not be covered at all."

(For more information on insurance coverage of mold claims, check out our guide here.)
Cause #2: Clogged PTAC units 

All-in-one heating-and-cooling units, lodged radiator-style against the wall, are a huge blind spot for NYC apartment owners in newer buildings who tend not to realize that PTAC units require twice-yearly maintenance, and that falls under the apartment owner's responsibility, Gross says. If you rent, it's your landlord's responsibility. 
According to Gross, the most common problem with PTAC units is that the filter is not replaced often enough. Dust collects and clogs the drain of the condensate pan, which then overflows and leaks under the floor. Neglecting to change filters after a renovation that generates a lot of dust can also clog the drain to the pan.

Gross says these scenarios tend to cause mold more often than other types of leaks because they leak so slowly into the floor that it goes undiscovered until a large section of flooring shows damage. Nearby sheetrock can also be impacted, as it wicks up the moisture from the floor.

Treatment: If you are lucky enough to catch the leak soon after it begins and mold isn't present, cleanup may just involve removing a few floor tiles and the base molding and drilling a hole to dry the wall cavity. This can run from $800 to $1,500 and require minimal repairs.

When mold is present, situations like these nearly always require a full-scale mold remediation. This typically involves ripping out a few square feet of floor, sheetrock, and base molding to get rid of mold. The average cost is around $6,000, plus the cost for a contractor to come in and repair the area afterward.
Cause #3: A broken washing machine hose 
"We get a lot of these," Gross says, placing the blame on cheap rubber washing machine hoses. "Those are the ones that break, as opposed to the under $30 stainless-steel-wrapped hoses you can buy at Home Depot that almost never leak."

Treatment: For minor damage, the removal of moldings and drilling of holes to promote air circulation and drying, for a cost from $1,200 to $5,000.

If mold has already set in, a full-scale remediation would entail removing the flooring and base moldings, cutting the sheetrock walls up two feet around the perimeter of the room, and then treating the area as described below. Price: $8,000-$12,000.
What's the difference between mold and mildew?
Neither is pleasant, but mold is likely to cause you a lot more grief than mildew.

Both are also fungi, but mildew—usually a gray or white color that can become black as the fungus grows—is a surface fungi. This is an important distinction because that means some elbow grease and household cleaner can usually contain a mildew situation.

Mold, however—which tends to be fuzzy and come in several shades (black, white, green, and yellow)—is embedded in the material. This is why getting rid of any significant mold infestation requires the physical removal of infected areas, like sections of walls and flooring.

And that's one reason why it's so costly to remediate mold. Another is all the precautions that must be taken to prevent cross-contamination, including sealing off and ventilating the area, doing a thorough cleaning, and careful disposal.

"It's more of a surgical removal than a demolition," Gross says. "We don't use sledgehammers—we use knives and spray bottles to wet down the material. The debris we create is bagged in [plastic] bags taped shut, and the exterior has to be vacuumed to prevent cross-contamination. Surfaces that can't be removed, like a concrete slab, have to be cleaned and if there is evidence of contamination, have to be encapsulated in an antimicrobial sealant, like a primer."

Beware of remediation companies that offer "mold fogging," or filling wall cavities with spray foam, rather than full removal of the contaminants.
How to tell whether you have mold 
It's not always obvious that mold is present, so be on the lookout for these tell-tale signs:

Water damage: You'll probably notice water damage and staining before you notice any signs of mold, because mold tends to grow faster inside the wall than on the surface. That's why it's important to address any moisture problems quickly.

Odor: One of the first signs that mold might be present is a wet, musty smell or the smell of moldy, wet building materials. These indicate a moisture problem that can lead to mold; it doesn't necessarily mean you have mold.

Spots: Black, gray, green, or brown spotting. Only proper testing can prove whether or not it's mold, but if you see spotting on a surface like sheetrock that is or was wet, it's worth testing, Gross says.

Health problems: Respiratory reactions including asthma are most common, though mold sensitivity can also cause headaches, irritated eyes, and skin rashes. Some people have symptoms immediately; for others, it develops over time. Note that not all types of mold cause health problems, and that not all black mold is "toxic mold." To identify which type of mold you have, an industrial hygienist will need to collect a sample for testing.

If you suspect you have mold, there are many at-home mold testing kits available. (You may have to pay an additional fee for lab processing.) You can also hire a certified industrial hygienist to take air samples, perform a survey, and devise a clean-up plan.
Who should pay for getting rid of mold? 
It depends. Steve Wagner, a real estate attorney and partner at the firm Adam Leitman Bailey, P.C. (FYI, a Brick Underground sponsor), says he has seen a steady stream of complaints and lawsuits that involve mold, in both old and new buildings. "People are far more aware now of what's needed to remediate, and [know] the danger of living in a building where mold isn't properly remediated."

If you bought in a newer building that has mold, you may be able to sue the developer in certain circumstances.

"If leaks and mold are the result of design defects and exist throughout the building, the board may want to consider a lawsuit against the sponsor or developer. Those kinds of cases are expensive, and may not be cost-effective for an individual," Wagner says. That said, Wagner's firm has successfully secured a multi-million dollar settlement for an individual client in a mold-related case.

If you're renting, you shouldn't have to pay to remediate mold, experts say. Learn more about filing a mold complaint with the city.

"A cost-effective way of forcing repair or remediation would be through housing court. These lawsuits are available to owners or renters in co-ops or condos," Wagner says. "An abatement of rent may be available under warranty of habitability."
Brick Underground articles occasionally include the expertise of, or information about, advertising partners when relevant to the story. We will never promote an advertiser's product without making the relationship clear to our readers.