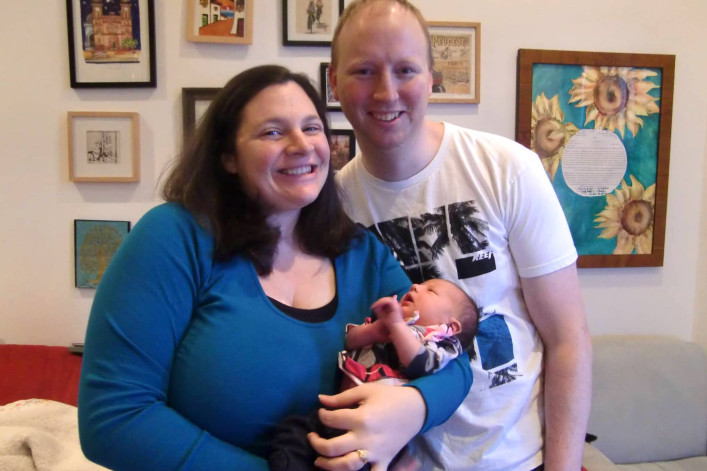 Living on a high-floor of a walkup building is a way of life in New York City. Both longtime New Yorkers and newbies alike will brave endless stairs in order to save some money—and maybe get a little more exercise.
If you're considering living a few floors above the rest, you may be wondering if you have what it takes to live in a walkup. Perhaps you're worried about the logistics of moving or how much harder grocery shopping will be. Maybe you're ready for the challenge, but you want to plan ahead as much as possible to make your life that much more comfortable.
Brick Underground asked some NYC renters who have lived on high floors for their best advice. Here's what they had to say.
1. Keep a positive attitude
"The entire time I lived in New York, which was nearly a decade, I lived in a fifth-floor walkup in Prospect Heights. I opted for it in the beginning because it was a lot cheaper than anything else I was seeing out there. But I ended up staying because I fell in love with it. 
"It was a rough transition in the beginning, though. I grew up in a one-story house, and the closest thing we had to a walkup was going up and down the basement stairs when I had to fetch an old tennis racket or the good china. So, when I first moved in, I didn't think I could hack it, running up and down those stairs, endlessly, day after day, sweating in the brutal heat or through five layers of winter clothes. 
"But after a while, I really started to like it. I didn't have to worry about leg day at the gym. My view of the sky was mine alone (even if I could only really make it out if I sat just so on the edge of my bed). And every Fourth of July, I'd throw epic parties on my roof, and we could see the fireworks from three boroughs, plus Jersey.
"So my tip is to look for the things you love about your walkup. Keeping a positive mindset can make the little (and big) annoyances about it easier to take." —Isaiah, Prospect Heights  
2. Get to know your neighbors
"The first thing that comes to mind when I think about the time when I lived on the fifth floor of a walkup apartment complex was how important it was to make sure I was on good terms with my neighbors. 
"You are probably going to cross your neighbors on the stairwell at least once a day, and you're definitely going to hear their late-night conversations above and below you. Your neighbors are also the ones who might help you haul things up all those stairs in a pinch (if you're lucky). 
"I would start the relationship by introducing yourself to your upstairs and downstairs neighbors. I know it's not typical in New York, but I had really good experiences reaching out to my neighbors from the get-go. I would also make sure that you inform your neighbors whenever something loud is going to be happening in your apartment, whether it's furniture coming in or a party. This will make them more likely to return the favor.
"There is nothing more nightmare-inducing than having neighbors that behave badly. So, open that communication from day one, and it will help you to have a more pleasant experience living in a walkup." —Anonymous
[Editor's note: But, if your neighbors ARE behaving badly, there are lots of ways to deal with the problem next door.]
3. Make sure you pack wisely
"One skill you'll gain living in a walkup is economizing when packing. This is true when you move in and out and when you're going on trips. 
"I only lived on a sixth-floor walkup for a year, but I traveled a lot for work and was always coming and going. In some ways, I felt like I spent all that time hauling heavy things up and down the stairs. It really helped me to think about packing light, not just for the airport but for the trip into and out of my apartment.
"When I moved in, to say that I didn't pack well is kind of an understatement. It's fair to say that some of my stuff arrived in my new apartment in trash bags. Because of this, the move took so much longer than it should have. All my boxes were awkward, half-open with stuff poking out of them or stuffed to the top with heavy books. This meant that my poor friends and I wasted a ton of energy hauling up one box at a time. It took hours. I felt like I would never not be moving, and I'm lucky I didn't lose friends that day. I wouldn't have blamed them for just walking away in the middle of that Sisyphean task.
"When I moved out, I was much smarter. I did a little research online about how to pack well. I spread my books around more and filled the top with lighter items like pillows and clothes so that one person could reasonably carry two or three boxes at a time. Of course, we were going downstairs with the stuff instead of up, which helped, but packing smarter made moving out go more smoothly, too." —Lucy, Astoria
4. Be sure to hire movers
"If your apartment is above a third-floor walkup, you really should not be moving yourself all the way down or up. Carrying your items up and down the stairs is brutally exhausting physical labor. Unless you happen to know weightlifting enthusiasts or football players that are available to help you move, it will probably be too much work for someone who isn't a moving professional. 
"When contracting movers, make sure that you explicitly state your building is a walkup and that they will be required to transport your belongings up or down stairs, and specify how many stories there are between your loading area and the apartment. You can inquire as to whether the movers will disassemble any of your furniture before moving it up/down. This saves plenty of headaches during your move. [Editor's note: Booking a mover well in advance of your move can save you time and money, too.]
"After the movers are done transporting your belongings up or down those stairs, a big tip is in order. After all, moving in a walkup is hard work." —Jack Kelly, CEO and founder of Trusted Gift Reviews, Manhattan
5. Call the (couch) doctor
"My biggest walkup tip is to make sure you know how wide the staircase is before you buy or move a couch! My husband and I moved back to Brooklyn after a few years in England, and the stairway in our walkup was super narrow. We thought we did due diligence by measuring the hallway and the couch we ended up buying. But sure enough, when it arrived, the mover said he couldn't get it up the stairs. 
"I had to emergency call a couch doctor while the couch sat on the street, and he came and ripped up the couch, moved it all those flights of stairs in pieces, and put it together again. Had I known, I probably would have saved money and time (and anxiety) by booking a couch doctor in advance! The last time we moved (from that apartment to a house) we used a service that actually has a couch doctor on staff! It made all the difference." —Kelsey, Brooklyn Heights  
6. Consider flat-packed furniture
"There was a time when I lived in New York for a few years for business and it was in my best interest to find a cheap place to live. Little did I know that it would be so difficult to navigate a high-floor walkup. Living on the sixth floor wasn't easy, and I wish I had someone to give me tips then. 
"It's useful to consider what furniture you have and whether you can transport it all up the stairs. Consider finding furniture that can be flat-packed. I made the mistake of trying to carry my two-seater up the metal stairs and it was not pretty." —Elijah Miller, CEO and content producer of RC Ride on Cars, Upper East Side
7. Plan your deliveries
"I lived on the fourth floor of a walkup building. It was the first apartment my husband and I lived in after we got married and the first home for our daughter.
"Get grocery delivery. If you are getting more than a bag or two of groceries at a time, have them delivered. Most of the time, companies like Fresh Direct will bring them up the stairs for you. It's worth the tip!
"Know that anything ordered from Amazon, IKEA, and anything else that arrives in the mail won't be delivered to your door. Those items are delivered downstairs. Make arrangements if you order something heavy or awkward." —Lanie, founder of Make More Adventures, Park Slope
8. Get ground floor storage space
"My wife and I moved into a fifth-floor walkup in Ditmas Park, the first place we picked out together. We thought we'd done everything right—having our new furniture delivered directly to our door and assembled by the store, hiring movers so we could spare our backs (if not our bank accounts), and psyching ourselves up for the influx of exercise in our daily routines.
"However, the one thing we didn't take into account was how much storage space there was on the first floor. There was a strange little vestibule that was ostensibly open for tenant use, but we never quite felt safe leaving expensive bikes or later, expensive strollers, out in the open. Anyone could slip in behind a neighbor and make off with stuff there. Later, the landlord opened up a couple of small closets on the first floor for storage, but they could barely hold a skateboard, much less a Schwinn. 
"It wasn't a deal breaker because we loved that apartment, but if we had realized how much of our lives would be spent tripping over bikes in the hallway or schlepping groceries, diaper bags, AND a giant stroller up five flights of stairs, we might have reconsidered." —Lacey, Ditmas Park
9. Feel the burn
"My friends made fun of me when I moved into a fourth-floor walkup because I didn't even like going up the stairs to get out of the subway. I was always the one to insist on riding the super slow, stinky escalator. I wasn't shy about how much I hated to be forced to exercise in the middle of my day. I preferred exercise to stay at the gym where it belonged.
Living in a walkup didn't make me suddenly fall in love with these impromptu step classes. I still sometimes hate going up a bunch of stairs to get to my apartment, especially if I'm coming home late at night. But, over the years, I definitely have felt the effects of my daily climbs. It gives me more energy, I can breathe easier, and I can run for the train without being a sweaty mess at work. Embracing the added physical activity when you can is definitely key to being happier in a walkup." —Emily, Clinton Hill 
10. Learn how to ask for help
"I've lived in New York most of my adult life. And, sure, it can be hard, and people can be rude and impossible, but a lot of people are really helpful, too. Anyone who has lived here for a while can tell you that it's a myth that New Yorkers don't help each other out. 
"I lived in a fifth-floor walkup in Sunset Park when I was in my twenties and I sprained my ankle. I wasn't accustomed to asking my friends and family for help, much less strangers. I could shimmy/hop up the stairs using the handrail, lugging my crutches, but I couldn't carry much else, like groceries, and it all took an extraordinarily long time just to get in and out of my apartment. There were times when the whole situation almost brought me to tears. More often than not, if I was struggling up the stairs, a neighbor would stop to help me carry my crutches, take my backpack for me, or unlock the mailbox for me. It became a little easier to rely on other people for help, because I had no choice.
"These things might seem small, but they made a huge difference to me. Later, when I healed up, it also became more natural for me to help my neighbors out, too, in whatever way I could." —Erin, Sunset Park
Brick Underground articles occasionally include the expertise of, or information about, advertising partners when relevant to the story. We will never promote an advertiser's product without making the relationship clear to our readers.