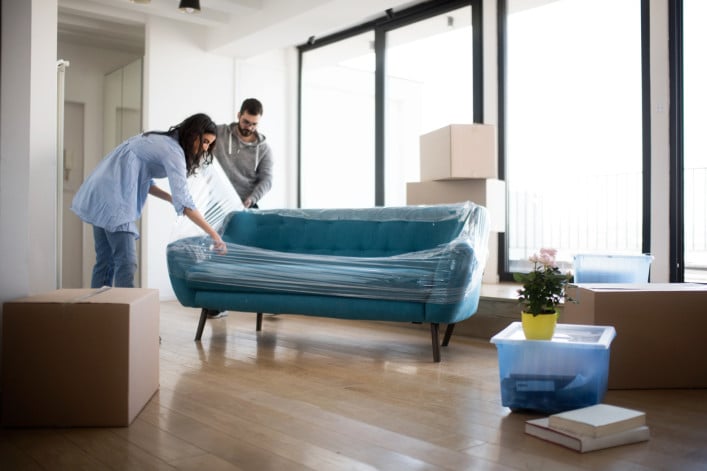 As if finding a good apartment in New York City isn't stressful enough, what happens during a move can sometimes put you over the edge.
Years ago, my own first move into NYC from northern New Jersey was a nightmare. Never mind that I was moving into a sixth-floor walkup with sloping stairs and unhelpful neighbors, it turns out neither the broker or landlord thought to mention to me that most couches could not fit into the apartment's exceptionally narrow doorways. I had to figure it out hard way, after my movers spent an hour trying every possible way to get it into the doorway, and we ultimately had to declare defeat.
Turns out, it's very common for couches and other large pieces of furniture to get stuck when moving into a place in NYC—especially if you are moving from outside of the city and don't have apartment-sized furniture. My friend Holly got her own couch stuck on the fourth floor of her walkup on moving day. It would not budge, and one neighbor threatened to call the fire department because the obstruction was a fire hazard.
Fortunately, a more helpful neighbor gave her a saw so she could get it unstuck. The couch was destroyed in the process, but thankfully she was able to move the rest of her furniture without further incident. (If that happens to you—before you take a hacksaw to your couch, companies like New York Couch Doctor, Sofa Emergency, The Couch Heroes specialize in dismantling your furniture in a crisis.)
Chalk it up to a moving day learning experience. With that goal in mind, Brick Underground asked New Yorkers about their craziest and most challenging moving day woes. They didn't disappoint.
Moving into a former drug den
Sometimes when you move into to a new place, there are traces left behind of the previous tenant that give you a glimpse into who they were. Usually it is something forgotten on a top shelf and not very interesting. But for Christina Horsten and Felix Zeltner, journalists from Germany, who spent a year moving to a different NYC neighborhood every month—and wrote a book about it, what was left behind was a glimpse into the seedy side of NYC.
As Horsten recalls, "We found the apartment, like most of the apartments on our moving journey, through Listings Project and were really excited to live in the East Village for a while. When Felix went to look at the apartment, a one bedroom in a tenement, the very sweet owner was cleaning and clearing it out and she seemed pretty shaken.
"The previous tenant was a young woman who had always paid her rent on time but never let the owner into the apartment and even changed the locks. She had just called a couple of days earlier and said she was leaving, immediately.
"Around the same time, owner's sister sent her a link to an article in GQ. The article mentioned a NYC apartment that was the headquarters of a drug ring run by female models. It reminded her of her sister's apartment. It was the exact apartment.
"Apparently the model who ran the drug ring had had enough, told her story to the reporter, and left. We talked to some people who knew her, and they all say she does not live in New York anymore and does not want anything to do with her old life. Still, her life may end up as a movie. A few years ago, it was reported that Sony Pictures had plans for an adaption of the GQ article starring Dakota Johnson.
"What was left behind? There were some documents and some edibles. The owner told us she tried some and said they were very good. We did not try them."
Even architects make mistakes
It turns out that Holly and I are not the only ones with couch issues. Even professional architects sometimes get tripped up by the challenges of NYC's small spaces. Such was the case of a new neighbor for a New Yorker named Moe in an oddly configured Upper East Side apartment building.
"On the day he moved in, my new neighbor across the hall knocked on my door to ask how big was my couch and how had I gotten it inside?" she says.
"I explained it was six feet long and otherwise modestly proportioned. I pointed out to him that our apartment entryways lead straight to the bedroom door, at a right angle to the entrance to the living room. Unless he wanted to put his couch in the bedroom—any furniture couldn't be taller than his apartment door or too big to fit around the corner.
"Sounds complicated, but he was an architect after all. Surely, he could see this easily with his own eyes. Not so. His lovely, large designer couch was a total no-go. After this major foible, I always wondered how measurements worked out in the buildings put up from his blueprints."
Move the grand piano first
Couches may be tricky, but they're a piece of cake compared what Rick and his partner faced when he and his partner moved from a 500-square-foot Soho apartment into a 1,100-square-foot Hamilton Heights space. That's because Rick, a Broadway musician, owns a grand piano, and of course he lives up multiple flights of stairs—eight to be exact.
"It was February during a very snowy, icy and cold winter. The furniture from our former 3,000-square-foot house that was still in storage in Canada was being delivered to our new Hamilton Heights house. My 1911 Steinway grand piano was also in storage. The piano movers were going to deliver the piano to our furniture movers, who would bring everything into Manhattan.
"The movers had to carry the 900-pound behemoth up eight flights of stairs. (There is an elevator in the building, but it was too big to fit inside.) All this happened during a busy workday—I was rehearsing for a Broadway show performance, so my partner had to handle all this alone. When the piano finally got inside, the other furniture followed. By the time I got home, all the furniture from our much larger former house was packed into our new space. Just getting inside was like a game of musical chairs."
Expect trick or treaters when you move on Halloween
Even though Richard's move was a short one—within the same Hudson Heights neighborhood —it was far from easy. 
"I bought a co-op last year. Moving day was scheduled for the middle of October but the contractor was still doing work on my place, which I had closed on a month before. He informed me he was running really behind and wouldn't be finished until November. I told him this was unacceptable because the rental I was living in would have a new tenant moving in on November 1st. He said the earliest he could finish would be October 31st. I scheduled the move for as late as possible that day in order to give my contractor time to complete his work.
The truck arrived with my stuff and we began unloading at 3:15 p.m. The super was pissed off because at the same time, the contractor and his crew were also loading up things in the hall. It was a mess. Paint was still wet in places and the moving men were getting it all over themselves and my furniture. Around 5:15, the last dolly was unloaded and my place was packed with boxes. I was exhausted. I found one of my dining chairs and sat down to crack open a bottle of wine that my real estate attorney had sent me. As I started to pour, there was a knock at the door. When I opened the door, there were three little kids dressed in costumes with a parent. I had forgotten it was Halloween. Trick or treat!"
Packing up a haunted house
NYC moving companies see their fair share of craziness on moving day as well. Lior Rachmany, CEO and founder of Dumbo Moving, shared few memorable moves.
"We were set to move things from a Grant City, Staten Island, home to a storage unit in North Bergen, NJ. But it wasn't just any home furnishings we were transporting: The owners of a large home with a backyard that they had converted into a haunted house wanted to move all their spooky stuff into storage. They had a scarecrow maze in the yard. Throughout the house there were cobwebs, mannequins, and monsters. Our job was to go through the whole area and wrap everything up for transport. It was the weirdest, yet most entertaining job we've had. There was smoke in certain corners of the house. It was a large operation so by the time our movers showed up some pieces were still up, like fake bats."
Moving out on the sly
Rachmany's company also helped a woman move out while her boyfriend was at work.
"She wanted help moving just her stuff from her apartment in Brighton Beach to one in Astoria and she seemed really angry on the phone. We were happy to help: The movers came in, packed up all of her clothes, a bookcase with her books, and a big, yellow couch. The woman had left a set of keys and a note on a table for her boyfriend telling him it was over. The boyfriend—or now ex-boyfriend—must have called the building's management to figure out which moving company was in the building, because we got a call us asking where she moved. We didn't tell him."
An apartment crammed to the ceiling
Rachmany says one of the toughest moves ever involved a massive amount of stuff in a Cobble Hill one bedroom that belonged a hoarder. Two moving teams were needed.
"The apartment was almost completely packed with stuff, with a two-foot pathway going throughout the apartment. The items were nearly touching the ceiling. The bedroom was pretty much packed full of cardboard boxes surrounding a bed. The living room and kitchen had more random items.
"While clearing out the living room, the movers discovered a piano, which the customer had completely forgot was there. After everything was cleared out, we did a tour of the apartment to see if anything was left behind and we noticed how damaged the floor was from the weight of all the items. We are lucky that the customer moved when he did, otherwise, the floor under him could have collapsed."
Too big for the elevator, too heavy for the stairs
Laura Sandberg, founder of Let Laura, a professional organizer, has seen crazy moves as well. One of her most challenging involved heavy machinery.
"An Upper West Sider was moving within the same neighborhood. We knew in advance an oversized, marble tabletop was not going to fit in the new building's elevator and that it was too heavy to carry up the stairs. We hired a crane to hoist it up and through a window, and then placed it neatly in the home. It might seem crazy to hire a crane in NYC, but needless to say this was not for a rental apartment."
Brick Underground articles occasionally include the expertise of, or information about, advertising partners when relevant to the story. We will never promote an advertiser's product without making the relationship clear to our readers.