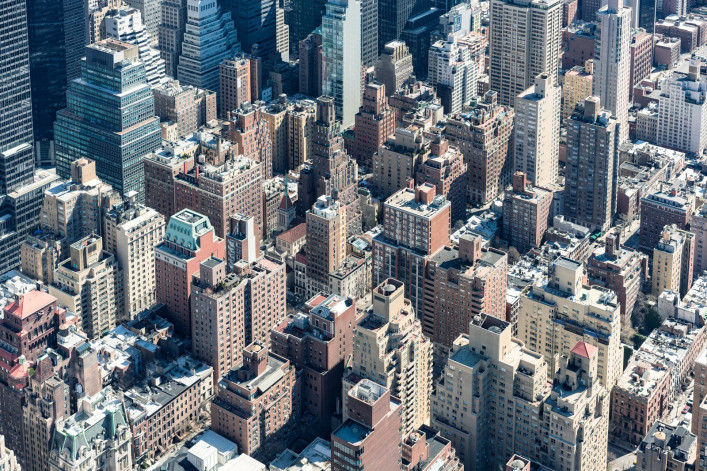 If you're thinking of moving to New York City, you're probably somewhat aware that much of what makes the city special, like Broadway, festivals, concerts, and restaurants, is off limits right now. Many stores and restaurants, especially in Manhattan—a place that that depends on tourists and office workers, are boarded up and closed, some for good. Job losses and concerns about another coronavirus wave here are some of the factors prompting many New Yorkers to move to the suburbs or even farther away. Still, if you're betting on NYC's revival, there are some financial advantages to moving to the city when many are leaving.
Right now, thanks to a rising vacancy rate, rents are dropping and you'll find more generous concessions from landlords, like a couple of months free rent, complimentary wifi, and help with moving costs. 
Pro Tip:
Want to stress less about your NYC living situation? Staying in a Blueground apartment means no worrying about buying appliances, furniture, or linens — but that's just the beginning. We carefully curate each of our move-in-ready homes to make sure that our guests have everything they need to feel at home and free to roam. Even better, all of our apartments are located in sought-after, central neighborhoods where you can stay for 30 days, a year, or longer. Click here to check out our available apartments in Manhattan, Brooklyn, and Long Island City.
That's the good news for renters coming to NYC, the not-so-good news is that there are a lot of other costs you need to budget for when you move here.
First up, you're going to need to find a place, and Brick Underground has tips on how to rent an apartment in New York City, a crash-course guide to apartment hunting, and our best advice for finding and negotiating renter concessions, which are incentives aimed at getting you to sign a lease. 
---
[Editor's note: An earlier version of this article ran in January 2019. It has been updated with new information for September 2020.]
---
Read on to find out what you need to know about the cost of moving to NYC. 
First month's rent plus security
Congrats! You found a NYC apartment that you love with a monthly rent you can afford. But before you move in, most landlords require the first month's rent and a security deposit upfront. 
Thanks to last year's rent reforms, it's now illegal for a landlord to ask you for last month's rent on top of the first month and security deposit, and the security deposit is now capped at the equivalent of one month's rent. If you are asked to pay an application fee, it is also capped—at $20. 
The broker fee
While you certainly can apartment hunt on your own, it can be beneficial to use a real estate broker to help you navigate the city's rental market if you're from out of town. 
Agents know the city, its neighborhoods, and vet available apartments, so they can tailor the hunt to suit your needs and budget. Plus, they can guide you through the application process, and spare you the stress of dealing directly with a management company. 
Such guidance, however, is going to cost you a broker fee (some landlords pay the fee as an enticement—you find more "owner-paid" broker fees these days). That fee can be between 12 to 15 percent of the annual rent, Rory Bolger, a broker at Compass says. 
To put that into perspective, the median rent for a one-bedroom apartment in Manhattan is $3,200, according to RentHop, so a broker fee could cost up to $5,760—a hefty chunk of change.
Pro Tip:
Need help finding the perfect starter apartment in the right neighborhood--or a landlord inclined to be flexible about guarantors, work history, rental history, or "flexing" your space with temporary walls?  Place your search into the capable hands of The Agency, a tech-savvy real estate brokerage that's helped hundreds of Brick Underground readers find their ideal NYC apartments. Bonus: The agents at The Agency are not only a delight to deal with, they will charge a broker's fee of 10 percent of a year's rent on open listings instead of the usual 12 to 15 percent if you sign up here. 
The good news is that there are a lot of no-fee apartments available. StreetEasy currently has over 28,600 rentals listed as no fee. And, there is a possibility that broker fees might be limited to only certain types of apartments. New York State Attorney General Letitia James filed a lawsuit that would end the practice of renters paying a broker fee when the broker is hired by the landlord. The hearing was recently postponed to October, so for now, you may still be charged a broker fee.
Need help finding a no-fee rental apartment? Here's our guide to the best websites for no-fee rentals.
Will you need a guarantor?
So you found a NYC apartment you love and can afford, but do you actually qualify to rent it? Most city landlords require a tenant's annual salary to be 40-45 times the monthly rent. If yours isn't, you'll need a guarantor (typically a parent or relative) who needs to make at least 80 times the monthly rent and is now legally responsible to pay the rent if you default. 
If your relative doesn't earn enough, is retired, or does not live in the tri-state region, Insurent Lease Guaranty, a Brick Underground sponsor, can serve as your guarantor if you earn 27.5 times the monthly rent or if you have a minimum of 50 times the monthly rent in your bank account or in stocks.
"Depending on your qualifications, you can normally expect to pay between 60 percent to 90 percent of a month's rent if you have credit established in the U.S., and 90 percent to 110 percent of one month rent if you don't have credit here," says Charles Schoenau, Insurent's managing director. 
If you don't meet Insurent's salary requirement, a relative or another responsible party can act as your guarantor.
"They would need to make 50 times your monthly rent, or if they're retired, have 80 times the monthly rent in their bank, savings, or stock market accounts," says Schoenau.
Hiring movers
Moving is stressful enough without having to worry about lugging all your stuff into your new apartment, so if your budget allows, hiring movers to do the heavy lifting can be a godsend. But that's another thing that's going to cost you and will depend on where you're coming to NYC from and how much stuff you'll be moving. 
And, you might have a hard time finding a moving company. An increased demand due to New Yorkers moving out of the city has led some movers to turn away customers. 
The average cost of a local move is $1,250, while the average for a long-distance move of 1,000 miles, say to New York City from Tampa, Florida, or Minneapolis, is $4,890, according to Moving.com's estimates. 
Travel fees (such as fuel or tolls), if you're moving into a walk-up building, if you want movers to use felt pads or wraps, time of year (summer is typically a busy season), and day of the week are among factors that can add to your cost of moving. Plus, you'll need to have cash for the movers' tip, which is generally between 15 and 25 percent of the cost of your move.
Of course, you can always rent a truck on your own (and beg family and friends for help). A rental company like U-Haul, for example, has a starting rate of $20, but the overall cost will vary depending on the size of truck rental, location, mileage, fees, and day and date of move.
Brick Underground articles occasionally include the expertise of, or information about, advertising partners when relevant to the story. We will never promote an advertiser's product without making the relationship clear to our readers.