Roommates + Landlords
What you can do if your lease is up and you can't afford to renew
Going month-to-month while you look for a new place may be an option
You could get a roommate, downsize to a studio, or move to a cheaper nabe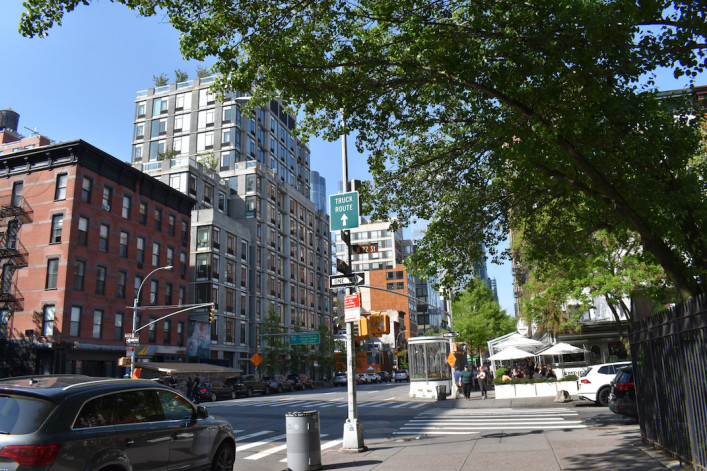 It's even tougher being a renter in New York City these days. Rents for new leases are back to hitting records highs. For current tenants, many landlords are increasing rents at renewal time to approximate what they could get from new renters. 
Getting a substantial rent increase that you can't afford can feel like a big blow. It can be even harder if you weren't planning on moving—and haven't budgeted for those additional expenses.
However, depending on your situation, you have options. For example, if you have a good history with your landlord, you can try to negotiate a smaller rent increase in order to stay put.
To position yourself as a desirable tenant who deserves a little discount, don't sweat the small stuff, recommends Kimberly Jay, a broker at Compass. If there are minor repairs needed, see what you can handle yourself, she advises. "A good tenant is an invisible tenant" in this market," she says.
Be sure to do some homework too, says Mary Hall Mayer, an agent at Coldwell Banker Warburg. See what other rentals in your building or on your block are renting for to get a sense of whether or not your increase is fair.
Listings sites like StreetEasy will give you a sense of what landlords are asking (not the rent being paid) and how long units are available, giving you "an idea of what and how quickly something rented versus the current listings," Mayer says. Crunch the numbers and see if it's worth moving or if you can take these numbers to your landlord to help you negotiate.
Or it might be time to downsize or move to a cheaper neighborhood. To help make the best decision, here are five options to consider if your lease is up and you're facing a rent increase that you can't afford.
---
[Editor's note: A previous version of the article ran in January 2022. We are presenting it again with updated information for May 2023.]
---
1) Stay put and go month to month 
If you don't sign a new lease, and your landlord continues to accept your rent check each month, you are automatically considered a month-to-month tenant.
This is a good option if you want the flexibility to leave at any time—you only need to give 30-days notice. And your landlord is required to give you a 30- to 90-day notice, depending on how long you have been there, if they want you to leave. And while the terms of the old lease apply, a landlord can still raise your rent. For more information, check out "5 things you should know about renting month to month in NYC." 
2) Move in order to downsize or change neighborhoods
If you decide your plan is to rent a cheaper place, you can downsize or move to a more affordable neighborhood (or both). Studios are also a good option if you've lost your roommate and can't afford a one bedroom. Not all studios are alike, so check out "Considering a NYC studio apartment? Here's how to maximize your layout."   
Adjina Dekidjiev, a broker at Coldwell Banker Warburg, says being flexible about where you live and considering more affordable areas in Brooklyn or Queens is key. Want to remain in Manhattan? Dekidjiev says to look for deals on the Upper East Side from 80th through 90th Street between York and East End avenues. Also, Upper Manhattan, Harlem, the Upper West Side in the 90s and 100s, and the Financial District. Want more intel? Check out "Looking for a cheap apartment? Here are NYC's most affordable neighborhoods for renters." 
To save cash on your new place, look for no-fee apartments. Here's Brick's updated guide: "The best websites for finding a no-fee rental apartment in NYC." Landlords will pay the broker fee in a slow market—or if they have an apartment that's tough to rent for some reason. Read "How to find a low- or no-fee apartment in NYC: Brick Underground's best advice."  
Pro Tip:
Looking for a more affordable rental? Or maybe a landlord who is flexible about guarantors, pets, or "flexing" a space with temporary walls? Place your search into the capable hands of The Agency, a tech-savvy real estate brokerage that's helped hundreds of Brick Underground readers find their ideal NYC apartments. Bonus: The agents at The Agency are not only a delight to deal with, they will charge a broker's fee of 10 percent of a year's rent on open listings instead of the usual 12 to 15 percent if you sign up here. 
3) Take over someone else's lease
Another option is to take over someone else's lease—on sites like Leasebreak you can find listings from renters who need to get out of their lease early. It's a more flexible option and cheaper too. You'll skip the broker fee and likely get a lower rent than what you'll find on the market, says Phil Horigan, founder of Leasebreak. 
To learn more check out "Brick Underground's best advice on subletting a New York City apartment" and "How to rent a short-term, furnished apartment in NYC without getting scammed." 
4) Find a roommate 
Finding a roommate is a time-tested way to make living here more affordable. Living with someone else allows you to split the rent, utilities, and other expenses.
You have a right to a roommate in NYC—you just need to notify your landlord and provide their name. Be aware there are rules about what constitutes a legal bedroom—you can't just put up a wall anywhere you want. For more roommate tips check out "The 21 best questions to ask potential roommates to get the perfect match," "Here are the best ways to find a roommate in NYC" and "The 11 best sites for finding a roommate in NYC."
5) Check out rental assistance programs
The city and state offer different programs for New Yorkers struggling to pay rent. Some options like the city's One Shot Deal offer one-time assistance while programs like the City Family Homelessness & Eviction Prevention Supplement are long-term solutions if you qualify. To find out if you qualify and how to apply, "Struggling to pay rent or facing eviction? Here are 6 programs that might help."
—Earlier versions of this article contained reporting and writing by Austin Havens-Bowen.
Brick Underground articles occasionally include the expertise of, or information about, advertising partners when relevant to the story. We will never promote an advertiser's product without making the relationship clear to our readers.