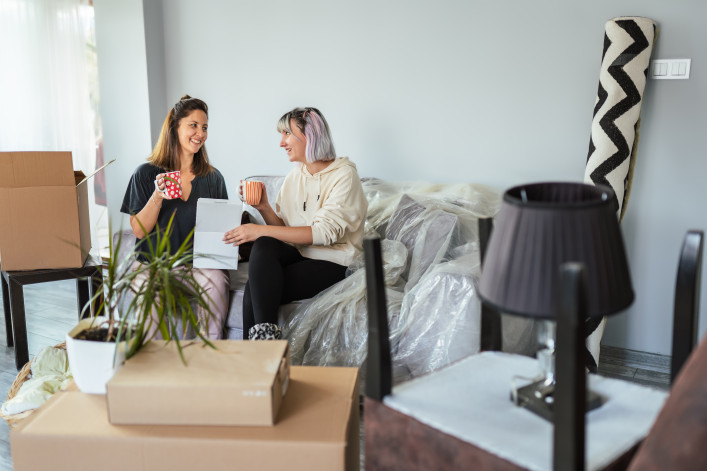 For many New Yorkers, living with a roommate in New York City is a time-tested way to make the city more affordable. But if you don't have a friend to share an apartment with, finding the right person can be daunting: You don't want to be stuck in a lease with someone who makes your life hell, especially if you're spending more time at home as a result of the pandemic.
These days, landlords have a lot of vacant apartments on their hands, so there are more deals available. That means sharing a place with a roommate can help you stretch your budget even farther—giving you the ability to get a larger or a more high-end rental than you could otherwise afford solo.  
But for it to work, you have to find the right match. There are websites and apps to find roommates who have a similar lifestyle as you—we've got them covered below. When you think you've found your next roommate, there are key questions to get to know one another before you move in. And don't forget the roommate contract—which is a good way to avoid conflicts big and small.
Keep reading for Brick's best advice on finding the right roommate in NYC and making it work.
Start online
Like most things these days, the best way to start your search for a roommate is online. Depending on what living situation you're looking for, there are websites where you can find roommates who are similar to you plus sites that help you find full apartments, sublets, and rooms if you want to take over someone's lease. Sites like SpareRoom can help you find all of the above. For more websites to find a roommate, check out "The 12 best websites for finding a roommate in NYC." 
Find someone like you
New York City is a diverse place, which might be why you live or are moving here. But, that also means you want to find someone who has similar values as you. Living together is quite the intimate experience after all. If you're part of the LGBTQ community and want to find someone in the community or an ally, you can use Rainbow Roommates for your search. For more on that site and other LGBTQ-friendly housing programs for you and your future roomie, read "Here are 8 LGBTQ-friendly programs in NYC if you need to find housing, temporary shelter, or roommates." 
In New York City, roommates aren't just for twenty-somethings. If you're older, you may not want to live with someone who has friends over until two in the morning (of course, if you're a night owl too—then more power to you). For those over 50, there are programs and websites for finding roommates around your age, like New York Foundation for Senior Citizens and Roommates 4 Boomers. For more, read "A guide to finding a roommate in NYC when you're 50 or older."
Consider Covid
You might be looking for a new roommate from your childhood bedroom if you fled the city at the beginning of the pandemic. Or, maybe you're a new transplant who hasn't made the move yet. Either way, the pandemic adds more issues to discuss with a potential roommate. 
You may meet for the first time on Zoom or FaceTime instead of in person—and it can be harder to see if you have chemistry. Don't be afraid to ask Covid-related questions, which is essential if you're high risk or haven't gotten the first dose of the vaccine yet. Ask like how they've spent their time during quarantine, especially if you're also working from home these days. You might even want to ask if they plan on getting the vaccine and how frequently they clean. For more, check out "Finding a roommate virtually during the coronavirus crisis—what to expect and what to ask."  
Ask the right questions
Once you meet a potential roommate, whether virtually or in person, there are some important questions you should ask before you sign a lease together. You should treat it as an interview, even if you think you know the person well because living with someone is a completely different experience. 
Ask questions like "What are your cleaning habits?," "What do you like to do on the weekends?," "Do you smoke?," and "How often do you cook?" For more, read "The 21 best questions to ask potential roommates to get the perfect match."
And, if it doesn't work out
If you follow the above advice, hopefully you find a roommate who will be the perfect match—at least for a one-year lease. But, you never know, especially since people tend to change once they're comfortable. So, if it doesn't work out, you need to follow certain steps if you are asking a roommate to leave, especially if you're both on the lease together. 
First, go the diplomatic route and have an honest face-to-face conversation. Know that evicting your roommate or taking them to court will take longer because of the pandemic. If you need it, consider "How to kick your roommate out of your NYC apartment." 
Brick Underground articles occasionally include the expertise of, or information about, advertising partners when relevant to the story. We will never promote an advertiser's product without making the relationship clear to our readers.