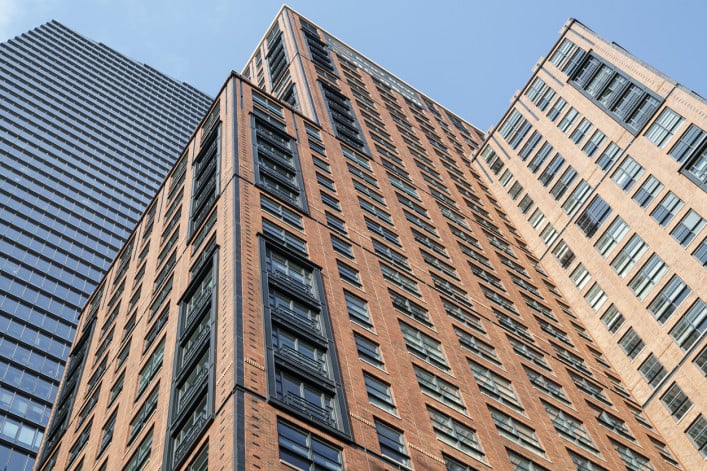 For many people starting out in New York City, finding an apartment that you can afford is the most important consideration—but how do you do that? Where's the best place to look to find an inexpensive place?
At this moment, you're in luck: The pandemic generated a lot of empty apartments when a wave of renters left New York City. As a result, landlords have been listing apartments at lower rents and offering months free. But this situation won't last forever so you need to act quickly. That means identifying buildings that are still offering sweeteners to entice you to sign the lease. 
There are several other ways to find budget-friendly apartments in NYC even though it requires some legwork. Consider sharing with someone else, renting a basement apartment, entering the city's housing lottery, or seeking out a condo that's being rented out by an owner. Here's how to go about doing all of that—but first, one important caveat: Inexpensive means different things to different people, so the strategies below are intended for a range of budgets. Read on for more details.
Look for multiple vacancies
It's difficult not to feel a pang of jealousy when hearing stories about insane deals in Manhattan and perfectly timed upgrades but there are some takeaways here. Speaking on the Brick Underground podcast, Vicki Negron, a broker at Corcoran, says you're more likely to get deals in apartment buildings that have a high percentage of vacancies. She points out it's in these buildings where you'll find landlords showing the most flexibility. (For more on this conversation, listen to our Q&A episode: Your NYC real estate questions, answered.)
How do you find buildings that have a high level of vacancies? Look for large rental buildings that have a few rental listings—they're likely to have even more apartments available because landlords tend to not list all their available apartments at the same time. It doesn't make sense for landlords to list multiple apartments if they're the same size or on the same building line. This "shadow inventory" may mean a landlord is more willing to give you a deal in order to fill the apartment.
Here's a tip: If you're searching StreetEasy, for example, scroll down to "about this building" and check out how big it is and how many other active listings there are. For more on this, check out "At least one in five Manhattan rental apartments may be vacant."
Renting in a condo building
If you find a rental in a condo building it's typically privately owned and usually has better finishes and amenities than a rental. Sometimes owners care more about finding someone who will take care of their place or need to move quickly and so are willing to give you a deal. When Nour ElGharib and her husband moved to New York City from Boston earlier this year, they found a two bedroom at The Oxford, offered at a 20 percent discount on the pre-pandemic rent. When you rent from a private owner rather than a management company, it can be a more personal experience and in ElGharib's case, the landlord agreed to significant upgrades. 
Similarly, Molly Rosner and Paul Anderson moved into a condo building on the Upper West Side after they quickly identified it was a deal. To find out how they did it, read: "We thought moving to the UWS meant compromising but we lucked out with a condo for rent."
Consider a basement apartment
Renting in a traditionally less desirable apartment—like a basement—will certainly bring down your rent. If a portion of the apartment is below street level there are requirements that need to be met with regard to ventilation, light, sanitation, and exits. 
There's a big difference between a basement, which is up to code and can be rented and a cellar that can never be rented out to be lived in. For more on this, read: "What are the pros and cons of living in a basement apartment in NYC?"
Taking on someone else's lease
The past year has been full of stories of people trying to end their leases. Landlords have what's called a "duty to mitigate," which means they have to do all they can to re-rent the apartment by marketing and promoting it.
If someone is trying to re-rent their place, it's possible—particularly since the pandemic hit—that they'll offer the place at a discount and might pay the difference to the landlord. Websites like Leasebreak connect people looking to break their leases with those in search of rentals.
For more on how all this works, read: "Want to sublet your NYC apartment during coronavirus? Here's what you should know" and "How to break a lease in NYC." 
Eliminating the broker-fee
In the current climate, few tenants are being asked to pay a broker fee. Instead, the landlord is taking on this cost, which is usually around 12-15 percent of the annual rent. No-fee apartments are prevalent when the market is slow, or in a new building with units to fill, or in an apartment that's hard to rent for some reason.
For a roundup of the best sites, head to: "The best websites for finding a no-fee rental apartment in NYC in 2020."
New York City's housing lottery
The city's policy of Mandatory Inclusionary Housing means developers are given financial incentives to set aside a portion of apartments to be rented out at below market rents. This isn't public housing: Many of the apartments are in brand-new buildings with amenities like gyms and laundry facilities. You typically need to be earning a percentage of the area median income in order to be eligible and you can apply through the website, Housing Connect. The site got a major overhaul last year and now allows you to upload documents from your phone and makes the application process more transparent.
Find out how these renters did it: "I won a $908 studio in Long Island City in NYC's housing lottery, but I didn't count on the culture shock," and "How I won a $444 per month UWS studio in New York City's affordable housing lottery."
Finding a roommate
Instead of finding an entire apartment, one way to reduce your rental costs is to find someone who's looking for a roommate. Tap your networks, use social media and check out: "The 12 best websites for finding a roommate in NYC."
Living with a roommate in NYC isn't just for the 20- or 30-something set, more older New Yorkers than ever need to live with roommates to help pay the rent. For tips, read: "A guide to finding a roommate in NYC when you're 50 or older."
For your best chances of making a good match, read: "Finding a roommate virtually during the coronavirus crisis—what to expect and what to ask" and "The 21 best questions to ask potential roommates to get the perfect match."
Brick Underground articles occasionally include the expertise of, or information about, advertising partners when relevant to the story. We will never promote an advertiser's product without making the relationship clear to our readers.