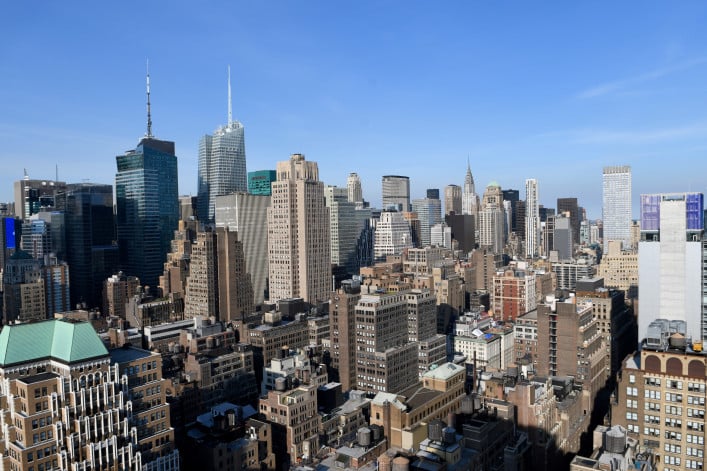 Many New Yorkers are preparing to take the plunge and buy in New York City in 2021—and if that's your goal as well it makes a lot of sense. Interest rates are still near record lows, there's a glut of condos, and a very rare moment of affordability in the city's priciest borough: Prices have come down in Manhattan to what amounts to a once-in-a-lifetime buying opportunity.
In fact, prices have fallen dramatically across the city. So, where, exactly should you look to maximize your spending power? Brick Underground partnered with PropertyShark to pinpoint the top three most affordable neighborhoods for buyers in each New York City borough to help you get started on your search.
For this year's list, we took into consideration sales of single-family homes, condominiums, and co-ops registered in NYC's database between January 1st and December 4th, 2020. Neighborhoods with at least 11 sales closed in 2020 were included, and median sale prices were rounded to the nearest thousand.
Needless to say, the data told a story unlike previous years as a result of the pandemic. The number of transactions was down across the city by 30 percent compared to 2019, says Andreea Popescu, real estate writer at PropertyShark.
One factor impacting sales: Popescu says buyers' priorities shifted during the pandemic. A quick commute was no longer a concern while a larger apartment (or house) for working and doing school from home, outdoor space, and less density was paramount. For some buyers—that meant a move to the suburbs, or the outer boroughs.
Our findings did include a trend seen in previous years: Some neighborhoods considered "affordable" on Brick Underground's previous rankings became more expensive so they're off our list (we're looking at you, Harlem).
"It was surprising not to see Harlem on the list this year," says Popescu. It was the priciest of Manhattan's five most affordable neighborhoods in 2019 and hit $749,000 in 2020—well above the upper price limit of our top five most affordable neighborhoods in the borough. East Harlem took its place due to a 19 percent decrease in its median sale price, which was $610,000. 
Of course, this kind of movement frees up space for neighborhoods to claim a spot on the affordability list: Welcome Canarsie! Hello, Stapleton and Longwood!
Still many, if not most of our affordable neighborhoods saw decreases in median sales price year-over-year, some significant: Homecrest in Brooklyn saw a drop of 48 percent, while prices in Jamaica Hills in Queens fell 31 percent. 
While the pandemic sales lull represents a real opportunity, similar to what the city experienced with the 9/11 slump, there are already signs the market is waking up. Garrett Derderian, director of market intelligence at SERHANT, says that he's already starting to see an uptick in activity across all price points, "especially in Brooklyn and Manhattan."
Looking ahead, as the pandemic is brought under control and the general population is vaccinated, more businesses and schools will reopen. You can expect foreign buyers will make their way back to the city and competition will heat up, and causing prices to rise. Here's where to look if you want to get a jump on buying in 2021.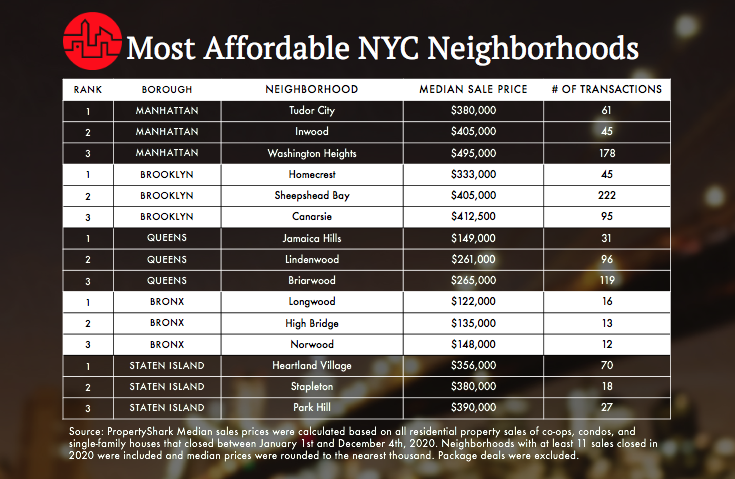 Manhattan 
2020 median sales price: $1,030,000, down eight percent from 2019; sales down overall 38 percent.
Manhattan was hit the hardest with the largest percentage drop in number of transactions, and was the only borough to see an overall decrease in median sales price, down 8 percent. 
Pro Tip:
Looking to buy a co-op apartment?  National Cooperative Bank offers competitive rates and easy pre-qualification. With 40 years of lending to buyers in New York City, NCB is the bank for co-ops. After all, Cooperative is our middle name! Call us at (646) 201-4714 or email Brittney Baldwin at [email protected].  NMLS #507535. Equal Housing Lender. 
The shift to work and school at home propelled many New Yorkers out of Manhattan and into larger apartments in the other boroughs, or to the suburbs. Foreign buyers were also absent from the market during the pandemic because of travel restrictions, a reversal of the intense demand in Manhattan in recent years. 
1. Tudor City
Median sales price: $380,000
Manhattan was the borough with the smallest "shakeup" when it came to the top three most affordable neighborhoods in our 2021 ranking compared to last year. Tudor City and Inwood swapped places, and Washington Heights held its place in third. 
The dramatic change for Tudor City is the number of transactions, which fell from 103 in 2019 to 61 in 2020, a drop of 41 percent. The median sales price was $380,000, a drop of 9 percent. 
Tudor City is a complex of 12 Tudor-revival style buildings with Art Deco flair, and the type of the apartments here likely account for both the affordability and the drop in activity during a pandemic. "They're tiny...a lot of the apartments are less than 300 square feet," says Joshua Sloyer, a broker at Compass. 
He says you can often get a studio apartment for under $300,000 or one bedroom for under $500,000. "Tudor City remains an entry level way for people who need to get a piece of New York City real estate," Sloyer says. 
In fact, studio sales fell across the city during the pandemic—it's hard to spend all your time in one room. Still, this could be an opportunity for a first-time buyer.
Tudor City attracts buyers due to its proximity to Grand Central, which makes it a popular spot for pieds-à-terre; but now that Westchester and Connecticut residents are working from home, they don't need a place to crash in Midtown. "It's not geared for pandemic living," Derderian says.
Tudor City feels a little isolated because of its far east location in the 40s and its elevation—you literally have to climb steps to access it. Manicured gardens add to the serene nature, and you get impressive views of the United Nations and General Assembly. But some of those views will be obscured when developer Sheldon Solow finishes a major project here. (That's something you'll want to check out if you're looking in Tudor City.)
And, no matter how affordable the apartments are, you'll still need to pass the co-op board. Also important to keep in mind: Not all Tudor City buildings operate by the same rules; some may be more or less relaxed about subletting and pieds-à-terre. 
2. Inwood 
Median sales price: $405,000
Inwood swapped places with Tudor City this year, and while the number of transactions dipped 29 percent, the median sales price only decreased a single percent.
Located at the northern tip of Manhattan, Inwood provides residents with plentiful green space at popular Inwood Hill Park and Fort Tryon Park, the latter of which is home to the Met Cloisters, dedicated to European Medieval art and architecture. The neighborhood has a more tranquil feel and also offers lovely views of the Hudson River and Palisades. It's not all parks and vistas: you'll find cafes and restaurants, a farmer's market, cultural organizations and events.
In addition to being one of the last relatively affordable neighborhoods in Manhattan, Derderian notes that Inwood is still a manageable commute to Midtown via the A train. (Plan on about 45 minutes.)
Inwood is an area where the de Blasio administration advocated rezoning, with an eye towards building more affordable housing in the area. A plan to do so was passed in 2018, and overturned in December of the following year; a judge said the plan lacked a review of how a rezoning would affect, among other factors, the racial and ethnic residents of the area. 
And just this month, the Department of City Planning released a study revealing that Inwood and Washington Heights combined saw the second-least number of affordable housing units added in all of Manhattan. 
Median sales price: $495,000
Landing in the third-most affordable spot in Manhattan for the third year running, Washington Heights saw a 6 percent drop in median sales price, and a 30 percent cut in the number of transactions. However, this neighborhood led the top three with the most transactions by far in 2020: 178, compared to 61 and 45 for Tudor City and Inwood, respectively. It's also the neighborhood with the largest percentage of condo sales (17 percent), a general trend you can see as an area's median sales price increases. 
Also located in the northern part of Manhattan, a bit south of Inwood and just above Upper Manhattan and Sugar Hill, Washington Heights is another neighborhood with the perks of parks and river views. It is sandwiched between Highbridge Park and Fort Washington Park, as well as the Hudson River to the west and the Harlem River to the east. 
It's served by the 1 and the A lines, and residents benefit from the narrowing of Manhattan island here—meaning the walk to either line's subway stop is shorter than it would be further south. 
Prior to the pandemic, the neighborhood experienced a restaurant boom, with new eateries joining celebrated Latin American and Dominican spots; popular additions include The Pandering Pig, Havana Heights, Fort Washington Public House, and Terravita.
Runners up: 
East Harlem: $610,000
Kips Bay: $645,000
Brooklyn 
Median sales price: $710,000, up 4 percent; total transactions down 24 percent. 
While the number of transactions was down significantly (24 percent) in Brooklyn, prices actually went up by 4 percent. Jonathan Miller, president and CEO of appraisal firm Miller Samuel, previously referred to Brooklyn's "teflon prices" as "astonishing."
Brooklyn (and Queens) benefited from buyers willing to move further out from Manhattan now that a short commute was no longer a top goal for many New Yorkers working from home. In addition, Brooklyn townhouses saw growing demand from buyers looking for more space.
This year's trio of most affordable Brooklyn neighborhoods sees some new entries, some shuffling, and some pricing out. (Coney Island, which took spot number three in 2020, is now fifth, with prices moving from $413,000 to $423,000.) 
Not surprisingly, the data shows that if you are looking for affordability in Brooklyn, you need to head south—far south. And, you'll more than likely need a car. 
1. Homecrest
Median sales price: $333,000, down 48 percent. Number of transactions down 35 percent. 
Homecrest not only takes the top spot on the affordable Brooklyn list, it makes its debut at number one. 
But perhaps the most striking Homecrest stat is the drop in median sales price, from $640,000 to $333,000. 
The change reflects a shift in housing types, Popescu says. "In 2020, co-ops accounted for 58 percent of total sales, while, in 2019, they accounted for only 32 percent of all sales. And the median sale price for co-ops also fell 10 percent in 2020—from $272,500 in 2019 to $244,500 in 2020," she says.
Derderian suggests that the appeal of Sheepshead Bay plays a part in the uptick in activity in Homecrest. Buyers priced out of Sheepshead Bay headed to Homecrest, which has a similar mix of housing. About 20 percent of sales were for houses, and the rest was somewhat evenly split between condos and co-ops. 
While it is a distinct neighborhood from Sheepshead Bay, you can still enjoy the perks of that better-known waterside area to the south, such as restaurant-lined Emmons Avenue, which is right on the bay.
2. Sheepshead Bay
Median sales price: $405,000, up 11 percent. Number of transactions down 25 percent. 
With 222 transactions, Sheepshead Bay far and away had the most deals in Brooklyn; the same was the case last year. 
"Sheepshead Bay has seen a lot of development over the last several years," Derderian says. "There are a lot of high-rise condominiums in development." (Condos account for 37 percent of transactions in 2020, while co-ops were 45 percent.) 
Served by the B and the Q lines (getting into the city is at least a 45-minute ride) the area definitely has a seaside town feel to it (think beaches and seafood restaurants, fishing and charter boats). It's also close to Brighton Beach and Coney Island for more summertime fun. 
3. Canarsie
Median sales price: $412,000, down 10 percent from 2020; transactions down 32 percent. 
Another debut on our list, Canarsie's housing stock is primarily single- and multi-family houses. Houses make up 65 percent of the inventory, condos 31 percent, and co-ops just 4 percent. 
Doron Berenholtz, an agent at Corcoran, who has been working in the neighborhood for about two years, sees Canarsie as an undiscovered gem, an area with a suburban feel that's close to the city. "You get more bang for your buck out here," he says, adding that it's possible to get a multi-family for under $700,000 in the area. (It might need some work, but you can find it.) 
One of the big draws here is space, both indoors and out. "Everyone wants an outdoor space now," Berenholtz says, adding that  it's more likely you'll have a front yard than a backyard in Canarsie. 
While Canarsie is served by mass transit (it's the last stop on the L), most residents have cars; the good news is that streets are wider and parking is not as tight as it is in other parts of the city. The Belt Parkway runs along its southern edge, where you'll also find Canarsie Pier and the new Shirley Chisholm State Park to the east. 
Berenholtz sees Canarsie as a good workaround for people who can't afford to buy in other Brooklyn areas like Bed-Stuy or East Flatbush, but don't want to pay the high taxes and endure the commute that come with moving to Long Island. 
The word is out: He recently listed a semi-attached multi-family on a large lot for $858,000 and received an offer in a week. 
Runners-up: 
Gerritsen Beach:  $418,000
Coney Island: $423,000
Queens
Median sales price: $520,000, up 8 percent; number of transactions down 29 percent. 
Out of all the boroughs, Queens' affordable neighborhoods remained the most consistent, with Jamaica Hills and Lindenwood holding on to the first and second spots, respectively. Briarwood took third place, which Rockaway Beach held the previous year. 
Overall, Queens' prices were up 8 percent year over year, tying with the Bronx for the largest increase. 
The wide range of prices in Queens is evident when you consider the affordable median sales price of an apartment or house in Jamaica Hills ($149,000) and the on-the-rise median sales price for property borough-wide ($520,000). 
1. Jamaica Hills
Median sales price: $149,000, down 31 percent; transactions down 21 percent. 
There wasn't a lot of activity here last year: just 31 transactions, with a split between 71 percent co-op and 29 percent houses. 
One reason is that Jamaica Hills is not all that big. It's a small, residential area sandwiched between Jamaica Estates and Briarwood, with the Grand Central Parkway running along its northern border and the E and the F trains along the far south. The commute to the city is about an hour by train, so this is another spot where a car comes in handy.
St. John's University Queens Campus and the Queens Hospital Center are just to the north in Hillcrest, and in the center of the neighborhood you'll find Captain Tilly Park. 
2. Lindenwood
Median sales price: $261,000, up 9 percent; transactions down 42 percent. 
Occupying the same spot it held last year, Lindenwood has the distinction of being the only neighborhood in Queens to see an increase in the median sales price, up 9 percent from $240,000. It also experienced the steepest decline in the number of transactions in the borough. The housing stock that sold remains consistent with 2019—roughly 70 percent co-op, 30 percent condo. 
Technically part of Howard Beach, Lindenwood is small, so the inventory is going to reflect that; as of this writing, just nine apartments were listed for sale in the area. (But the majority were two and three bedrooms, all under $400,000.)
If you need to get to Manhattan regularly and don't have a car, this is probably not the place for you. (You'll be taking the bus, as no train line serves the area.) 
But if you work at JFK, it's a quick 10-minute drive via the Belt Parkway, which runs along the neighborhood's southern border. Resorts World Casino is just to the north, and the new Shirley Chisholm State Park is to the west. 
3. Briarwood
Median sales price: $265,000, down 5 percent; transactions down 29 percent. 
A "runner-up" last year, Briarwood moves up to the third most-affordable neighborhood in Queens spot. While there are both large, single-family houses and smaller, attached townhouses in the area, the majority of transactions are for co-ops, which make up 72 percent of 2020 sales. 
The population here is quite diverse, and while it is described as quiet and residential, Briarwood is also surrounded by major thoroughfares: the Grand Central Parkway, the Van Wyck Expressway and Union Turnpike, among them. 
The Kew Gardens Interchange is to the northwest, and is the focus of ongoing improvements by the New York State Department of Transportation. 
Hopping on the highway is not a challenge, but the neighborhood is also served by the E and the F; it's about a 45-minute ride to Midtown, and the station is scheduled to become accessible by 2024. 
Major employers nearby include the Queens Hospital Center, Jamaica Hospital Medical Center, and St. John's University Queens Campus. 
Runners up: 
Rockaway Park: $283,000
Corona: $299,000
Bronx
Median sales price: $325,000, up 8 percent; transactions down 34 percent.
The Bronx has the distinction of being the most-affordable borough in NYC; it also saw steep declines in transactions for what was already the least-active borough.
1. Longwood
Median sales price: $122,000
Here it is: the most affordable neighborhood in all of New York City. The first time on this list, Longwood has never even charted before, due to lack of activity. (Even in 2020, it saw just 16 transactions.) Given that most of its residents are renters, this makes sense. 
The majority of sales were co-ops (81 percent), with condos making up 13 percent. 
It is bordered by the Bruckner Expressway to the south and east, and is served by the 2 and the 5 trains. 
2. High Bridge
Median sales price: $135,000
Last year's front runner, High Bridge takes the second spot in 2020. The number of transactions here dropped precipitously (52 percent) but the median sales price remained exactly the same. 
Co-ops made up the majority of transactions with 69 percent, condos accounted for 23 percent, and houses were 8 percent. That's representative of the housing stock overall. 
High Bridge is northwest of Yankee Stadium, and is home to several green spaces such as half-acre Taqwa Community Farm and the Target Bronx Garden. 
The area gets its name from the nearby mid-19th-century aqueduct that spans the Harlem River; the structure is the oldest standing bridge in New York City and connects northern Manhattan and the Bronx. (You'll find a large park on the Manhattan end of the bridge.) 
The area is home to the Highbridge Green School, the borough's first green school, equipped with a roof garden, solar panels, a wind turbine, and more eco-forward facilities. 
It's possible to get to Grand Central Terminal in under 30 minutes. The neighborhood is served by the B, D, and 4 trains, but the stations are at the far east end of the area, so it's a tougher commute if you live in west High Bridge. 
3. Norwood 
Median sales price: $148,000
Also known as Bainbridge, Norwood had just 12 transactions in 2020, down 50 percent; prices fell 10 percent. 
Apartments sold were overwhelmingly co-ops (92 percent) and the rest were houses. 
Like other areas with few transactions, Norwood is small. At its center is Williamsbridge Oval park and recreation center, which in non-Covid times, holds events throughout the year, many of them free. Features of the green space include basketball courts, a skate park, dog-friendly areas, free wifi, playgrounds with spray showers and more. You'll also find the Museum of Bronx History here (in a 1758 farmhouse) and the Bronx Historical Society. More green space is located to the north, in the large Van Cortlandt Park and Woodlawn Cemetery.
The Montefiore Hospital and Montefiore Medical Center Moses Campus are located here. If you're commuting to Manhattan you can get there in about 45 minutes via the D train at 205th Street or several express buses. 
Runners-up:
Bronxdale: $165,000
Park-Versaille: $185,000
Staten Island 
Median sales price: $552,000; transactions down 23 percent, with change in median sale price up 3 percent. 
Relatively speaking, Staten Island was the most stable market of the five boroughs; it saw the smallest drop in the number of transactions and prices held steady, with a small increase. (In fact, the borough's stats year-over-year, are virtually identical.) 
One reason may be that Staten Island offers what a lot of what people were looking for in pandemic times: More space indoors and outdoors for less money. (It's also easier to park a car here, another major Covid-era convenience.) Plus you could find that breathing room and ease and still be in New York City proper. 
If you're looking for a more suburban feel, with access to the rest of New York City (particularly south Brooklyn, just on the other side of the Verrazano-Narrows Bridge) Staten Island could be worth a look. 
1. Heartland Village 
Median sales price: $356,000
Heartland Village returns to the top spot in Staten Island for the second year. While transactions were down 31 percent, prices remained the same. 
Given the central location of Heartland Village, it doesn't take long to get anywhere on the island from here, but your commute will be a little longer if you're going to Manhattan. 
While many people head to Staten Island because homeownership is more in reach here, Heartland Village is not the place to do that. The housing stock is overwhelmingly condos; the breakdown for 2020 sales favored condos, with 86 percent. 
The large Latourette Park borders Heartland Village to the south, and CUNY College of Staten Island is to the north. The Staten Island Mall is also close by. 
2. Stapleton 
Median sales price: $380,000
Stapleton saw just 18 sales in 2020, down 31 percent, with a median price drop of nine percent. This is the neighborhood's first appearance on this list.
Unlike Heartland Village, houses made up 100 percent of sales. The area has diverse types of housing—it's home to the NYCHA's Stapleton Houses, as well as modern rental complex Urby, and 19th century houses, some in need of more work than others. St. Paul's Avenue is the Stapleton Historic District. 
In recent years, there has been an influx of restaurants and small businesses to the area, including the city's largest indoor skate park and creative workshop MakerSpace NYC. A hallmark of the neighborhood is its colorful murals on area storefronts, and it's eclectic, artistic vibe and waterfront area have been compared to Red Hook in Brooklyn. The neighborhood's green space is Tappen Park, where community events take place. A rebranding of sorts seems to be underway, on some maps it's referred to as Stapleton Heights.
Located along the northeast waterfront, Stapleton is one stop on the Staten Island Railway from the Staten Island Ferry St. George Terminal. 
3. Park Hill 
Median sales price: $390,000
A runner-up last year, Park Hill moves up to the number three spot for 2020. Transactions fell 48 percent here, and the median sales price remained unchanged. This is another neighborhood in Staten Island where the entirety of sales were for houses. 
Slightly inland, Park Hill is bordered by the Staten Island Expressway to the west, and like Stapleton, it is home to some large, historic houses. The lower-income housing project the Park Hill Apartments, which has a history of crime, is also here. 
Many members of the Wu Tang Clan famously hail from Park Hill, and the neighborhood has gained the nickname "Little Liberia," thanks to the large Liberian community here, the largest outside of the African nation. 
Eibs Pond Park, a 16-acre wetland is also located here. 
Runners-up: 
Graniteville $395,000
Mariner's Harbor: $397,000
Brick Underground articles occasionally include the expertise of, or information about, advertising partners when relevant to the story. We will never promote an advertiser's product without making the relationship clear to our readers.