Not long ago, Brighton Beach, a Brooklyn neighborhood on the Coney Island Peninsula and the last stop on the B train, was known as "Little Odessa." In the 1970s, when the Soviet Union relaxed its emigration policies and a wave of Russian immigrants—many of them Jews—arrived in the U.S., a large number chose Brighton Beach as their home.
That's when the Little Odessa name made perfect sense. Now, although the Russian influence is still extremely strong, there are many different cultures that call the neighborhood home.
"It's not Russian Brighton Beach anymore. People from Uzbekistan and Pakistan have moved in. The neighborhood is more and more diverse," says Yelena Makhnin, executive director of the Brighton Beach Business Improvement District. But not many hipsters have discovered Brighton, at least not yet.
Naturally, one of Brighton Beach's prime attractions is its proximity to the ocean. Locals like the fact that when you are in Brighton, the beach is never more than a 10-minute walk away. Or make that a quick vertical ride: Makhnin recalls a joke by Russian comedian, who was asked why he lives in Brighton: "Because I can get to the beach by elevator."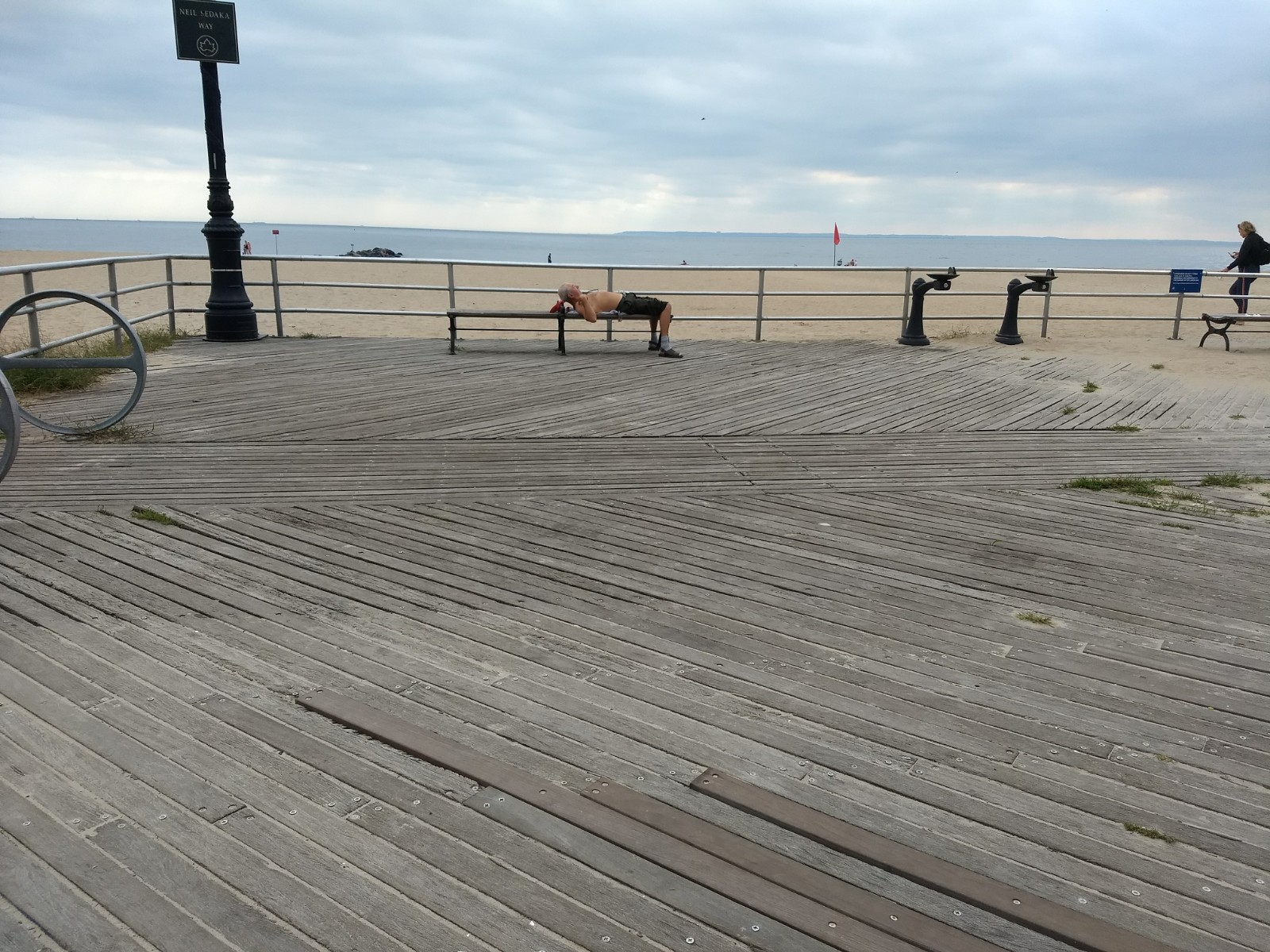 ---
[Editor's note: An earlier version of this post was published in October 2018. We are presenting it again with updated information for February 2021.]
---
These days those who can get there by elevator outnumber those who come by subway, car and bus. The people who live in Brighton still enjoy their beach and their boardwalk but this past summer the crowds from other parts of the city never came. Brighton Beach Avenue, usually so full of life during warm weather, was oddly quiet for the 2020 season.  
The history of how the Brighton Beach neighborhood came to be, follows a familiar NYC pattern: It starts with a savvy businessman, William A. Engeman, who bought a huge chunk of land for very little money ($20,000) and began to develop it.
This was in the 1870s, when investors set out to create a haven for city dwellers anxious to escape the steamy city streets. In quick succession, Brighton, named after the English seaside town, became a retreat for the elite, a summer playground with an elegant place for them to stay and several spots where they could be entertained, including the Hotel Brighton Beach, a multi-story, wood-framed hotel at the edge of the ocean with 174 rooms and wrap-around porches; the Brighton Beach Music Hall, where famous artists like John Philip Sousa performed; the Brighton Beach Theater, "the only theater in the world located a quarter mile into the ocean;" the Brighton Beach Casino, where women in traditional Japanese dress waited on tables; the Brighton Beach Baths, where 1,200 members came to sunbathe, play handball and cards; and the Brighton Beach Race Course, where thoroughbreds raced until 1908, when bookmaking was banned.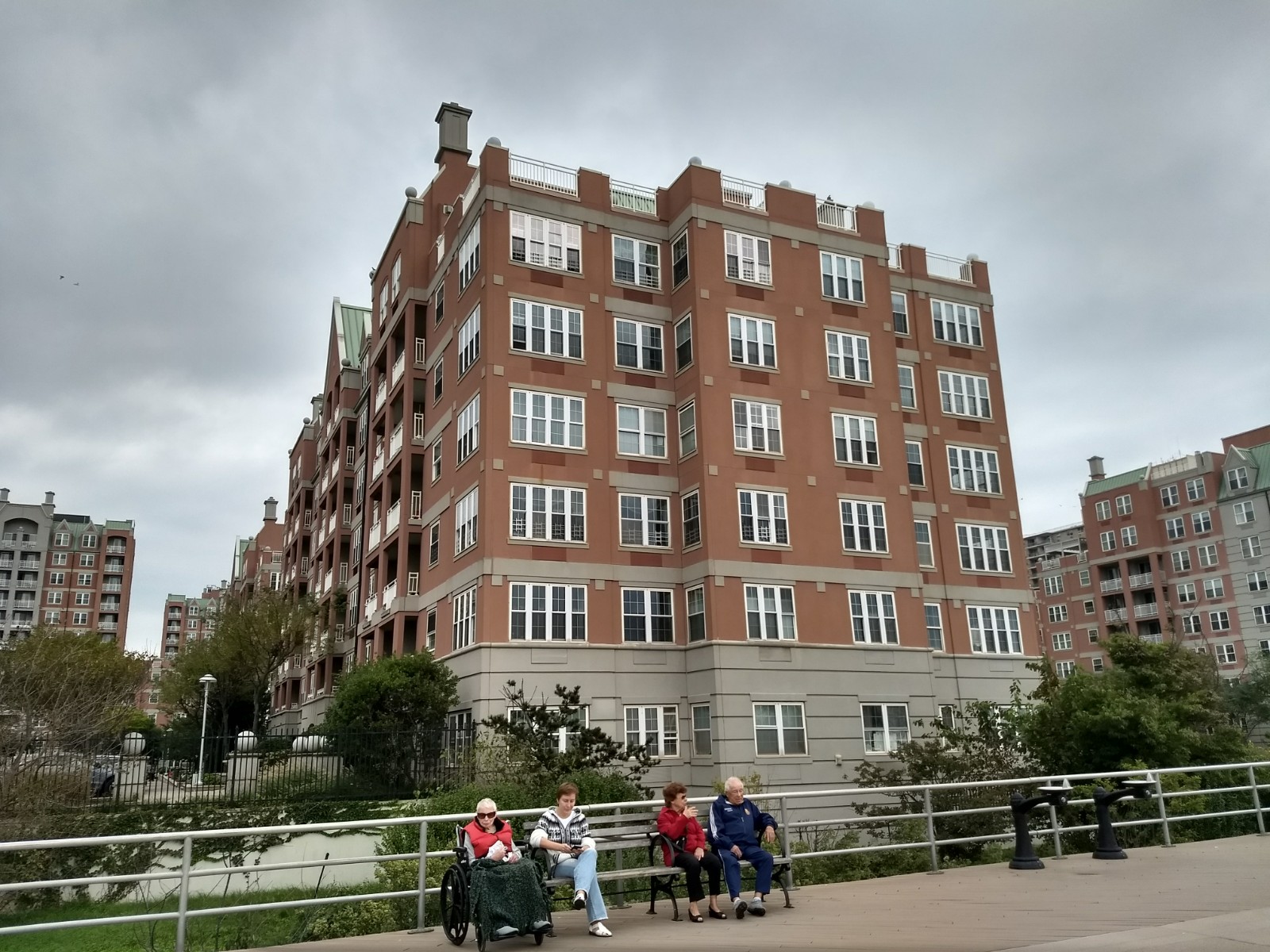 By 1930, the upper classes had abandoned the area. The facilities that had been built for them were torn down and replaced by large apartment buildings, whose residents were predominantly Jewish and mostly working class. This was the Brighton Beach that Neil Simon memorialized in his play, "Brighton Beach Memoirs."
By the '60s and '70s, the area had deteriorated dramatically. Pat Singer, a community organizer and founder of the Brighton Neighborhood Association, says, "I woke up one morning in the '70s and all the young people in my building had left!" Residents in the neighborhood—many of them poor and old—had to contend with drug gangs.
That's when the Russians began to arrive, energizing the neighborhood with shops, food, and culture.
In 2012, the area was hit hard by Hurricane Sandy, which flooded the lower levels of many residential towers, knocking out electrical systems and stranding residents, many of them elderly, on high floors.
These days, Singer is worried that the Covid-19 pandemic will be like another Sandy and do as much damage as that storm did. "We're stronger now than we were before Sandy, but it's been a rough year for us for sure." Most of Singer's organization's clients are seniors who are "alone and not dealing well, especially those who don't speak English."
As in many New York city neighborhoods, the mom-and-pop stores took a hit—compounded by an inability to receive federal Paycheck Protection Program loans.
Some restaurants have closed while others have switched to delivery and take out. Those two options aren't all that popular in Brighton; residents prefer to pick up food from the prepared food sections of their grocery stores or to cook at home. 
Makhnin says that there are seven to eight stores within 15 blocks with salad bars and prepared hot food sections where you can buy everything from a sandwich to a fancy meal. "Variety is great, from vegan food to kebabs, from seafood salad to salmon and sturgeon. People use this option more than restaurant take out; it's cheaper," she says.
Not everyone is wearing the masks the way they should and the food stores are crowded, Singer says. In some stores, there are even employees without masks, she says.
Singer says that many of her neighbors are having a hard time staying connected, but that the Pakistani community is an exception. Their community center has been active, providing a variety of services to its members.
One woman who had lived in Brighton Beach her whole life moved away; she says she couldn't stand the quiet nights with her favorite restaurants closed and her social life gone.
But, in this working-class neighborhood, she may be the exception. Most people can't afford to leave, so they stay, looking forward, as Singer does, to when "the cloud over us all lifts. After all, this too shall pass."
Boundaries: Coney Island neighborhood to the east and Manhattan Beach to the west, the Belt Parkway to the north and the Atlantic Ocean to the south.
Average sales price: Two bedrooms, $621,569 
Median rent: Two bedrooms: $2,215 
Here's what some residents of Brighton Beach have to say about their neighborhood:
Getting in and out
"Sometimes I use public transportation, the B or the Q trains, but I have a car. Parking used to be easier but it's a little difficult now because many of the people who are moving in have cars." —Sheikh Latafullah, 59, owns
"When I go to another neighborhood in Brooklyn or to somewhere in Queens, I drive. I live in the Oceana complex built on the land that was once the Brighton Beach Baths. Living here, I am able to park my car right in the building. When I go to Manhattan, I take the B or Q. That trip has gone downhill over the past five years. It used to take me 35 minutes to get to work in midtown, now it's more like an hour." —Fay Pallen, 75, owns
"I bicycle to work. I work part time in my parent's gift shop on Brighton Beach Avenue. There's no bike lane so I have to always watch where I'm going. To get to Manhattan, I take the Q train." —Alex Abramov, 19, lives with parents
"I haven't driven since I was a teenager so I use public transportation all the time—subways and buses. —Pat Singer, 78, rents
Are the neighbors friendly?
"I live in an apartment building and I know my neighbors enough to say 'hello,' but since most of them only speak Russian, it is difficult to say anything much more." —Sheikh
"Are my neighbors friendly? Let me tell you a story: I had been living in the Oceana for two and a half years when my daughter died. I was devastated. I went to a neighbor in the building who I knew was a foodie to ask for advice on how to plan a meal for after the funeral. He came to my apartment, asked me what I wanted and told me to give him my keys. When we got back from the funeral, a hot and cold buffet, coffee, tea, dessert, everything was all there. I would say that's more than friendly, wouldn't you? I would describe my neighbors as passionate, warm, and supportive." —Fay
A more diverse area
"When I started organizing, the neighborhood was practically all seniors and almost all were Russian. Now it is getting more diverse, more 'two party'. I do remember once having a Russian resident say to me, 'You're not one of us and your time is over.' That upset me, but I never gave up organizing. Now I have Russians, Americans, Pakistanis, and Asians on my board. I think of this as a global community." —Pat Singer
"Once Brighton Beach Avenue was pretty solidly Russian. Now some of the pharmacies that were owned by Russians are owned by Pakistanis…. We also have quite a few Muslims coming from Uzbekistan and Turkistan. Not many yuppies, though but some 40-story buildings are coming so we'll see what happens." —Yelena Makhnin, executive director, Brighton Beach BID
"When I sold my house in Midwood and decided to buy an apartment in the Oceana, I had other friends who were thinking of moving here. They changed their minds because they thought that the complex would be solidly Russian [and they wouldn't fit in]. They were wrong. There are people from all over Eastern Europe and I'm as likely to hear Polish as I am to hear Russian or English. I love it here!" —Fay
"Most of our customers are Russian speaking. I speak Russian so there's no problem communicating." —Alex A.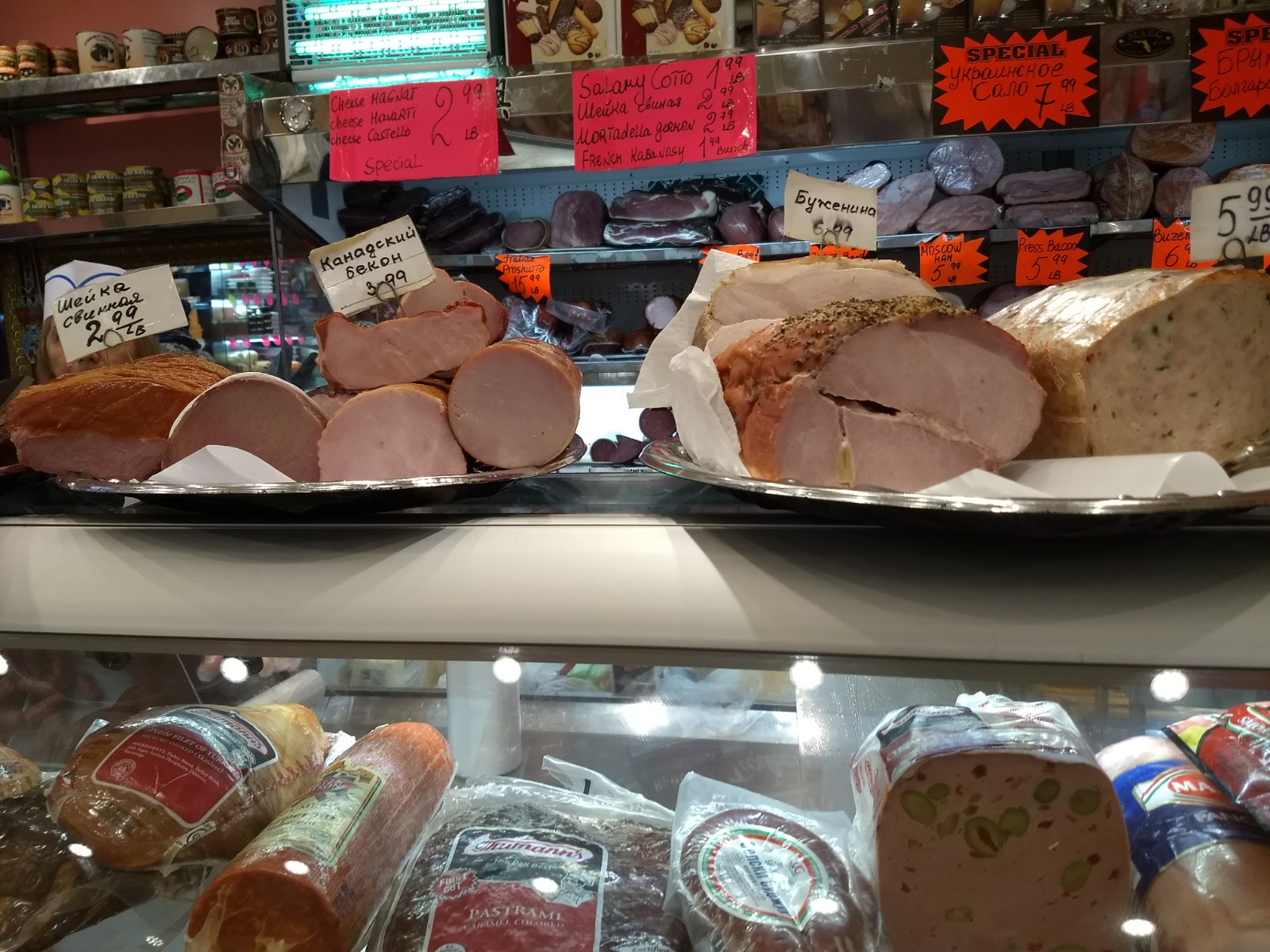 It's worth a trip just for the food
"I don't have a favorite restaurant because most of the Russian restaurants in Brighton are pretty good. The food is always fresh and they don't cheat on food—it's always nice—and the service is getting better and better." —Alex Gincher, works in Brighton Beach and rents in nearby Midwood
"My favorite restaurant? It's a pizza place on Coney Island Avenue called Sofia's. I like their grandma slice. (Now takeout and no-contact delivery) —Alex A.
 "When I first moved here a neighbor asked, 'Why are you bothering with a kitchen? Everyone here gets takeout or eats out—no muss, no fuss.' For food shopping I love the supermarket on Brighton Beach Avenue where there used to be a Mandees. Can't think of the name. Let me go find a bag from there. Ah, here it is—it's called Tashkent. I love it there. The workers are so polite and helpful and it's so clean! In the winter when it's snowy, when all of the other stores have wet and dirty cardboard on the floor, their floor is spotless. Recently I went in and they had moved the walnuts. I asked a worker where they were and he escorted me to them." —Fay
"When it comes to food, Brighton Beach is unique. An example: we have a melon that comes from Uzbekistan called a hamei melon. You can't buy it anywhere but here. When people taste it for the first time they can't believe how delicious it is. When my friends come to visit me, the first thing they want to do is to go shopping at Tashkent. When I work late and have no time to cook, I stop at Tashkent and I can get anything I want—Russian food, Chinese food, Afghan food, and pickled everything. The quality is great, the prices are lower than other parts of the city. And, I love the borscht at Brighton Bazaar. It is fantastic but to get the first batch of the day, the best batch, you need to get there by 11 in the morning." —Lev Kilman, 46, owns a house
"One of our biggest supermarkets has halal food. Who would have figured that a while ago...And lately I've noticed that more and more people are doing their food shopping online. I see lots more Fresh Direct trucks than ever before." —Yelena
"I'm always on a diet so I can't say much about the food here. But I can tell you that I love the Olivier salad (the Russian version of potato salad) that you get in any of the markets in the neighborhood. I like to get it at the Brighton Bazaar. They mix peas and other good things in with the potatoes and I can make a meal of it. And for a meal out, I like Tatiana's on the boardwalk. (Tatiana's Grill is closed now but the restaurant next door is open seven days a week for outdoor seating, unless it's snowing.) You can go and sit outside and have a drink, meet friends, have something to eat and not kill your budget." —Pat
"For my supermarket shopping, I drive about five to seven minutes away to a Stop & Shop on Avenue Y. They don't stock halal meat so for that I shop closer to me on Neptune Avenue where there are three or four stores to choose from. We mostly eat at home but when we go out, we like a Turkish restaurant on Brighton Beach Avenue (sorry, I can't remember the name) or we go out of the neighborhood to a restaurant on Emmons Avenue that has fish and halal meat that we like." —Sheikh
What is there to do? 
"I like to walk on the boardwalk a lot. It's just 10 minutes from where I live. Sometimes I go to the beach. My kids used to go a lot when they were younger." —Sheikh
"I'm on the boardwalk every day. I ride my bike from Brighton to the aquarium—it's about a three-mile ride." —Alex A.
"The only things good about Brighton Beach are the beaches and the food." —Alex G.
"My friends from Oceana and I enjoy performances at Kingsborough College, a short 15-minute drive from here. Ticket prices are reasonable, and parking is free." (For now, only virtual performances.) —Fay
A good place to raise a family?
"Young people seem to move out—some to Manhattan. They like things that are new…. Is it a good place to raise a family? I think it is. Kids are happy here—the beach is right here. I used to take my kids to Bay 1 all the time. District 21 [the school district] is excellent." —Pat
"It's a wonderful, nice place to bring up children. We have five mosques, good schools. All my kids went to public school and now one is a doctor and two are in law school." —Sheikh
"The people who live here at the Oceana are well-educated and to them, educating their children is very, very important. The local public schools are an option at both the elementary and middle school level. The Bay Academy is a long but doable walk and a lot of kids from here go there for middle school and like it. High school is a bit more of an issue: My neighbor sent her only son to boarding school." —Fay
What about having a dog here?
"Walking a dog here is easy and nice. There's a rule that you can't walk dogs on the beach from Memorial Day until Labor Day. Now the same rule has been extended to the boardwalk, but people don't pay any attention to it. It's never enforced." —Lev
Is it a safe neighborhood?
"Sure, I feel safe walking around the neighborhood at night. We have good cooperation with the 60th Precinct but some in the community wish that the police would do more patrolling." —Sheikh
"The cultural diversity program of the NYPD was started here with the help of the neighborhood association. Now it's all over the city. As a result, we were assigned more Russian-speaking officers." —Pat
"This is an absolutely safe neighborhood. Oceana is gated but even when I am out late at night and have to walk back and forth from the subway, I'm not the slightest bit uneasy." —Fay
What do residents worry about?
"Of course, we worry about another Sandy kind of storm. Our insurance has skyrocketed since then. And many of us are worried about the government's attitude toward climate change. Super storms like Sandy are more likely when the ocean warms and I can tell you that in October the water used to be so cold I could barely swim in it and now it is as warm as our indoor pool! Another thing we worry about is the possibility of sky-high property taxes. I'm going to a hearing tomorrow to talk about the issue and ask for parity with other parts of the city." —Fay
"When Sandy hit I thought everything was going to go out the window. There was sand in the streets, banks were locked, cars were floating down the street. I couldn't get out of my building, couldn't call anyone. But, we came back. Russians are resilient. Can we come back from another storm like that? I don't think so." —Pat
"We worry about the homeless population, which is particularly large in the summertime. And the road conditions, particularly in the part covered by the el, are terrible. We know that it's expensive to repair the roads but all we get are promises, promises. I can't walk back and forth across the street in heels!" —Yelena
Thinking of moving to Brighton Beach?
"I work here but I wouldn't live here. Why? I don't like the style of living. I live in Midwood. I like it there. I was born in Odessa. Brighton Beach isn't like Odessa." —Alex G.
"It's a nice neighborhood. We have everything we need. Lots of young people are moving in and I encourage the new development." —Sheikh
"People assume that rents are low here but that's not so. In immigrant communities there is so much moving in and out that many formerly controlled rents get decontrolled. Newcomers should never take preferential rent. You aren't locked into any specific rent and it can go up a lot. Many make that mistake." —Pat
"If you're going to buy a house or a condo here, do more than just visit the property. Look around. Is your house of worship nearby? If you have kids, are there other kids around? This is a neighborhood where many of the families in a building are related to each other. Young people want to be close to family and come back with their own families to be close to parents and other family members." —Fay
"I think that this is a critically underrated neighborhood. I love this place. Living here, I've extended my summer by at least a month. We have so much here: The beach, Coney Island, restaurants, fishing, two subway lines, Russian night clubs, ice skating nearby and our taxes are reasonable. I'm Russian and my wife is American. It took me two years to persuade her to move here from Park Avenue and 61st Street but now she loves it as much as I do." —Lev
Brick Underground articles occasionally include the expertise of, or information about, advertising partners when relevant to the story. We will never promote an advertiser's product without making the relationship clear to our readers.