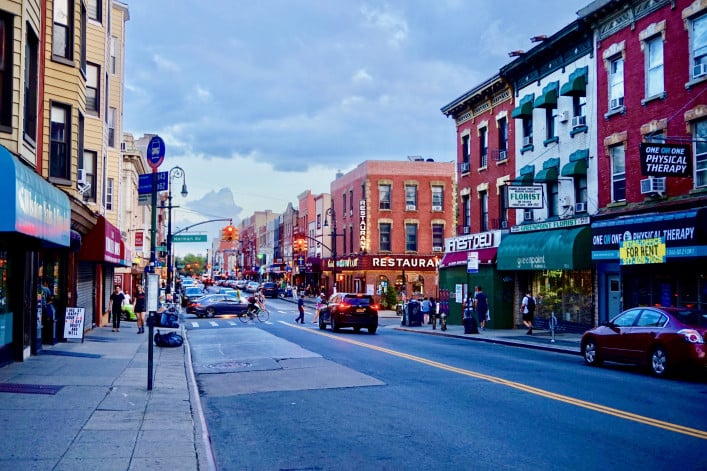 Back in 1982, a few core blocks of Greenpoint, Brooklyn's northernmost neighborhood, were designated a historic district by the New York City Landmarks Preservation Commission in part because "the streets present vistas unchanged since the turn of the century."
That may still be true for the landmark-protected slice of Greenpoint, but in 2005, when Greenpoint was rezoned, the vistas began to change. New development went up along the waterfront, bringing newcomers to this under-the-radar Brooklyn neighborhood. The pandemic has changed that.
Emily Gallagher, who has lived in Greenpoint for 13 years and just began her first term representing the area, says that that trend has reversed and instead "a lot of people with means have left the neighborhood."
---
[Editor's note: An earlier version of this post was published in December 2019. We are presenting it again with updated information for January 2021.]
---
There have been other, more tragic effects of the pandemic. "There have been pandemic-related suicides in our community by folks out of work," Gallagher says. She estimates there have been "over 100 small businesses closing in our district and many of my neighbors who work in the service industry are really struggling."
The pandemic compounded existing issues in the neighborhood, but residents have continued a tradition of pulling together.
Gallagher, a longtime activist, says "a lot of the things that are great about Greenpoint today are due to the work of activists, the result of 'people power.' Ours is a real community with real problems. It has been environmentally compromised for decades and it's been a long struggle. Everything we have, we've had to fight for." 
Now, she says, hundreds of people are participating in mutual aid networks, including park stewardship, community food networks, an oral history project, a women's hygiene project, and more. The Black Lives Matter movement was well-supported here and weekly meetings continue in the park to discuss the movement and show solidarity.
Laura Hofmann, who has lived in Greenpoint for all 61 years of her life, is also active in her community and participates in Community Board meetings—these days they are online because of the pandemic.
For Greenpointers who want to get tested for Covid-19, Gallagher says there are a few urgent care facilities and there is a temporary site that she would like to see become permanent.
But Hofmann says the testing lines are too long and "too dangerous for seniors to stand on."
Greenpoint's historic roots
It was the waterfront that first attracted a man named Neziah Bliss to Greenpoint in the 1830s. Bliss, a quintessential 19th century entrepreneur, saw the industrial and ship building potential of the area and, in 1832, bought a substantial piece of it. Not long after that, he had made the wise choice to marry a woman from a prominent Dutch family whose dowry included another nice chunk of the neighborhood.   
Manufacturers and shipbuilders flocked to the area from Manhattan, eventually turning it into the industrial epicenter of Brooklyn. The Monitor, a Civil War ship, was built and launched from the Greenpoint waterfront and the area was the home of the now-landmarked Eberhard Faber Pencil Factory, where the idea of attaching the eraser to a pencil was born. That revolutionary idea is what catapulted the company to the position of most popular pencil-maker in the country. Now, one of the factory's landmarked buildings is home to Kickstarter. 
It's no surprise that Bliss chose the finest street in Greenpoint—Kent Street—for his own home. It was number 130 and it still stands just blocks from the waterfront, a commanding presence, columns and all, a reminder of the neighborhood's origins. The folks who worked in the factories and on the waterfront lived nearby in much more modest homes, and many of these are still standing, too. No columns, though.
At one time, the Polish population of Greenpoint was second only to that of Chicago. Although no longer true—some Polish families have decamped for Ridgewood and other city neighborhoods or suburbs—there's still a Polish presence among the Latin-owned stores and more recent newcomers.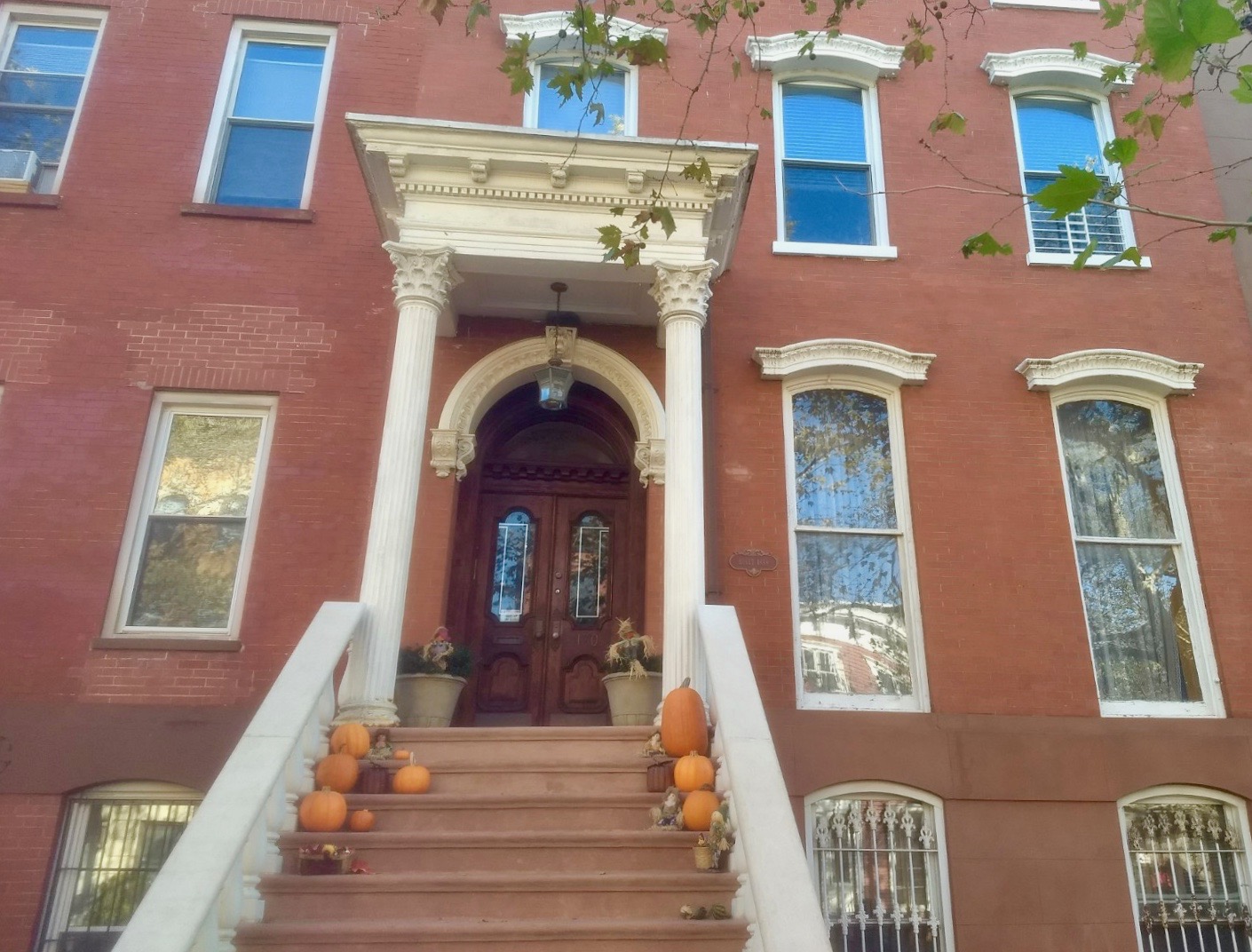 Median sales price: Two bedroom, $1,100,000
Median rental price: Two bedroom, $2,899.
Boundaries: Newtown Creek on the north and east, BQE and North 7th Street on the south and the East River to the west. Closest neighborhoods: Williamsburg and Long Island City.
The ferry: Another way to get to Greenpoint
"Public transportation is wonderful. I love the ferry on India Street." —Christina Zill, owns
"I have to schlep drums and a kid so I have to have a car. Parking is brutal, excruciating." —Dan, 53, rents
"The ferry has had some growing pains but it's popular with tourists and I like to take my bike on it. The fare is $2.75, $1 more for my bike." —Emily Gallagher, 35, rents
The ferry's only two blocks away. We have a car but we like to take the ferry to Wall Street." —Karen, in her 40s, owns
"I live two blocks from my shop so I can walk to work but I take the ferry to shop at Fairway. I take it to 34th Street and walk to 32nd and First Avenue. I'm over the subway but sometimes I do take the G train to Court Square then switch to the E or M or 7 to get to midtown. It takes 15-30 minutes. The G is pretty reliable, not all that frequent, but not like how the L has turned out." —Paige Lipari, 32, rents. (She's the owner of Archestratus "a food-interest bookstore, Sicilian cafe, and community space," which is open for curbside pick-up.)
"I used to take the bus to get back and forth to work. However, my husband and I bought a car [because of] physical limitations and the fact that the neighborhood no longer has what we need. We need to shop elsewhere and need a car to get there." —Laura Hofman, 61, rents in a Section 8 building in Greenpoint
A neighborhood of activists
"I live on Kent Street and belong to the block association. We're trying to get a speed bump for the street." —Karen.
"Greenpoint has strong neighborhood networks. Residents are open to newcomers. A lot of the things that are best about the neighborhood happened because of the work of activists. When we got the Exxon settlement [Editor's Note: For an oil spill that was the largest in U.S. history] we got a new library, playground, landscaping, programs for our schools—that's a legacy we have to continue." —Emily
"It's my home. I love my community. But there are serious issues that need to be addressed." —Laura
Are neighbors friendly?
"The new people are rude and obnoxious. I'm talking about the millennials." —Linda, 68, has lived in her brother's two-family house for 64 years
"I feel like it's a community. We help each other out. Neighbors passing by will stop and ask if I want a coffee." —Caitlyn, 36, worked at Sterling Harper, a pop-up housewares store on Franklin Street that is now closed
"Our neighbors are wonderful. It's so quiet and tranquil here." —Karen
"There's definitely a neighborhood feel. Families get together for barbecues in front of my building. In my shop, I have created a community space to engage empathy." —Paige
"I've lived here for 45 years. It was always a nice, closely knit community and it remains so." —Christina
"Neighbors friendly? Yes, they are. Since we know many of the store owners, small property owners, old-school Greenpointers, we have maintained strong communication here." —Laura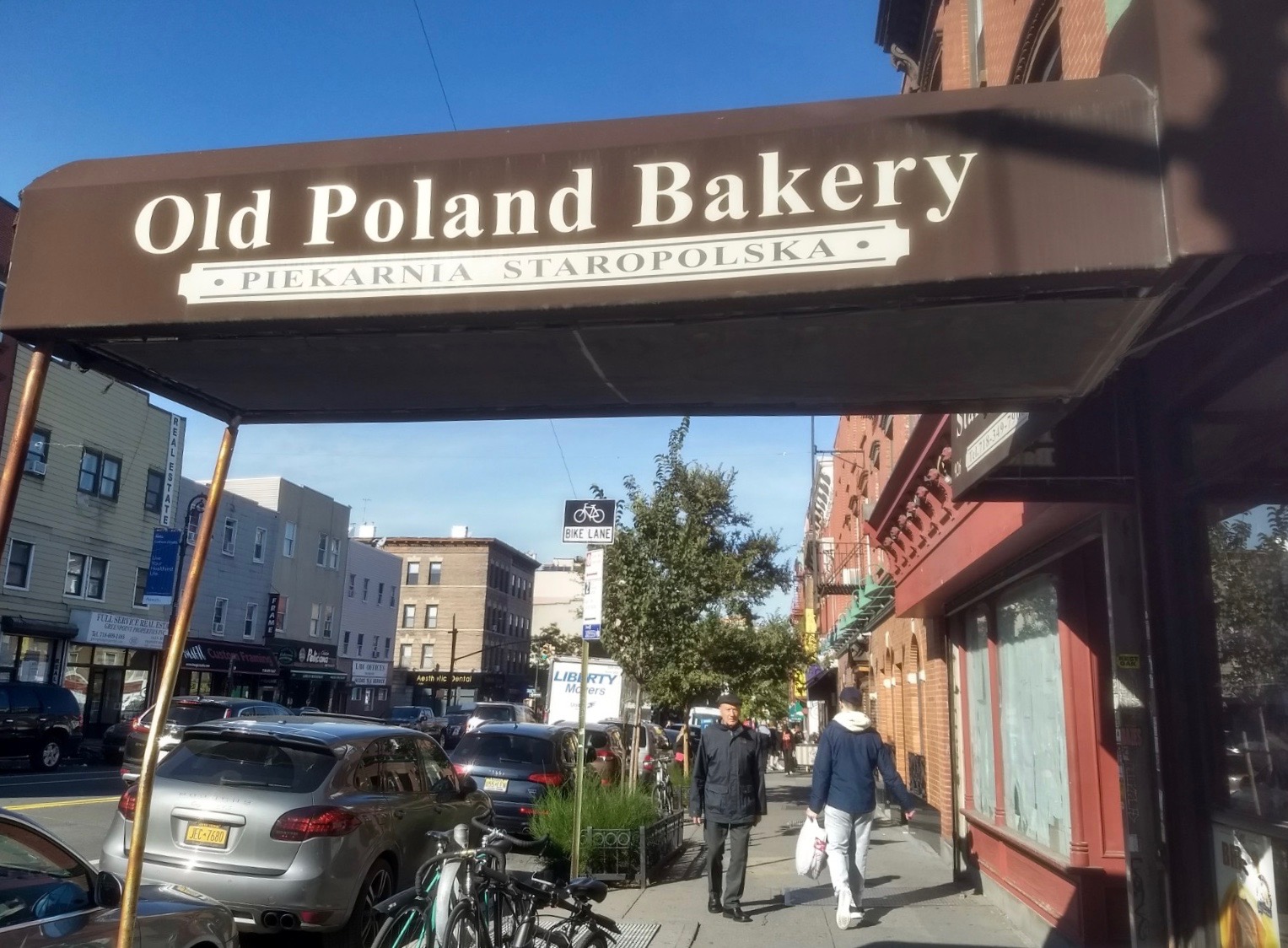 Shopping is a mixed bag
"Here you can have a real relationship with a storekeeper. But I worry about the mom-and-pop stores." —Emily
"There's only one store left from the old days and that's the Army and Navy Store." —Linda
"Word Bookstore is great; lots of writers speak there and they sponsor book clubs. It's a wonderful place."—Karen
"Enough necessary stores? Absolutely not. I can't even buy panties and bras in this neighborhood. There used to be a variety of shoe stores, clothing stores, discount and stationery stores. That no longer exists." —Laura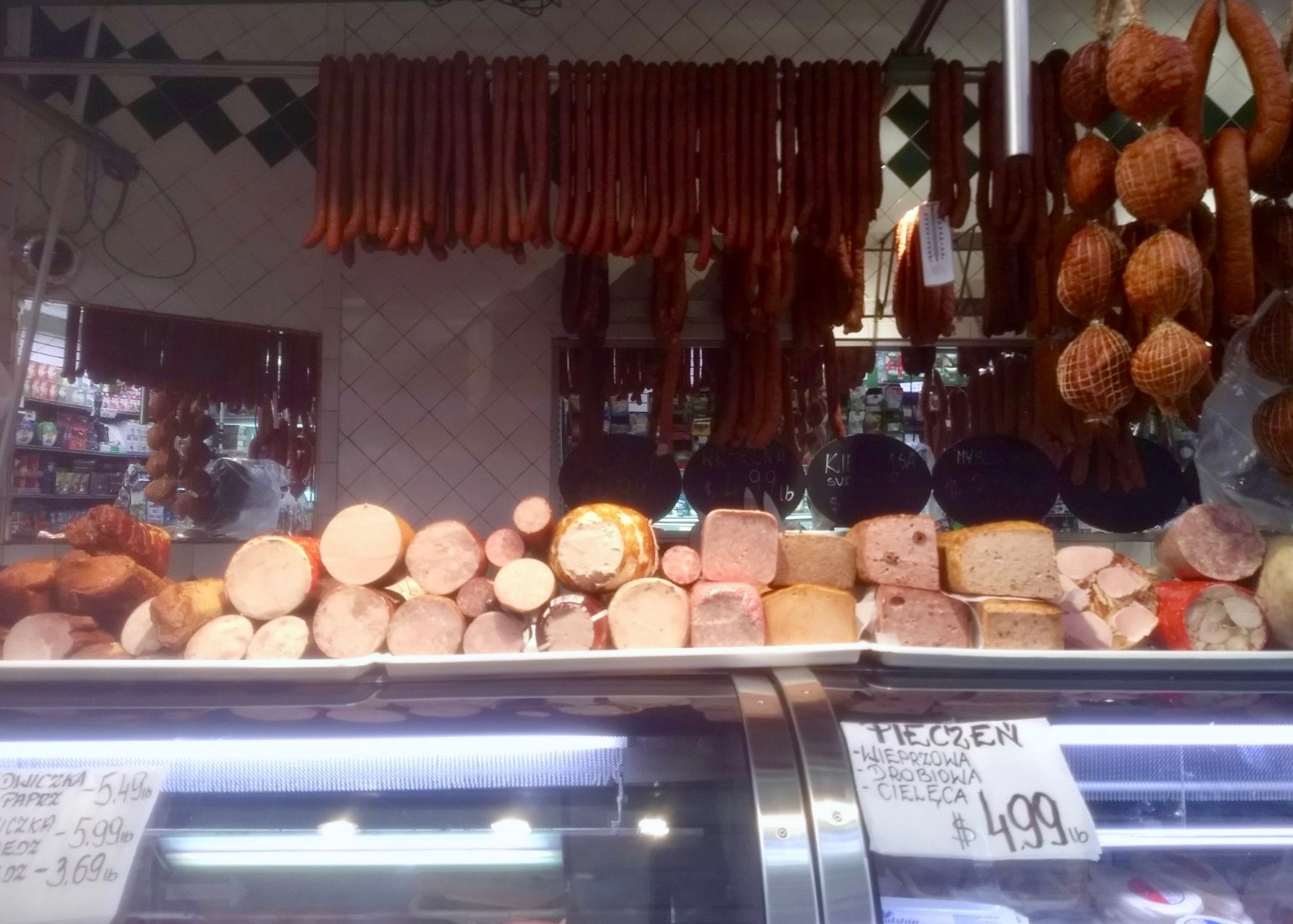 Food and drink: Pinballs and washing machines
"There's a new French restaurant here called Citroen (now doing contactless delivery and outside dining). The food is good, the quality consistent. It has an authentic brasserie feel, delicious steak frites and crème brûlée. The chef really knows what he's doing. It's under the radar now and I hope it doesn't get so popular that it will be hard for us to get a table." —Karen
"My favorite pizza place and my favorite bar were demolished in order to build a luxury tower. But Greenpoint is still a sweet spot for restaurants and bars. My favorite restaurant? Scalino. It's good and humble. When my mom came to visit, that's where I took her. The focus is on food, everyone has a sense of humor, it's not a scene. Their lunch specials is where it's at—things like spaghetti Bolognese, arugula salad. (It is currently only open for takeout.)
If you need food late at night, it's Vamos Tequila (open for take out and delivery) on Franklin. I like holes-in-the-wall that are affordable. For drinks, I like the Palace (offering curbside service). A group of local bartenders got together to buy it, spruced it up a bit but left most of it unchanged. They kept the $5 Bud.
"Another favorite is St. Vitas, metal punk club. There's a Brit pop dance party every other month and Goth nights. (It is not open now but merchandise is available online and there is a show scheduled for mid-March). The Good Room has dance parties and seems to be pretty popular. (Closed now, but owners hope to reopen). The Sunshine Laundromat (temporarily closed) has a bar and pinball machines hidden behind a line of washing machines and Broken Land has good piña coladas and feels like a nice, comfortable living room." (Offers to-go service with window and garden seating.)—Emily
"There have always been lots of taverns here to serve the folks who worked on the waterfront. The new bars haven't re-invented the neighborhood, they're just not as blue collar anymore." —Christina
"I like Eagle Trading Company for a breakfast of eggs and gluten-free toast. Prices are good, the atmosphere is friendly." (It is currently doing takeout and delivery.)—Caitlyn
"I've got two grocery stores within a 10-block radius—C-Town and the Gourmet Afare. Ashbox, a luncheonette that looks just like a college town coffee shop, has delicious teas, good rice balls and egg salad (currently take-out only). A really good and reliable diner is Court Square Diner, a little out of the neighborhood but not far, in Long Island City (24-hour takeout and contactless delivery).
"And for donuts, the absolute best are at Peter Pan. People come from all over the city for them. And can I mention the rainbow cookies in my cafe, voted the best by New York Magazine?" (Pick up and some delivery service.)—Paige
"We do most of our food shopping in Costco in Long Island City because of the lack of choices here. We eat most meals at home but when we do go out, we like the Court Square Diner in Long Island City. The food and the prices are good. But, most of all, we feel like we have elbow room there. In Greenpoint, many of the restaurants are small, tight-fitting. We are big people with disabilities of sorts, so we need space." —Laura
"This used to be a coffee desert. Not anymore. At least if you like espresso." —Christina
Green spaces: They're working on it
"Can't say that I'm in love with any of the green spaces in Greenpoint because maintenance and grass is so [scarce]. I'd have to say that my favorite would be the DEP nature walk if there were a restroom there. It's quiet despite industry. For greenery we have to venture out of the neighborhood to places like Elmhurst Park and Rainey Park in Queens where the grass is lush and well-kept." —Laura
"Barge Park is a new park where the water meets Dupont. It's quiet there; I'm pretty sure it used to be where they stored the sets for the TV show Boardwalk Empire." —Paige
"Our McGolrick Park was designed in the 1900s complete with columns and Victorian sculptures. It has a farmer's market on Sundays and lots of roses in season. 
"We're all excited about the second phase of the nature walk along Newtown Creek. It has a view of a junkyard and a recycling place which gives walkers a very real exposure to what the earth's situation is right now." —Emily
Good place to bring up kids?
"I can only speak to what Greenpoint used to be. All my kids are grown. But, we were fortunate to have had good schools with spectacular principals. And there used to be lot of parents that looked out for each other's children so it was an awesome place to raise kids. I see few parents with children in the parks during the day. This is because of how society has in recent years forced both parents into the workplace. Now there is less socializing among mothers and children. Less connection." —Laura
"I have two children but they go to school in Manhattan." —Karen
"The public schools are good, there just aren't enough seats for everyone who wants one. A new school is scheduled to be built but the problem is where to put it." —Emily
"We get families here. Not the trust fund babies like in Williamsburg." —Christina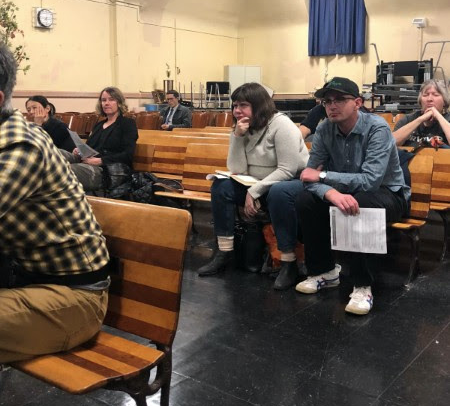 The environment: The elephant in the room
One community board member told us that the neighborhood's "toxic legacy is really bad." The Brooklyn Eagle reported there were three properties discharging oil into Newtown Creek, adding pollution to the already toxic federal Superfund site, which has undergone years of mitigation.
"I would hesitate to raise a family here. The schools are good but it's the environmental issues that worry me the most. You can't grow anything here; and if you do, you wouldn't want to eat it. I wish there were more transparency about the issue." —Paige
"Greenpoint is an environmental nightmare. If you want to learn what we've done to the earth, look at Greenpoint. We're seeing a resurgence of young people's engagement though so we're hopeful." —Emily
"This community has always been shat upon. We're used to it. But we fight back. No more transfer station and we've managed to repel three proposed power stations." —Christina
"I've been very vocal about the lingering environmental problems in this community. My entire family has been riddled with environmental diseases…The cancers, autoimmune diseases, birth defects I can list out from my family and other neighbors is intense. I will be coming back to meetings breathing fire when I am recovered from [my most recent surgery] People need to know that there IS a risk living here. It IS real." —Laura
Is Greenpoint affordable?
"If you can find a rent stabilized apartment, that may be affordable. Most of those are found by word-of-mouth and most are going to be railroad flats." —Emily
"My roommates and I are looking for an apartment here. We're all from California, just graduated college, and have been staying with my friend's cousin in Bed Stuy. We heard it's safe and lively here. We're looking at a four-bedroom prewar apartment today. We found out about it through a local agent. We've been misled before so are hoping this place will work out." —Michelle, 22, hoping to rent
"Rents are unsustainable but probably not any more than in other parts of the city. Apartments are overpriced—we all have roommates. The condos along the water are driving rents up. But there are still some old school landlords who don't want to overcharge and just want to be sure they have good tenants." —Paige
"Affordable? Hell no! Even the 'affordable housing' offered as a result of development isn't affordable to people like me. My own daughter is going to view an 'affordable apartment' shortly. She was lucky to be called from a lottery. Her rent would be $1400 per month. That's a lot when you're trying to pay off school loans." —Laura
"If you want to live here, you'd better have a lot of money. The new development is gross. Changing the vibe completely." —Dan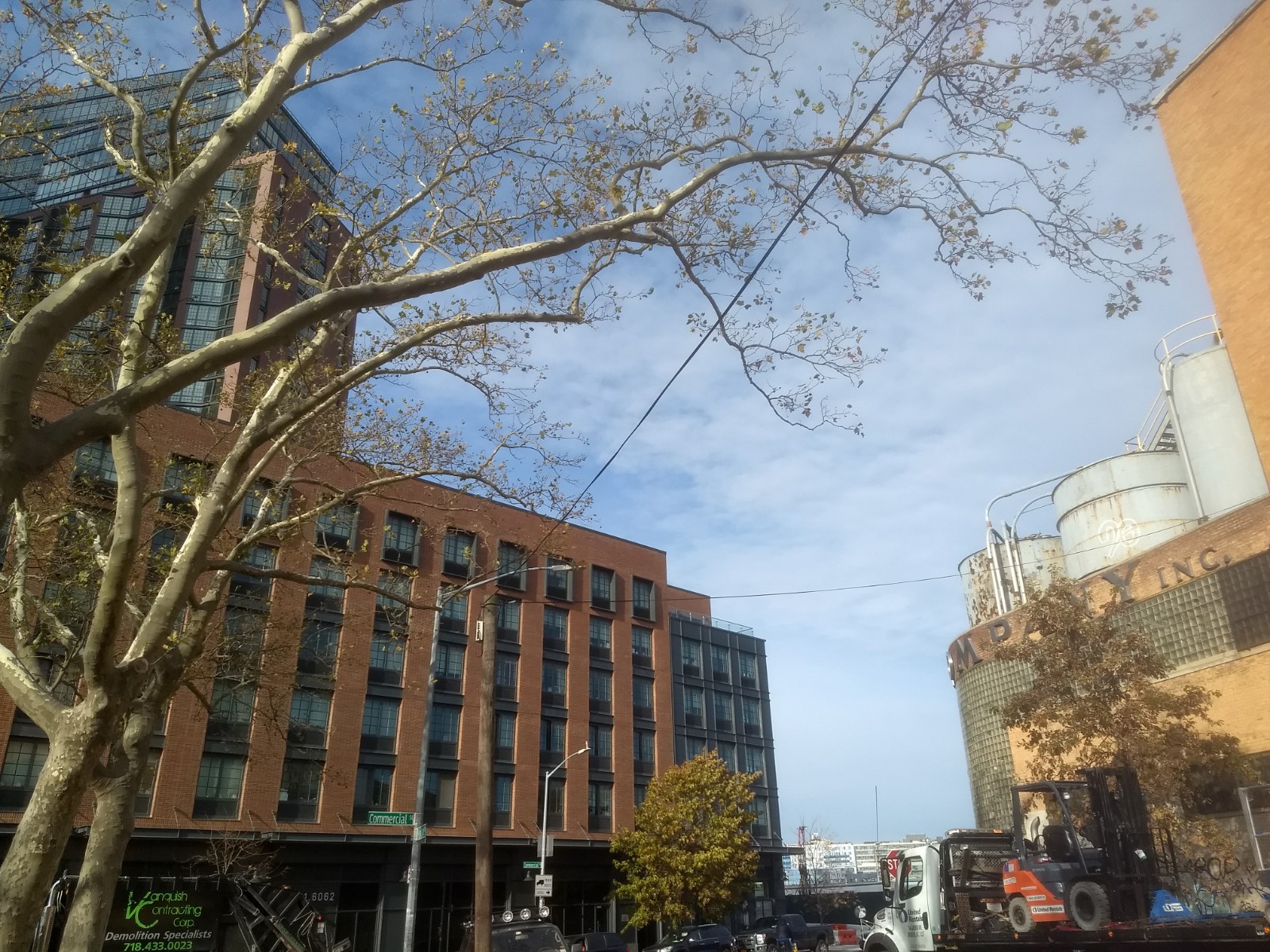 Thinking of moving to Greenpoint?
"Please don't. We're full. I'm an artist. This isn't a place for us anymore." —Dan
"Move here. Do it. It's an amazing neighborhood, especially when you begin to be part of local politics. People here are hungry for community. Try to live near some of the green spaces or not too far from the water if you can." —Paige
"Do the research on your apartment and your block. Find out what you are located near and on top of. It's my home and I love my community but there are serious issues that need to be addressed." —Laura
"Read Greenpointers. Learn what's going on. There may be something you'll be passionate about when you get here!" —Emily
Brick Underground articles occasionally include the expertise of, or information about, advertising partners when relevant to the story. We will never promote an advertiser's product without making the relationship clear to our readers.