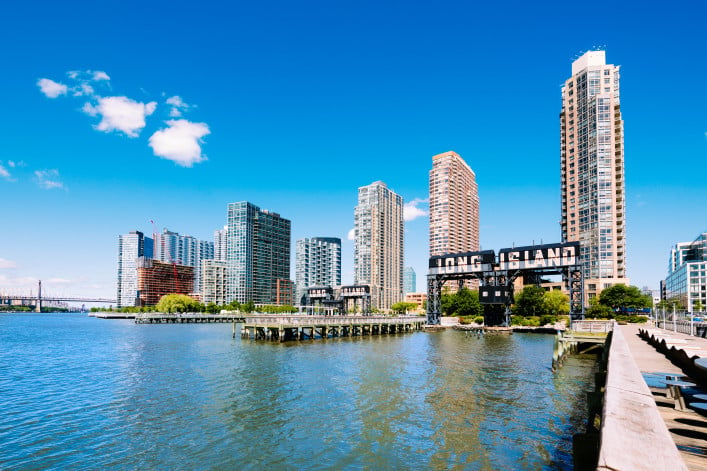 Greenpoint and Long Island City are separated by Newtown Creek, which is only a couple hundred feet wide, but these two adjacent neighborhoods are otherwise worlds apart, with different lifestyles, housing, and entertainment options. Located in northernmost Brooklyn and westernmost Queens respectively, Greenpoint and LIC each have plenty to offer.
"Greenpoint is clearly still Brooklyn, with that creative vibe that distinguishes the borough," says Macie Barnes, a real estate agent at Prevu, a full-service brokerage that offers buyers a rebate of up to 2 percent of the purchase price. "Residents of Long Island City have more of a Manhattan mindset, and the neighborhood has some of the best dining and art experiences in the city."
Below, a guide to deciding whether you'll be more at home in Greenpoint or Long Island City.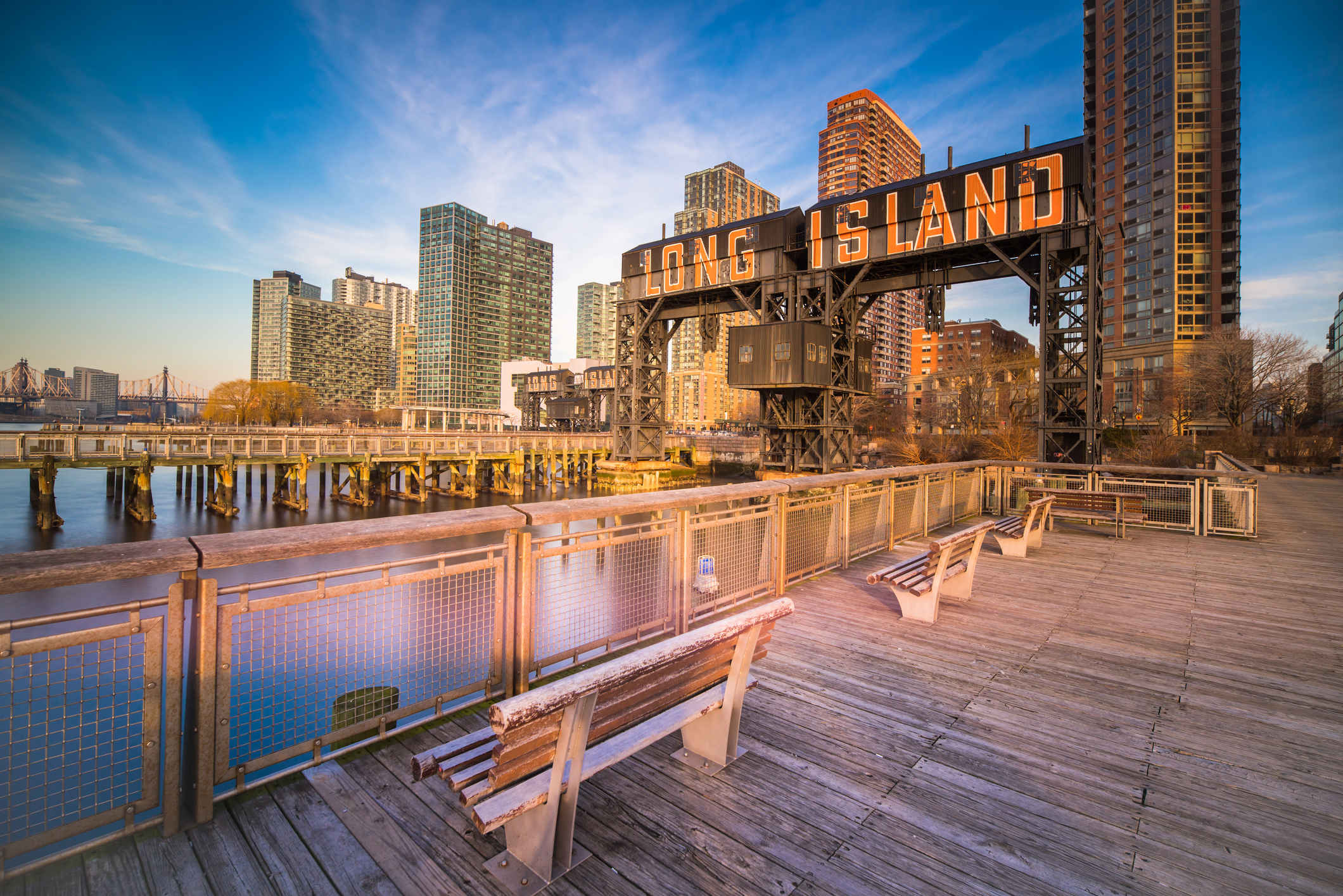 Culture and lifestyle
Just last month, the New York City comptroller issued a report looking at the city's ever-changing creative economy. Over the past 10 years, North Brooklyn has gained more than 15,000 residents who work in creative occupations, and Greenpoint is right at the heart of that surge.
In fact, Greenpoint is being touted as the new Williamsburg, a nod to the skyrocketing popularity of Brooklyn's most storied hipster enclave. A big part of Greenpoint's appeal is that while creative opportunities abound, the neighborhood has retained its sense of community, charm, and character.
"People who move to Greenpoint are investing in the Brooklyn mentality and community," Barnes says. "People perceive the creative community to be there."
Indeed, Greenpoint is rife with third-wave coffee shops, co-working spaces, and trendy bars and eateries. The main shopping strip is Franklin Street, an easily accessible commercial thoroughfare with boutiques like Alter, Wolves Within, and Pas Mal, vintage shops like You & Yours, and book and record stores like Word and Academy. But Greenpoint still bustles with businesses owned and operated by the Polish community that has long called the neighborhood home. Places like Karczma, Old Polish Bakery, and Peter Pan Donut & Pastry Shop nestle in nicely with renowned restaurants like Paulie Gee's, Glasseries, Esme, Anella, and the Michelin-starred Oxomoco.
Speaking of Michelin stars: Long Island City has one of its own at Casa Enrique, the famed casual cantina off Vernon Boulevard, LIC's closest equivalent to a busy commercial street a la Franklin. Casa Enrique may be the dining standout in the neighborhood—which doesn't have the same reputation among foodies as, say, Astoria or Jackson Heights—but more cafes, wine bars, and eateries are opening in the neighborhood to cater to the younger, upwardly mobile residents who are moving in. And we'd be remiss not to note that LIC has become one of the epicenters of New York's microbrewery scene: LIC Beer Project, Alewife, Big Alice Brewing Co., Fifth Hammer, ICONYC, and Rockaway Brewing Company are all in the neighborhood.
Where Long Island City really has a leg up is in the arts. MoMA PS1, Socrates Sculpture Park, the Noguchi Museum, and the Fisher Landau Center are the big draws, but there are also plenty of smaller galleries like Eleventh Street Arts and Plaxall Gallery, not to mention the Sculpture Center, the only museum in NYC dedicated to contemporary sculpture.
That said, "Long Island City is certainly less centralized than Greenpoint—its street life and culture exist in pockets," Barnes says. "The new luxury residential towers in Long Island City have an array of amenities in the building, but if you want more of an out-and-about scene, Greenpoint is a better option."
Real estate
While rezoning along the waterfront led to new high-rise condos in Greenpoint, the majority of housing is single-family or two-family attached homes, with a smattering of renovated industrial spaces. Long Island City, meanwhile, has a few single-family homes, but most of the inventory is in the new condos that now tower over the neighborhood.
In short: you will find more variety in Greenpoint, but more luxury in Long Island City—which isn't to say you can't find luxury in Greenpoint or single-family housing in LIC.
"West Street in Greenpoint has several really beautiful new condos that are prime waterfront buying," Barnes notes. "And while Long Island City is well-known for its sky-high developments, you can still find deals on townhomes off the central avenues."
"The average prices in LIC have been higher than Greenpoint, primarily due to a larger relative inventory of new development condos," says Barnes. "In recent months, recorded sale prices in LIC have averaged $907,000 for a one bedroom and $1.32 million for two bedrooms. Compare that to Greenpoint, where recorded sales prices have average $796,000 for a one bedroom and $1.31 million for a two bedroom."
Active listings among one bedrooms in LIC range from $450,000 for a small co-op apartment to $1.49 million for a more spacious 1,700-square-foot one bedroom with two-and-a-half baths. For two bedrooms, $695,000 on the low end gets you a 1,000-square-foot condop, while $2.598 million is the asking price for a spacious two-bedroom penthouse in a luxury new development. In Greenpoint, active listings range from $549,000 to $1.45 million for a 1,500-square-foot one bedroom with two-and-a-half baths. For two bedrooms, $825,000 gets you a cozy apartment with few amenities, while the going price for a two-bedroom penthouse in a new construction building near the water is closer to $1.65 million."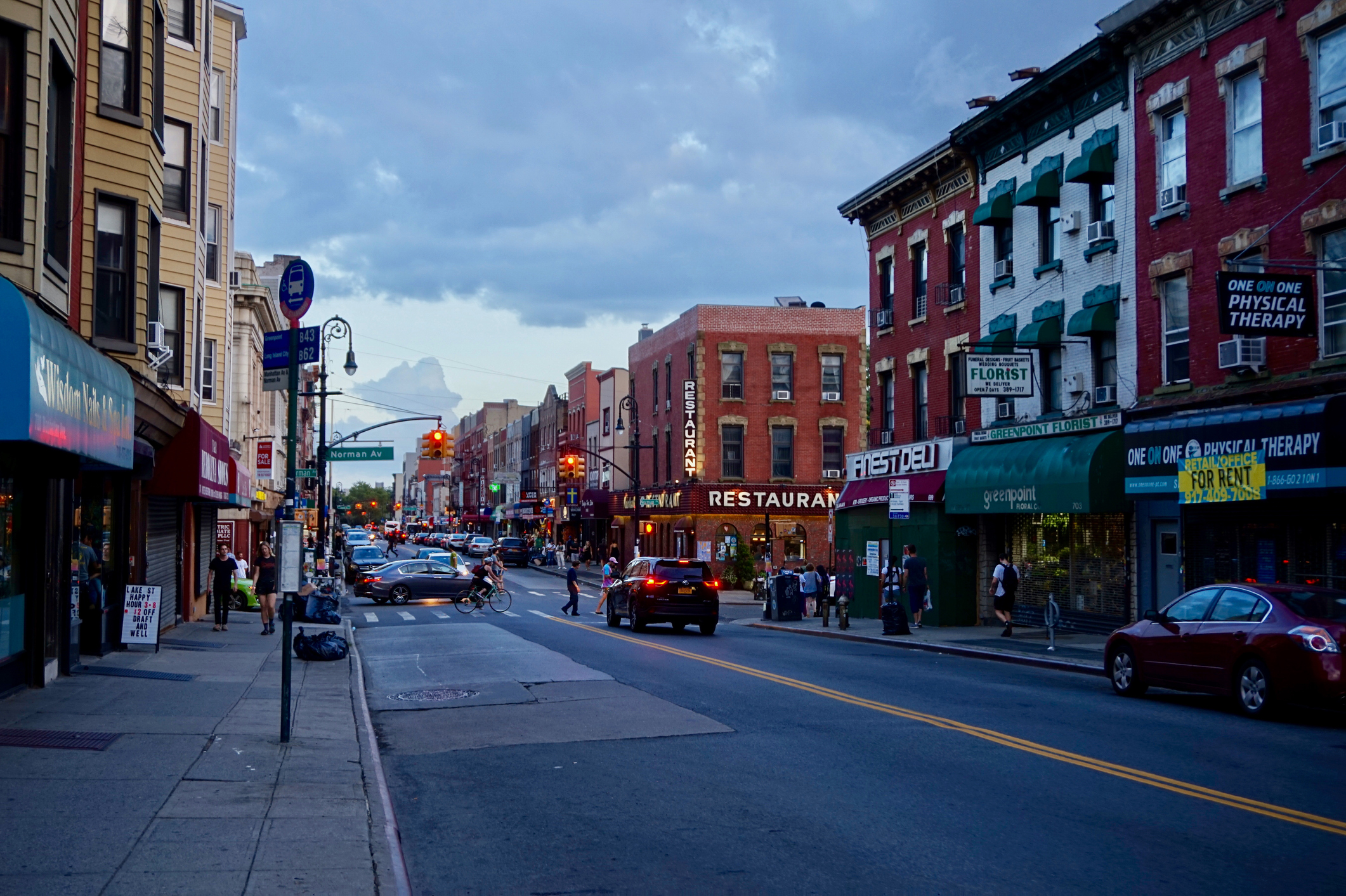 Green space
Greenpoint's waterfront is fairly well-developed, but there are still green pockets like WNYC Transmitter Park, a 6.5-acre public park (formerly the home of WNYC's AM radio towers) with lovely views and a recreational pier. On the other side of the neighborhood, dog-friendly McGolrick Park offers a gated play area, picnic tables, an historic pavilion, and monuments to local World War I heroes and the building of the USS Monitor. And while the neighborhood can't claim McCarren Park, the large public park of Williamsburg is still very accessible to Greenpoint residents.
Most of the development in Long Island City, meanwhile, has happened in the neighborhood's interior, leaving a chain of green spaces along the waterfront. The two most popular are Hunter's Point South Park, a popular urban oasis with a promenade, sprawling lawns, a playground, a dog run, and a cafe plaza; and Gantry Plaza, a 12-acre state park on four East River piers offering restored gantries, incredible Manhattan views, and the famous (now-landmarked) Pepsi-Cola sign. There are also playgrounds and sports courts scattered throughout the neighborhood, including Murray Playground, Bridge and Tunnel Park, and Hunter's Point Community Park, which has the LIC Dog Park.
Both LIC and Greenpoint offer stunning views of Manhattan. That's one of the worst-kept secrets about both areas, and one of several perks of being situated on the East River.
Commute
Let's be real: If you're moving to Long Island City, chances are that the easy commute into Manhattan is the number one reason.
"In LIC, you can take the 7 train and you're at Grand Central in under 10 minutes," Barnes says. "It's perfect for working and commuting." The neighborhood is also served by the E, M, and G trains at Court Square, and the NYC Ferry, which has stops at Hunters Point South and Gantry Plaza State Park.
Long Island City has the shortest commute into Manhattan of any outer-borough neighborhood, but that does come at the cost of a robust lifestyle in the neighborhood itself. "Because it's so easy to get into Manhattan, there are more people who spend all their time there for work and play and just come back to Long Island City to have dinner and go to sleep," Barnes says.
The inverse situation exists in Greenpoint. Only one train runs in the neighborhood—the notorious G train, which does not go into Manhattan. The NYC Ferry stop at Greenpoint Landing on India Street is a better option for getting into the city.
"One of the biggest complaints people have about Greenpoint is that it's somewhat isolated because of the G," Barnes says. "That said, the G had major work done when the L was slated to be shut down, so it runs better than ever." Barnes notes that more ferry stops are planned, and that bike and pedestrian lanes are coming to the Kosciuszko Bridge, which links the neighborhood to Maspeth, by 2020. "But as it stands," she says, "it's at least 10-blocks from the waterfront to the nearest train."
Greenpoint does have good bike lanes, especially on Manhattan Avenue and Franklin Street, so residents with regular city commutes have the option of cycling down to the L train at Bedford Avenue in Williamsburg.
"That's the vibe of the Greenpoint buyer," Barnes notes. "They're the person riding their bike, looking at eco-friendly scooters."
Greenpoint residents are also much more likely than LIC residents to work from home or in the neighborhood, and hang out there after clocking out. "You don't have to leave to go to events or get that New York City lifestyle," Barnes says.
---
Prevu provides all the expert advice of a traditional real estate brokerage without the high fees. Click here to learn more about the Smart Buyer Rebate, and here to learn about Prevu's Smart Seller program.
Brick Underground articles occasionally include the expertise of, or information about, advertising partners when relevant to the story. We will never promote an advertiser's product without making the relationship clear to our readers.