When you're ready to buy in New York City, one of the major challenges (if not the major challenge) is figuring out how to make it work financially—because apartments and houses are so painfully expensive here.
There are ways to shave costs—namely, compromise on space. You could choose a co-op over condo—they're less expensive—or buy a fixer-upper. Or you could live in a ground-floor (or even basement) apartment. Brick Underground has lots of articles on how you can cut costs when buying. However, the fastest shortcut to lower prices is to consider location and hone in on a neighborhood that is less expensive than others. But which ones?
We partnered with PropertyShark to pinpoint the top three most affordable neighborhoods for buyers in each New York City borough. Median sales prices were calculated based on all residential property sales of single-family homes, condos, and co-ops that closed between January 1, 2019 and December 31, 2019. Package deals were excluded, and only neighborhoods with more than 15 residential sales were included. 
We have many neighborhoods making their debut on our "most affordable" list for 2020, and several returning. (You can see our previous list of most affordable neighborhoods in NYC.) Unsurprisingly, the northernmost neighborhoods in Manhattan fared well. Harlem, the most expensive of the affordable, also saw the most activity. 
---
[Editor's note: This article was originally published in January 2020. We are presenting it again here as part of our summer Best of Brick week.]
---
"[Harlem] recorded the most transactions among the top five most affordable neighborhoods in all of NYC's five boroughs, despite being the priciest," says Andreea Popescu, real estate writer at PropertyShark. And according to the numbers, buyers timed their purchase nicely, regardless of their choice of co-op, condo, or house. According to Popescu, "Property values are appreciating due to a 19 percent year-over-year price increase and an eight percent growth in transactions. The growth can be seen across property types."
Dream of buying a townhouse in Harlem? It's one of the neighborhoods where we find the most affordable townhouses in Manhattan—and one of Brick Underground's best neighborhoods for families. But fair warning: prices are rising: The median sales price for townhouses increased from $2 million to $2.3 million last year. 
It's important to note that just one year of data can't tell the whole story of what's happening in a neighborhood's real estate market. Sometimes sales at one development can skew the numbers.
"Despite the rises in median sales price in some of the neighborhoods on the list, it is important to look at what specific transactions affected these year-over-year price increases," says Popescu. Case in point, Brooklyn's Gerritsen Beach, which saw a 22  percent surge in median sales price in 2019 and is listed as fifth most affordable.
"In 2018, 13 co-ops sold at 2220 Burnett for a $190,000 median sales price. That same year, another 15 co-ops sold at 2209 Knapp for a $205,000 median sales price," says Popescu. "These sales not only lowered the median but made it so that if you exclude these transactions altogether, the 2018 median sales price would have been $438,000.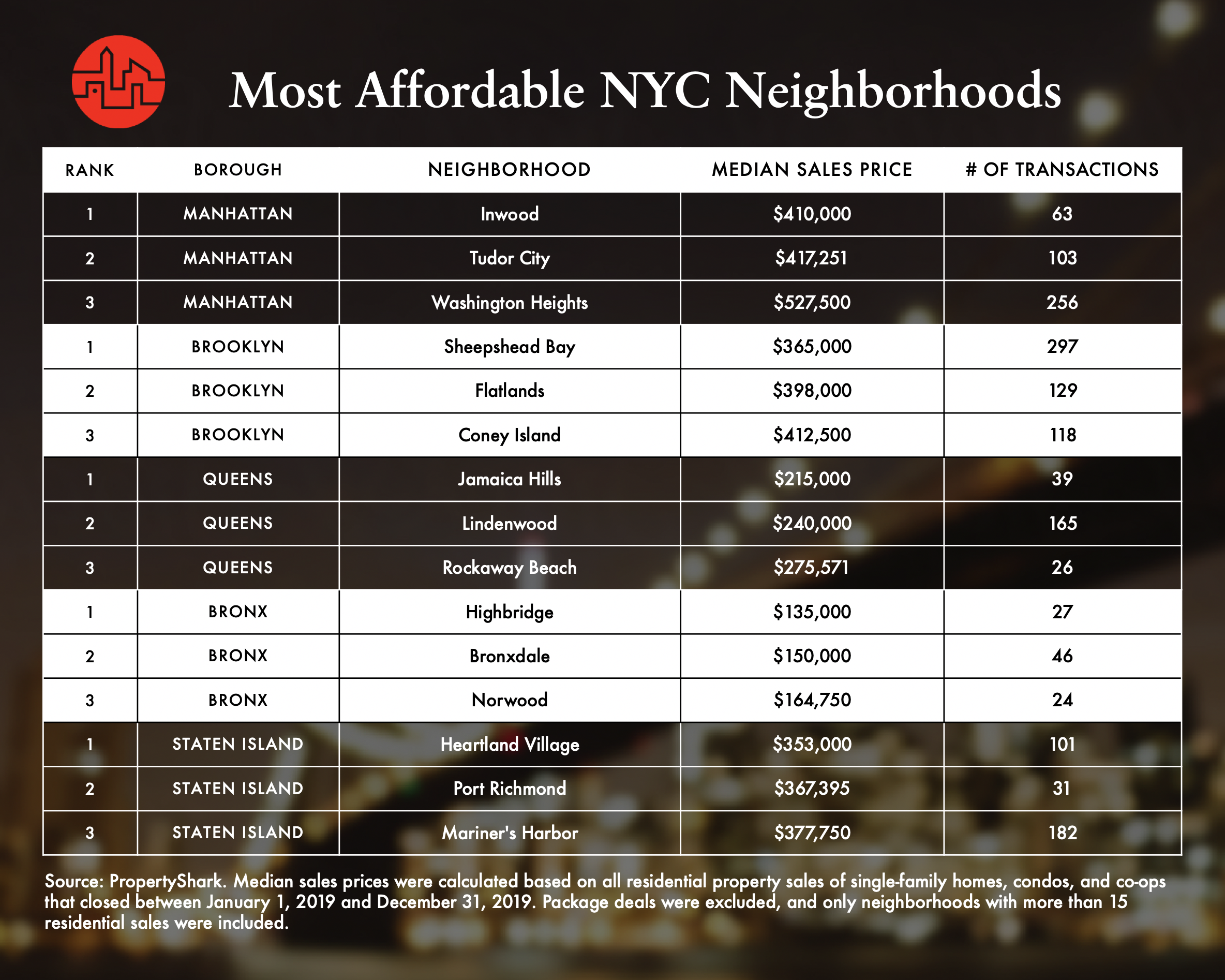 Manhattan
2019 median sales price: $1,125,000, up 5.65 percent from 2018; sales down overall 3 percent.
Pro Tip:
Looking to buy a co-op apartment?  National Cooperative Bank offers competitive rates and easy pre-qualification. With 40 years of lending to buyers in New York City, NCB is the bank for co-ops. After all, Cooperative is our middle name! Call us at (646) 201-4714 or email Brittney Baldwin at [email protected].  NMLS #507535. Equal Housing Lender. 
1. Inwood
Median sales price: $410,000
This northern Manhattan neighborhood has come out on top before when we've considered the borough's most affordable spots. With 63 transactions overall it's popular, but not flooded. The median sales price of $410,000 is only up 1 percent from last year. (Harlem, for example, which ranks fifth in "affordability" is clearly moving out of that category, with a median price of $744,716, for 408 transactions—up 19 percent from 2018.)
Inwood is popular for a lot of reasons, a big one being transit access and a fast commute to Midtown and Downtown via the A line. You have Inwood Hill Park to the west, and the Hudson River is beyond. Locals will tell you the greenspace adds to the quality of life. (The New York Times has described it as "on the brink of coolness" and "Manhattan's Last Affordable Neighborhood".)
"There's a reason we call this neighborhood 'Upstate Manhattan,'" says Sabrina Seidner, a broker at Corcoran, who is a resident herself. (She owned a co-op previously in the area, and returned last year as a renter.) "Take a stroll through Inwood Hill Park and along Muscota Marsh and you can see the raw beauty of this neighborhood," she says.
She ticks off a list of improvements to the area since she last lived there: Renovations of the park and crew houses, a public event/screening room courtesy of Columbia University, the weekly Farmers Market, Chocnyc, Buunni Cafe, The Hudson on the Marina's eateries, Inwood Arts's cultural events and the Inwood Film Festival. "Even with all of this, Inwood's local charm and connectivity remains."
Residents can also enjoy seeing their neighborhood on big and small screens. "Inwood is a favorite filming location for "Law & Order," "The Politician," "Prodigal Son." and multiple movies," says Liz Falconer an agent at Citi Habitats. "As an Inwood resident, it's fun to see places you walk past every day on the big screen."
2. Tudor City
Median sales price: $417,251
Though it has almost twice as many transactions as Inwood, Tudor City's total sales were down 11 percent. 
A lesser-known part of Manhattan, Tudor City is located on the far east side of the island near the United Nations, east of Second Avenue between 40th and 43rd streets, and this is the first time it's made our affordable neighborhood roster. (It essentially took the place of Harlem.) 
The 1920s Tudor Revival-style complex with 12 co-op buildings (plus one rental) was designated a New York City Historic District in 1988. As Daniele Kurzweil an agent at Compass explains, many of the buildings in the neighborhood were once used as hotels, with boarding rooms upstairs and dining facilities downstairs. As a result, you can find many quirky and untraditional layouts in apartments here.
 Hallmarks of the area include its park-like greens, Art Deco design touches, and peaceful feel.
"One of the reasons why Tudor City is so affordable is because most of its housing is smaller apartments. Kitchens were put in when the buildings changed over to full-time residences. As a result you are looking at what can be considered some of the first 'micro' apartments in the city," says Kurzweill. "With a charming park and loads of prewar details, Tudor City is a great option for someone looking to be in a central location or even looking for a pied à terre. Charm + function = great value!"
3. Washington Heights 
Median sale price: $527,000
No stranger to this list, Washington Heights was ranked third on our list last year. Buyers are paying attention: The neighborhood saw 256 transactions, about the same as in 2018, and the mix is a bit more even between co-op (71 percent) and condo (27 percent). 
"Washington Heights is absolutely overlooked by most buyers and has some of the largest and most beautiful housing stock in the city," says Jeff Gardner, a broker at Corcoran.
"Excellent transportation and shopping, the neighborhood is diverse and divided by geography: grand co-ops on leafy hillside streets—some with Hudson River views—are priced at 50 percent less than similar-feeling neighborhoods on the UWS. In the flats, the area is congested and dense with people and prices reflect the more urban environment. If the train is running local, it's a long ride to Midtown, but that's mostly on the weekend. I describe it as the San Francisco of NYC," he says.
Residents of the neighborhood benefit from the narrowing of northern Manhattan, meaning it's never too far a walk to one of the area's subway lines, the 1 or the A express train.
You likely won't find any gleaming new condos here, but that can be to your advantage.
"The buildings here are generally prewar, which means they often have larger apartments with hardwood floors and high ceilings and are generally solid—so they are pretty quiet," says Sherry Mazzocchi an agent at Citi Habitats, who also notes there are new businesses coming to the area. "There's been a big restaurant boom in the Heights. New places like Havana Heights and Café Rincon have opened, along next to old stalwarts like Coogan's and Malecón. Plus, there are amazing cultural institutions—my favorite is the historic Morris Jumel Mansion. It's the oldest house in all of Manhattan."
Runners-up: 
Kips Bay: $700,000
Harlem: $744,716 
Brooklyn 
Median sales price: $685,000. Negligible change in price; total transactions down 9.2 percent 
While Brooklyn used to be the place where people went to find affordability when they got priced off the island (such a quaint idea now), some areas, like Cobble Hill, the neighborhood with the highest median price of $1,640,000, are well into Manhattan numbers. But there are still pockets of affordability, and some surprises, as well. 
For example, East New York does not even make the top three most affordable neighborhoods; its median sale price is $420,000, and the number of transactions, 201, is up the most of any of the most affordable neighborhoods across the five boroughs, 37 percent. (We suspect developers and speculation.) 
1. Sheepshead Bay 
Median sales price: $365,000
The neighborhood has moved up since our last look at affordable neighborhoods; it was a mere runner-up previously. And with the exception of Harlem, Sheepshead Bay beat out every other affordable neighborhood for the number of transactions in 2019, with 297, which was actually down 18 percent. (Harlem had 408.) There was a mild increase in price (six percent), and the housing stock sold is one of the more diverse, with a split of 50 percent co-op sales, 26 percent condo, and 24 percent houses. 
"I've lived in the Sheepshead Bay/Midwood area for about 10 years, and the neighborhood offers a great quality of life at an affordable rate," says Sylvia Dimova, a broker at Corcoran. "I love Emmons Avenue and all the cafes along the water!"
"Sheepshead Bay is a very special neighborhood in Southern Brooklyn that is as much of a destination as a great place to live," says Francine Albert, a broker at Citi Habitats. "Get off the B express or Q train on Sheepshead Bay Road and you will find a lively area filled with shops, many food stores from Eastern Europe and all over the world. I like to head to Emmons Avenue on the Bay where the famous Randazzo's Restaurant and Roll-n-Roaster reside. The promenade along the bay at night is brimming with locals out for a stroll." (Albert says there are great values to be had on single- and two-family houses here.)
2. Flatlands 
Median sales price: $398,000
While the number of transactions was down, prices were up 17 percent in Flatlands, the largest jump in median price of any of our affordable Brooklyn neighborhoods. 
Not to be confused with Flatbush (which is to the north and the east) Flatlands makes its first appearance on our affordable neighborhoods in Brooklyn list. The neighborhood's sales are fairly evenly split between houses (56 percent) and co-ops (44 percent).
"It doesn't take a long to realize what attracts people to the Flatlands neighborhood. First of all, it's a quiet, peaceful community," says Aramis Arjona, an agent at Citi Habitats. 
"Flatlands seems to attract a lot of folks, especially the type of people who want to settle in for a while. It's not a transient community. The area has two things that make it stand out: A suburban feel with a variety of single-family detached houses as well as row houses—many with well landscaped, but have small, front yards. These quiet streets are within close proximity to a variety shopping centers on Ralph and Flatlands avenues. Kings Plaza is also a popular indoor mall on Flatbush Avenue that has a Macy's and a variety of national chain stores. It's best of urban and suburban living." 
Arjona does note that it's one the few areas in Brooklyn that's not serviced by any trains, but there are buses. 
Daria Komanova, a broker at Corcoran, describes the neighborhood as "very quiet" with mostly one- and two-family homes. "Flatlands is a cultural hub with tons of supermarkets, and food spots serving delicious West Indian food—and also bars and lounges," she says.
3. Coney Island
Median sales price: $412,000
Coming in third with a $412,000 median sales price, Coney Island actually saw decreases in both price and the number of sales. The median sales price dropped 4 percent, and the number of sales fell 14 percent. 
While you may only think of roller coasters and hot dogs when you hear "Coney Island," it actually has a healthy mix of housing types. For 2019 sales, 64 percent were co-op, 20 percent condos, and 16 percent houses. 
A 2009 rezoning paved the way for more development in Coney Island, which has brought new businesses and services to the area such as the major office/retail development Neptune/Sixth as well as affordable rentals. It's also brought luxury development like Ocean Drive. The subway stations have been modernized, there's a new seaside amphitheater, and the nearby New York Aquarium recently got a fancy addition and facelift. Plus, there's been a big investment in infrastructure. 
Runners-up: 
East New York: Median price: $420,000
Gerritsen Beach: $430,950
Queens 
Median sales price: $480,000. Median was up 3.45 percent; total transactions down 12.21 percent. 
1. Jamaica Hills
Median sale price: $215,000
The borough-wide median sales price for Queens further underscores the point that affordability in New York is relative. Almost a half a million dollars is still a big chunk of change. That said, Jamaica Hills, our most affordable Queens neighborhood, has a more palatable median sales price of $215,000—and that figure is up 19 percent. (Jamaica? Jamaica Estates? No, this is Jamaica Hills, which is north of the former, and west of the latter.)
Mass transit is not the best if you're commuting to Midtown; the southern edge is served by the E and F trains, and the trip is about an hour. Driving is about 45 minutes via the nearby Grand Central Parkway; you may find it easier to own a car here than many other NYC neighborhoods; 44 percent of sales were houses while 64 percent were co-ops. 
2. Lindenwood
Median sale price: $240,000
With 165 sales (down 12 percent from last year) there were far more transactions here than the other two affordable Queens neighborhoods. Lindenwood is technically considered part of Howard Beach—it's small. Housing stock sales were split 72 percent co-op and 27 percent condo. 
It's not a place you'll want to live if you need to make it to Manhattan regularly. Transit access is restricted to buses, and it's an hour to the city. (The good news is that there are driveways and on-street parking for car owners and you can hop right on the Belt Parkway if you do need to get somewhere.) If you work at JFK, or the nearby Resorts World Casino, Lindenwood would make for a very easy commute. 
It's near the water and the activity of Howard Beach, as well as the new Shirley Chisolm State Park. 
3. Rockaway Beach
Median sales price: $275,271
The median sales price in this seaside neighborhood is actually down 20 percent from 2018, but the number of sales is up 30 percent. However, there were only 26 sales in 2019. (The area was famously hit hard by Hurricane Sandy in 2012; are buyers skittish about potential flooding? It should be noted, due to the neighborhood's topography, that flooding is not a factor in all parts of the Rockaways.)
It's a different world out here on the beach, and doesn't feel a lot like New York City (aside from the New Yorkers streaming in to the area during the summer to enjoy the sand and surf).
"I grew up in the Rockaways and have come back to raise my own family here...there is not any other place I could imagine living! It's a secret little beach oasis with an incredibly strong small community feel just 45 minutes to NYC," says Kelly Neinast, a broker at Corcoran.
You can take the train to and from here: there are two stops on the A and the S here, but it's another place where you need a car. Rockaway Beach has seen a lot of development in recent years, and condos made up the lion's share (88 percent) of 2019 sales; houses made up the other 12 percent. 
Runners-up: 
Briarwood: $279,000
Kew Gardens: $309,270
The Bronx
Median sales price: $300,000, up 3.45 percent from 2018; sales down 13.57 percent. 
1. Highbridge: 
Median sales price: $135,000
Highbridge claims the title of the most affordable neighborhood in New York City for 2019. (And that's even with a 32 percent increase in the median sales price.) This area of the Bronx had just 27 transactions, which were distributed across co-ops (64 percent), houses (26 percent) and condos (19 percent). 
This is a new entry to our affordable neighborhoods list. The area is served by the 4, B, and D trains, offering quick transportation into Manhattan—it's possible to get to Grand Central in under 30 minutes. (Although the lines pass through the far east end of the area, so not all access is equal.) 
The relatively newly-restored High Bridge (a mid 19th-century aqueduct that spans the Harlem River) gives the neighborhood its name; it is the oldest standing bridge in New York City and connects northern Manhattan and the Bronx. (There is a large park on the Manhattan end.)
"This hilly neighborhood West and North of Yankee stadium is flush with community gardens and an interesting mix of residential architecture from Art Deco apartments to clapboard and brick houses," says 's Hank Orenstein, a broker at Corcoran. "Among the community gardens is the half-acre Taqwa Community Farm and the Target Bronx Garden, a New York Restoration Project founded by Bette Midler." The neighborhood's Highbridge Green School is The Bronx's first green school, constructed with regionally-produced, sustainable materials; features include a roof garden, wind turbine, solar panels, a greenhouse and a rainwater collection system.
"Highbridge is the area I grew up in. It consists mainly of rental and co-op buildings but you can find some small multi-family homes sprinkled throughout. It's a vibrant and diverse neighborhood due to the presence of Yankee Stadium and the nearby courthouses. Most of the businesses revolve around these entities," says Taylor St. Valliere, an agent at Citi Habitats. 
Valliere says that restaurants, bars, and shops cater to lawyers, judges, paralegals and baseball fans, but that the locals are not left out. "Many blocks still have a neighborly feel and you'll see local mom and pop shops, eateries, bars and bodegas where people still say 'hi' and know each other's names," he says. 
2. Bronxdale
Median sales price: $150,000
Another new entry on our affordable neighborhoods list, Bronxdale saw moderate activity, with median sale price and number of transactions up 10 and 7 percent, respectively.
The area is bordered by some major thoroughfares (the Bronx River Parkway to the west, and the Bronx and Pelham Parkway to the south). However, the world-class Bronx Zoo and New York Botanical Gardens are also directly to the west.
The closest subway lines are the 2 and 5 at the Bronx Park East station.
3. Norwood
Median sales price: $164,750
Also known as Bainbridge, Norwood had 24 transactions, and a 25 percent increase in price from the previous year. It is also a new entrant on our list of affordable NYC neighborhoods.
Located in the northwest part of the borough, it is served by the D train at 205th Street, and several express buses. (You can get to Midtown Manhattan in about 45 minutes.)
A jewel of the neighborhood is the Williamsbridge Oval park and its recreation center, both of which hold events throughout the year, many of them free. (A new skate park also opened last summer.) More green space is located to the north, in the large Van Cortlandt Park and Woodlawn Cemetery.
Runners up:
Mott Haven $505,986
Pelham Bay $490,000
Staten Island
Median price: $535,000, negligible change in price, number of transactions down 23.78 percent 
All three of our affordable neighborhoods in Staten Island are making debuts on the list this year. The borough has experienced a sales boom in recent years but that has slowed, as the almost 24 percent drop in the number of transactions from last year reflects. If you need to be surrounded by city activities and amenities, it may not be a good fit, but buyers looking for more space and suburban convenience can find real value here. 
Just can't see yourself in Staten Island? You may want to reconsider.
"It used to be you had to have a car to live here. That was forced to change," says Robert Coppolino, owner of RE/MAX/Elite, and a transplant from Dyker Heights, Brooklyn. "St. George is beautiful now...People have gotten over the idea that Staten Island is a 'dump.' It's not horrible to live here anymore."
And according to Coppolino, lots of those people are from Brooklyn, particularly the southernmost parts of the borough. "[Staten Island] is an easy move from places like Dyker Heights and Bay Ridge. Your commute doesn't change by much." 
Will your environment? Sure, but that may not be a bad thing. "It's a different type of living, with only adding 20 to 30 minutes to your commute if you have to go to Manhattan," says Coppolino. "You can still drive to a store and park in a parking lot. There's no alternate side parking in Staten Island. You can park in front of your house and not worry about it." Plus, lots of big box stores, movie theaters, and other suburban conveniences. 
1. Heartland Village:
Median sales price: $353,000
With 101 transactions in 2019, Heartland Village is one of the more active Staten Island neighborhoods on our list, although it did see a steep 34 percent drop in sales. The area is in the center of the borough, and offers easy access to everything on the island. "Staten Island is not big. You can get places in 15 to 20 minutes without traffic," says Coppolino. 
The split in housing stock skews heavily (89 percent) toward condos, with the remainder houses. This makes it a good area if you don't want to deal with the hassle of maintaining a house, whether you don't know how or are just too busy. 
The area is right near the Staten Island Mall, which recently saw some upgrades, and there are parks to the west, north and east of the area. If you are commuting to Manhattan, your journey will be a little longer than from the areas on the water—but that's one reason why it's on this list.
2. Port Richmond 
Median sales price: $367,395
Port Richmond saw just 31 transactions, which was down 53 percent. (Median price declined six percent.) The housing stock in the area, which is closer to the ferry and the water, is almost entirely houses. (The split is 84 percent houses, 16 percent condos.) Coppolino describes the inventory as mostly single- and two-family semi-detached and detached houses. 
The neighborhood's proximity to the ferry means a shorter commute which Coppolino says is driving interest in both Port Richmond and Mariner's Harbor, number three on our list. 
Points of interest nearby include the popular (and bucolic) Snug Harbor Cultural Center and Botanical Garden, as well as the brand new Empire Outlets mall, which in addition to high end discount stores, has bars and restaurants. "Any new restaurant that opens up is somewhere around where the ferry is," says Coppolino.  The Staten Island Zoo is nearby, as is the large park Clove's Lake Park. 
3. Mariner's Harbor 
Median sales price: $377,750
As the name suggests, Mariner's Harbor is also along the water. And despite a significant number of transactions (182) that figure was down 24 percent from last year. 
The neighborhood offers similar advantages as Port Richmond, like a comparatively shorter commute and in some cases, water views. Ninety-four percent of the sales here were of houses, and Coppolino says housing inventory is similar to Port Richmond as well—detached and semi-detached houses. 
A downside of the neighborhood (and Port Richmond as well): some parts along the water are very industrial; it's the main drag of Forest Avenue to the south where you'll be doing shopping and dining.
Runners-up:
Graniteville $381,500
Park Hill $389,500
Brick Underground articles occasionally include the expertise of, or information about, advertising partners when relevant to the story. We will never promote an advertiser's product without making the relationship clear to our readers.