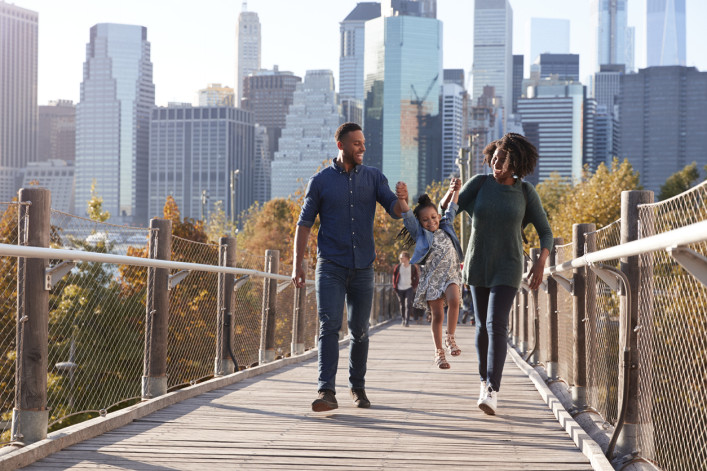 Here's how it used to be: New Yorkers would fall in love, get married, have a kid—and then leave the city. (Or leave the city, and have a kid. Or two.) But that's not the case for many New Yorkers anymore.
The new reality is that large numbers of young families are electing to stay in New York, because the city, if you can afford it, is now a pretty incredible place to raise kids. And more families sticking around means more businesses, services, and spaces for kids and their parents. (Perhaps you've noticed the world-class parks that have sprouted on the Manhattan and Brooklyn waterfronts over the last decade, the newly-opened play space or after-school spot in your neighborhood, or the throngs of people streaming out of Madison Square Garden or Barclays Center following a performance of Sesame Street Live! or Disney on Ice.)
---
[Editor's note: An earlier version of this post was published in July 2019. We are presenting it again here as part of our holiday 2019 Best of Brick week.]
---
That said, some areas of the city are more family-friendly than others. Logically, one of the big determinants of where families enjoy living is where they can have space. (Although yes, people can, and do, make living in a small space as a family work.)  
A snapshot of Manhattan three-bedroom, two-bath apartments on the market

Source: Perchwell
Our methodology
Assuming a three-bedroom, two-bath apartment is ideal for a New York City family, we asked real estate data and analytics company Perchwell, to identify neighborhoods in Manhattan with the greatest number of that type of apartment for sale and for rent, the median cost and rent, as well as how many are currently available in each category. (We'll be tackling family-friendly Brooklyn and Queens neighborhoods in posts to come.) 
Obviously, what's friendly to your family may be less-friendly to someone else's, but generally, factors that can make living with kids in the city easier include school quality, green space, ease of transportation, and other families.
For some intel on these aspects, we turned to the team of urban planners at real estate search platform Localize.city. They analyzed city plans, development projects, public documents and more to provide insight on family-friendly destinations. On the hot topic of schools, we checked in with some of the city's authorities on educational options around town, including Laura Zingmond, senior editor at public school information resource Inside Schools; and New York City school consultants Robin Aronow of School Search NYC and Alina Adams of NYC School Secrets. And we sprinkled in some of our on-the-ground impressions as parents raising kids in the city as well. 
Now, nothing is 'under-the-radar'
The last time we tackled this topic—we looked at the entire city—was about five years ago, in late 2014. Since then, the landscape has shifted significantly. 
For example, we'd be hard-pressed to identify any neighborhood as "under-the-radar," as we did previously. Battery Park City and Windsor Terrace, examples of two spots that earned this designation,  that are now squarely in the bulls eye for many New York families. (That said, we know New Yorkers can keep it pretty local, so it's possible some of these may be news to you. Just FYI: Lots of families have "discovered" every area on this list. If any place is "under-the-radar" as a place for families to move, it's Queens—and that sentence alone likely just prompted cries of both indignation and concern over spilling a "best kept secret.") 
Similarly, the "classics" we previously identified certainly remain so, but the price to live in them has increased to a level that most New York families would categorize as not-so-friendly. The median asking price for a three bedroom in Brooklyn Heights, for example—the setting for this recent eye-popping story about preschool drama, to give you some context—increased from $3.6 million to $3.8 million, which is admittedly probably small change when you're shopping in that price range. However, the rent in the area has doubled, climbing from $5,700 to $10,429. 
Trends in affordability, inventory, and urban development have paved the way for new entries on our list. One debut that may be surprising to some is Hell's Kitchen—even the name doesn't have the same refined or pastoral feel as something like "Chelsea" or "Cobble Hill." But the West Side neighborhood not only offers space at a relatively lower cost, it has benefited from major development nearby, such as Hudson Yards, continued northward expansion of The Highline, and the relocation of world-class Whitney Museum of Contemporary Art to elevated park's southern entrance—none of which existed in 2014. And, according to at least one of our school experts, it's home to some promising educational options. 
What's a "good school"
An important note about schools, since they play a key role in where families decide to live. The term "good school" can mean different things to different people. Schools have different cultures, different philosophies and approaches, and provide different services and support for students and families. Being a "high-performing" school, one with good test scores, for example, is just one indicator of a school's quality or culture, and we'd be remiss if we didn't acknowledge that many areas with strong public elementary schools are where you'll find families with significant assets. 
But without exception, you should always visit a school if you are thinking of sending your child there; visits can be both pleasantly surprising, or surprisingly disappointing, but you can't get a true feel for a school based on stats or reputation alone. 
If you're looking at public school, the experts we spoke to recommend at the very least, knowing which school district you are going to be living in. This will be the main factor that determines the schools for which elementary schools you are eligible to apply. To simplify a very complicated subject, essentially you should know that admission to an elementary school is determined by your zone, however, some schools may have seats for students outside a zone but within a particular district.
If you fall in love with a particular elementary school, make sure the address you are considering is zoned for it, being aware that living across the street from a school does not necessarily mean it's your zoned school. The only way to be sure is to call the school and ask to check the address with the parent coordinator—every school has one.
Generally speaking, public middle school admissions are done on a district level, but some schools are open to students citywide. Note that Brooklyn's District 15 and Manhattan's District 3 have switched to lottery systems for middle school—and other districts are eyeing this new model.
Finally, public high schools are a big mix—some are open to anyone in the city, some give preference to students within a specific district or area, some may offer both.
You should also know that re-zoning does happen to address issues such as overcrowding. That means you could move or rent a new place under the assumption that your baby will eventually go to a school that your address is zoned for, only to find that things have changed once you child reaches kindergarten age. Want to stay on top of the changes? You can go to the Department of Education's website to check rezoning proposals.
Want even more info? Check out Brick Underground's understanding the elementary school game in NYC. (P.S. If you're thinking of using your cousin's address to fraudulently establish residency in a school zone, know that while that's been a successful strategy in the past, you're much more likely to get caught now.) 
And, now, presenting Brick Underground's guide to the best Manhattan neighborhoods for families in 2019.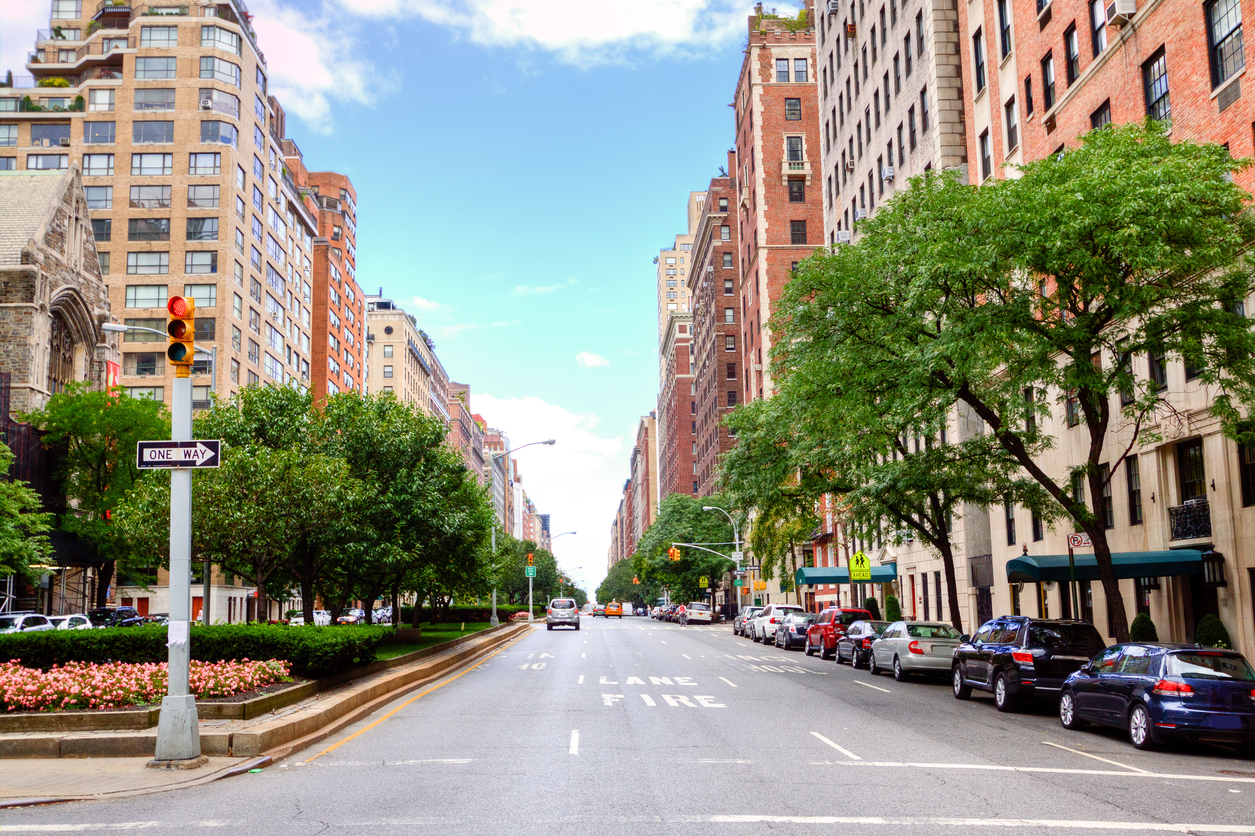 Upper East Side 
You won't find any bargains on the Upper East Side, but you will find pretty much everything else. Central Park is a major selling point for this neighborhood, as are the many world-class cultural institutions such as the Guggenheim, The Metropolitan Museum, The Frick Collection, and The Cooper-Hewitt Museum. (Smaller parks in the area include Carl Schurz Park—home to Gracie Mansion, and activities such as a dog Halloween costume parade, an Easter egg hunt, and a soon to be upgraded playground at 86th Street—and John Jay Park.) Some of NYC's best playgrounds can be found on the Upper East Side as well: The Ancient Playground, the newly-refurbished Billy Johnson Playground, and the East 72nd Street Adventure Playground, all in Central Park, as is The Central Park Zoo and a carousel. Still other popular places with families for classes, spots, and events include the 92nd Street Y and Asphalt Green Recreation Center.  
The Upper East Side is located in the NYC Department of Education's District 2, where, according to our experts, the public schools are "pretty much uniformly strong," as Zingmond puts it. However, Localize.city notes that overcrowding can be an issue, and that there is a continual shortage of free, public pre-K seats in the area. The Upper East Side is also where you'll find the largest concentration of prestigious private schools, including Dalton, Trevor Day School, Chapin, The Brearley School, and others. 
Complaints about the remote nature of parts of this neighborhood have been addressed to some extent with the addition of the long-awaited Second Avenue subway line, where all the stations are accessible—i.e., they're wheelchair and stroller-friendly—as are most stations in this area. And there is now a ferry stop at East 90th Street, providing residents another mode of commuting. 
While the increased accessibility has drawn some new development on the eastern side of the neighborhood, much of the Upper East Side is landmarked, keeping new development to a minimum and maintaining the character of the area.  
The waterfront along the East side is slated for significant improvement. Localize.city reports that "the city is revamping the entire East River waterfront between East 60th and 125th streets, making it more pleasant and accessible—similar to the transformation that occurred along parts of Manhattan's West Side."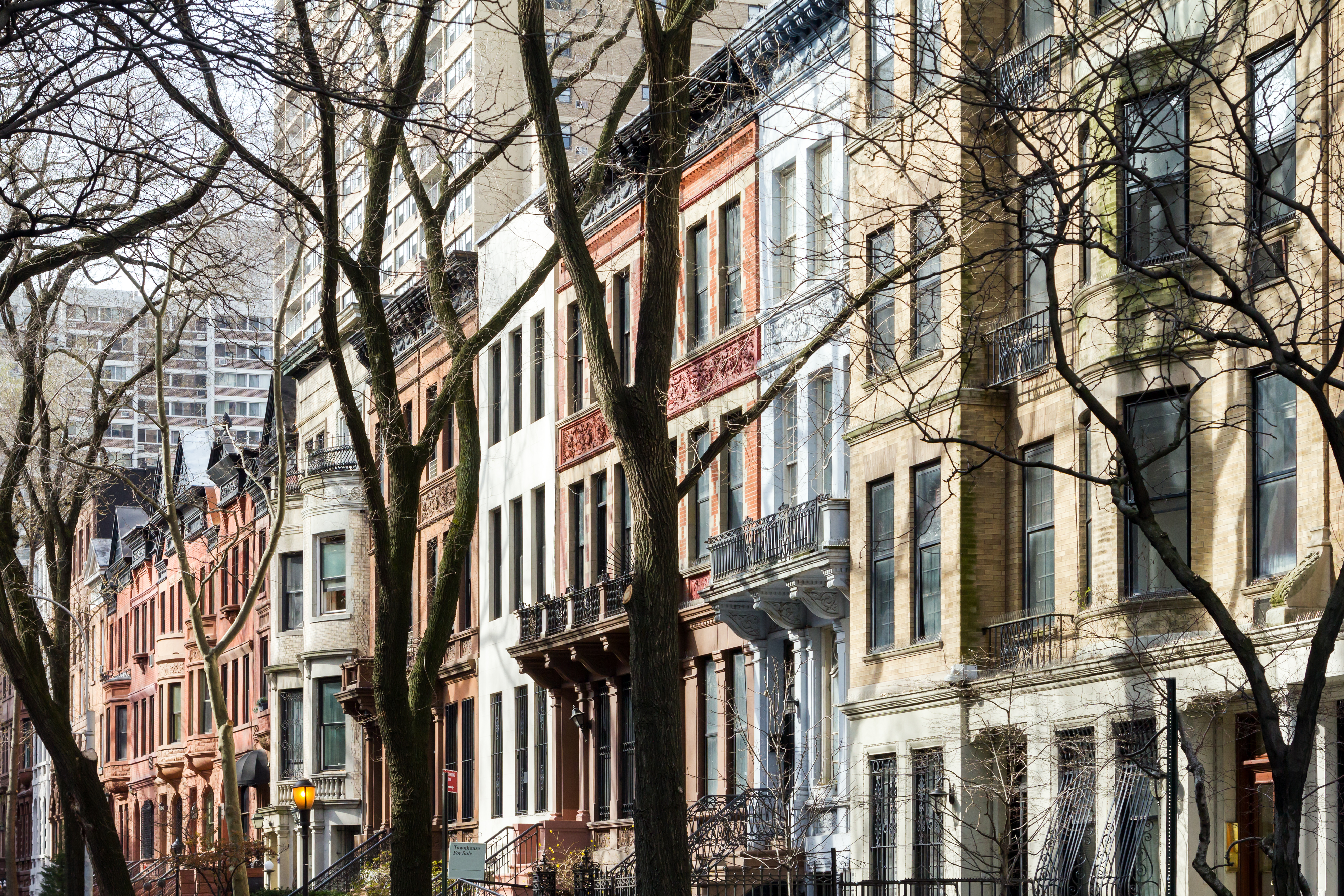 Upper West Side 
While not as tony as the Upper East Side (which could be a good, or a bad thing, depending on your perspective), the Upper West is similar to its crosstown counterpart in many ways. It has, of course, Central Park, home to the Diana Ross Playground at 81st Street, and Heckscher Playground at the south end. To the west is scenic Riverside Park, which runs the length of the neighborhood, and has the popular family spot Hippo Playground. 
While the popular Riverside Skate Park at West 109th Street is currently off-limits for reconstruction, Localize.city reports that it's expected to reopen by 2020 with a new design deemed "world class" by local skaters and will accommodate skaters of all ages and abilities. 
Localize.city also notes the debut this fall of accessible features at St. Gregory's Playground and Bloomingdale Playground. Bloomingdale, for instance, will have ramps to play structures, handicapped swings, quiet sensory spaces, adjustable height basketball hoops, and gender-neutral bathrooms. 
The American Museum of Natural History is an Upper West Side gem, and you'll also find The Children's Museum of Manhattan, the New-York Historical Society (home to a separate museum dedicated to a young audience, and frequent host of kid-friendly exhibits) and performing arts complex Lincoln Center, which in addition to favorites like The Nutcracker, stages an entire series of top-notch children's productions for all ages. The Marlene Meyerson JCC is another popular community resource, providing fitness facilities, classes, and events. 
Apparently, the Upper West Side likes family-friendly festivities: Localize.city reveals that of all the neighborhoods in the city, this area holds the most block parties on Halloween, as indicated by the number of permits filed. 
The Upper West Side has its fair share of elite private schools, such as The Calhoun School, Collegiate School, Trinity School, and Ethical Culture School. Popular public schools include P.S. 199, P.S. 87, and P.S. 9, as well as The Anderson School, which is a citywide highly-selective gifted and talented school to which 50 kindergartners are admitted each year (out of approximately 15,000 students who take the G&T test). District 3 underwent rezoning in 2017 to reduce overcrowding and improve diversity, so it's unlikely another rezoning will happen any time soon.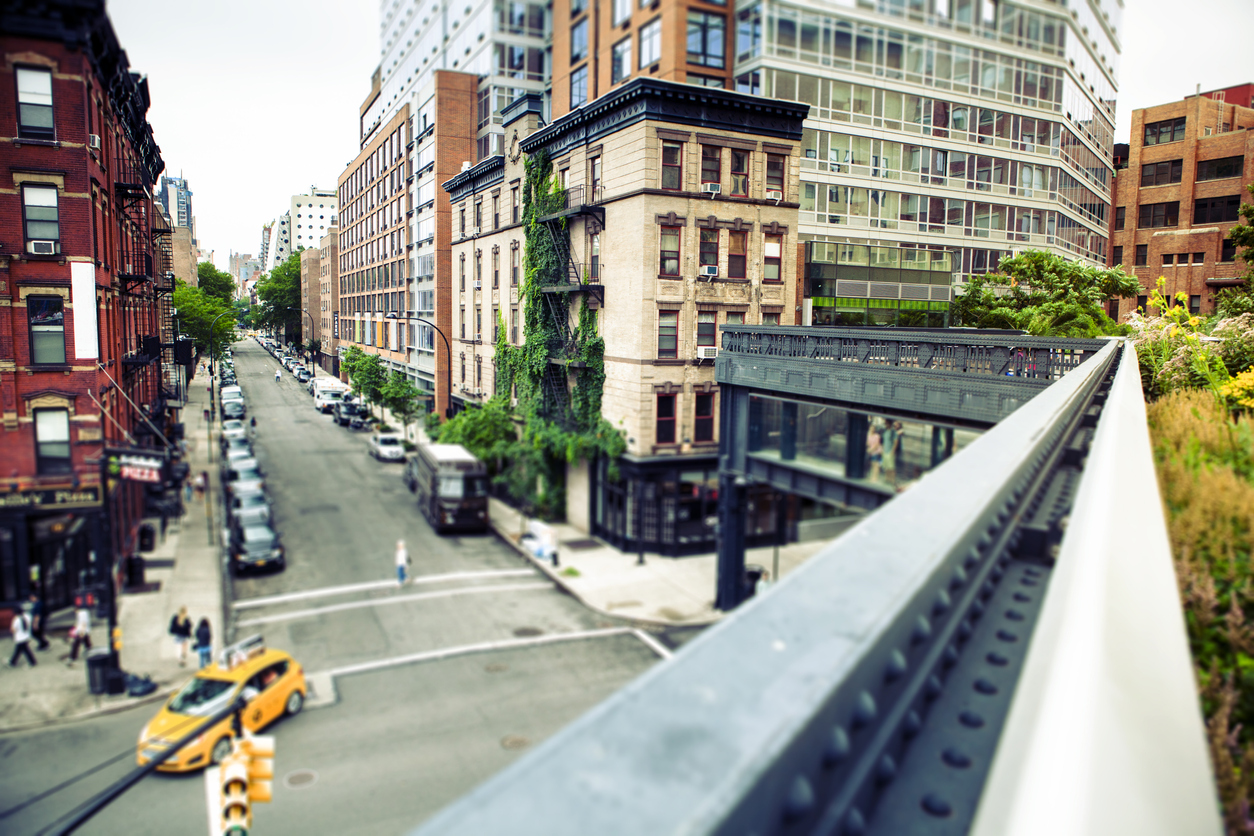 Chelsea
Offering a vibe that's a little more relaxed and funky than the Upper East and West, Chelsea draws families with its high-performing schools (the neighborhood is also in District 2), parks and facilities, and cultural hot spots. 
P.S. 33 is known for having strong general ed and G&T programs, as does P.S. 11. (Localize.city notes that the latter has grappled with efforts to bolster the school's diversity.) Neighborhood private school Friends Seminary, which is for grades K through 12, is the oldest continually co-ed school in the city. Chelsea is home to one of the most expensive private schools in the city, Avenues, and Adams notes that another popular area school is Success Academy Union Square, a charter school.
The neighborhood is a mix of activity and cute, quiet streets to the west, with a diverse array of parks that include The Highline, Hudson River Park, and Chelsea Waterside Park, the last of which recently received a major makeover.  
Localize.city reports that more open space will be added to the area in the coming years with the development of Pier 55, a privately funded project expected to open in 2021 with gardens and an amphitheater, and Pier 57, which is being redeveloped from a former sanitation facility into an open space.
For more activities for kids and adults, there's Chelsea Piers, an enormous facility with a toddler gym, ice rink, bowling alley, gymnastics space. It hosts camps, classes, and birthday parties. The Whitney Museum of American Art is just south of the neighborhood, and The Rubin Museum of Art, which holds family days and a popular annual street fest, is at its heart. The area's shopping options are a nice mix of chic and interesting (Chelsea Market is home to food vendors and upscale retail), and amazing to have nearby when you're a parent. Also in the area: Trader Joe's, Old Navy, Buy Buy Baby, and Michael's.) The popular Union Square Farmers Market, with an adjacent popular playground, is also nearby.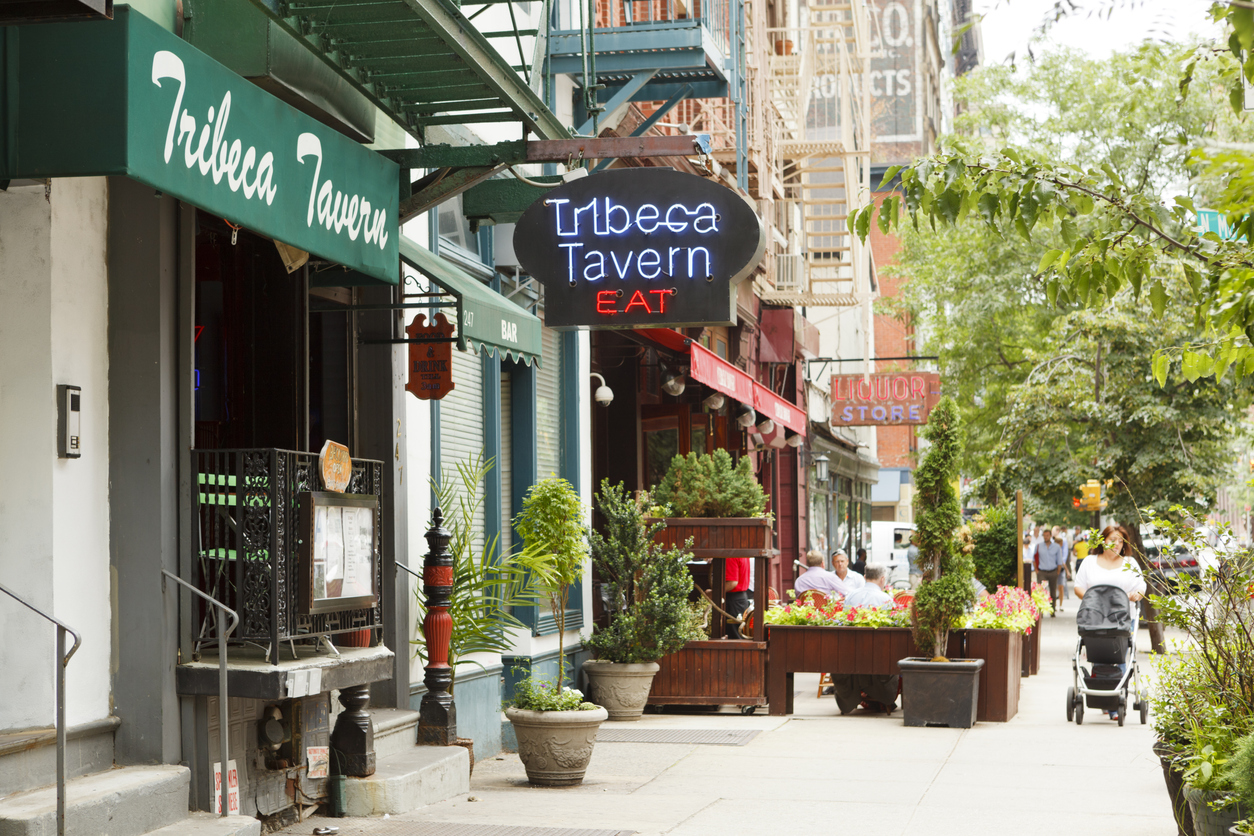 Tribeca
The Upper East Side's downtown, cooler cousin, Tribeca is family-friendly with an extra edge of exclusivity, thanks to cost and inventory. (There are currently 540 three-bedroom, two-bath apartments available on the Upper East Side, with a median listing price of $4.4 million, while in Tribeca, the median listing price for the same size apartment is $6.9 and there are just 149 on the market. Tribeca scored the highest median rent of any neighborhood on our list, at $22,500.)
"Tribeca's chic buildings with sprawling apartments have given the Upper East Side a run for its money when it comes to attracting wealthy families," says Liat Halpern, Localize.city's urban planner.
Spots that attract local families include Hudson River Park's Pier 25 (which even has a mini-golf course), and more "inland," Washington Market Park. 
Localize.city notes that Pier 26 at North Moore Street will turn into a new ecological park by fall 2020, "with two kid-sized fields and a 'science playground' that will also serve as an educational experience. Part of the pier will have a wetland tidal pool area that will be used to educate kids about climate change, the Hudson River, native birds, and wildlife."
Just north of Tribeca is the popular and innovative Children's Museum of the Arts. Play and enrichment spaces in the neighborhood are lovely and engaging—and often require some kind of membership fee. The area is, of course, home to the Tribeca Film Festival, and cinephile destination Film Forum runs a film series just for kids. 
Another District 2 neighborhood, Tribeca has strong public elementary schools; in 2009, The Spruce Street School was opened (on the first five floors of a Frank Gehry-designed skyscraper) to accommodate the area's growing number of families.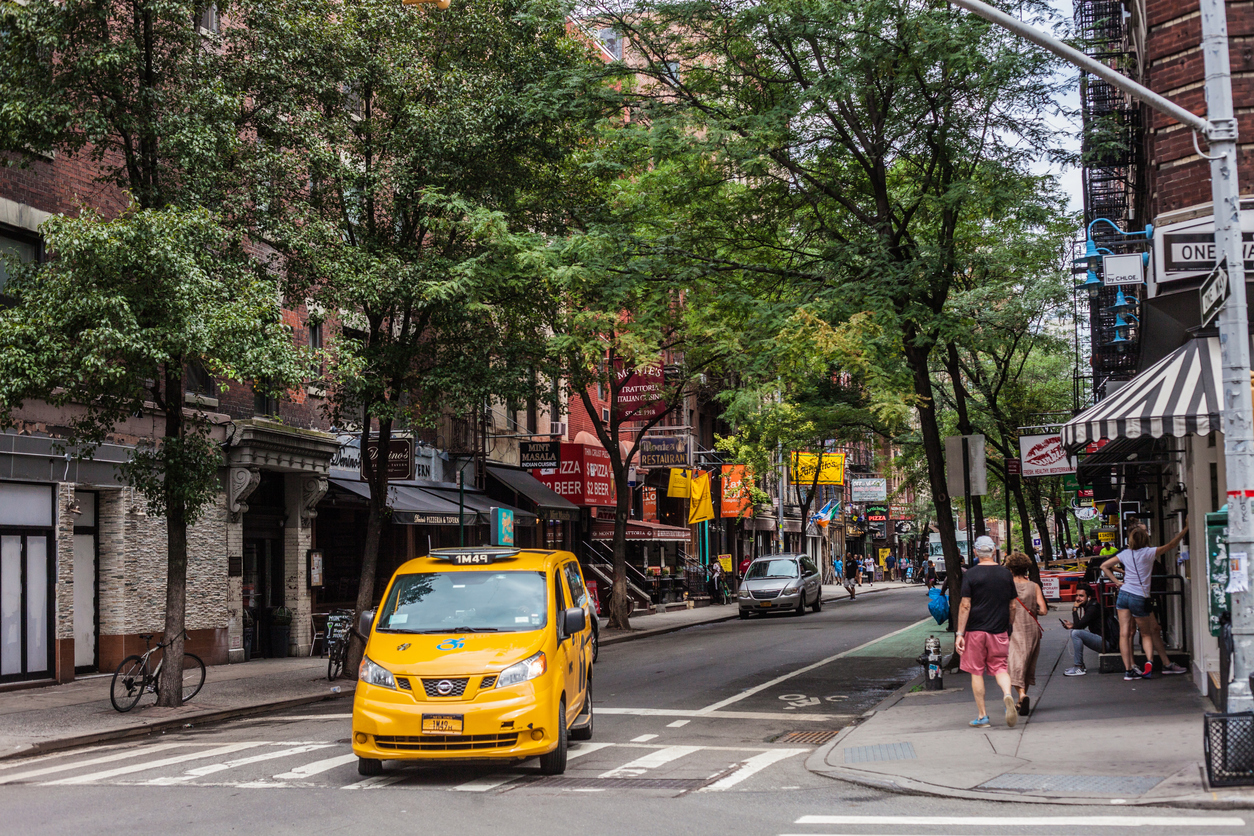 Greenwich Village
It's hard to find a New York neighborhood with more urban charm than Greenwich Village, a cozy area of landmarked and leafy winding streets lined with low-rise brownstones. It's also hard to find a place where a family can live: The neighborhood's median asking price for a three bedroom, two bath is the same as Tribeca's at $6,995,000, but there are just 41 for sale. (The median rent is an eye-popping $16,225 a three-bedroom apartment.)
Aside from the picturesque environs, The Village is home to community gathering place and informal performance venue Washington Square Park (which has a playground, dog run, large central fountain, and iconic Washington Square Arch), and Union Square and its playground are not far away. The presence of New York University is (for better or for worse) felt strongly here; the school does put on lots of family-friendly events and programming. NYU's Skirball Center frequently stages shows for young audiences, and films of all kinds can be caught at the Angelika Film Center and the IFC Film Center & Cafe. 
Yet another neighborhood in District 2, Greenwich Village is home to strong elementary schools, including P.S. 41, P.S. 3, and P.S. 340, the last of which was opened in 2014 to help alleviate overcrowding at P.S. 41.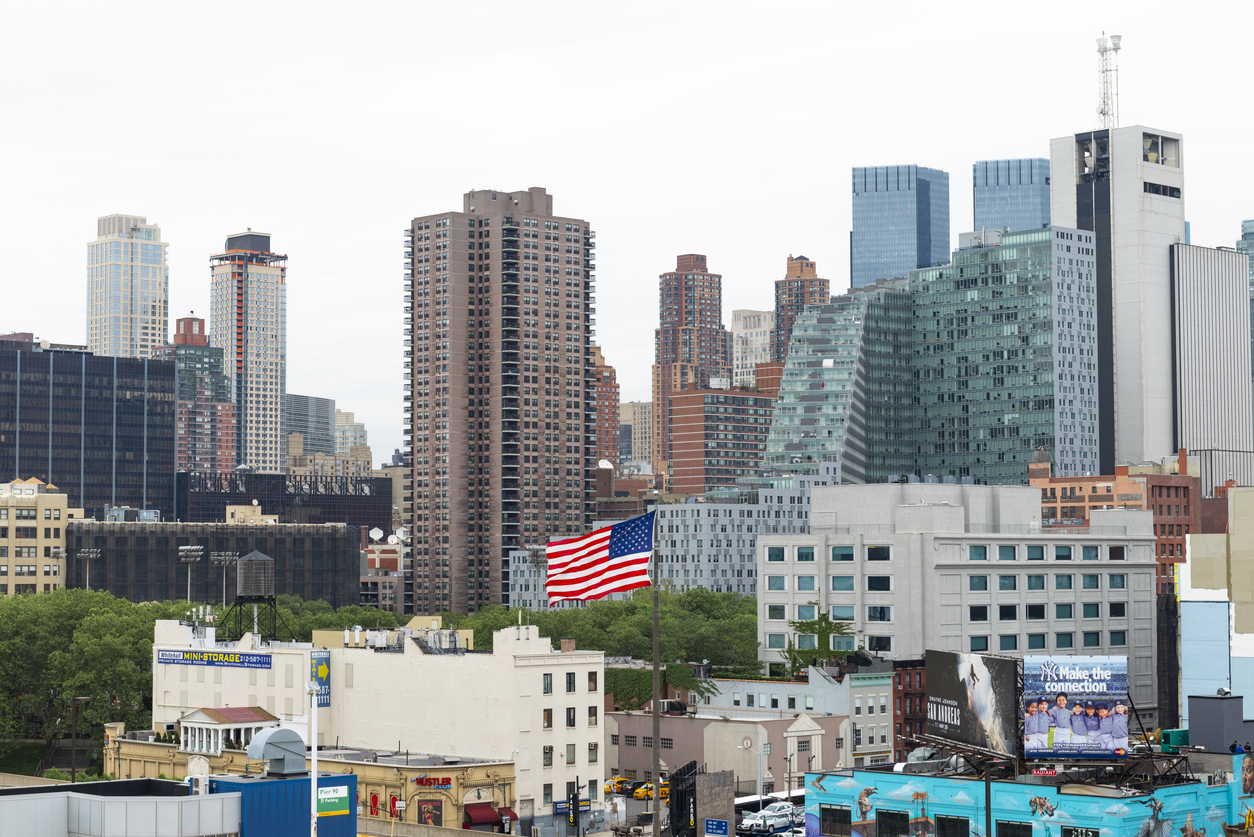 Hell's Kitchen
Compared to the quaint enclave in the city that is Greenwich Village, Hell's Kitchen feels more urban jungle, but development in and around the neighborhood makes it increasingly family-friendly. (Although admittedly, navigating the more tourist-filled streets of the area with a stroller can be a challenge.) 
With its proximity to Times Square, it's obviously a good spot for fans of theater, but beyond Broadway, the Upright Citizens Brigade Theater and Theater Row on 42nd Street often host shows for kids. The Intrepid Sea, Air & Space Museum is at 46th and the Hudson River, and the neighborhood's green space is De Witt Clinton Park, which has numerous athletic fields, a playground, a dog run and more.  The area also has a community garden that has been operating since 1978. 
The mega-development Hudson Yards, which debuted earlier this year, essentially brought a manufactured luxury neighborhood to the immediate south of Hell's Kitchen, an area previously largely industrial. Amenity-heavy buildings are going up on the far West Side of the neighborhood; a recent Localize.city analysis found that more than 40 percent of Hell's Kitchen homes for sale are in buildings with private pools. 
Hell's Kitchen is another District 2 neighborhood, although a popular elementary school in the neighborhood is P.S. 212, which admits children from throughout the district via lottery. Adams sees many parents electing to send children to G&T programs outside the neighborhood, but Aranow identifies schools such as P.S. 51 and P.S. 111 as exciting schools with strong communities and programs (P.S. 51, in particular, is known for its arts curriculum).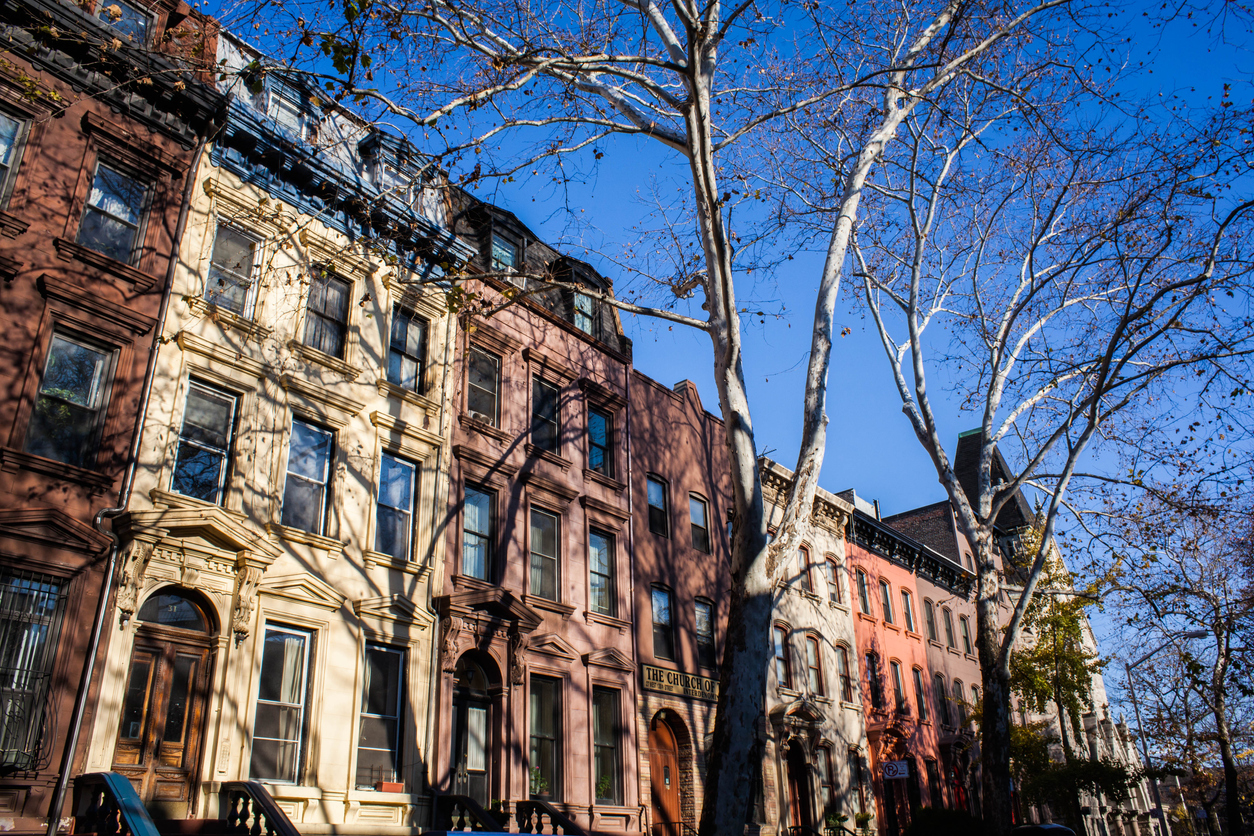 Harlem 
Harlem is a big area, and you'll find different features and character (and in some cases, school districts) in the neighborhoods of West, Central, and East Harlem. But overall, the neighborhood is home to numerous large apartments, going for fewer dollars (in some cases, significantly). As our recurring townhouse picks show, it's also an area where, if you have your heart set on living in a brownstone, this type of housing stock is more affordable than other parts of the city. 
To the west, there is Riverbank State Park, a 28-acre, multi-level complex with an Olympic-size pool, carousel, playgrounds, skating rinks, and more. More central is St. Nicholas Park, where a playground was recently renovated. The northern part of Central Park includes the man-made lake, Harlem Meer, a wildlife habitat and popular spot for catch-and-release fishing; the Charles A. Dana Discovery Center, which holds programming and events, and Lasker Rink and pool. Central Harlem also has Marcus Garvey Park, where the rec center is slated for renovation. And to the East, Thomas Jefferson Park is an active community hub, with a new skate park, playgrounds, a pool, track, and rec center. Finally, on the far north end, there is Jackie Robinson Park, slated to see major improvements by 2020. 
Cultural institutions include the Apollo Theater, and to the south, El Museo del Barrio and the Museum of the City of New York. Both museums run family-friendly exhibits and programming. The Schomburg Center for Research in Black Culture, part of the New York Public Library system, was recently upgraded and holds a wide range of events, while the northern Macomb's Bridge Library is moving to a larger, improved facility. Of course, the New York Yankees play just across the river in the Bronx. 
Three school districts cover Harlem: Northern part of District 3, District 4 (East Harlem) and District 5 (West Harlem). High performing schools in the area include public unzoned schools Central Park East 1 and Central Park East 2, with priority given first to families in District 4, and then District 5. Aranow cites District Five's P.S. 125 as an up-and-comer, and many families opt for charter schools in the area, including Success Academy, KIPP Infinity, and Harlem Village Academy. For private school, there is Harlem Academy, which has a sliding scale tuition, and the usual suspects on the Upper West and East Sides and to the north in Riverdale.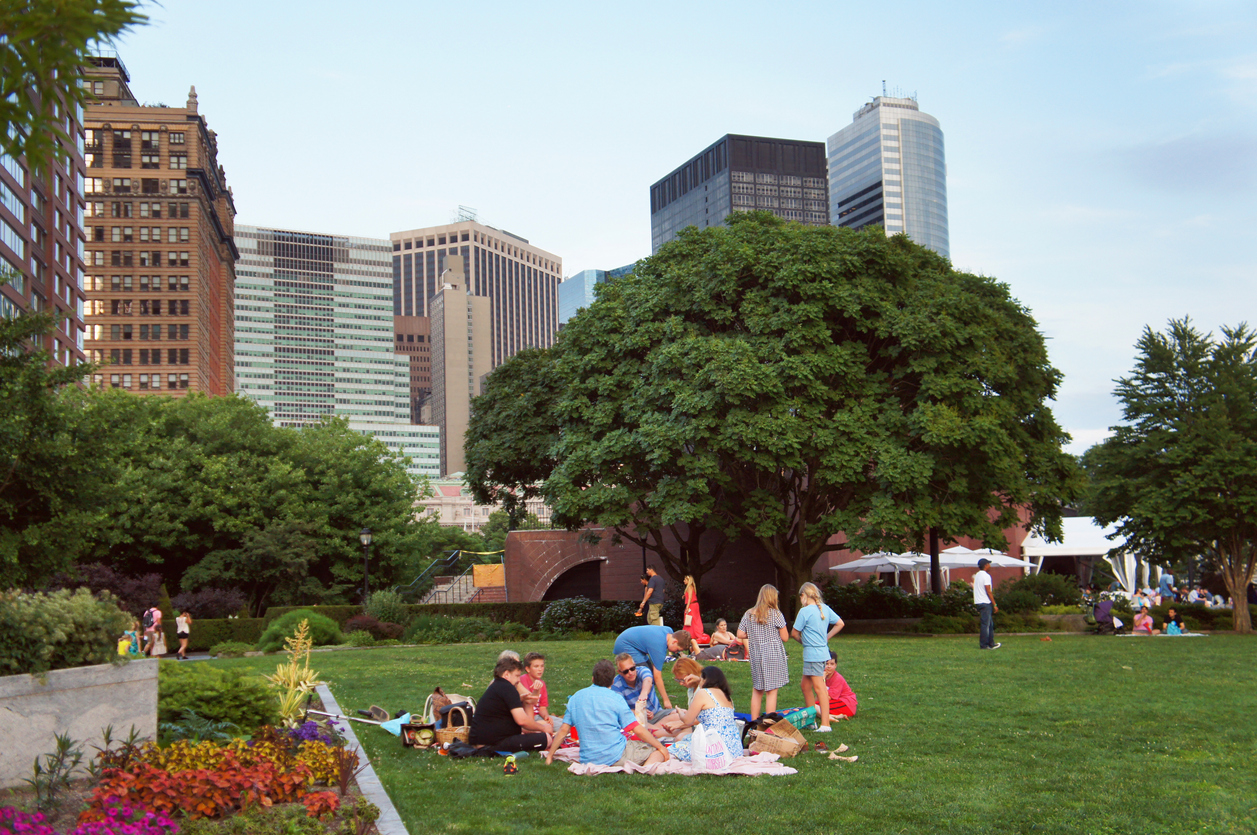 Battery Park City 
Far west and downtown (and, incidentally, largely built on land leased from the City of New York) Battery Park City is like its own little village on the other side of the West Side Highway. "But even if you never left the area, you'd have enough kid-friendly things to keep you busy, from sandboxes and slides to little league games and sailing lessons. Moreover, a lot of the buildings target families with family-sized apartments and kid-focused amenities like playrooms and pools," says Doneliza Joaquin, Localize.city lead urban planner. Thanks to its relative youth, the neighborhood is also where you'll find a high concentration of LEED-certified buildings in the city.
Conveniences for families include numerous parks and green spaces; grassy fields can be found in Rockefeller Park, and Teardrop Park is a popular, secluded spot with a slide built into a hill. Playgrounds can be found throughout the neighborhood, and courts for playing basketball to volleyball and baseball, and ping pong tables are here as well. Athletic Center Asphalt Green has an outpost here, and Stuyvesant High School, located within Battery Park City, has a community pool and center. The area's riverside esplanade runs the length of Battery Park City and provides great views of the Hudson, the Statue of Liberty, and beyond.
Brookfield Place is a high-end mall with shops, a curated food court, restaurants, an ice rink, and a lively programming lineup of art installations, performances and events—many of which cater to families. More retail is available a bit east, including Whole Foods, Target, Bed Bath & Beyond, and Westfield World Trade Center Mall in The Oculus. Battery Park City also has its own Regal Battery Park multiplex and Shake Shack. 
Battery Park's Seaglass Carousel (a merry-go-round of spinning, illuminated fish) is a big draw for both locals and tourists alike, and the addition of a "PlayScape" of treehouse-style play spaces, a puppet theater and a rock climbing wall  to the park are apparently in the works. 
Also a part of Manhattan's robust and sprawling District 2, Battery Park is served by several strong public schools, including P.S. 89, P.S. 276, P.S. 343, and Tribeca's P.S. 234.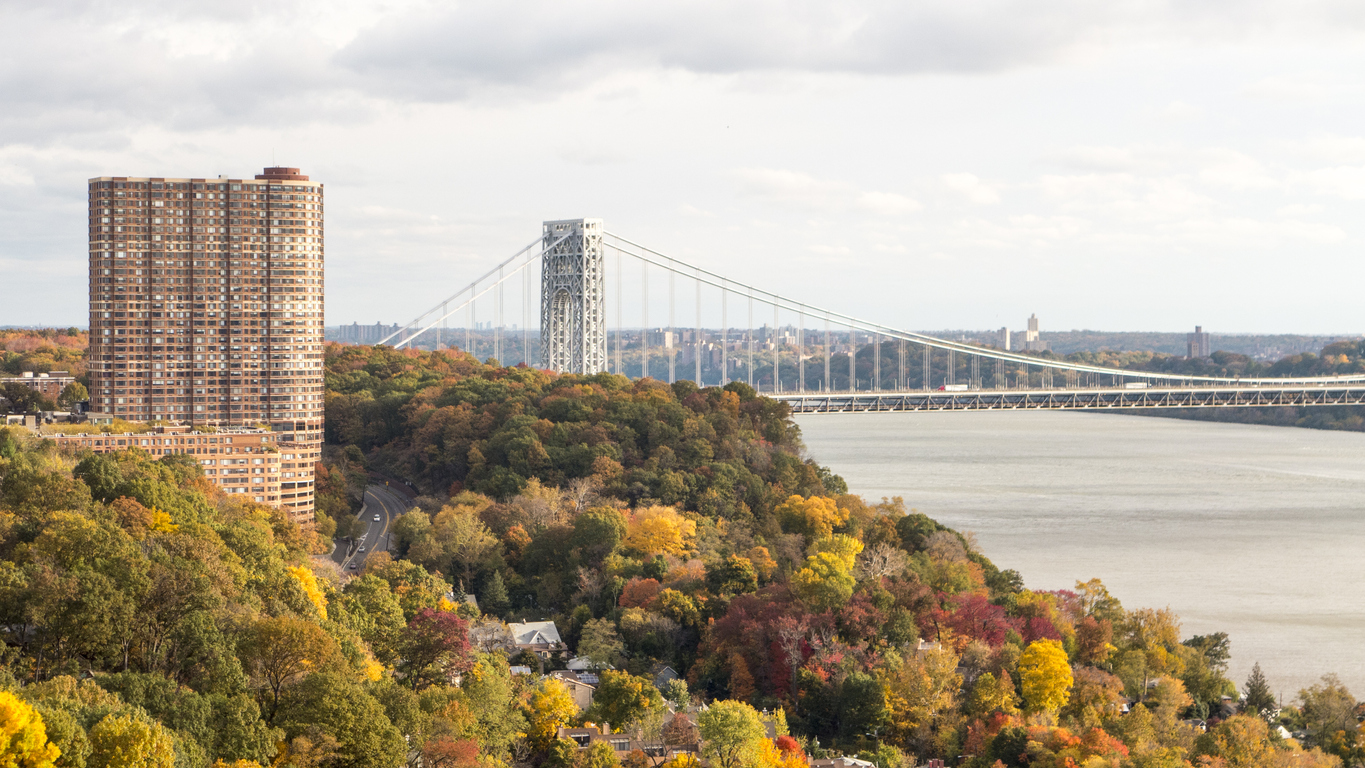 Washington Heights 
Washington Heights doesn't have a lot of inventory (just eight apartments for sale, and 18 for rent) but this neighborhood in the northern reaches of Manhattan does offer affordability—the median asking price is $1,350,000, while median rent is $3,800. 
And breathing room—located on the upper ridge of the island of Manhattan, Washington Heights provides stunning views of New Jersey's Palisades and the Hudson River. You're never too far from green space here: Fort Washington Park is to the west, while Fort Tryon Park (home to The Cloisters and the four-season, three-acre, Heather Garden) is to the north and features year-round programming and events. Highbridge Park, which in 2015 re-opened its namesake structure spanning the Harlem River, The High Bridge, recently saw the addition of a skate park and the renovation of the park's rec center. According to Localize.city,  a $30 million overhaul of the park, expected to be completed by January 2021, includes a new adventure playground, basketball courts, and synthetic turf practice field. Additionally, a $7.7 million renovation of Audubon Playground is expected to bring new play structures, swings, courts and water features by spring of 2020. 
The local library is a major resource in the neighborhood; its 3,300-square-foot children's room is one of the largest in the New York Public Library system, and the branch also has a 3,750-square-foot teen area and tech center. The area's Armory Track hosts athletic events and youth programs, and New York-Presbyterian/Columbia University Irving Medical Center is also located here. 
P.S. 187 is a popular public K-8 school here, however, over-crowding is an issue. The Muscota New School, or P.S. 314, is an un-zoned progressive school in the area, while P.S. 513 Castle Bridge School is an in-demand bi-lingual, progressive school participating in a city pilot program to improve diversity by reserving a certain percentage of seats for children from low-income families or who have families impacted by incarceration. 
Brick Underground articles occasionally include the expertise of, or information about, advertising partners when relevant to the story. We will never promote an advertiser's product without making the relationship clear to our readers.