If you're looking to buy a home in New York City and you haven't been in the market recently, you will find that searching online has become both easier and more empowering—thanks to a technological race among competing search sites that has produced, among other things, tools and filters you can use to customize your search and dig up more information than ever about an apartment, building, or neighborhood.
"We're hitting a new milestone in the real estate tech sector. Now, the major portals are offering nearly identical search results. As a result, the differentiating factors becomes context, analysis, and data layers," says Constantine Valhouli, founder of NeighborhoodX, a real estate research and analytics firm.
Pro Tip:
Whether you decide to buy a co-op or condo, did you know you can receive a buyer's rebate from your broker? Buying with Prevu you'll pocket a rebate of two-thirds of the commission paid to the buyer's broker at closing.  On a $1.5 million condo, you'd receive up to $30,000. Click here to learn about Prevu's Smart Buyer Rebate.
Read on for Brick Underground's recommendations for the best NYC listings websites. If this is your first time buying in New York, be sure to also check out Brick Underground's How to buy a co-op or condo apartment in New York City: A comprehensive guide.
Most New Yorkers rightfully keep at least one eye trained on StreetEasy when searching for a place to buy. The site, built by and for New Yorkers (and now owned by Zillow Group), continues to offer unmatched detail when it comes to pricing history: You can see prices for previous sales of the place you're interested in as well as for other apartments in the building, including the closed sales price and the asking price, which is very helpful when you're ready to make an offer.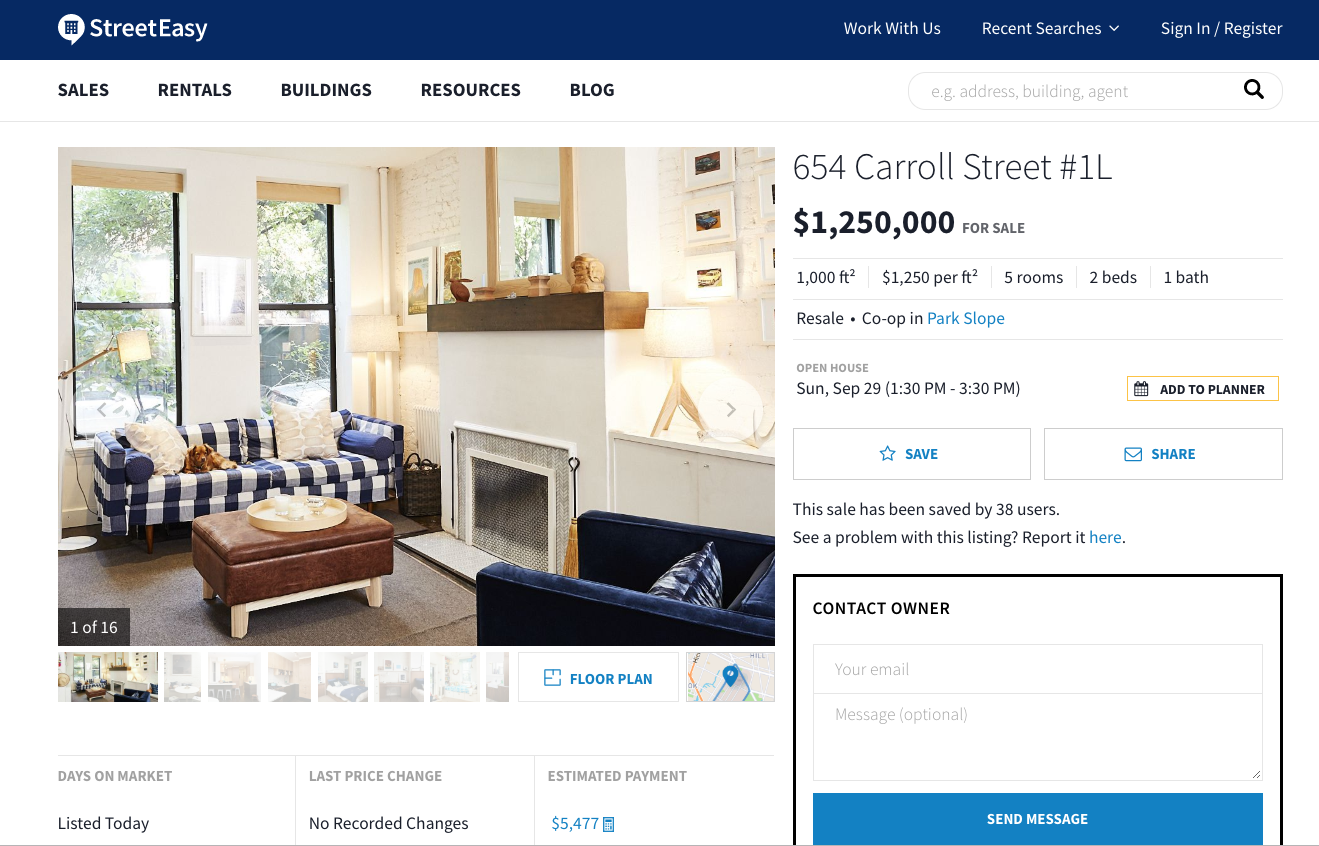 User experience
You can refine your apartment search by a number of factors, from the basics—co-op vs. condo vs. townhouse, number of bedrooms and bathrooms, square footage, and neighborhood—or an advanced search, with price per square foot and monthly charges, as well as amenities like fireplaces, dishwashers, swimming pools, FiOS wiring, and more. Search results are very user friendly and easy to scroll through (although it would be nice if the map remained visible once you click into a listing).
Individual listings include price history, proximity to transit, days on market, and monthly charges. If you want to dig deep, you can find out a lot of intel about the building you are considering, for example what other apartment layouts in the building look like, to see what else may come on the market that may suit your needs better.
One thing to keep in mind if you're looking for the freshest apartments to hit the market: It may take 24 to 48 hours for brokerage listings to reach an aggregator site like StreetEasy or Zillow. And there are a handful of listings that aren't shared with the aggregators at all. 
Note: Up to three agents per listing may be featured as building "experts" next to a listing. None of these are the listing agent. They're real estate agents who've closed a certain number of deals in the building in the last several years and thus have relevant experience within a specific building—for example, insights on how to manage the board approval process and the likelihood of being able to add a washer/dryer or central air conditioning to a prospective apartment—and who pay a fee to StreetEasy.
If no building experts are listed, and you fill out the contact form offering you to introduce you to a buyer's agent, you won't be introduced to the listing agent; you'll be introduced to an agent who may or may not have experience in the building and is paying StreetEasy a fee if you buy an apartment through them.  
So if you are hoping to gain a competitive or financial advantage by dealing directly with the seller's agent, keep digging: Go to the website of the brokerage that's listing the apartment (at this writing, StreetEasy puts this information discreetly above the contact box) and type in the apartment address to find the listing agent and deal with them directly.
New from StreetEasy this year:
A map-your-commute tool (exclusively on the app for now) enables you to input your work address and see how long your commute to the office (by public transportation, car, or foot) would be from every listing you look at.

An updated data dashboard, a tool that displays data and trends in a neighborhood—for example, median recorded sales price and how it's changed over time, and price cuts sellers are offering in the area—and compares these stats to other nearby neighborhoods.
Special features
StreetEasy has an app for iPhone and Android; you can save searches and get email updates that reflect new listings that fit your search parameters. 
Localize.city launched in New York City last year as a real estate information site that uses artificial intelligence to provide a snapshot of any address in the city—letting you know, for example, whether there's construction coming to the immediate neighborhood, or how much shade you can expect in an apartment you're considering. 
This year, the site added apartment listings, with an innovative twist well-suited to newcomers or New Yorkers who are looking for a new neighborhood: Instead of (or in addition to) searching by geographic location, you can search by quality-of-life and other factors such as top schools, parks, quiet streets, low crime, and dog parks, surfacing prospective homes that meet these highly specific criteria. 
For a couple with a new baby, for example, "We can tell them what neighborhoods are good for parents, tell them about commutes and other details. We can find places they weren't thinking of," Localize's Steve Kalifowitz previously told Brick Underground.
Discover off-market properties in your dream neighborhood that perfectly suit your needs and budget. Meet and deal with sellers before their apartment hits the market.
Let Triplemint's off-market team give you exclusive access to apartments in your price range and desired neighborhood that no one else has seen. More options, less competition, no bidding wars. 
Listings come directly from all of New York City's biggest brokerages, and the majority of the smaller firms throughout the five boroughs, as well as from the Real Estate Board of New York, the city's real estate trade association, which has about 500 residential brokerage members.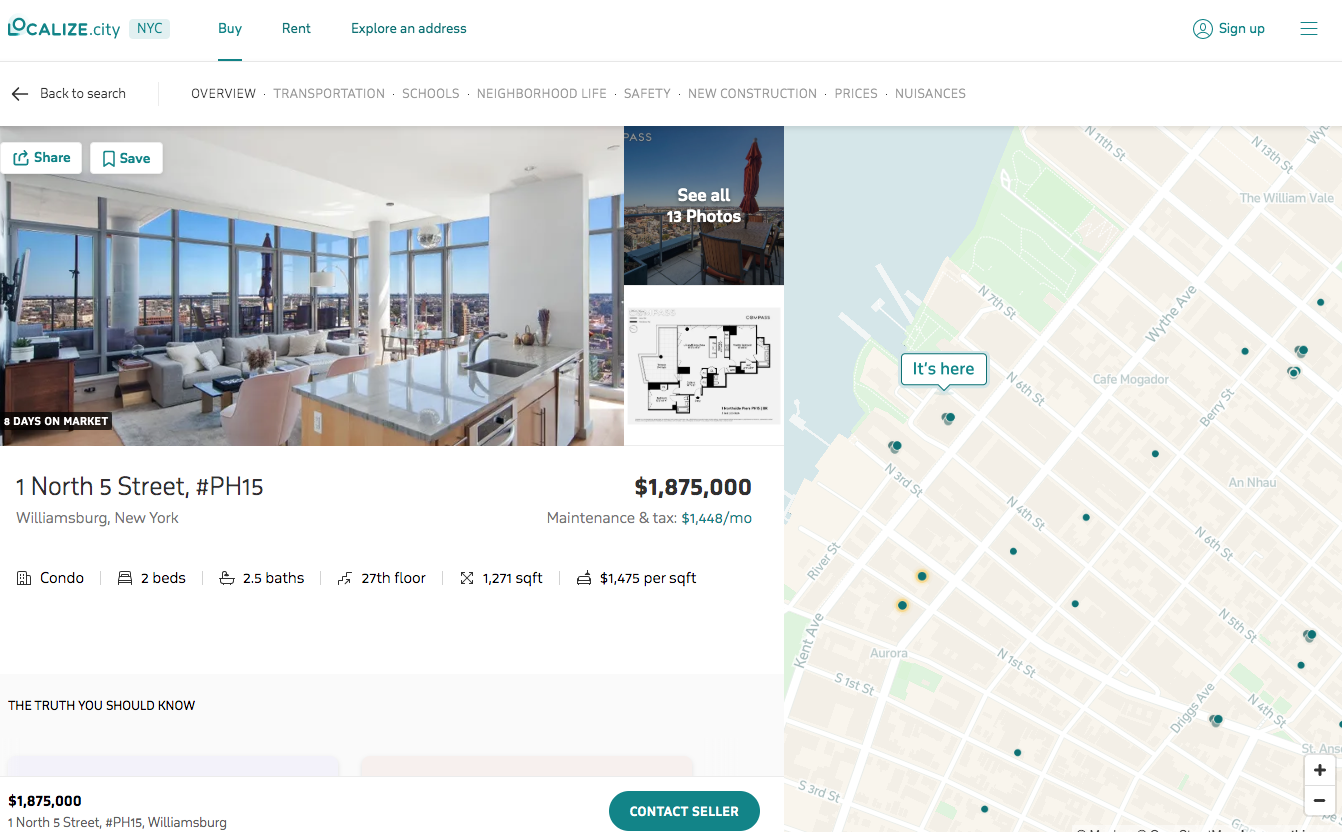 User experience
Localize.city has a highly interactive map that's fun to use (the company's creative director is Mushon Zer Aviv, who led map development at Waze), which shows you options that fit your criteria, and once you make a selection, you get a detailed report about the address. 
The amount of negative information presented about an address, like blocked views, noise, or even vermin problems is pretty refreshing (and gutsy) for a listing site. The company says it aims to educate users and prime you to ask probing questions about an apartment.
A price analysis for each listing includes a comparison of monthly fees: Pop-ups alert you when monthlies are significantly cheaper or more expensive than comparable units on the market.
Special features
Localize's commute calculator, which times your route via car, bike, car or walking, is handy, as is school zoning information (but you should always confirm school information directly with the school you want your child to attend). You'll also find an overview of nearby businesses within walking distance, highlighting coffee shops, gyms, daycares and pharmacies. Localize can tell you whether the place you're looking at will have constant noise from planes flying from Newark, LaGuardia and JFK or whether you're in the flight path of a helicopter. You can see whether construction may block your views. And you can learn costs such as flood insurance that may be required for homes in a flood zone.
Outside of New York City, Realtor.com is the dominant, go-to website for real estate buyers, and until recently, hasn't been thought of as a place New Yorkers would use to look for apartments. But that's starting to change. The site has sharpened its focus on New York City and added a new landing page geared for NYC that gives buyers the ability to search by neighborhood. It has also added individualized building pages that list building facts, status of all units, amenities, nearby transportation, and schools. Monthly maintenance fees have been incorporated into the mortgage calculator.
Like Localize.city, Realtor.com receives listings from REBNY. Listings also come from brokers and other vendors that New York City brokers use to submit their listings and syndicate them.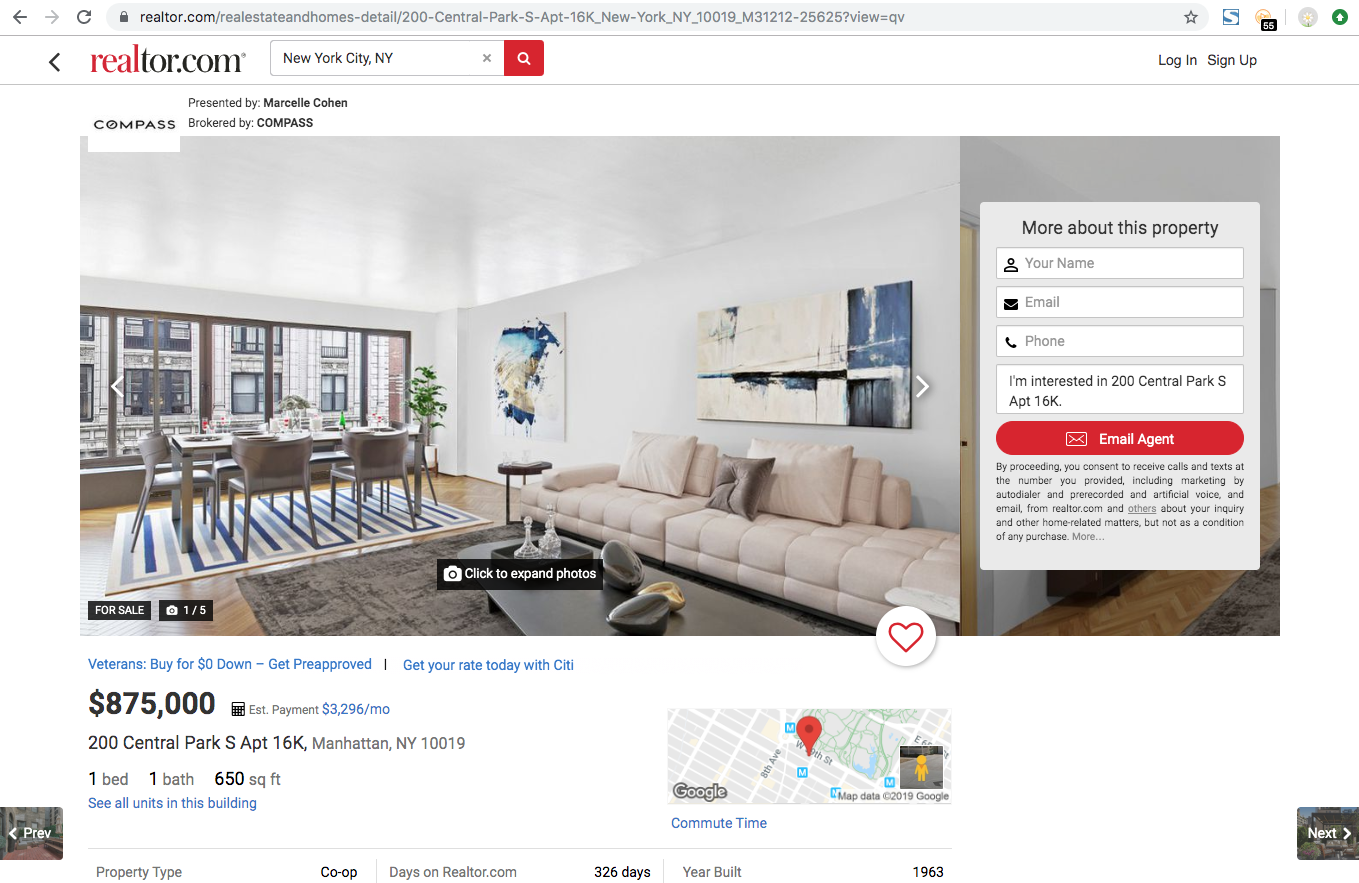 User experience
To search, you can browse by price, size, and property type. (Listings tagged "new three hours ago" definitely get your attention.) Other filters include number of days listed, open houses, square footage, new construction, existing homes, price reduced, and listings with open houses.  It's handy to be able to search by both price and square footage parameters. (Why waste time mooning over places that fit your budget but not your stuff). And it's helpful to have the neighborhood median sales info, plus median sales info for nearby neighborhoods, presented directly on the listing page for a fast comparison. You can also see open house times and get driving directions.
Visually, the site is on the plain side, and the information is spaced out, requiring a lot of scrolling to see everything on a page. One regrettable difference from StreetEasy (and to some extent Localize) is sparse information on past sales history and details on other apartments in the building. So you can't see what the apartment previously sold for, or what other apartments in the building went for. 
Special features
Listings are updated every 15 minutes, according to a spokesperson, and Realtor.com's smartphone app sends alerts on new listings and price reductions. If you are out and about in a neighborhood where you're looking to buy and spot a Realtor.com for sale sign, you can take a picture of the sign and the app's "Sign Snap" will give you details about the listing.
Beyond the portals: brokerage sites
When expanding your search to individual brokerage websites, keep in mind that user experience varies widely, depending on the amount of money and tech talent deployed by a particular brokerage. Also be aware that a brokerage may give more emphasis to its own listings versus competitors' listings obtained through REBNY and other feeds. 
Pro tip: To gain a competitive edge over buyers who rely only on the listings platforms listed above, visit a variety of brokerage websites and sign up to receive alerts. Why? Because brokerages that belong to REBNY (which includes most in Manhattan as well as many in Brooklyn and Queens) have up to 48 hours to share their listings with other REBNY brokerages. During that 48-hour period, brokerages can market listings exclusively to their own buyers in hopes of capturing both sides of the commission—so if you sign up to get alerts, you may get a jump on an exclusive listing during that window.
We've listed some reputable brokerages alphabetically below. For a more extensive list of REBNY-member brokerages, click here.
Bohemia Realty Group (Upper Manhattan)
Brown Harris Stevens (NYC and the Hamptons)
Compass (NYC and the Hamptons)
Corcoran (NYC and the Hamptons) 
CORE (Luxury NYC) 
Douglas Elliman (NYC, Long Island, Westchester, and the Hudson Valley) 
Halstead (NYC, Long Island, Westchester, Hudson Valley, New Jersey, Connecticut) 
Keller Williams (NYC) 
Klara Madlin Real Estate (Upper West Side)
Modern Spaces  (Queens and Brooklyn)
Prevu (NYC and Connecticut)
Triplemint (NYC and Hudson County, NJ)
Warburg (Manhattan) 
---
Editor's Note: A previous version of the article ran in November 2017 featuring reporting and writing by Alanna Schubach.  It has been updated with new information for October 2019.
---
Brick Underground articles occasionally include the expertise of, or information about, advertising partners when relevant to the story. We will never promote an advertiser's product without making the relationship clear to our readers.