Sales Market
The 3 best websites for buying a co-op or condo apartment (or entire brownstone) in NYC
StreetEasy offers detailed pricing history for each listing and has been NYC's go-to website for years
Brand-new Citysnap gives buyers access to the same listings and data sourced by agents and brokers
National heavyweight Realtor.com has a dedicated NYC landing page that lets you search by nabe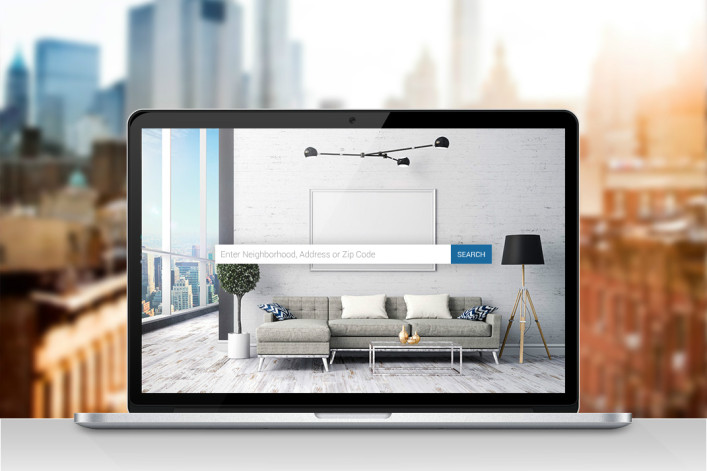 If you're looking to buy an apartment or house in New York City and haven't been in the market recently, you will find that searching online is much easier than before, thanks to a technological race among competing search sites.
These days, you have an increasingly wide array of tools and filters to customize your search and dig up more information than ever about an apartment, building, or neighborhood. You can even do a virtual tour of many places from the comfort of your own home—a valuable feature if you are hundreds or thousands of miles away. 
Prior to the pandemic, this emerging technology was a nice-to-have, and then it became an absolute necessity for buyers, sellers, and brokers. That development continues to improve virtual apartment tours, with new bells and whistles added all the time. So even though you are advised to see a place in person—it's GTK you can weed out all but your faves to save time, energy, and emotional reserves before hitting the pavement. Or you can land something remotely if that's the only option.
Read on for Brick Underground's recommendations for the best NYC listings websites. If this is your first time buying in New York, be sure to also check out Brick Underground's "How to buy a co-op or condo apartment in New York City: A comprehensive guide."
1) StreetEasy
Most New Yorkers rightfully keep at least one eye trained on StreetEasy when searching for a place to buy. The site, built for New Yorkers and now owned by Zillow Group, continues to offer comprehensive detail when it comes to pricing history: You can see prices for previous sales of the place you're interested in as well as for other apartments in the building, including the closed sales price and the asking price, which is very helpful when you're ready to make an offer. 
Brokers are also fans. "I use this most frequently; for buyers, it's good because you can see what is actively on the market and what has recently traded, and it is overall easy for any buyer to use," says Jeremy Kamm, an agent at Coldwell Banker Warburg. "When searching for properties in general, you can use many different filters and set up alerts so you can track the properties you are most interested in."
One thing to keep in mind if you're looking for the freshest apartments to hit the market: It may take 24 to 48 hours for brokerage listings to reach an aggregator site like StreetEasy or Zillow. And there are a handful of listings that aren't shared with the aggregators at all.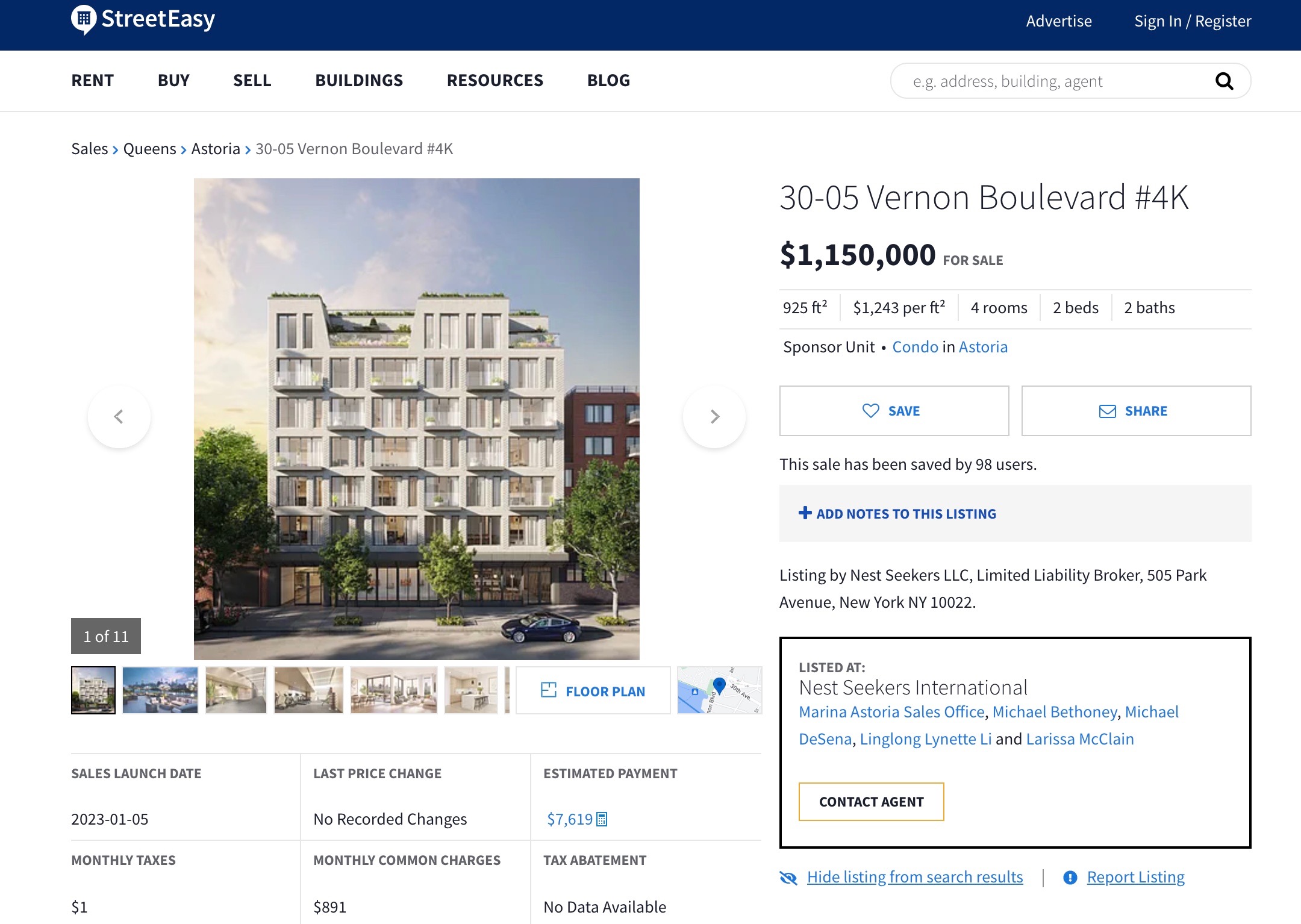 User experience
You can refine your apartment search by a number of factors, from the basics—co-op vs. condo vs. townhouse, number of bedrooms and bathrooms, square footage, neighborhood, and pet policy—or do an advanced search, with price per square foot, monthly charges, and property taxes as well as amenities like a fireplace, dishwasher, private outdoor space, swimming pool, and Fios wiring. You can also limit the search to sponsor units or income-restricted properties. Only want to see listings with video or 3D tours? Tick either those boxes (or both). 
Search results are user friendly and easy to scroll through (although it would be nice if the map remained visible once you click into a listing, though this is true of all three websites).
Individual listings provide price history (including what previous owners have paid for a property and what it's been listed on the market for), proximity to schools, transit, days on market, and monthly charges. If you want to dig deep, you can find out a lot of intel about the building you are considering—for example, it can be helpful to see other apartment layouts in the building in case those suit your needs better.
Pro Tip:
Looking to buy a co-op apartment?  National Cooperative Bank offers competitive rates and easy pre-qualification. With 40 years of lending to buyers in New York City, NCB is the bank for co-ops. After all, Cooperative is our middle name! Call us at (202) 349-7455 or email Ryan Greer [email protected] #507534. Equal Housing Lender.
Buyer vs. seller's agents
One big improvement is that StreetEasy now provides the name of the seller's agent under "About the Listing," before the property description. The listing company is also identified (discreetly) after the asking price to the right of the photo gallery. An exception seems to be when a listing is designated as contingent, in which case no seller or listing agent is provided; instead, you can use the "email the owner" option. 
In addition, under the StreetEasy Expert program, one vetted agent may be featured on every listing page; most often, this is someone who has previous experience within a specific building, such as closing a certain number of deals there in the last several years. According to StreetEasy, these Experts are agents who are trusted by StreetEasy and meet their standards of service and market expertise. "We use a data-driven approach to match buyers with agents based on the specific building, neighborhood, and price point."
Kamm is one such Expert and acknowledges that this can be confusing for buyers looking on their own. "StreetEasy has programs for paid space, where agents are sometimes positioned front and center on the listing for inquiries. Agents can pay to reserve the contact box, but it is very expensive."
For example, when you click on the "Schedule a Showing" or "Ask a Question" button, you are linked to a StreetEasy Expert—not the listing agent, though the pop-up inquiry form is transparent about the agent being part of a "paid advertising program."
When Kamm receives such an inquiry through this program, he says he first tells the buyer who he is and how the inquiry arrived in his inbox. "I then give the buyer the opportunity to choose whether they'd like to explore working together or if they would prefer to reach out to the listing agent directly," he says.
But if you are hoping to gain a competitive or financial advantage by dealing directly with the seller's agent, you'll want to stick with the provided contact. There is, unfortunately, still no way to link to the seller's agent or listing company from StreetEasy, so you'll need to go to the brokerage's website and search for the apartment address or the agent's name to find the source listing.
That said, having your own broker has its advantages when it comes to the negotiating table. "Ultimately, our focus is on buyer education and creating buyer choice. Buyers have the option on a listing to contact either the StreetEasy Expert buyer's agent to represent them or the listing agent who represents the seller, but we think it's important that buyers understand what it means to work directly with a seller's agent who has a fiduciary responsibility to the seller and only the seller," the spokesperson says. 
Special features:
StreetEasy has an app for iPhone and Android; you can save searches and get email updates that reflect new listings that fit your search parameters. 
A map-your-commute tool (exclusively on the app) enables you to input your work address and see how long your commute to the office (by public transportation, car, or foot) would be from every listing you look at.
There's an updated data dashboard, a tool that displays data and trends in a neighborhood—for example, median recorded sales price and how it's changed over time, and price cuts sellers are offering in the area—and compares these stats to other nearby neighborhoods. 
Introduced in summer 2022, StreetScape is a proprietary augmented reality feature of the app that allows you to scan your surroundings with your smartphone to reveal floating icons in front of residential buildings. You can then click the icons to "look inside" the building and quickly learn more about the building and its amenities, discover units available on StreetEasy, and view photos, floor plans, and virtual tours of the building's units. Think of it like scanning a QR code over any building with listings on StreetEasy.
New tools for buyers include an amenities filter for the map feature and a calculator that takes into account the sale price and down payment, interest rate and term, common charges, maintenance, and monthly taxes to provide an estimated all-in-one total monthly payment.
2) Realtor.com
Outside of NYC, Realtor.com (a Move, Inc. brand) is the dominant, go-to website for real estate buyers—and until recently, hasn't been thought of as a place New Yorkers would use to look for apartments. But that's changed somewhat thanks to recent improvements.
For starters, the site sharpened its focus on NYC and added a landing page geared for NYC that gives buyers the ability to search by neighborhood and provides a mortgage calculator front and center, followed by "new listings" added as recently as 30 minutes ago. It has also added individualized building pages that list building facts, status of all units, amenities, nearby transportation, and schools. 
Realtor.com receives listings from REBNY, brokers, and other vendors that NYC brokers use to submit their listings and syndicate them. The listing agent is provided above the main photo for each search result, without having to open the listing. 
User experience
To search, you can browse by price, size, and property type. (Listings tagged "new one hour ago" definitely grab your attention.) Other filters include number of days listed, square footage, new construction, existing homes, price reduced, and listings with open houses. It's handy to be able to search by both price and square footage parameters. (Why waste time mooning over places that fit your budget but not your stuff). And it's helpful to have the neighborhood median sales info, plus median sales info for nearby neighborhoods, presented directly on the listing page for a fast comparison. You can also see open house times and get driving directions.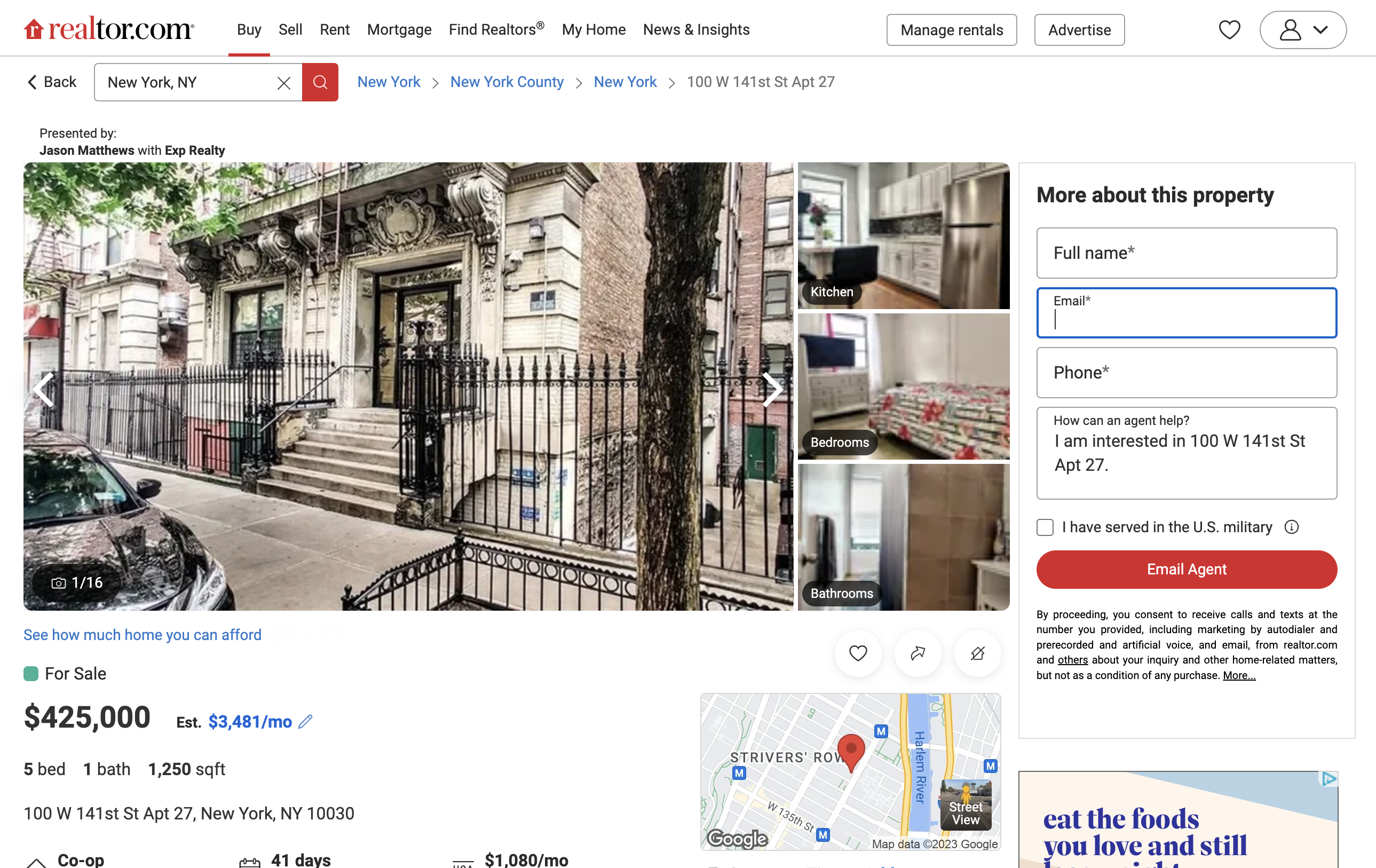 The photos are conveniently grouped into "kitchen," "bedrooms," and "bathrooms" so you can easily jump to what's most important to you (as opposed to swiping through a gallery of 28 photos). 
Visually, the site is on the plain side, and the information is oddly spaced, requiring a lot of scrolling to see everything for each listing. Plus, you have to dig around for previous pricing information—it's all there and in great detail once you know where to find it (just scroll down until you see Property History). On the plus side, you can layer nearby schools, transit (subway stations, bike lanes, and traffic info), and local amenities (coffee shops, grocers, restaurants, and gas stations) on the map. And a snippet of the map shows on the listing once you click on it, unlike with StreetEasy. 
Special features
Listings are updated every 15 minutes, according to a spokesperson, and Realtor.com's smartphone app sends alerts on new listings and price reductions.
If you are out and about in a neighborhood where you're looking to buy and spot a Realtor.com for sale sign, you can take a picture of the sign and the app's "Sign Snap" will give you details about the listing.
Realtor.com improved its 3D home tours so buyers now have multiple ways to tour a listing without stepping inside.
A noise rating enables consumers to understand the noise level outside of a property. Noise sources are also displayed on the map view.
Each listing displays the home's environmental risks, with a Flood Factor rating so you can better understand a house's chance of flooding and wildfires. The flood plains are also layered on the map function. (It is also the only site to rate wildfire risks, though that is not an issue in NYC.)
The new Home Inspiration feature is of questionable value but may take on new dimension over time. As of this writing, the only thing that came up dealt with the best doormat for your zodiac sign. 
On the plus side, instead of just one estimate, Realtor.com provides three estimates from independent third-party sources.
The Commute Time estimator lets you see how long it will take you to reach your destination by car, subway, foot, or bike. 
A Realtor.com spokesperson highlighted two additional updates aimed at streamlining the buying process:
To give you a more objective view of your budget (given rising interest rates and record sales prices), Realtor.com introduced a new "buying power" tool that ranks a specific home as "affordable," "a stretch," "difficult" or "out of reach" based on your financial details, current mortgage rates, taxes, insurance, and monthly fees. That data can be saved to your profile, and then each listing will say if it is within budget. 
Studies show that 70 percent of first-time homebuyers are couples buying together, so to help ease this process, Realtor.com has incorporated a "share and collaborate" feature that lets you ask for input from friends and family, all while keeping track of the communications and details in one place. 
3) Citysnap
Launched in June 2022, Citysnap is the NYC brokerage community's response to StreetEasy's long-running dominance by providing buyers (and renters) access to listings from REBNY's Residential Listing Service (RLS). 
Indeed, because the platform is a collaboration between REBNY and CoStar Group, a real estate data and research firm, Citysnap is the first search platform and mobile app to feature all data from the RLS (price history, days on market, monthlies, comps, even Department of Building records) as well as details on the building in which the listing is located. This effectively puts you on the same playing field as brokers. 
The listings are updated automatically as soon as agents post them online. According to a spokesperson, they check for updates 24/7 and consistently push RLS REBNY data to Citysnap to keep it as accurate and up-to-date as possible. You can also opt to be notified of price changes for any listing.
And because the portal is based on REBNY's "Your Listing, Your Lead" philosophy, all leads from listings in Citysnap will go directly to the listing broker or agent, with no additional cost or daily listing fee (unlike with StreetEasy). REBNY's 12,000-plus broker-members will have free access to Citysnap Pro, which will provide them with additional tools to research listings, collaborate with clients on home searches, schedule showings, and connect with other agents. 
Buyer beware: Citysnap is not currently available for non-REBNY agents to post their listings. Given how extensive their membership is, that might not mean much at the end of the day, but you should know that the listings database is not exhaustive and you would need to go to StreetEasy (or brokerage websites) to find non-REBNY posts.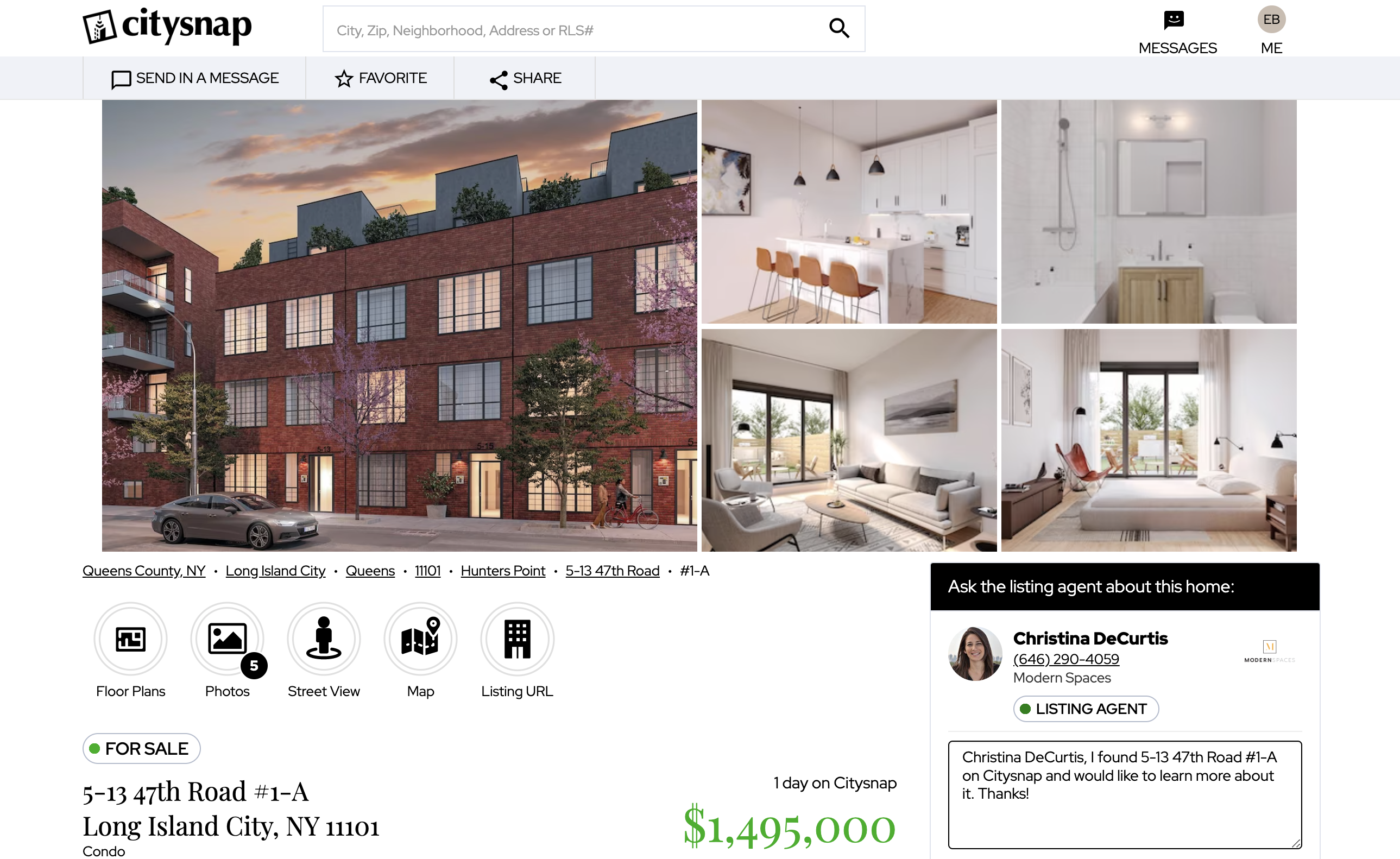 User experience
The most modern of the bunch, Citysnap is crisp and clean with punchy icons on the listing dashboard—you can easily jump to floor plans, photos, street view, map, or listing URL. Or you can opt to explore a neighborhood and calculate commute times. The listing agents are front and center, with an easy way to connect. 
Searching is intuitive, with the usual filters as well as nifty options such as desired commute times. 
Other advanced search options include central heating/cooling, water vs. city views, parking, and school ratings (though zero results turned up for listings on the UWS with elementary schools with a rating of 5+, so time will tell whether this filter is helpful or not). 
The interface is the same for both website and mobile app, though the app has a few extra GPS tools (described below).
Special features
There's an easy-to-draw custom map function that lets you go beyond the usual boundaries
GPS tools let you find nearby listings
A Sky Cam will provide over 50,000 360-degree aerial videos of residential buildings throughout NYC 
The app has a nifty tool that involves "snapping" a home; you can take a picture of any NYC building, and the app displays all of its details, including any active, in-contract, recently sold, or historical off-market properties. Per the spokesperson: Think of snapping as the "Shazam of real estate." 
Beyond the portals: brokerage sites
When expanding your search to individual brokerage websites, keep in mind that user experience varies widely, depending on the amount of money and tech talent deployed by a particular brokerage. Some firms even have their own proprietary apps for on-the-go searching. Also, be aware that a brokerage may give more emphasis to its own listings versus competitors' listings obtained through REBNY and other feeds. 
To gain a competitive edge over buyers who rely only on the listings platforms listed above, visit a variety of brokerage websites and sign up to receive alerts. Why? Because brokerages that belong to REBNY (which includes most in Manhattan as well as many in Brooklyn and Queens) have up to 48 hours to share their listings with other REBNY brokerages. During that 48-hour period, brokerages can market listings exclusively to their own buyers in hopes of capturing both sides of the commission—so if you sign up to get alerts, you may get a jump on an exclusive listing during that window.
We've listed some reputable brokerages alphabetically below. For a more extensive list of REBNY-member brokerages, click here.
Bohemia Realty Group (primarily Upper Manhattan)
Brown Harris Stevens (NYC, Hamptons, Hudson Valley, New Jersey, Connecticut) 
Coldwell Banker Warburg (NYC)
Compass (NYC, Long Island, Hamptons, Westchester, Hudson Valley)
Corcoran (NYC, Hamptons, Westchester, Hudson Valley) 
CORE (Luxury NYC) 
Douglas Elliman (NYC, Long Island, Westchester, Hudson Valley) 
Elegran | Forbes Global Properties (Manhattan, Brooklyn)
Engel & Völkers (luxury NYC)
KWNYC (NYC)
Modern Spaces  (Brooklyn, Queens, Hudson Valley, New Jersey)
Prevu (NYC, Connecticut)
Serhant. (NYC, Long Island, Hamptons, New Jersey, Connecticut)
Sotheby's International Realty (Manhattan)
The Agency (NYC, Hudson County, New Jersey)
—An earlier version of this article contained reporting and writing by Alanna Schubach and Jennifer White Karp.
Brick Underground articles occasionally include the expertise of, or information about, advertising partners when relevant to the story. We will never promote an advertiser's product without making the relationship clear to our readers.