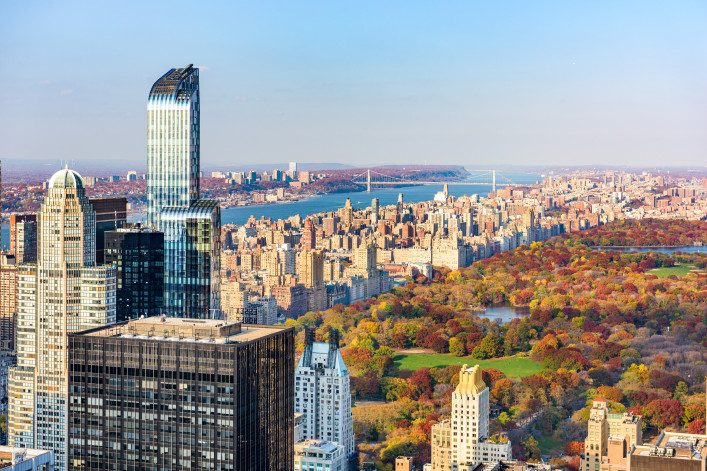 Pfizer's major announcement Monday about a potential Covid-19 vaccine could help put an end to the uncertainty that has been plaguing the New York City real estate market.
The company says testing shows its vaccine to be more than 90 percent effective and The New York Times reports that Pfizer will seek emergency authorization this month. The plan is to manufacture enough doses to immunize 15 to 20 million people by the end of the year. The breakthrough could give New York City's sales and rental markets, which have been stalled since March, brand new momentum. 
Thomas Kutzman, co-CEO of Prevu, says Pfizer's vaccine update could potentially be the positive news New Yorkers have been waiting for. The news may help remove some uncertainty and empower buyers to be more decisive once the vaccine is approved, he says.
For more on how the vaccine could revive the NYC real estate market, read on.
Good news for the city and real estate 
"It would be a game changer for the real estate market because a vaccine would give consumer confidence—that's what this market needs," says Michael Romer, managing partner at Romer Debbas, a real estate law firm based in Manhattan.
Romer says that once a vaccine is accepted and distributed, he anticipates many small businesses will reopen and more companies will give employees the option to work in the office, which in turn will encourage people to move to or return to NYC to buy or rent an apartment.
But don't expect an immediate change. "It will be a gradual shift over the next six to eight months," says George Ratiu, senior economist at Realtor.com.
Still, if you're looking for a deal, whether it's to buy or rent, now is the time to do so: the city's median rent has dropped, landlords are offering generous concessions to fill vacant apartments, and many sellers are reducing their listing prices.
There will likely be a period when the market adjusts but once there is more consumer confidence, prices could stabilize—or even increase. Although it will likely take several months.
Kutzman also says it will be a "positive catalyst" for NYC apartment prices and transactions. He recently wrote a blog post on Prevu's website that outlines some of the ways New Yorkers would see the real estate market change once a vaccine is official.
"Deal seekers that were looking for the deal of the century may have missed out. In a post-Covid vaccine world, NYC buyers will have to pay up. More residents will have the confidence to buy again, and folks that left temporarily will have more confidence to return," he writes.
Steven James, president and CEO of Douglas Elliman, also says that there will be more activity once a vaccine is officially approved. More buyers will step up to see properties and more deals will be made, in anticipation that once things are better, prices go up. "The opportunity is now," he says.
Foreign buyers would also likely return with more confidence once a vaccine is officially announced, also because the 2020 presidential election has come to an end. "Non-U.S. buyers with money sitting on the sidelines will likely return to the market," Romer says. The lift of travel restrictions is also essential to foreign buyers returning to NYC's market.
A vaccine will also likely lead to New Yorkers working more days in the office, an influx in commuting, and a gradual opening of bars, music venues, and Broadway—all of which would positively impact the city's real estate market.
"The real estate market is a mirror of people's preferences and the local economy," Ratiu says. What makes New York City special is what it offers, so once Broadway and everything else "comes back in full-color," the market will see more activity, he says. 
"As prices in the city become more moderate and the economy stabilizes, New York City will be more appealing again," Ratiu says.
Brick Underground articles occasionally include the expertise of, or information about, advertising partners when relevant to the story. We will never promote an advertiser's product without making the relationship clear to our readers.