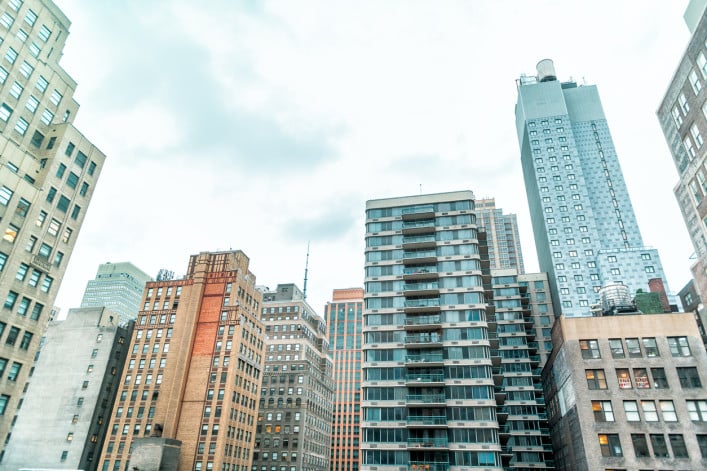 Find me a great deal. That's what New York City buyers who want to take advantage of the market downturn are saying to brokers right now. Some are buyers who have sat on the fence for months (or years) and are finally making a move. Others are investors, or buyers who understand that now is a very good time to trade up—for more space, amenities, or a better location.
Of course, nothing in this city is easy—and neither is finding a great deal. To be sure, the majority of sellers are not panicking and they're not slashing prices drastically. (Pied-à-terre sellers, for instance, don't feel the same pressure as owners of primary homes in the city.) In recent weeks, the spread between asking prices and initial accepted offers has been narrow, indicating that sellers in large part are holding firm to their prices.
---
[An earlier version of this post was published in September 2020. We are presenting it again here as part of our holiday Best of Brick week.]
---
But there are some sellers for whom the need to sell is more urgent—they want to leave the city because they fear a second wave of the pandemic, have lost a job, or need to move closer to family. So how do you identify these motivated sellers willing to come down from their asking price from the ones who can afford to wait to get their price?
Brick talked to brokers to identify the strategies buyers need to employ to find the best deal—and to John Walkup, COO at UrbanDigs, a Manhattan real estate analytics platform, to find out where in the city you can look if you're in the market for a bargain.
Neighborhoods to seek the Covid discount
"Finding good deals today is about finding the desperate sellers," Walkup says. "The data suggests they are generally in the more expensive properties in Manhattan but with the effects of the Covid shutdown so widespread, they exist in each neighborhood," he says.
Walkup analyzed median price cuts for asking prices by neighborhood in Manhattan and Brooklyn. He found that the average price cut for Manhattan neighborhoods is 6.8 percent, and for Brooklyn—where the average price points are lower to begin with—it is 5.9 percent. This implies that "value is in higher demand than luxury," he says.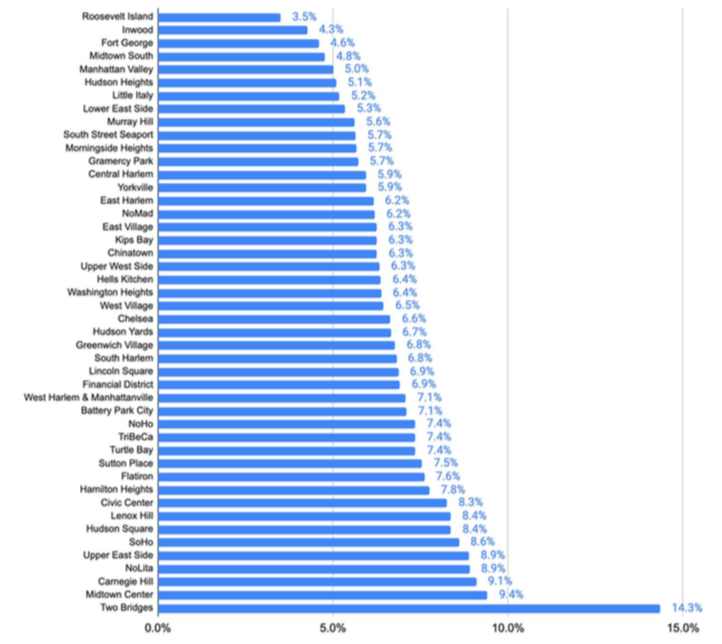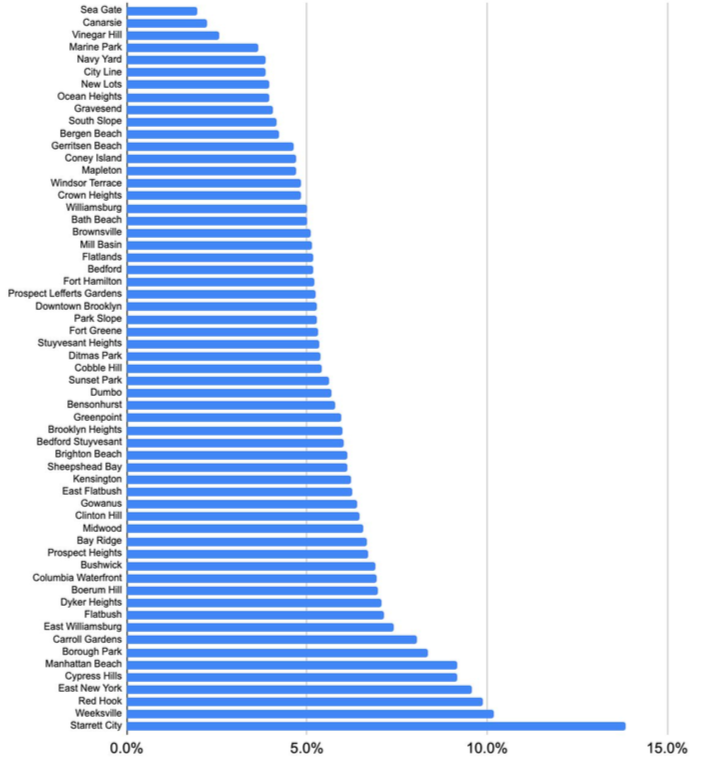 New development glut is good for buyers
Kobi Lahav, senior managing director and director of sales for Living New York, says new development is the "perfect target for the Covid era" to find deals.
Construction was halted in April and May so most projects experienced delays, he points out. Developers have outstanding loans, which puts pressure on them to sell. And it's harder for developers to change course and rent their units instead of sell and still meet their financial obligations.
Pro Tip:
To offset the extra closing costs of buying in a new development—and boost your negotiating power against a shrewd professional developer—work with a buyer's broker that offers a rebate on their commission. If you bring in Prevu as your advocate from the very beginning, you'll receive a rebate of two-thirds of the commission paid to the buyer's broker at closing. On a $1.5 million condo, you'll pocket up to $30,000. Click here to learn about Prevu's Smart Buyer Rebate.
He's recommending buyers get into new developments in Bushwick, Bed-Stuy, Clinton Hill, and Downtown Brooklyn—where there's lots of inventory.
"The discount doesn't have to be on the price. You can get the developer to pay transfer taxes, give high closing credits that effectively drop the purchase price, and throw in parking or storage," Lahav says.
Targeting buildings with amenities
Another strategy is to look for buildings that loaded up on amenities that feature shared spaces. Those are not in high demand and also strike the wrong note on marketing materials these days—socializing with the neighbors does not sound enticing right now.
Lahav recently put that strategy to the test.
"I targeted new developments for a client, and except for a lower price we managed to secure all the transfer taxes paid, the sponsor paid his own attorney, and gave my client a $20,000 closing credit," Lahav says.
Aim for a big apartment
Sales of larger, family-sized apartments are hurting, especially in areas where there's lots of similar inventory, like the Upper East and Upper West Sides.
Families who don't like their options for NYC public school in the fall or feel they don't need to be in the city if their child is going to be learning remotely are choosing to leave.
As a result, Lahav says, "it's a good time to prospect for sellers who need help selling their units in those areas with apartments that cater mostly to families."
He's telling buyers who are seeking smaller apartments to aim at larger ones, if they can afford it. 
"If I have a client looking for a one bedroom, I will suggest increasing their budget to hit the larger units," he says. In this market, you have more opportunity to trade up, Lahav says. 
Go with a co-op
Annette Holmgren, an agent with Keller Williams NYC, is working with a client that has been looking for the last few years while prices in the city were high, so he never pulled the trigger. "Now that we have more families and people leaving the city every day, the opportunities for him are endless," she says.
For someone that doesn't need outdoor space, or amenities, they can really get a good deal, Holmgren says. Walk-up buildings and small elevator co-ops are "a gem right now," she says. 
She says the buyer "mostly wanted to stay away from co-ops as most people do" because buyers don't like the more stringent application process or rules on renovations that you'll find there. "But I think the complete opposite right now. We are all in this and as the co-op is the most unattractive to the masses, that is where we will find our greatest deal," she says.  
And that's what they did—several times in fact. "We found a convertible three bedroom on West 70th Street that needs a full gut. But here is the thing, it is a co-op with only $1,631 in monthly maintenance. Gold! Another one on the Upper East Side, a two-bedroom, renovated unit with maintenance of only $1,461. And another small, two-bedroom walk up with maintenance of only $720!  I told my client to target the ugliest we can find [with the lowest monthly cost] and snatch it up! We will turn it into a gem and when the market is back up, he will thank me," Holgreen says.
Tried-and-true advice
Some of the traditional rules for scouting apartments still apply in the Covid era: Look for units that are lingering on the market, seek out properties that need work, and check the listing's sales history.
Apartments that are new to the market attract competition, and that's when prices go up, says Lisa K. Lippman, a broker at Brown Harris Stevens.
"Look beyond the new to what's been around 200-plus days," she says. "Those that have been on the market longer tend to have lost the attention of the general public and even if they haven't lowered the price during Covid, it may still be very negotiable.
"Also check listings where the price was initially very high but has already come down. You can sometimes negotiate even further and get something for a lot less than it should have sold for," she says.
Scott Harris, a broker at Brown Harris Stevens, says fixer-uppers are "scary" to buyers and so are amazing opportunities, he says. As long as you're working with realistic general contractors, you can get an accurate timeline and budget and know what you're in for.
Finally, know how hard to push for a deal. "If prices are down 25 percent from the top in 2016, it's likely you're already getting an amazing deal," Harris says. "Be nice, negotiate in a firm but friendly way. It is very hard to lose in this market unless you're unkind," he says. 
Be ready to act fast
Christopher Totaro, an agent at Warburg Realty, tells clients to be ready to execute immediately. That means having all financial documents ready—or even better—already in your banker's hands. Be preapproved for a mortgage and willing to forgo a mortgage contingency.
Why the hyper-preparation? Totaro says, "That superb deal is likely a seller who must sell now. The superb deal is likely an estate, or a seller who is in a challenging financial position etcetera." You need to be prepared, so you are "ready to pounce."
Stick with a buyer's broker
You don't necessarily need a broker as a buyer, especially when there's lots of listings and not much competition for what you want. But if you are looking for something specific and getting outbid, it may make sense to go with a buyer's broker.
Nicole Gary, a broker at Keller Williams NYC, says using a buyer's broker is key to getting a deal.
"I have negotiated several deals for buyers to get 18-25 percent off the asking price since we have been able to show real estate again," she says.
Her strategy is to learn the seller's motivation and play hardball on behalf of her client.
"I let the seller's brokers know there are many other apartments out there that my clients can purchase, and it works every time. If a seller has already moved out and purchased a new home outside of the city or must sell their Manhattan apartment to purchase their next home, there is more motivation to get the price down. If a seller is trying to purchase a home in the suburbs of Long Island, Westchester, or New Jersey they are facing bidding wars and just want to sell so they can move on and win the next home," she says.
She steers clients away from sellers who own multiple properties. They may not necessarily feel the pressure need to sell right now.
"Their Manhattan property may be a second or third home and those are the ones, I know not to negotiate with, she says. "If there's no motivation, there's no deal, plain and simple."
Brick Underground articles occasionally include the expertise of, or information about, advertising partners when relevant to the story. We will never promote an advertiser's product without making the relationship clear to our readers.