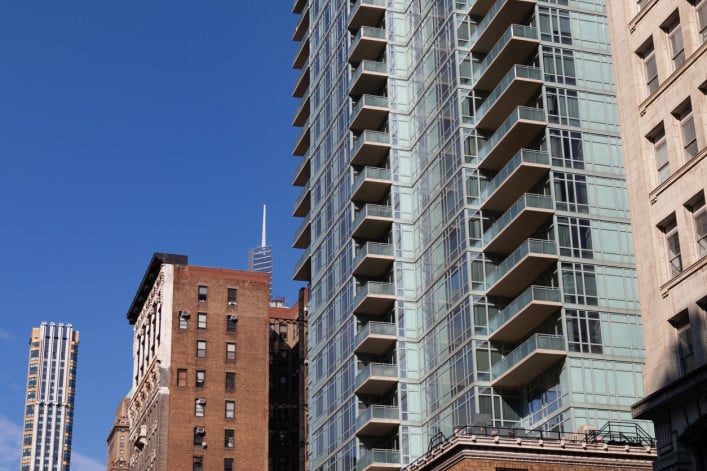 You may be thinking that now is your moment to take your hard-earned cash and park it in a great New York City apartment as an investment.
After all, it is a buyer's market bar none. There are lots of apartments on the market to choose from. The third quarter, for example, saw the highest number of listings in Manhattan and the slowest pace of sales since the Great Recession ended, according to the Elliman Report. That puts you in the driver's seat as a buyer.
But while you can do very well buying in NYC now and even stretch your dollars into a place that might have been out of reach months ago, a lot has changed in NYC that can impact your investment purchase, particularly if you plan on renting your place out.
Here's what you should know about how the pandemic has changed real estate investment buying in New York City.
Rentals don't bring in the same income
If your plan is to buy an apartment to rent out, you should know that it is a more complicated situation now, says Nicole Beauchamp, an agent at Engel & Völkers. "What worked 12 or 16 months ago is not going to work now," she says.
And that's not just because of last year's changes to New York's rent laws, which gave both rent-stabilized and market-rate tenants new protections, or the Trump administration's cap on state and local tax deductions—which has hurt New York high-end real estate buyers, or New York's new mansion tax—all of which you need factor into your buying plan.
One of the biggest shifts has been the huge number of rental apartments on the market as a result of the pandemic. The vacancy rate, which typically hovers around 1 percent—ticked up to 6 percent in October. The number of rental listings on the Manhattan market last month jumped 218.4 percent—to 16,145 apartments, according to the Elliman Report.
What that means in practical terms: "That $3,000 rental is now a $2,400 rental," Beauchamp says. And, "every renter has 30 apartments to choose from" and landlords need to offer concessions in order to seal the deal," she says.
For the most part, Beauchamp's clients are not looking to buy a place in order to rent it out, she says. Instead, they want to buy because "they want a piece of the city," Beauchamp says. For those that fled the pandemic: "They regret leaving."
So her buyers are looking for a pied-à-terre, an apartment for an adult child, or a place that they will move into eventually, when they feel NYC has come back.
Ari Harkov, a broker at Halstead. suggests a different perspective. "The key is not whether rents are lower, but have prices come down by the same percentage?" he asks. "You are paying less, and getting less yield, but you are buying equity during a market dip that will appreciate."
And he points out that not all parts of the NYC real estate market are suffering the same extent. In the pandemic, Brooklyn has not been hit as hard as Manhattan. The median price for Brooklyn co-ops, condos, and one-to-three family houses seemed to defy gravity in the third quarter—hovering at the same number that it was a year ago.
And in general, he says, for both the sales and rental markets, there's more demand for less expensive properties. More expensive properties are harder to move, he says. So what that means is if you have $2 million to spend—consider buying two $1 million properties, Harkov suggests.
Cap rates have fallen
Brokers say it's also important to get your head around cap rates, or capitalization rates, which calculate the rate of return on your investment.
Cap rates in NYC are always low—they may seem shockingly low if you're not from here. That's because apartments here are very expensive, and you need financing to buy—which eats into your profit, and there are taxes on top of that.
The bad news? They're even lower now.
"Pre-Covid, we were seeing cap rates on average around 2.8 to 3.2 percent when taking into account the rent and related expenses (common charges and real estate taxes)," says Jared Antin, director of sales at Elegran.
"Today, the cap rates are generally below 2 percent. This is because the rental market has been harder hit than the sales market. People looking to buy an apartment to rent out could likely make a better return in a different asset class in the short term. In the next six to 12 months, NYC real estate will likely provide better returns as we get through Covid and the rental market picks up steam," he says.
Antin thinks once New Yorkers are able to return to their offices, renters will come back in large numbers, and the vacancy rate will decrease and rents will start to increase. "At that time, buyers should be ready to buy apartments," he says.
Long-term appreciation—and long time to close
For many NYC real estate investment buyers, new development, with its longer flight path to closing, fits the bill. Now, that long lead time is a real plus.
Nikki Field, a broker at Sotheby's International Realty, has a couple from Texas who are looking at Central Park Tower, the luxury condo tower on Billionaire's Row that will be the tallest residential building in the world.
"They want a long close," she says. "They have no intention of living here for at least a year. We were supposed to close in the second quarter of 2021, now we're negotiating a later closing."
Field describes herself as "incredibly bullish on NYC" and expects the city to bounce back as it did after 9/11 and the Financial Crisis, and she says buyers today are in a prime position.
"Never has there been so much inventory and such a limited buyer pool," she says. Foreign buyers have been out of the market, but she expects them to start "pouring into the market as they did after previous downturns. It's not happening yet but it will soon."
"International buyers still want to park their money here," Field says. "They want new development, and developers are the most negotiable. And timelines of six to 18 months don't phase these buyers."
Everyone Brick Underground spoke to for this article says they advise buyers to play the long game and hold onto their properties for at least five years.
"Obviously buyers are not thrilled being told to buy and then warehouse it," Field says.
But one strategy she deploys is to tell her buyers to buy in big, well-known buildings and offer long leases—at least two years to minimize turnover, losing income between tenants, and cover carrying costs.
For these buyers, she says it's not about cash flow: She advises owners to offer leases below what others in the building are offering in order to secure a tenant quickly—and just focus on covering carrying costs.
She also does a lot of hand-holding for buyers trying to time the market.
Contract activity picked up in October after a very slow September. The number of new signed contracts in October for Manhattan co-ops (510) came close to the same level seen in October 2019 (531), "narrow[ing] the gap from the same month a year ago," according to the Elliman Report.
Field says some buyers are spooked by this uptick and think the buyer's market is already in the rearview mirror. She says that's not the case—but she does think the expiration date will be sometime in January.
Finding your way into a co-op building
If your plan is to buy a place and hold onto it, you may think co-ops are off-limits. Many co-ops have strict rules about pieds-à-terre, for example. However, the pandemic may put a dent in that.
Field says co-op boards need to get over old ways of thinking—and that extends to pricing.
In the past, brokers knew they couldn't bring low ball offers to co-ops—boards have the one-off ability to reject a sale if they think the price is too low. Now, Field is advising boards to be more flexible and not look at the contract price.
Field is also encouraging boards to be more relaxed about leasing options and allow increased financing, which is a boon to new buyers. It's a reflection of the times, and the pricing is temporary, she says.
"Covid prices are unicorns—they are not representative," Field says. "It's not true that the property has devalued 30 to 40 percent. When buyers go to sell later, we will look at the comps from before Covid, and we're going to have to convince buyers in 2022 and 2023" what the value is.
If this approach sticks, and becomes widespread among NYC co-ops, it could be somewhat revolutionary and help attract buyers who are turned off by co-op buildings' penchant for rules and restrictions.
In the co-op buildings Field is working with, all contracts "have the nod of the board. They're looking at the caliber of the buyers here. It's true that boards have a fiduciary responsibility to shareholders to maintain shareholder value. But they also need to facilitate deals," she says.
And right about now, when Manhattan has seen two quarters with sales plunging by nearly half, one thing that real estate investment buyers have on their side is the flip tax that comes with a sale—which can be from 1 to 2 percent of the purchase price—or as high as 3 or 4 percent—"co-op boards like adding that to the building's coffers," Field says.
Brick Underground articles occasionally include the expertise of, or information about, advertising partners when relevant to the story. We will never promote an advertiser's product without making the relationship clear to our readers.