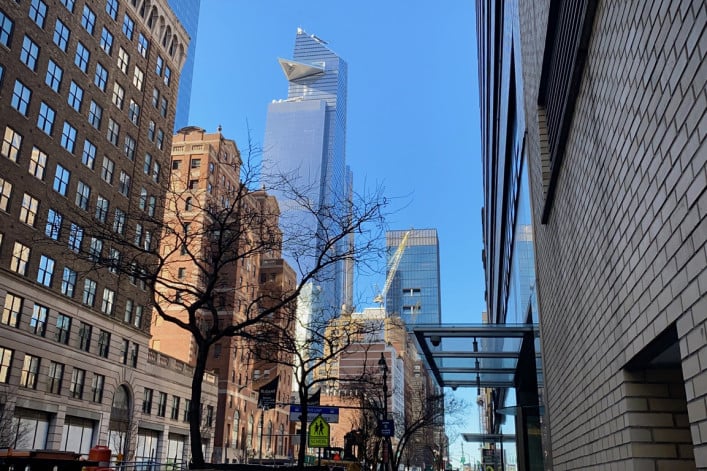 If you're looking to invest in New York City real estate, you'll want to identify the best neighborhoods where you can put your money to work for you. Under ordinary circumstances, in order to pinpoint those areas, you would look for the areas where sales have slipped and new development is lingering on the market. Now, however, the Covid-19 pandemic is reshaping the NYC real estate market, and there are additional considerations for buyers looking for the best locations for investment. 
While much has changed about the New York City sales market, and you'll need to get your head around what's new, you do have an important edge: Time is on your side, thanks to a slower market.
After the shutdown was announced in March, when open houses and in-person showings were banned—sellers decided to sit out the market, just when the traditional spring selling season would normally be getting underway. As a result, listings in Manhattan and Brooklyn, Queens, and the Bronx fell sharply in the first quarter of 2020. Now there are some signs the market is following more seasonal patterns, with an uptick each week in listings and contracts signed—although sales activity is  still way off compared to last year. That means you'll have less competition.
One important development: The pandemic thrust the NYC sales market into the 21st century. Sellers, brokers, and boards are now more familiar with conducting most aspects of real estate transactions virtually—thanks to video tours, online interviews, and escrow closings that are helping get deals moving. You can expect some of these shifts to the online world to remain even after the virus subsides. 
---
Click here for more of Brick Underground's coronavirus coverage.
---
Investors like to pounce when things go south—but you will want to take into consideration how the coronavirus crisis is making New Yorkers rethink their lifestyles. More are likely to be drawn to the privacy of townhouses or boutique buildings instead of large, full-service buildings with lots of shared amenities. Others may be thinking about leaving the city entirely for less crowded and more spacious digs in the suburbs.  
"Buyers' checklists have changed significantly," says Matthew Hughes, a broker with Brown Harris Stevens. "There are buyers seriously considering moving to outside the city, and also exploring Brooklyn and Queens, thinking about whether they want to consider living in a single-family home. There's a lot of speculation out there right now." 
Others predict that any suburban exodus will be short-lived. Real estate guru and "Shark Tank" star Barbara Corcoran, for instance, recently said in an interview with New York Residential Agent Continuum that she doesn't see New York City's allure fading. "New York always comes back…somebody always wants it," she said 
But where will they want to buy and rent, and which neighborhoods offer the best investment opportunities in this new reality? Here's our roundup of NYC broker investment advice distilled by neighborhood.
Upper East Side and Yorkville
The Upper East Side is on a lot of buyers' radars, and tops Brick Underground's list of best Manhattan neighborhoods for first-time buyers. The area has lots of co-ops, which historically have been better positioned to weather a financial crisis—thanks to the tough application process and liquidity requirements—than places with lots of condos like Williamsburg, where "everyone is leveraged," says Gea Elika, principal at Elika Real Estate. What the Upper East Side offers is "a great mix of product," says Elika, and in his view "it's all about buying stability and with the Upper East Side, you're buying a brand name."
These days, there may be means fewer options in Manhattan for investors but also the potential to nab discounts from the sellers who are deciding to stick with the market. 
Even amid the Covid-19 crisis, the Upper East Side is still a great place to invest, says Ian Wolf, an agent with Douglas Elliman. "I am still quite high on the Upper East Side due to relative values and quality-of-life benefits with green spaces, quality schools, multiple subway lines, social activities," he says.
Plus, the Second Avenue subway has made neighborhoods like Yorkville much less remote. "There are multiple green space options with Central Park to the west and Carl Schurz Park to the east. And with the new, clean Q train making far eastern locations more accessible, it is convenient and easily accessible," Wolf says.
Hughes agrees that in a post-Covid world, Yorkville is a smart place to invest in.  
"Buyers are now willing to consider living all the way on East End Avenue," he says. "They like the idea of the promenade, Carl Schurz Park, and living in a not-so-densely-populated area." 
Lisa Lippman, a broker at Brown Harris Stevens, says the Upper East Side is undervalued because buyers tend to want to be Downtown, but "at First and Second avenues, the value is huge and even on Park Avenue, there's a lot of really good apartments there—really solid buildings that are just so much less expensive than the Upper West Side and Downtown."
Discover off-market properties in your dream neighborhood that perfectly suit your needs and budget.  Meet and deal with sellers before their apartment hits the market.

Let Triplemint's off-market team give you exclusive access to apartments in your price range and desired neighborhood that no one else has seen. More options, less competition, no bidding wars. 
Chelsea 
The Hudson Yards project has put some attention on its adjacent neighborhoods like Chelsea where investors may find they can take advantage of the glut of new condos in these neighborhoods by negotiating for discounts. 
"The oversupply of inventory in Hudson Yards is driving prices down in Chelsea," Hughes says, making it a good value whether you're looking for something owner-occupied or as a rental investment. Plus, the new development condos there are chock-full of the kind of amenities that especially appeal to millennial buyers and renters. 
"Find who is looking to get rid of product," advises Alex Antigua Caba, a broker at Platinum Properties. "Sponsors have multiple units to sell off," meaning there's room for investors to negotiate to have more closing costs covered.
Midtown South/Rose Hill
This neighborhood just north of NoMad will be "among the next to receive a lot more buyers attracted to an easy commute and its vibrancy," says Jordan March, a broker with Halstead. "With recent new developments like Morgan Lofts and Rose Hill—the Rockefeller Group's first residential project—it has been under higher demand than in the past, which in part is because of the luxury restaurant and hotel scene that has developed." 
New development is the smartest buy now for investors, says Alex Antigua Caba, a broker at Platinum Properties, because it requires them to put less money down than they would on resale condos. 
"Sponsors can afford to cover more of the upfront costs, like mansion taxes, transfer taxes, and mortgage recording taxes," he says. "From an investor standpoint, that's a clean and easy deal where they have the opportunity to own without having to come up with too much out of pocket," he says. 
Hudson Square
Not to be confused with Hudson Yards, Hudson Square is a predominantly commercial area between West Houston and Canal streets in Lower Manhattan. The housing inventory is a mix of townhouses, former tenements and brick factories—some converted into co-ops—as well as modern condo buildings. 
Hughes says that with Google's expansion in the area, "if you can get into one of these first residential buildings in the neighborhood and if you have all these employers and executives coming in, that's only going to drive up prices in the future."
Look for condos that still have time on their tax abatements, advises Elizabeth Kee, a broker with CORE, as well as co-ops that don't have many amenities and therefore lower maintenance fees, and new developments where sponsors are offering concessions to lure buyers. 
"One thing that buyers should—and likely will—focus on during this new 'pandemic world' are the rare properties across the city that have unusually low carrying costs," she says. "With the historically low interest rates for home purchases, if buying a property with low carrying costs, home ownership is still achievable (and sustainable) for those who might be furloughed or need to recover from layoffs or gaps in employment."
Soho/Tribeca/West Village
When the market is weakened, go for bluechip properties, says Seth Levin, a broker at Keller Williams. Investors in luxury real estate from around the world are now looking to buy in these prime Downtown neighborhoods, he says, given that even before the onset of the coronavirus crisis, these areas were hurting from oversupply of new development inventory. 
High-priced condos could see the sharpest price decreases amid the Covid-19 pandemic, StreetEasy reports. Between potential discounts and historically low mortgage rates, investors may start swooping into these high-end neighborhoods. 
"Where we were seeing 7 to 8 percent discounts pre-Covid, [investors] now have expectations that they will see discounts twice that now," Levin says. "Each development is different, but we believe this range of discount will be achievable. New York City is still New York City. As always, take advantage when it's on sale."
The West Village is "hotter than ever," March says. "This already coveted neighborhood has seen a 35 percent spike in the average price per square foot, and a 42 percent jump in median sales prices."
Financial District/Seaport/Battery Park City
It's unclear when offices will reopen and employees will return to their workplaces, but when they do, many may feel skittish about taking the subway. In light of this, investors should consider the Financial District, as there may be an influx of new tenants looking to rent near their offices there.  
"When people go back to the office they'll want to be able to walk to work," says Vickey Barron, a broker with Compass. "Google and Disney are opening offices Downtown and those employees may want to rent a place where they can walk to work, which is better than relying on the subway." 
Centered where Fulton Street meets the East River, the South Street Seaport was once thought of as "tourist haven," says Wolf, but now "there is a transformation going on with better restaurants and entertainment options that are now luring Manhattanites to this part of the city many avoided in the past," he says.
And Battery Park City, at the southernmost tip of Manhattan, is more viable than ever, March says, for its private, enclave-like feeling. 
"It has water views, great schools, green space, a shopping mall, and low traffic," he says. "Median prices have increased by almost 15 percent to $1.7 million year over year." 
Midwood, Bushwick, and Bedford-Stuyvesant
Coronavirus has many New Yorkers rethinking their desire to live in the middle of everything, and further-flung neighborhoods that offer lower population density, less-crowded apartment buildings, and more square footage now have more appeal than ever. Long subway commutes are not a concern for New Yorkers who will be working from home in increasing numbers.
Looking deeper into Brooklyn, where housing prices haven't shot up in the past decade with the same speed as they did in the neighborhoods nearer to Manhattan, may be a smart move. 
"There was a flight to value but I think the pendulum is in the middle now. It's not swinging in Brooklyn's favor anymore unless you go deeper into Brooklyn like Midwood," Elika says. Midwood has diverse housing options: low-rise apartment buildings, townhouses, and multi-family units and is featured on our list of best Brooklyn neighborhoods for first-time buyers. 
"I'm still quite bullish on the single and small multi-family properties in Queens and Brooklyn," Levin says. "Lower taxes and convenient proximity to the city is still a strong draw and offers advantageous investment potential. This has not changed. What has changed is that we are having numerous conversations with clients who are looking to trade larger buildings for smaller boutique buildings and those in the heart of the city are now thinking of neighborhoods on the outskirts."
Fort Greene, Clinton Hill, and Brooklyn Heights
The iconic brownstone neighborhoods of Brooklyn still provide good investment opportunities, especially now: Townhouses have become more appealing to many New Yorkers since the coronavirus outbreak, for their ability to offer greater control over one's own home and the fact that they often come with outdoor space—an amenity more appealing than ever since shelter-in-place orders. 
"In an apartment building you can't necessarily have people just come and visit now" because of building restrictions, points out Barron. "At a certain price point people want to be in charge of when they open the front door. Plus, if it has a little outdoor space that will be a draw." 
For Nadine Adamson, a broker with Brown Harris Stevens, she's seeing "amazing value" in Clinton Hill, particularly in houses that can be rented out immediately but improved over time. "A solid multi-unit brownstone in a chic neighborhood that's close to the subway with low annual taxes is always the best investment," she says. 
Bay Ridge
With wide residential streets and lots of green space, Bay Ridge feels almost suburban. For a long time, the commute to Manhattan has deterred buyers but now the neighborhood has a direct ferry service to Wall Street. "This would be the year to invest in Bay Ridge while it is on the upswing," Kee says. The area also topped our list of best Brooklyn neighborhoods for first-time buyers. 
Overall, Lippman says, in a post-pandemic reality, there are opportunities everywhere if you strategize. For instance, sellers are being advised to accept cash offers even if they're below asking prices. 
"For the next six months I think there is going to be good value almost everywhere. There will be deals and buyers should negotiate," she says. 
—Earlier versions of this article contained reporting and writing by Emily Myers
Brick Underground articles occasionally include the expertise of, or information about, advertising partners when relevant to the story. We will never promote an advertiser's product without making the relationship clear to our readers.