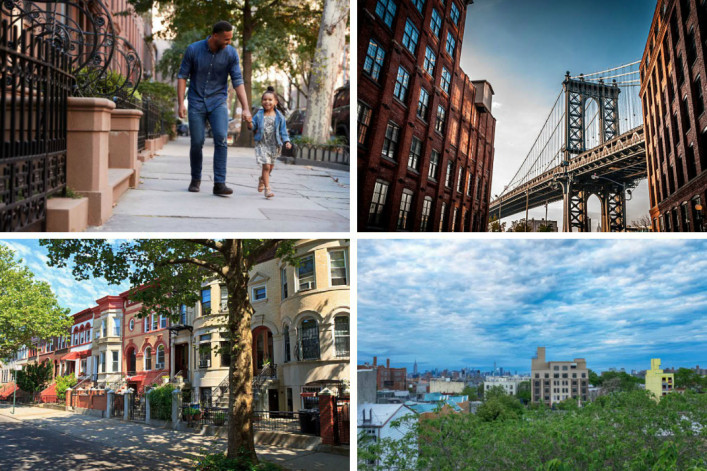 Buyers are well into a collective reconsideration of Brooklyn as a destination. In the past several decades, the borough has metamorphosed through distinct stages: An alternative to Manhattan, then a place you moved to after you were priced out of that borough, and finally a desirable location in its own right. Once upon a time, if you told people you lived in Brooklyn, they'd ask what that was like. Now they're likely to get jealous.
Brooklyn is also a good place to look when you're looking to buy your first apartment. Not that it's easy, considering prices and down payments, but there are still some advantages over Manhattan (namely space, competition, and affordability).
So what are the best Brooklyn neighborhoods for first-time buyers? To determine an answer, Brick asked Perchwell, a real estate market intelligence platform, to compile data on the neighborhoods with the most studios and one-bedroom apartments on the market at a price range young buyers could reasonably manage. There are even some two-bedrooms that fit the criteria. (And if you still have your heart set on Manhattan, we looked at the best neighborhoods in Manhattan for first-time buyers in a separate article.)
We defined young buyers as people between the ages of 25-44, and Perchwell filtered for those with a four-year college degree, since Brick's primary audience is college educated. According to 2017 numbers from the U.S. Census Bureau, the median household income for that group was about $104,000. Perchwell's data experts capped the debt-to-income ratio at 30 percent—while you might spend more, that is about the limit a co-op board would accept—and they added $1,000 per month for expenses, $800 annually for insurance, and a 20 percent down payment.
The result? A $450,000 maximum home price for condos, co-ops, and townhouses. Perchwell then ranked all the neighborhoods in Brooklyn with the most available homes that did not surpass that price. If you're making the move to a new neighborhood, be sure to consult our moving guide. Here is where to start your search:
Pro Tip:
Did you know you can receive a buyer's rebate from your broker? With Prevu, you'll receive a rebate of two-thirds of the commission paid to the buyer's broker at closing.  On a $1.5 million Brooklyn condo, you'd pocket up to $30,000. Click here to learn about Prevu's Smart Buyer Rebate.
1. Bay Ridge/Fort Hamilton
Number of studios available: 5
Number of one bedrooms available: 27
Median sales price for neighborhood: $804,000
Want space? Buy in Bay Ridge or Fort Hamilton. These areas in southwestern Brooklyn had by far the most one-bedroom apartments on the market that met our criteria, with a median asking price of $360,000, and many of them are large units in post-war apartment buildings or single-family row houses, with outdoor space and driveways. The wide residential streets and ample green space along places like Shore Road Park give Bay Ridge a tranquil, suburban vibe; the Verazzano-Narrows Bridge looming in the skyline is the one visual cue that you're in a metropolis.
Perhaps because of its distance from Manhattan, Bay Ridge has been shielded from the wave of gentrification that has swept through the northern and central neighborhoods of the borough. Transportation isn't great: the R train runs local through the neighborhood; if you drive, the BQE is right there, too. The neighborhood is becoming popular with younger residents, but there's still a strong sense of community developed by working-class families and small businesses. If you want to set down roots for a while, it's hard to beat Bay Ridge or Fort Hamilton.
2. Flatbush
Number of studios available: 4
Number of one bedrooms available: 22
Number of two bedrooms available: 4
Median sales price for neighborhood: $540,000
Perchwell found 12 two-bedroom apartments meeting our criteria in Flatbush and the sub-neighborhood of Northeast Flatbush (next on this list), making these neighborhoods a great option if you plan to start a family or want a home office. The median total sales price for all studios, one bedrooms, and two bedrooms was $299,000, so it's one of the most affordable options, as well.
Flatbush is densely developed with large pre- and post-war apartment complexes, Victorians, brownstones, and row houses. It's also seen a surge of new development in recent years, so prices are likely to rise. There isn't much in the way of green space in the neighborhood itself—though Prospect Park is a short walk or bike ride away—but there is a good food scene, particularly from the neighborhood's immigrant communities. Transportation is good too: The B, Q, 2, and 5 trains stop in the neighborhood, and there are many bus routes.
3. Northeast Flatbush
Number of studios available: 4
Number of one bedrooms available: 16
Number of two bedrooms available: 8
Median sales price for neighborhood: $599,000
In building this list, Perchwell said that they wanted to be "as specific as possible with neighborhoods to introduce potential buyers to new locations." That's why we're breaking out Northeast Flatbush—it has a similar aesthetic and vibe as Flatbush on the whole, with much of the same benefits to recommend it.
But it has a whopping eight two-bedroom apartments that fit our criteria and lower prices too. The median sales price for studios, one bedrooms, and two bedrooms was $234,500, the lowest figure of any of the neighborhoods we analyzed in Brooklyn or Manhattan—so it's worth looking specifically in northeast Flatbush, especially if price is your number-one factor. Consider it part of what's predominantly referred to as East Flatbush, that quadrant bounded by Bedford Avenue to the west, Empire Boulevard to the north, Rockaway Parkway to the east, and Avenue H to the south.
4. Sheepshead Bay
Number of studios available: 3
Number of one bedrooms available: 14
Number of two bedrooms available: 8
Median sales price for neighborhood: $649,000
Sheepshead Bay is the southernmost neighborhood on our list, and other than Coney Island, it's about as far as you can get in Brooklyn from Manhattan. So if commuting is a top priority, you might want to look elsewhere, though the express B train stops in the neighborhood, along with the Q. But in many other aspects, this safe, quiet, waterfront neighborhood is an excellent spot to buy in, especially if you're looking for something you (and your family) can grow with.
That's because you can find affordable, spacious homes here. A recent development boom has added to Sheepshead Bay's condo stock, alongside the row houses and single-family homes more typical of the neighborhood's inventory. Perchwell also found eight two-bedroom homes to meet our criteria, and with a median price of $219,500, by far the most affordable of any neighborhood they looked at. There's also a healthy selection of one bedrooms available, with a higher median price ($264,950) that reflects some of the new, higher-priced development (the two bedrooms in those developments did not fall under our price threshold).
5. Midwood
Number of studios available: 5
Number of one bedrooms available: 12
Number of two bedrooms available: 6
Median sales price for neighborhood: $492,000
If you're picking up on a pattern, you're not wrong. South-Central Brooklyn is a good place for first-time buyers to look, and Midwood is no exception. Like Kensington and Flatbush to the north, Midwood has diversity in housing inventory (low-rise apartment buildings, two-story detached houses, and multi-family homes) and population (tight-knit Orthodox Jewish, Chinese, and Pakistani communities).
Midwood also has space: 12 one-bedroom and six two-bedroom homes that met our criteria, with a median total sales price of $315,000. The neighborhood is dominated by the commercial strips of Kings Highway, Flatbush Avenue, and Nostrand Avenue, it has good food, and ample transportation options in the B, Q, F, 2, and 5 trains, plus numerous bus lines (including Select Bus Service and express routes). For these reasons and because of its good schools and safety ratings, prices in Midwood have been climbing.
6. Kensington
Number of studios available: 9
Number of one bedrooms available: 10
Median sales price for neighborhood: $658,000
All of the neighborhoods at the top of this list are in central or southern Brooklyn; the narrow rectangle of Kensington, with Ocean Parkway running down its heart, has edges in both. It's a predominantly residential neighborhood with similar housing to its neighbor, Flatbush: brick row houses, single-family Victorians, large apartment complexes. The median total sales price for its studios and one bedrooms was $405,000, second-highest on our list.
What that gets you is a lovely, diverse alternative to the other neighborhoods around Prospect Park. Kensington is one of New York's true melting pots, with incredible diversity in its Eastern European, Caribbean, South Asian, Chinese, Jewish, and Latino communities. The area is well-served by transit, with the F and G trains running along the western side, several buses (including four express buses to Manhattan), and the Q local and B express just east of Coney Island Avenue.
7. Crown Heights
Number of studios available: 6
Number of one bedrooms available: 8
Number of two bedrooms available: 2
Median sales price for neighborhood: $1,099,000
Crown Heights combines a few of the aspects of central Brooklyn neighborhoods on this list so far with the higher prices and lower inventory of the more northerly neighborhoods at the back end of our top 10. The neighborhood spans a huge section of central Brooklyn, and it's hard to pin down a specific vibe: the avenues are busy with shops and restaurants, the cross streets are residential but energetic, and the esplanade of Eastern Parkway offers some breathing room. There's a lot of activity everywhere, and a strong sense of neighborhood pride.
Crown Heights is still relatively affordable, but prices have been skyrocketing due to gentrification and development. The median one-bedroom price for the apartments that met Perchwell's criteria was $430,000, second-highest of any neighborhood on the list, and the average sales price overall has just about doubled since 2012. The housing inventory is mostly brownstones, limestone town houses, and large apartment complexes, in addition to new condo developments that have gone up in recent years. The 2, 3, 4, and 5 trains run through the neighborhood, while the A and C are just north in Bed-Stuy, and there are several bus routes.
8. Bushwick
Number of studios available: 7
Number of one bedrooms available: 8
Median sales price for neighborhood: $1,192,500
Ah, Bushwick: the hipster enclave of Brooklyn. What trends start here go on to shake the world, or at least show up on Instagram profiles across the globe. You might be surprised to see it on the list, but it's worth remembering that Bushwick combines two factors that contribute to affordable(-ish) housing: densely developed residential streets (mostly in the southern half of the neighborhood) and converted industrial spaces.
If you're moving to Brooklyn because you love the popularized idea of Brooklyn, Bushwick is probably what you have in mind. There are boutiques and galleries galore. The bar and food scene is top notch, from hip new eateries to now-famous joints like Roberta's and terrific Mexican spots that have long served the neighborhood's Hispanic community. The colorful pops of graffiti help offset the neighborhood's somewhat drab, industrial aesthetic. And transportation is decent, with the L, M, J, and Z trains plus a series of crosstown buses, though prepare for crowding. Bushwick isn't cheap, with a median sales price for studios and one bedrooms is $397,000.
9. Brooklyn Heights
Number of studios available: 11
Number of one-bedrooms available: 1
Median sales price for neighborhood: $2,260,000
This affluent residential neighborhood only makes this list for one reason: there are just enough studio apartments available that met the criteria, with a median sales price of $350,000, second-highest in the category to Bed-Stuy (though we're willing to bet that a studio in Bed-Stuy is bigger than a studio in Brooklyn Heights). If you're just buying for one or two people, Brooklyn Heights is an option; in other cases, it's probably wise to look elsewhere.
But what you'll get in Brooklyn Heights is certainly worth the consideration. This intimate neighborhood has lovely architecture, tree-lined streets and plenty of parks, good restaurants, great views, and the best public transit availability in the borough. Housing-wise, it's mostly known for its charming brownstone row houses, but what qualifies it for this list are the smaller co-ops in its large, pre-war apartment buildings.
10. Bedford-Stuyvesant
Number of studios available: 3
Number of one-bedrooms available: 7
Median sales price for neighborhood: $1,195,000
If we were to do this list again in a few years, it's doubtful that Bed-Stuy would be on it. The neighborhood has experienced rapid gentrification in recent years, as people snap up the elegant brownstones lining its quiet, leafy streets. But there some studios and one bedrooms on the market that first-time buyers could afford, though with a median sales price of $427,000, it's the most expensive neighborhood for that inventory.
The gentrification hasn't squelched Bed-Stuy's indomitable spirit. Historically it has been a major cultural hub for New York's African American population, and there's still a tight-knit community spirit in the form of active block associations, lots of churches and community centers, a robust stoop culture, and plenty of shops and restaurants. Transportation is somewhat limited—the A, C, G, and J lines skirt the neighborhood's edges, though there is good bus access—and there isn't much green space. But if you can afford it, Bed-Stuy is a good place to consider settling down.
Brick Underground articles occasionally include the expertise of, or information about, advertising partners when relevant to the story. We will never promote an advertiser's product without making the relationship clear to our readers.