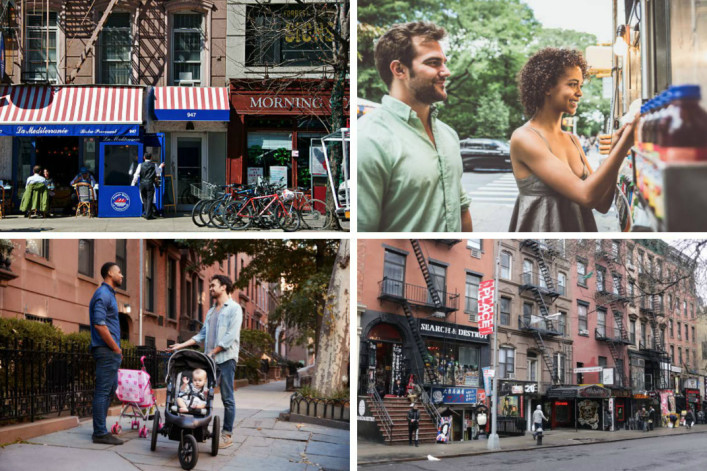 Buying your first home is one of those milestones in life that can seem inconceivable (especially in New York). For most of us, turning that dream into a reality takes years of squirreling away savings and investments; for a lucky few, a high-paying job or a gift gets us over the hump. But for everyone, the New York City market can be intimidating. In addition to eye-watering prices, there's the feverish competition, the obtuse regulations, the elbow-to-elbow open houses, and the preference for cash transactions.
But it's not impossible. If you know where to look, you can find a starter apartment at a price you can live with. That brings us to the heart of the matter: What are the best neighborhoods for first-time buyers? To determine an answer, Brick asked Perchwell, a real estate market intelligence platform, to compile data on the neighborhoods with the most studios and one-bedroom apartments on the market at a price range young buyers could reasonably manage. We'll look at Manhattan here, and Brooklyn in a separate article.
We defined young buyers as people between the ages of 25-44, and Perchwell filtered for those with a four-year college degree, since Brick's primary audience is college educated. According to 2017 numbers from the U.S. Census Bureau, the median household income for that group was about $104,000. Perchwell's data experts capped the debt-to-income ratio at 30 percent—while you might spend more, that is about the limit a co-op board would accept—and they added $1,000 per month for expenses, $800 annually for insurance, and a 20 percent down payment.
The result? A $450,000 maximum home price for condos, co-ops, and townhouses. Perchwell then ranked all the neighborhoods in Manhattan with the most available studios and one-bedrooms that did not surpass that price. If you're making the move to a new neighborhood, be sure to consult our moving guide. Here is where to start your search:
1. Upper East Side
Number of studios available: 34
Number of one bedrooms available: 6
Median sales price for neighborhood: $1.11 million
With 40 units on the market that met our criteria, the Upper East Side was the runaway winner in our ranking. That makes sense: the neighborhood is densely developed with prewar residential buildings and has comparatively little turnover, shielding it somewhat from the turbo-charging effects of gentrification on pricing. The median sales price for the neighborhood was down $100,000 in the first quarter of 2019 compared to the year-ago quarter.
For studios and one bedrooms, the median asking price is $375,000. Most of the inventory on the market currently are studios, so the Upper East Side might not be your first choice if you're looking to start a family soon. But it's one of Manhattan's most affordable neighborhoods for first-time buyers, and with solid transportation thanks to the 4, 5, and 6 trains, and the Second Avenue line, and several bus routes, it's a good place to look.
2. Tudor City
Number of studios available: 23
Number of one bedrooms available: 0
Median sales price for neighborhood: $515,000
With this list, Perchwell told us that they wanted to be "as specific as possible with neighborhoods to introduce potential buyers to new locations." Case in point: Tudor City, the landmarked apartment complex that's on three blocks between 1st and 2nd avenues near the United Nations.
Eleven of Tudor City's 13 buildings are co-ops, so that's what you'll find here. (In fact, 97 percent of the listings that qualified for the entire Manhattan data set were co-ops, so you can assume we're talking about co-ops.) The median asking price for the 23 studios on the market as of early April was $345,000. That also gets you access to Tudor City's particular perks: its landscaped parks; its quiet streets thanks to no through-traffic; its proximity to Midtown offices; and its recognizability—the iconic neo-Gothic towers have been featured in films like "Taxi Driver," "Scarface," and "The Godfather Part III."
3. Washington Heights
Number of studios available: 4
Number of one bedrooms available: 18
Median sales price for neighborhood: $451,000
Washington Heights has twice as many one-bedroom apartments than any other neighborhood on our list, making it the most family-friendly option here (or a great choice if you work from home). This hilly neighborhood covers much of Manhattan's northern tip from river to river, with three gorgeous city parks (Fort Washington Park, Highbridge Park, and Harlem River Park) and the area is known for great Dominican food.
It's also known for its large, prewar apartment buildings, with roomy units. The median asking price for qualifying studios and one bedrooms was $411,500, and your money will go far here. There are even several two- and three-bedroom apartments priced below that figure on the market right now. Transportation is decent: the A, B, C, D, and 1 trains run through the neighborhood, and it's also serviced by several MTA bus routes.
4. Upper West Side
Number of studios available: 18
Number of one bedrooms available: 0
Median sales price for neighborhood: $1.21 million
The Upper West Side has long been considered less stuffy than its counterpart across the park, the Upper East Side, although both neighborhoods have similar demographics, sales prices, and inventory—there is just less available on the Upper West right now. And if you go way Uptown, the neighborhood is edgier than the Upper East, which may be appealing to younger buyers.
The Upper West Side does have the distinct geographic advantage of excellent subway access. The 1, 2, and 3 trains run along Broadway, and the A, B, C, and D trains run along Central Park West. The neighborhood doesn't have a particularly hip reputation, but it's long been a cultural and intellectual hub, with Lincoln Center, the American Museum of Natural History, and the New-York Historical Society. Its demographics are starting to skew younger, too, largely because first-time buyers can get great bang for their buck.
5. Inwood
Number of studios available: 6
Number of one bedrooms available: 9
Median sales price for neighborhood: $408,000
You may be starting to sense a theme. Uptown is where it's at for first-time buyers (at least in Manhattan), because that's where you'll find neighborhoods with high concentrations of co-ops, studios, and one bedrooms. Inwood is as far as you can go and still be in Manhattan, but if size and a quiet vibe are more important than commute, it's a great choice.
Inwood had nine one-bedroom apartments available as of early April—second-most on our list—and the median asking price for those and its six studios was $339,000, making it the most affordable neighborhood for first-time buyers by our criteria. The A and 1 trains run here—a long commute to Midtown. Still, its hilly geography and the fact that it's bounded on three sides by water give it a peaceful remove from the rest of the island, and Inwood Park is one of the city's most underrated urban oases.
6. Murray Hill
Number of studios available: 11
Number of one bedrooms available: 0
Median sales price for neighborhood: $816,000
For a totally different vibe from Uptown, try Murray Hill, the province of young urban professionals and recent college grads. As one of the few fairly centrally located Manhattan neighborhoods to qualify for our list, Murray Hill offers convenience and a vibrant nightlife scene, with 24-hour restaurants and popular spots like Tonic and Joshua Tree catering to the under-30 crowd, alongside a smattering of quieter taverns and wine bars. The neighborhood is within walking distance of Grand Central Terminal, so your transportation options are good here.
Murray Hill's inventory is a mix of townhouses on side streets and large co-ops buildings on the avenues. There has been plenty of new development on the eastern side of the neighborhood, which has driven prices up in recent years. The median total asking price for the 11 studios here that met Perchwell's criteria was $400,00, the third-highest on the list. What you're paying for is location and vibe, though the recent price history suggests it will be a good investment regardless.
7. Turtle Bay
Number of studios available: 10
Number of one bedrooms available: 0
Median sales price for neighborhood: $838,000
Here's another micro neighborhood that first-time buyers would be wise not to overlook. Turtle Bay, which extends from 43rd Street to 53rd Street between Lexington Avenue to the waterfront, used to be a cove of the East River before being built up first as farmland and then as an industrial zone. Much of the area was cleared out in the 1940s and '50s for the construction of the United Nations, and the leafy residential streets are now dotted with consulates and missions alongside quaint townhouses and towering co-op developments.
Due to the hodge podge of inventory and surge of new developments, prices range wildly in Turtle Bay. While the overall median sales price was $838,000, the median asking price for studios and one bedrooms was $359,000. And savvy negotiators may be able to get a slice off that, as the median asking price for all homes was more than $300,000 higher than the sales price. The neighborhood has a homey, upscale vibe, and like the other Midtown East-adjacent nabes on our list, it's well serviced by the trains, with the 4, 6, E, and M at the Lexington Avenue/51st-53rd Street connected station, the 4, 5, 6, 7, and Metro-North at Grand Central, and several MTA bus routes.
8. Hell's Kitchen
Number of studios available: 6
Number of one bedrooms available: 3
Median sales price for neighborhood: $870,000
This once-gritty West Side neighborhood is one of the only places below Central Park where you might be able to find a one-bedroom apartment that meets our affordable first-time-buyer criteria. But maybe not for long: Hell's Kitchen's reputation has been remade in recent decades with rampant development following relaxed zoning restrictions. And with nearby Hudson Yards now officially open, we expect prices to continue climbing.
That said, parts of Hell's Kitchen still offer an affordable alternative to Chelsea, the West Village, and other Midtown and lower Manhattan neighborhoods on the West Side. The median asking price for the three one bedrooms on the market was just $350,000, the lowest for one bedrooms of any neighborhood on our list. The neighborhood is replete with great restaurants and bars. It has plenty of public transit options on its borders: the A, C, and E trains on Eighth Avenue, and the 1, B, and D trains at Columbus Circle on the northern end. If you don't mind dodging selfie-taking tourists, you can venture to Times Square to catch just about any train.
9. Alphabet City
Number of studios available: 7
Number of one bedrooms available: 1
Median sales price for neighborhood: $708,750
Another neighborhood within a neighborhood, Alphabet City is considerably more affordable than the East Village, which surrounds it. Not that it's particularly cheap—the median asking price for the seven available studios Perchwell found was $400,000—but if you're looking for the excitement and verve of the East Village, this is where you'll find it as a first-time buyer. The neighborhood is bustling with bars, restaurants, comedy clubs, boutiques, and, yes, NYU students, and it retains some of its lovable grunginess, despite gentrification.
While there's been some new development, it's not of the high-rise, glass-box variety thanks to zoning restrictions. Rather, the most of its housing stock is largely prewar walk-up tenements, so be prepared for the trade off of older, smaller apartments for the exciting location. The community has a long history of diversity, serving at various times as an enclave for German, Polish, Jewish, and Hispanic populations, and it still has an eclectic, multicultural vibe. But transportation isn't great: you have to walk over to First Avenue to catch the L train, Second Avenue for the F, and Astor Place for the 6.
10. Kips Bay
Number of studios available: 7
Number of one bedrooms available: 0
Median sales price for neighborhood: $703,000
The southernmost of the three Midtown East neighborhoods on this list, Kips Bay is also the most expensive to make the cut, with no one bedrooms and only seven studios coming in at a median asking price of $425,000 as of early April. The neighborhood has high for rankings safety and is conveniently located if you want to be near the heart of Manhattan, though transportation is an issue: There are no subway lines, at least until the Second Avenue subway is extended this far south, although there are three Select Bus Service routes among five MTA bus lines.
As for vibe, Kips Bay is a bit of a shape-shifter, depending on where you are. First Avenue is dominated by institutional buildings, most notable NYU's Langone health center. Second Avenue is lined with mid-century apartment buildings and has the AMC Kips Bay, a Fairway, and the neighborhood's only true green space (Bellevue South Park). Third Avenue is where you'll find bars and restaurants just a notch less fratty than Murray Hill to the north. And Lexington Avenue is known as "Curry Hill" thanks to its South Asian restaurants.
Brick Underground articles occasionally include the expertise of, or information about, advertising partners when relevant to the story. We will never promote an advertiser's product without making the relationship clear to our readers.