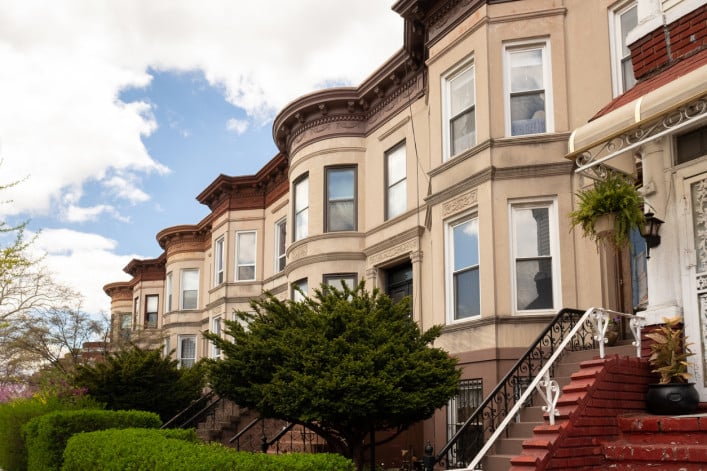 Sellers are going to be discouraged by the first quarter snapshot of the Brooklyn sales market but there's no turning back the calendar a couple of years to when sales were jumping and prices were setting records.
You can't turn back time, but you should keep in mind that the Brooklyn market isn't actually slow, it's just moving slower when compared to the rapid pace seen in 2016-2017.
Here's the snapshot: First quarter sales in Brooklyn dropped year over year for the fifth consecutive quarter; the median sales price fell 3.8 percent to $765,000; and inventory was up sharply by almost 57 percent, according to Douglas Elliman's first quarter 2019 market report for Brooklyn, Queens, and Riverdale. 
The number of sales in Brooklyn fell 8.1 percent to 2,219 (if that seems steep—a year ago sales fell 13.9 percent). 
It's a pattern being seen across the city and extending into the suburbs, says Jonathan Miller, president of Miller Samuel and author of the report. He says it is fueled by prices that have been rising since the Financial Crisis.
It's hard to characterize what's been going on in Brooklyn because the borough has "largely reinvented itself," Miller says. It's changed so much in recent years, from an affordable alternative to Manhattan to a competitor, so it is a difficult neighborhood to compare historically. 
"People didn't think about how high prices would go," he says, and now they are seeing where the limits are. Price trends hit record highs last fall, which appears to represent a market peak, according to the report.
"The last two quarters, prices haven't set records, after nine quarters" of seeing new records, Miller says. "The storyline in 2018 and every prior quarter, was that the housing market was at the precipice or exceeding a prior record." Now, he says, it's a different story.
Condo sales represented the lowest market share of total sales in more than 12 years. These are largely resales—new development condos are only 3.5 percent of the condo market, so they are not dragging down overall activity in "epic" fashion, the way they are in Manhattan.
Luxury sales remain, as they usually do, insulated from the rest of the market. The luxury median sales price rose 3.1 percent to $2,500,000, the second highest on record, says Steven James, president, and chief executive officer at Douglas Elliman.
In Queens, this was the first quarter without a record average sales price in two years. The number of sales declined year over year for the fifth consecutive quarter. Listing inventory rose year-over-year for the eighth consecutive quarter, up 25 percent, while the median sales price was unchanged at $550,000.
The luxury median sales price increased 2.3 percent to $1,336,057, a new record.
In Riverdale, the median sales price increased 8.3 percent to $305,000, while listing inventory grew year over for the third straight quarter. The number of sales fell 37.5 percent.
"Prices jumped as sales declined, typical of the volatility we find when trending a small market," Miller says.
In other market reports: 
Corcoran's market report for the first quarter of 2019 notes at the beginning of the year, buyers were still facing uncertainty as a result of changes to the tax code. And while there was a decline in closed sales, "it is worth noting that 2018 had the second highest number of transactions of any first quarter in the last 10 years. The pace of sales during the first quarter of 2019 was still higher than the starting quarters of both 2015 and 2016, yet prices were far lower during those years."
Corcoran also found that sales continued to contract in Williamsburg and Greenpoint, while Bedford-Stuyvesant, Crown Heights, Lefferts Gardens and Bushwick doubled their market share compared to a year ago. 
Stribling's Brooklyn market report for the first quarter of 2019 found that the average discount from the initial asking price in Brooklyn was 6.2 percent. Properties between $500,000 and $1,000,000 made up 48 percent of all closings. Northwest Brooklyn has the highest median and average prices, while South Brooklyn had the greatest discounts.
In Queens, Stribling notes condos have an average price per square foot of $986 and houses and townhouses made up 69 percent of closings. Closings under $350,000 represent 17 percent of the market.
Brick Underground articles occasionally include the expertise of, or information about, advertising partners when relevant to the story. We will never promote an advertiser's product without making the relationship clear to our readers.