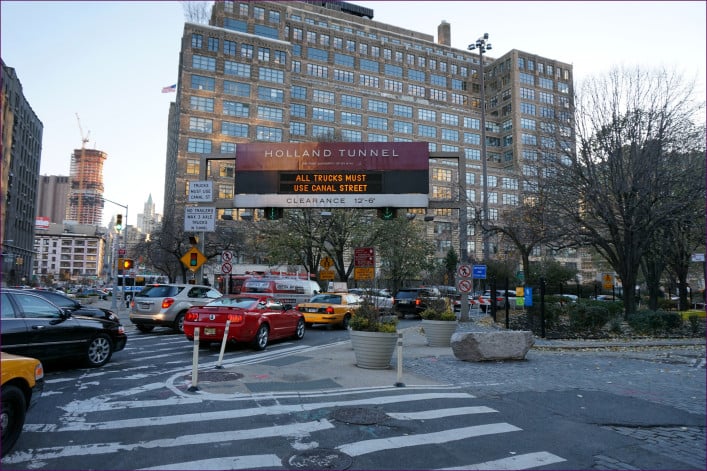 For the second time in two months, a tech giant has announced a major expansion into New York City. Google—which bought Chelsea Market earlier this year and already had plans to lease extra space at Pier 57—is now adding 1.7 million square feet of space at 315 and 345 Hudson St. as well as 550 Washington St.
Google intends to have its Hudson Square location up and running as its primary New York HQ by 2020, more than doubling its staff to around 15,000 in the next decade. It follows Amazon's drawn-out search for a second headquarters that, in November, picked Long Island City and Crystal City, Virginia as its twin hosts. 
Reaction to Google's announcement has been more muted than the noisy protests that greeted HQ2, mainly because of criticism the Amazon deal lacked transparency and took advantage of public subsidies. Still, the expansion will likely generate concern from tenants concerned rents will go up in the area and buyers anticipating an impact on the sales price of condos and co-ops.
Currently, the median price for a one bedroom in Hudson Square is $1,412,500 and the median rental price for a similar unit is $3,995. The area has a mix of townhouses, former tenements and brick factories—some now co-ops—as well as modern condo buildings. 
Google says it is New York's diverse, world-class talent that's the driver for its expansion in the city. The jobs are primarily in the fields of online search, partnerships and ads, maps, cloud and technical infrastructure, sales, YouTube, and research.
Apartment prices in Hudson Square could rise
Mark Chin, CEO at KWNYC Tribeca says Google's expansion is welcome news and insulates New York City from some of the uncertainty in the markets.
"There are going to be winners and losers in real estate. It's becoming clearer and clearer that NYC is going to be on the top of the winner's pile," he says. 
For the sake of comparison, Long Island City was struggling with too much inventory before the Amazon HQ2 reveal, but in the weeks since the announcement, figures show nearly 20 percent of apartments in the neighborhood have increased their sales price.
The same is possible in Hudson Square, but the numbers may not be stick. Within half a block of the new Google campus, three new buildings with 386 units are planned or under construction. This doesn't represent an oversupply, but with median rent for Manhattan apartments slipping and concessions up for the 42nd month in a row, developers will no doubt welcome some additional demand.
Amazon's growth, like Google's, is expected to be fairly gradual, spanning a decade. Jonathan Miller, of appraisers Miller Samuel, doesn't believe New Yorkers will be priced out of LIC rentals and the same may be true of Hudson Square. When asked about tales of brokers leasing apartments sight-unseen in Long Island City, Miller tells Brick they are just "not real," adding, "if that were true we would be reading about it every day, not just the day after the announcement."
Neighborhood improvements are already in the pipeline
Some of Google's Chelsea neighbors say the cost of housing in the area went up after the company set up shop there two decades ago and the same is certainly possible of Hudson Square. The neighborhood is in good shape for transportation, with improvements to the A and C lines on the horizon. The area is already seeing neighborhood investment with Soho Square being reconstructed to become more welcoming, and the new St John's Terminal set to accelerate the area's transformation.  
As the neighborhood becomes more residential, a handful of projects on Hudson, Spring and Varick streets, like wider sidewalks, protected bike lanes, and more trees, will likely make the roads safer and more pleasant. Google is stressing its responsibility to support the communities they expand into. Since 2011, the company has contributed more than $150 million in grants and employee-matched giving to New York nonprofit institutions and that could well mean residents will see public resources and partnerships coming to Hudson Square. 
Brick Underground articles occasionally include the expertise of, or information about, advertising partners when relevant to the story. We will never promote an advertiser's product without making the relationship clear to our readers.