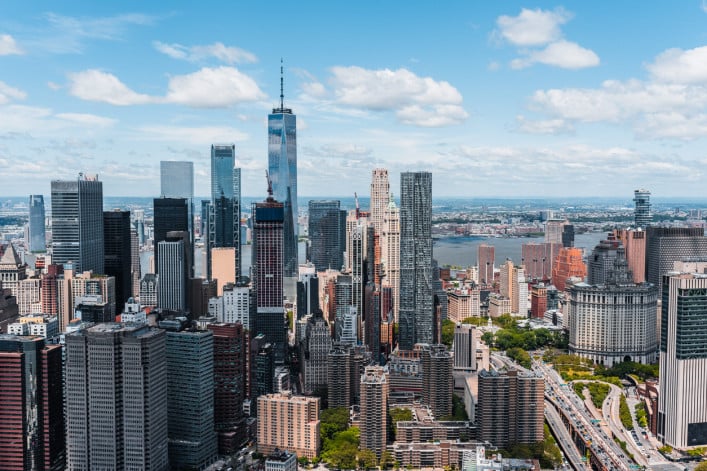 It's a challenging, even scary time in New York City right now, but if you have a pressing need to sell your apartment or house, you can benefit from not getting lost in the crowd.
That's because there's no longer a crowded market at all. In Manhattan, sales inventory dropped in the first quarter as many sellers pulled their listings and prospective sellers decided against putting their apartments on the market in response to the coronavirus pandemic and accompanying non-essential business shutdown.
So if you are very strategic—and that goes for buyers as well—you can find some advantages in what Mark Chin, who heads brokerage Keller Williams New York City, calls a "unique situation." Cash offers—always king in any market—are now even more prized because of funding risks and the challenges of closing virtually when a bank is involved.
"I think there's an opportunity for [sellers] who don't want be in competition with everyone else," he said in a recent training meeting for staff, held via Zoom for the first time. "Usually we can get lost among other listings."
"You're not going to get more exposure than now," Chin tells Brick Underground. "Everyone is home, they're shopping online and one of things they are looking at is real estate."
There are aggressive buyers out there, Chin says. For example: A colleague recently had a $1.75 million accepted offer on a Chelsea apartment that had gone to a bidding war. The broker never even showed the apartment because of the ban on non-essential business—the sellers welcomed the buyers as their guests and showed the apartment themselves.
---
Editor's note: Click here for more of Brick Underground's coronavirus coverage.
---
No more stigma from stale listings
Sellers can also benefit from a decision by StreetEasy and Real Estate Board of New York partners to "freeze" their days on market counters, eliminating the stigma for properties that are lingering.
Also, in their favor: The industry has been thrust into the virtual world by the pandemic—for example, New York state's decision to allow electronic notary signings and some fledgling virtual closings are taking place.
Pro Tip:
Your home is your emotional and physical sanctuary, and right now, it's probably doing double or even triple duty. With Zoom meetings, home schooling, virtual happy hours, and other distractions, accidents can happen, like cooking fires, sink overflows, floods from broken dishwashers and other mishaps that could cost you thousands. Now more than ever, protecting your home, possessions and finances with insurance is an affordable necessity, not a luxury. Click here for a quick quote from the apartment insurance experts at Gotham Brokerage. >>
Nightmare looms in the mortgage industry
Cash offers circumvent another nightmare looming over buyers and sellers: Trouble in the mortgage industry. The problem, in a nutshell: Lenders are having trouble reselling the loans they make and don't want to get stuck with them, so some may be hitting pause on lending. Wells Fargo halted jumbo mortgages for this reason.
What this means is a buyer could get a loan commitment letter, only to find out later that the bank is unwilling to go ahead with financing. Chin and others strongly recommend buyers add a funding contingency rider to their contracts to protect their deposit.
A funding contingency frees you from the contract and gives you your deposit back if the bank fails to fund the loan for reasons that are not your fault. It is separate from a mortgage contingency, which gives you the right to walk away with your deposit if you are unable to secure a mortgage commitment letter. In recent years, funding contingencies have been rare in New York City.
But a buyer with a cash offer represents an even more secure route to a sale.
Chin suggests that if a seller is weighing a cash offer against one that would require financing, he or she should take the cash one "even if there's a haircut" because of a low offer.
"It takes so much risk off," he says.
Cash offers more assurance now than it did a month ago, says Ari Harkov, a broker at Halstead.
"Economic uncertainty means that buyers could lose their job or see a reduction in asset values," he says. "Banks could also choose to tighten lending guidelines or otherwise make approval more difficult. 
"Cash carries none of this risk, assuming it is out of the market. I do want to be clear here that cash in the form of a stock market portfolio might not be looked at quite the same way as it would have a month ago either," he adds.
Cash offers not the answer for everyone
Still, co-op sellers have to jump through more hoops, so a cash offer has to be part of a complete package in order to make the deal viable.
"It's about the ability to pass the board," Victoria Vinokur, a broker with Brown Harris Stevens, points out. The buyer's overall financial profile is equally important for that reason.
And when regular real estate activity is halted, being able to move fast with a cash offer may not be much of a bargaining chip to all sellers.
In a normal market, a cash offer means a faster closing. But in today's anything-but-normal market, while there are a few virtual closings, "the buyer cannot move in, cannot do renovations, and cannot have contractors come in to estimate," says Richard Rosenthal, a broker at Halstead. 
"It lessens the urgency to close for the buyer and conversely the seller may not be able to move out or move into their new place," he says.
Brick Underground articles occasionally include the expertise of, or information about, advertising partners when relevant to the story. We will never promote an advertiser's product without making the relationship clear to our readers.