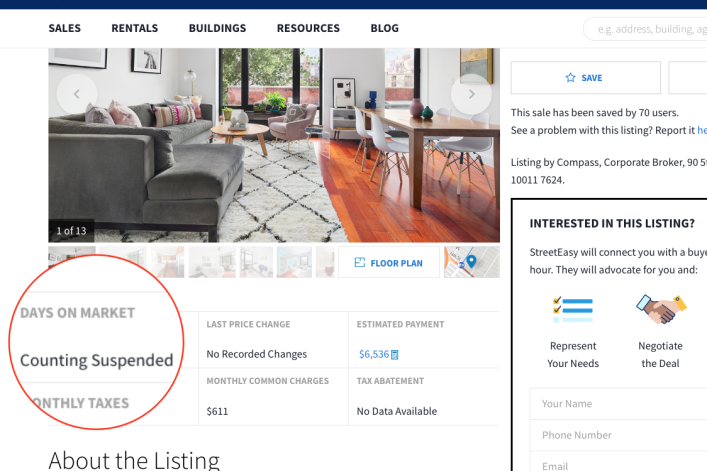 Lots of New Yorkers are wishing they could go back in time to before the coronavirus pandemic, including sellers who were facing the prospect of their listings going stale as would-be buyers hole up in their apartments under the state's new remain-at-home restrictions.
Now at least sellers have had their wish granted. On Sunday, StreetEasy said it was joining The Real Estate Board of New York and stopping the days on market counter to give sellers some support. The New York Residential Agent Continuum had sent a letter to StreetEasy asking the site to halt the metric. 
Last Thursday, REBNY also directed its RLS network, which include realtor.com and renthop, to halt the clock. 
Previously, StreetEasy opposed the move, according to The Real Deal, but adapted its position when new social distancing rules went into effect in New York.
"With gatherings of any size in New York state prohibited as of this weekend and virtually everyone required to work from home, it's no longer an environment where people can safely conduct normal face-to-face real estate activities," says Lauren Riefflin, a StreetEasy spokesperson. "This poses new challenges for agents, buyers, and renters in an already uncertain time, so we're making necessary adjustments to our policies, products, and resources to best support everyone. To that end, we've decided to remove open house information and suspend days on market counting, given these are no longer accurate tools or representations of a listing during this pandemic."
REBNY expected all of its partners to disable the metric as of Friday, March 20, until further notice. "We believe that this is one of many steps to support the residential brokerage community during this difficult time," it said in a statement. 
---
Editor's note: Click here for more of Brick Underground's coronavirus coverage.
---
What this means for buyers
If you're looking for an apartment right now, you've lost a source of data that can indicate a listing is lingering because it is over priced or may have another red flag.
One expert thinks the problem could be even bigger than that. Jonathan Miller, president and CEO of appraisal firm Miller Samuel, says he reached out to NYRAC to let them know this was a "terrible mistake."
"In a crisis you do not fudge the numbers," he says, because by doing so, "you damage trust between the real estate community and the consumer long after the crisis because you chose to hide the results."
Miller doesn't think the move will make buyers act as if there was no crisis. "Buyers read the news," he points out.
However, some brokers applauded the move, such as Wendy Arriz, a broker at Warburg Realty, who says it encourages sellers to keep their listings on the market, undaunted by any stigma.
"This is unchartered territory and out-of-the-box thinking is needed. Will this reduce transparency for stale listings? I doubt it. The NYC consumer is pretty savvy—not to be underestimated," she says.
Other brokers say it lumps stale listings and fresh listings all together. Still, the move may not have a major impact at all, one broker suggests.
"I don't think that this destroys transparency for listings. As of right now, I don't think there are going to be a lot of transactions at least for the next few weeks. Properties are still on the market online, but very few people are even doing private showings anymore," says Michael Franco, a broker at Compass.
Brick Underground articles occasionally include the expertise of, or information about, advertising partners when relevant to the story. We will never promote an advertiser's product without making the relationship clear to our readers.